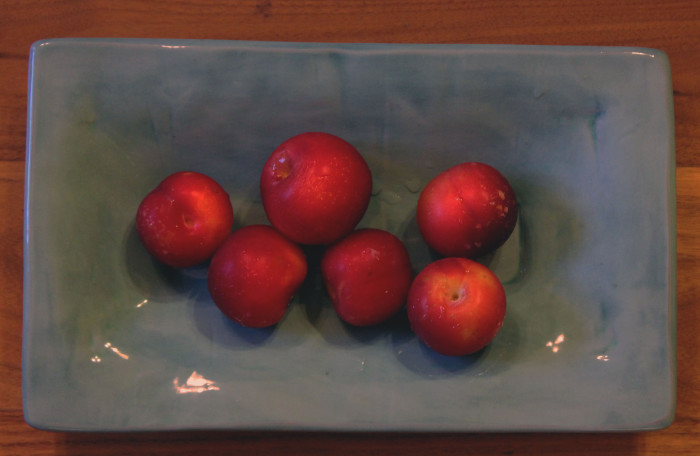 How do you eat?
Literally. Figuratively. Forks and knieves but also noses and eyes.
"What are you going to do with these?" I asked Suzen. I was holding some very fresh and fragrant plums.
"Put them in the bowl," she said.
"You want honey? Cheese? You want me to slice them up?"
"Put them in the bowl. Just them. We are eating just them."
When the plums were cradled in the bowl, and I could see the effect, then I understood. Our first "taste" of a dish is usually a smell or a sight. Here Suzen was going for ultimate simplicity: pure plum and only plum. The sun-fed, red plums were invitingly nestled in a quite dramatic blue bowl. The visual effect was simply striking.
And striking is what good food is all about. Striking taste is something we always seek. But a striking visual presence can be equally important. In this case, Suzen has organized a powerful invitation to eat. Our dinner guests did just that. The plums disappeared long before the cheese and crackers.
The point here is that your appetizers can be elaborate concoctions, taking as much time as the main course. Or, equally, they can be simple but seductive. Using color is an easy and often inventive way to entice your guests to a dish.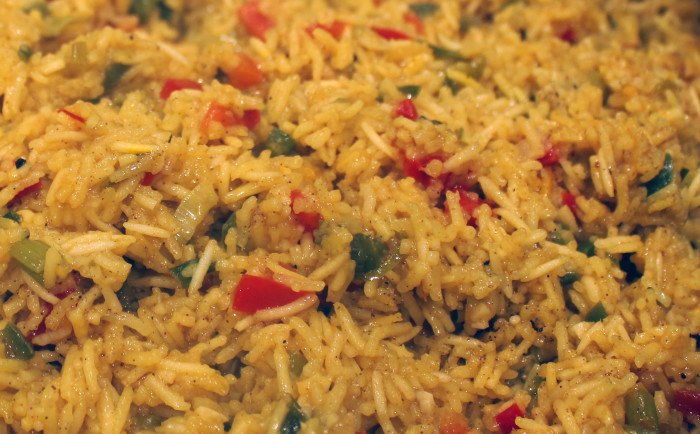 Our good friend Marie Simmons wrote a wonderful book, Rice: The Amazing Grain, and she was spot on. Suzen and I are fortunate to live in Manhattan where, in less than 15 minutes, we can walk to 30 restaurants serving rice. All of them Asian or Italian.
Now, I am fond of risotto but it is the Asian cuisines that I relish for the incredible diversity of their rice creations. And I'm not just talking about the 1000+ plus ways to do fried rice — my personal favorite. There are sticky rices in Japanese restaurants that go so well with tonkatsu — or just that spicy tonkatsu sauce all by itself. Thai dishes abound with rice wonders. Show Suzen a menu with Coconut Rice on it and she's on it, too.
America does have some rice dishes that are delicacies. A Louisiana gumbo, steaming and shimmering, then served over rice is a bit of a culinary wonder. The flashing colors and dashing aromas sailing up in the steam cloud can silence a table, as everyone just waits for the temperature to drop one more degree. Forks are at the ready. Beer bottles raised.
Rice originated in Asia, perhaps 13,000 years ago. And Asian dominates both the production and consumption of rice. China grows the most: 204 million metric tons. Then India with 150 million metric tons. After those two, all other countries are pikers. The United States is 14th in world production with a magnificent 9 million metric tons, about 4% of China's yield.
Most of that US rice is grown just 6 states: Arkansas, California, Louisiana, Mississippi, Missouri, and Texas. Now, some of those places may be surprising, but you can rationalize them a bit. However, growing rice in California and Texas, given their ongoing drought situation, is a proposition that continues only because of Federal monetary support and farm programs. Rice growing in California began in the mid-1800's when there were Chinese workers building the first transcontinental railroads. Things may have gotten a little out of hand.
And rice pilaf? It's a dish served round the world, but the origins lie in India. So it is only appropriate that this pilaf dish is rich in spice and laden with oriental flavor.
Pilaf is simply gorgeous to behold, yet it is quick to prepare. Starting with raw ingredients, you can make this dish is well under an hour. Make it in abundance because leftover pilaf is as good the next day as, well fried rice.
---
Rice Pilaf with Pine Nuts

Yield: 8 servings

Ingredients:

4 to 5 cups chicken or vegetable stock or water
1 ½ cups long-grain rice
1 tablespoon extra-virgin olive oil or vegetable oil
2 tablespoons unsalted butter
1 medium onion, chopped
1 red bell pepper, chopped
2 tablespoons mustard seeds
1 clove garlic, finely chopped
½ cinnamon stick
1 star anise
¼ tsp saffron threads, crushed
Kosher salt, to taste
½ cup pine nuts
½ cup chopped fresh herbs (cilantro, parsley, chives, mint or a combination)
Preparation:

Heat the stock in a pot over medium high heat.
Rinse the rice a couple of times until the water runs clear and drain well in a fine mesh strainer.
In a larger pot, add the oil and butter and heat over medium-high heat. Add the onion and peppers and cook until the onions are just beginning to color. Add the mustard seed and garlic and cook for 30 seconds. Add the rice and cook for about two minutes, just until the rice starts to color. Add the broth or water, enough to cover the rice by two fingers. Add the cinnamon stick, star anise, saffron and a big pinch of salt. Stir once, cover the pot and reduce the heat to low. Cook until the rice has absorbed most of the liquid, about 15 minutes.
While the rice is cooking, toast the pine nuts in a small skillet over medium heat.
Stir the rice again just once, cover and remove from heat. Let sit for 10 to 15 minutes. Remove the cinnamon stick and star anise and stir in pine nuts and herbs. Taste and adjust seasoning and serve.
Source: adapted by CBTB Chef David Domedion from Sara Foster's Casual Cooking with historical input from Wikipedia

Photo Information: Canon T2i, EFS 60mm Macro Lens, F/4.0 for1/30th second at ISO‑250