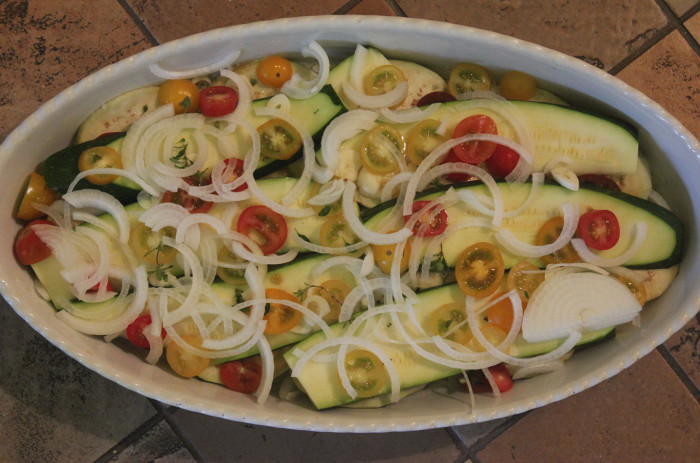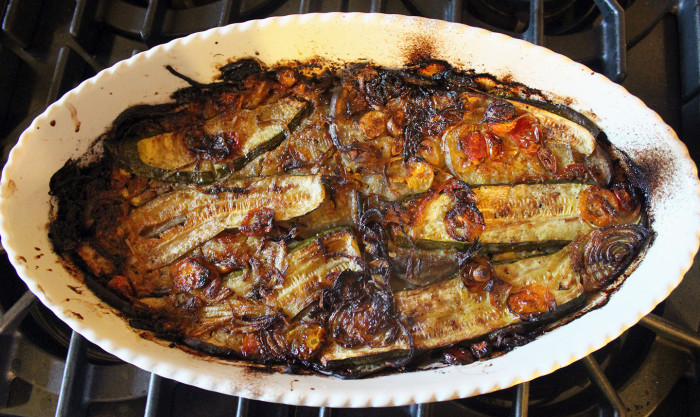 Make this recipe. Just make it. Oh, I know, you have family members who hate vegetables.
"Have some more zucchini?" is a question you dare not ask because there will be rebellion at the dinner table.
"Eggplant, anyone?" will get you banished to the room over the garage.
Do not fear. Trust in caramelization. It's like the movie Field of Dreams. If you cook it [long enough], they will come. They will come to the table, they will eat, they will ask for more.
This gem of a recipe comes from Mad Hungry by Lucinda Scala Quinn. It's an example of the creative style and simplicity of the recipes Lucinda has developed to feed a husband and three boys, and herself.
The recipe claims this will feed 6 to 8 people. Utter nonsense. There were 4 of us at our dining room table and we almost sobbed when there was no more. No third serving for anybody! This vegetable mélange is incredibly delicious and equally, wonderfully simple to prepare.
You stack vegetables in layers creating a tall bounty. That's the first picture above. Then you cook and let the stack dissolve, yielding up juices that refine the cooking process and igniting caramelization to provide natural sweetness. The cooking proceeds beyond caramelization to actual charring. The collapse almost eliminates identifying eggplant from zucchini. It's all just dark stuff, that, because of the juices, is not at all dry or tough or crusty. Just delectable. That's the second picture.
This is an excellent year-round dish. I can see it on a Thanksgiving table just as readily as it adorned our summer feast with the outside a balmy 80°.
We served this as a side to short ribs, wonderful short ribs that you will see in tomorrow's post. All you need in addition is a deep, dark bottle of red. This meal is Malbec territory.
Char-Baked Tomato, Zucchini, and Eggplant
Yield: serves 6 to 8 normal people, 4 if they love charred veggies
Ingredients:
• ⅓ cup extra-virgin olive oil
• 1 onion, peeled and sliced
• 5 small tomatoes, thinly sliced
• Coarse salt and freshly ground black pepper
• 1 small eggplant, about 6 inches long, thinly sliced crosswise
• 2 zucchini, about 5 inches long, thinly sliced lengthwise
• 2 garlic cloves, thinly sliced
• ½ teaspoon fresh thyme leaves
Preparation:
Preheat the oven to 400°F.
Pour some of the olive oil to cover the bottom of a 9 x 13-inch rectangular or 12 inch oval baking dish. Layer in half of the onion slices and one third of the tomatoes. Generously sprinkle with salt and pepper. Add a layer of eggplant and sprinkle on more salt. Add another third of the tomatoes, the zucchini, garlic, thyme, and the remaining onions. Top with the remaining tomatoes. Press down on the mixture with your hands. Pour over the remaining olive oil. Season generously with salt and pepper. (Don't worry. The vegetables will be piled high but collapse as they cook.)
Bake uncovered for 1V2 hours. After 45 minutes, press the mixture down firmly with a spatula. The vegetables should be reduced in height, and should be brownish black and caramelized, almost charred in places. Return to the oven to finish roasting.
Let cool for at least 10 minutes, so the mixture can solidify a bit. Cut into squares and serve.
Sources: Mad Hungry: Feeding Men & Boys by Lucinda Scala Quinn
Photo Information [upper]: Canon T2i, EFS 60 mm Macro Lens, F/5.6 for 1/40th second at ISO-3200
Photo Information [lower]: Canon T2i, EFS 60 mm Macro Lens, F/3.5 for 1/30th second at ISO-3200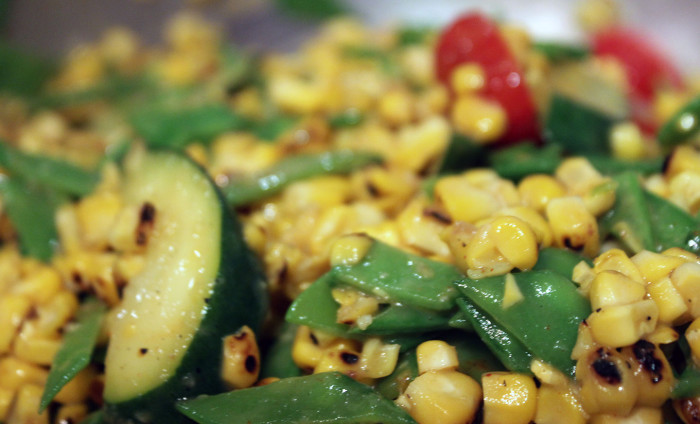 Succotash is a Native American word for "broken corn kernels." The Pilgrims were introduced to the dish and that first Thanksgiving almost certainly included some form of succotash. While it often is consider a "fall" dish, it really is a year-round treasure. You could even — this is heresy — use frozen corn. Suzen prefers fresh to defrosted, so we wait until the first corn arrives from Florida and we enjoy it until the very last harvest of the fall.
Beyond the corn, succotash is really a "what do I have on hand" recipe. Zucchini is a classic ingredient, but tomatoes and onions are welcome. In this version, peppers and zucchini abound. And fresh herbs.
This is a recipe Suzen uses for her culinary team building classes. It's a perfect recipe for a small group of people — 3 to 6 — to cook together. There are lots of different ingredients. Lots of peeling and chopping. Each person can have their own individual task. And then there is the grand finale when all the ingredients — everyone's efforts — are poured into one large bowl. In Suzen's classes, we do make succotash for 20 or more guests. So, it's a big bowl.
This dish is a side, a salad, even a main course if you want to go protein-free one evening. One thing is certain, when you first try succotash, you are intrigued and hooked. Leftover here are great. You can boost the flavor a day or so out with more vinegar or lemon juice. You could even incorporate some avocado for an authentic Pilgrim guacamole.
Don't thank the Pilgrims. Thank the Indians.
Summer Zucchini and Corn Succotash
Yield: ~20 servings
Ingredients:
12 ears of corn, shucked
½ cup whole garlic
1 cup vegetable stock [ideally homemade]
½ cup red wine vinegar
2 zucchini, peeled and diced into medium cubes
2 yellow squash, medium diced
Olive oil as needed for sautéing
1 tablespoon chopped thyme
1 cup basil leaves, roughly chopped
1 cup parsley, chopped, plus ¼ cup more for garnish
1 red bell pepper, medium diced
1 bunch scallions, chopped
Salt and freshly ground pepper to taste
Preparation:
Clean the corn. Grill the ears to the point of having a slight char. Cool slightly, then remove the kernels from the ears. Allow to cool.
Sauté the garlic. When the garlic begins to brown, add just enough chicken stock to cover the garlic in the pan. Continue simmering until the garlic is soft. Almost all of the stock may have evaporated [but add more stock if necessary to keep the garlic from burning].
Add the red wine vinegar and simmer for 5 minutes more. Remove from the heat. Mash the garlic to form a paste. Set aside.
Sauté the zucchini and yellow squash in olive oil with salt and pepper. Add the chopped thyme. When the squash is tender, remove from the heat. Add the chopped basil and parsley. Immediately remove from the pan and cool on a sheet pan.
Sauté the red pepper in olive oil. When tender, cool on a sheet pan.
When all the vegetables are cooked and cool, combine all the ingredients in one large bowl. This includes the chopped scallions. Adjust the seasonings as necessary. Garnish with the remaining ¼ cup chopped parsley.
Source: Staff at Cooking by the Book
Photo Information [top]: Canon T2i, EFS 60 mm Macro Lens, F/5 for 1/50th second at ISO-1250