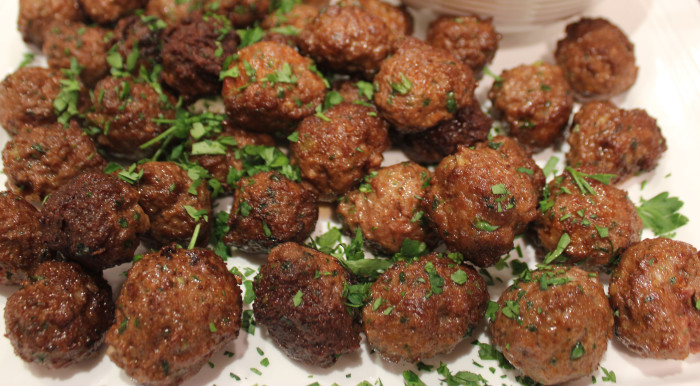 For Valentine's Day, Suzen offered a class, what else, for couples. Couples who came in droves, cooked with laughter, and consumed with pleasure. The seven course meal featured a different sparkling wine with each course.
Suzen was curious about which of the seven dishes would please the crowd the most. Oh, it did not take long. In the kitchen, when the cooking was underway and long before nibbles touched palettes, the winner was evident: these lamb meatballs with yogurt sauce.
Men jostled to be part of the cooking team. Bodies stood around the oven, sniffing the aroma and waiting for the balls to escape from the heat. And when the meatballs and platter were put out for buffet, there was a deluge of hands reach down and over and around. Everyone wanted a meatball.
Now, everyone got one or two or three. But these were the first items gone. If we had made double, these would have been the first things gone.
Consider yourself warned. When you make these, they will disappear. Everyone will relish them. Everyone will want more.
We saw several recipes for meatballs, including one in the Williams Sonoma series Appetizers. We adapted that recipe and allowed our team to have full spice creativity. The results are amazing.
Spiced Lamb Meatballs With Garlicky Yogurt Sauce
Yield: about 40 enough for around 6 [maybe]
Ingredients:
For the sauce:
1 cup plain yogurt
2 cloves garlic minced
1 tsp. lemon juice
Salt and pepper to taste
For the meatballs:
Nonstick cooking spray
2 slices firm white sandwich bread
Water
1 pound ground lamb, preferably grass fed
3 green onions white and green parts minced
¼ cup minced fresh flat-leaf parsley
1 large egg
1 ½ teaspoon ground cumin
1 teaspoon sweet paprika
1 teaspoon smoked paprika
¼ tsp. cayenne
1 teaspoon freshly ground pepper
¼ teaspoon ground allspice
1 ½ teaspoons sea salt
Preparation:
Prepare the sauce: In a small serving bowl, stir together the yogurt, garlic, lemon juice, salt and pepper until well blended. Set aside at room temperature until serving.
Prepare the meatballs: Preheat the oven to 400 degrees F. Line a rimmed baking sheet with aluminum foil and spray the foil with cooking spray.
Remove the crusts of the sliced bread and grind in a food processor. Sprinkle the crumbs with 2 tablespoons of water and toss to moisten evenly.
In another bowl, add the lamb, green onions, most of the parsley (save a small amount to garnish the sauce), the egg, cumin, paprikas, pepper, allspice, the moistened bread crumbs and salt and mix together gently with your hands. Scoop up a heaping teaspoon of the mixture; shape into a ball between your palms, and place on the prepared baking sheet. Repeat to shape the remaining mixture. You should have about 40 meatballs total.
Bake the meatballs until browned and cooked through, about 15 minutes.
Alternately, you can brown the meatballs in 2 Tbsp. of oil in a sauté pan and finish cooking on a sheet pan in the oven. [This gives a better taste, trust me!]
Transfer the meatballs to a warmed platter and place the sauce alongside for dipping. Garnish with the reserved minced parsley. Serve right away with cocktail picks for spearing.
Photo Information: Canon T2i, EFS 18-55mm Lens, F/3.5, 1/30 second, ISO-320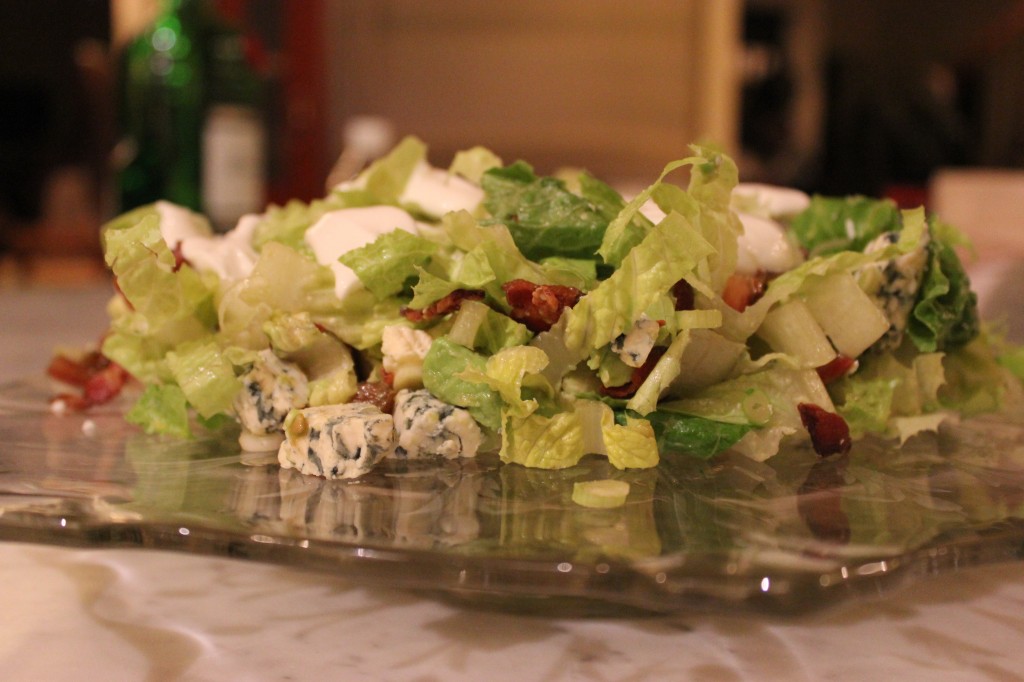 I am, in a word, a fan of Patricia Wells. I love her cookbooks, packed with ideas that tempt me page by page. I relish her travel books: those Food Lover's Guides to Paris and to France have given many of us perfect journeys along the timeless streets of cities or the rural byways of France.
Her twelfth book, Salad as a Meal, is out and simply extends her record of superb writing and recipe presentation. Her inspiration for this book was, truthfully, negative. At Brasserie Lipp on the Left Bank in Paris, there is a small sign saying: No Salad as a Meal. It struck Patricia as both humorous and totally at odds with French cuisine.
In love with salads, Patricia has a broad definition of that dish. Her salad does not have to include greens at all, and she prefers salads with protein. So, Salad as Meal is organized with chapters devoted to protein type including:
Eggs, Cheese and Bean

Fish and Shellfish

Poultry

Meat

Bread

Classics
In that last category, Classic, there is this recipe for Cobb Salad, a robust, old-fashioned ride of iceberg lettuce, tomato, bacon, and blue cheese. [Yes, in the picture above we used romaine, not iceberg, but Patricia approves of creativity]. This salad was created in the 1930 by Robert Cobb, one of the owners of the Brown Derby restaurant chain. The main restaurant, nestled on the border of Beverly Hills and Hollywood, was famous for its Wilshire Avenue location. At night, it was the home to the famous stars, from Hollywood, and the infamous, dapper men from the Los Angeles underworld. Everyone, regardless of status in life, loved this salad.
Oh, I know you want to look at the recipe but let's go back to Wilshire Boulevard for some great history. Wilshire runs 28 miles from downtown Los Angeles to the Pacific in Santa Monica. It was developed starting around 1900 in sections, one at a time, ranging from a few blocks to almost a mile. Each round of developers provided new ideas, architectures, and scenery.
When Wilshire began, there were oil derricks in downtown LA. Some entrepreneurs got a lease for a plot of land [an old Spanish ranch land grant] several miles west of downtown LA. They set up a derrick to drill for oil. They drilled and they struck. Water. They moved the derrick. They drilled. Water. Move, drill, water. Move, drill, water.
Water does not burn well, but it has, and had, value in land that was basically desert. So, running out of money but still having hope, the entrepreneurs laid out a grid of streets, planted a different species of tree on each main thoroughfare, and built some model homes. They advertised the water supply.
And, in the end, there was no oil but a nice little community grew up. The next time you are in LA, you can visit and see how it all turned out. Just ask anyone for the directions to Beverly Hills. Oh, and do stop to shop and eat. Try the Cobb Salad somewhere. It's really good.
Cobb Salad
Yield: serves 4
Ingredients for the Salad:
2 1/2 ounces smoked bacon, rind removed, cut into matchsticks (¾ cup)

1 head iceberg lettuce, chopped (4 cups)

2 ripe heirloom tomatoes, cored, peeled, seeded, and chopped

1 large ripe avocado, halved, pitted, peeled, and cubed

4 ounces chilled blue cheese (preferably Roquefort), crumbled (1 cup)

4 small spring onions or scallions, white part only, trimmed, peeled, and cut into thin rounds

Yogurt and Lemon Dressing (recipe follows)

Coarse, freshly ground black pepper
Ingredients for the Yogurt and Lemon Dressing:
½ cup plain low-fat yogurt

2 tablespoons freshly squeezed lemon juice

¼ teaspoon fine sea salt
Preparation of the Salad:
In a large, dry skillet, brown the bacon over moderate heat until crisp and golden, about 5 minutes. With a slotted spoon, transfer the bacon to several layers of paper towels to absorb the fat. Blot the top of the bacon with several layers of paper towel to absorb any additional fat. Set aside.
In a large, shallow bowl, combine the bacon, lettuce, tomatoes, avocado, cheese and spring onions. Toss with just enough dressing to lightly and evenly coat the ingredients. Season generously with pepper, and serve.
Preparation of the Yogurt and Lemon Dressing:
Use a jar with a tight lid. Place all the ingredients in the jar. Cover with the lid and shake to blend. Taste for seasoning. The dressing can be used immediately or stored for a week (shake to blend again before serving).
Source: Salad as Meal by Patricia Well (published by William Morrow)