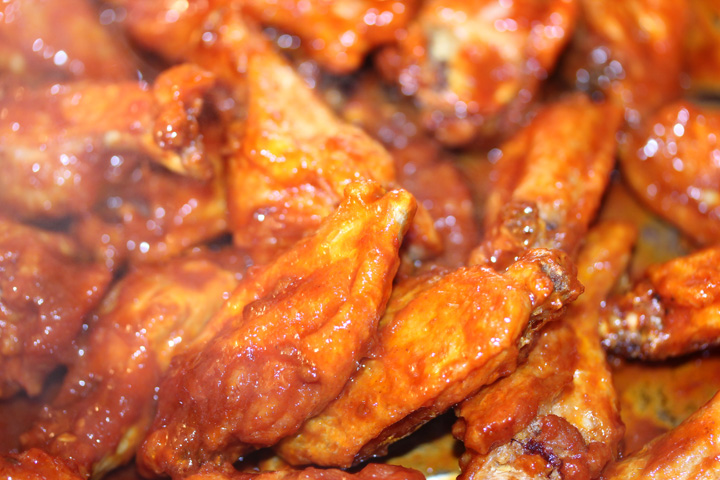 We've posted a variety of chicken wing recipes recently, using the delightful recipes from Wings Across America by Armand Vandersitgchel. Our earlier recipes were baked, avoiding the method of deep frying.
On Super Bowl Sunday, we did take the plunge. We made classic deep fried wings. If confession is good for the soul, then here it is: deep fried is better than baked. There, we said it. Really better.
Home deep frying has been a chore: messy and awkward and potentially dangerous. There is a new generation of home deep fryers out there that make life easier and we used one. Our deep fryer worked well and the wings were delicious. That said, there is a price for deep frying. Even with a kitchen vent going full blast, we still ended up with smell that drifted through our house and lasted into the next day. The solution here is pretty clear. You barbeque outside, on the patio or porch. And you should deep fry there, too.
These wings are made classically: you deep fry the wings then plunge them into a red sauce that would make any Aztec or Mayan proud. We used Frank's Original REDHOT sauce, as requested in the recipe. Frank's sauces are widely available, and they are terrific products. This is a case where store-bought is just simply and probably better than home made. Our market has three Frank's flavors but we were careful to use the original, basic, fire-instigating sauce.
Wings do not get better.
Santa Fe Chicken Wings
Yield: 25 Wings
Ingredients:
Vegetable oil for frying
2 ½ pounds (around 25 wings) trimmed and separated
¼ cup (½ stick) hot, melted unsalted butter
¼ cup Frank's Original REDHOT sauce
¼ cup chile sauce
1 teaspoon chile powder
Preparation:
Heat the oil in a fryer to 400°F. Deep fry the wings for 12 minutes or until crispy and no longer pink. Drain well.
Combine the melted butter, hot sauce, chile sauce, and chile powder in a small bowl. Mix well.
Pour the sauce over the wings and toss to coat.
Notes:
We love our wings drenched. So, for 25 wings we doubled the sauce. Every square inch of our wings was covered. There was plenty of heat in every bite. And, these thoroughly coated wings were delightful to eat as leftovers the next day.
Source: Wings Across America by Armand Vandersitgchel
If I say "Chicken Wings" what comes to mind? Oh, Buffalo Chicken Wings. Deep red in color, fiery hot, and addicting. We have a favorite restaurant nearby in New York City, a place called Walkers with a classic tin ceiling, wonderful staff, and the best wings in New York. At the table next to us last week, a man ate an entire serving for two by himself with just a glass of water. And then he ordered a second plate. Brian and I left before they had to call 911. No man can endure such heat.
Next weekend is the greatest single party weekend of the year. It's Super Bowl and around the country, around the world, people will gather to watch and to eat. Brian and I are having our traditional party and we are having wings. And, yes, there will be some wings with heat. But there is life beyond Buffalo.
And that's a statement from someone who went to college in Buffalo and has oh-so-fond memories of winters there.
No, there many alternatives to "hot" wings. For a party, it's a clever idea to have a wing smorgasbord, a variety of wings. Some hot for people like that guy in Walkers with the asbestos digestive system and some with other flavors that are truly enjoyable.
There is a little book, Wings Across America, by Armand Vandersitgchel — a distinctive name to be sure — that came out in 1999 in hardcover and then in 2003 in paperback. You can still find it at Amazon and tucked away in back shelves at book store. The book has 150 ideas for how to do wings, some classically hot and some very different:
Ole Mole Wings with chocolate — for those with other addictions besides heat
Ancho Fire Wings — for those who think Buffalo wings are for wimps
Barrel Wings — named for using Jack Daniels whiskey which spends time in oak barrels
Southwestern Peanut Wing — made with peanut butter, coconut milk, and chipotle
Brian is thumbing through the book, pointing, and I'm testing. As lovers of cilantro, this recipe for Onion Cilantro Wings struck both of us as interesting. We had no idea how it would turn out, and we ended up very pleased.
Here's the essential idea: put cilantro and onion in a blender and create a thick, very, very green sauce. The sauce goes in a bowl, the wings go into the sauce to marinate for hours in the fridge, and then you cook. There's just a little heat in this recipe. The wings are baked, not deep fried, which is a plus. Baking is healthier and much less mess.
And the taste? It's wonderful. That cilantro flavor has time to penetrate way beyond the skin. It's not overpowering, but the meat has a distinctive cilantro tinge. It's a whole new way to wing it.
If you are partying soon and want to have a bevy of different wings, then this version is truly one to consider.
Cilantro Onion Wings
Yield: 20 wings
Ingredients:
½ cup finely chopped onion
½ cup finely chopped red onion
½ cup chopped fresh cilantro
½ teaspoon salt
¼ teaspoon ground black pepper
1/8 teaspoon hot sauce
2 tablespoon olive oil
1 tablespoon fresh lime juice
1 tablespoon fresh lemon juice
1 tablespoon sugar
20 trimmed and separated wings
Preparation:
In a food processor or blender, combine the onion, red onion, cilantro, salt, pepper, hot sauce, olive oil, lime and lemon juices, and sugar. Blend until pureed. Transfer with a rubber spatula to a large mixing bowl.
Add the wings, coating them thoroughly. Marinate in the refrigerator for 4 hours.
Preheat oven to 350°. With tongs, spread the wings evenly over a buttered 2-inch deep baking dish. Bake for 25 to 30 minutes, or until brown and cooked through. Transfer to a platter and serve.
Source: Wings Across America by Armand Vandersitgchel