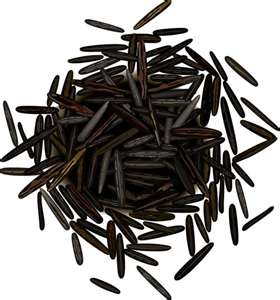 "Our garden herbs are still fresh, right?" I asked.
"Yes," Suzen said.
"And you love pine nuts, right?"
"What do you want, Brian." She was now on alert.
"Well, I found this stuffing recipe that uses them and I just thought …"
"Let me see," she asked and extended her hand for the cookbook I was holding.
"Oh," she continued, "wild rice. Yum, my favorite." She handed me back the book.
She is not a fan of wild rice. I am. We will not be cooking this stuffing this year, or probably any other. Normally, I don't blog a recipe Suzen and I haven't tested, but this comes from Diane Morgan, so we know this recipe will work. I know this recipe will be delicious. I just hope that someone, somewhere is able to enjoy what I am not. If you'd just like to drop me a note telling me how wonderful it was, well, that would give me some satisfaction.
I have to stop blogging now. I have bread crumbs to make. For stuffing. I wonder if I can cut them into the shape of little rice grains?
Wild Rice Stuffing with Pine Nuts, Dried Apricots, and Fresh Herbs
Yield: serves 6 to 8
Ingredients:
2 cups wild rice
2 cups chicken stock or canned low-sodium chicken broth
½ teaspoon salt
½ cup pine nuts
¾ cup dried apricots, quartered
5 tablespoons unsalted butter
2 large ribs celery, finely chopped
2 large carrots, peeled and finely chopped
1 medium yellow onion (about 8 ounces), finely chopped
1 tablespoon fresh thyme leaves
1 tablespoon minced fresh sage
½ cup minced fresh parsley
Freshly ground pepper
Preparation:
In a medium saucepan, combine the rice, stock, and 1/4  teaspoon of the salt, and add 2 cups of water. Bring to a boil over medium high heat.
Reduce the heat to a simmer, partially cover, and cook, stirring occasionally, until the rice is tender, about 40 minutes. (Not all of the liquid will be absorbed.)
Meanwhile, place a small, heavy skillet over medium-high heat. When it is hot, but not smoking, add the pine nuts. Stirring constantly, toast them until nicely browned, about 3 to 5 minutes. Transfer to a plate and set aside to cool.
Place the dried apricots in a small bowl, add hot water to cover, and allow to plump for 20 minutes. Drain and reserve.
In a 10-inch sauté pan, melt 4 tablespoons of the butter. Swirl to coat the pan and sauté the celery, carrots, and onion until soft and lightly browned, about 5 minutes. Add the thyme, sage, and parsley and sauté 1 more minute. Remove from the heat.
Preheat the oven to 350°F. When the rice is tender, add the sautéed vegetable mixture to the rice. Add the reserved pine nuts and apricots, and stir to combine. Add the remaining ¼ teaspoon of salt, and a few grinds of pepper. Taste and adjust the seasonings.
Use the remaining 1 tablespoon of butter to grease an oven-to-table casserole dish. Spoon in the rice stuffing and cover. Twenty minutes before serving, bake the stuffing until heated through. (The stuffing can be made up to 1 day in advance. Refrigerate, covered, and bring to room temperature 1 hour before baking. Increase the baking time to 40 minutes to insure it's heated through.)
Source: The New Thanksgiving Table by Diane Morgan
I grew up as a nice Jewish girl in Brooklyn. I learned to cook, to be ready to be a good Jewish wife. My training did not include Christmas turkey.
Brian and I easily reached our holiday menu compromise. We both love that Thanksgiving turkey. For Christmas, we strive for something new. This year it was braised duck, Indian spiced cauliflower, and wild rice pilaf with cherries and pecans. Plus holiday cookies for dessert. This menu was so good, we think you'd love it for New Year's Eve or New Year's Day. So we'll start tonight with the recipe for that great rice pilaf.
Pure wild rice is, well, a tad intense. So this recipe, as so many, blends wild and long-grain brown rice for a distinct flavor. Add some shallots, a little ginger, and some dried cherries and you have sweetness and spice added to the crunchiness of the rich. A taste or two of this dish, and no one will be mentioning mashed potatoes.
This recipe is from Eat Feed Autumn Winter by Anne Bramley. Anne has prepared menus and recipes for 30 different cold weather feasts. We mixed and matched this year, picking this rice dish and the cauliflower. If you love dinner parties, but are menu challenged, then this book is a resource you can depend on. It's a pathway to worry-free entertaining.
Wild Rice Pilaf with Cherries and Pecans
Yield: serves 8
Ingredients:
1 cup wild rice
2 tablespoons butter
½ cup minced shallots
1 cup long-grain brown rice
2 cups unsalted chicken broth
½ teaspoon salt
¼ teaspoon freshly ground black pepper
¼ teaspoon ground coriander
Pinch of ground ginger
½ cup dried cherries
¾ cup coarsely chopped, toasted, salted pecans (about 3 ounces)
Preparation:
Cook the wild rice according to the package directions.
While the wild rice cooks, prepare the brown rice. In a large skillet, melt the butter over medium heat. Add the shallots and cook, stirring constantly until softened, about 2 minutes. Add the brown rice and stir to coat with butter. Add the chicken broth, salt, pepper, coriander and ginger. Bring to a boil. Reduce heat to low, cover and simmer for 40 minutes until he rice is tender.
Stir in the dried cherries, cover and set aside for 10 minutes.
Add the wild rice to the brown rice mixture. Stir in the pecans just before serving.
Tasting Notes:
We used turkey, not chicken, stock. Our Thanksgiving bird had been saved for a day, the meat stripped away, and the carcass combined with lots of veggies. We had 6 quarts of high intensity stock. This rice benefited.
By all means, you can increase the cherries or used cranberries or try other fruits here.
Source: Eat Feed Autumn Winter by Anne Bramley