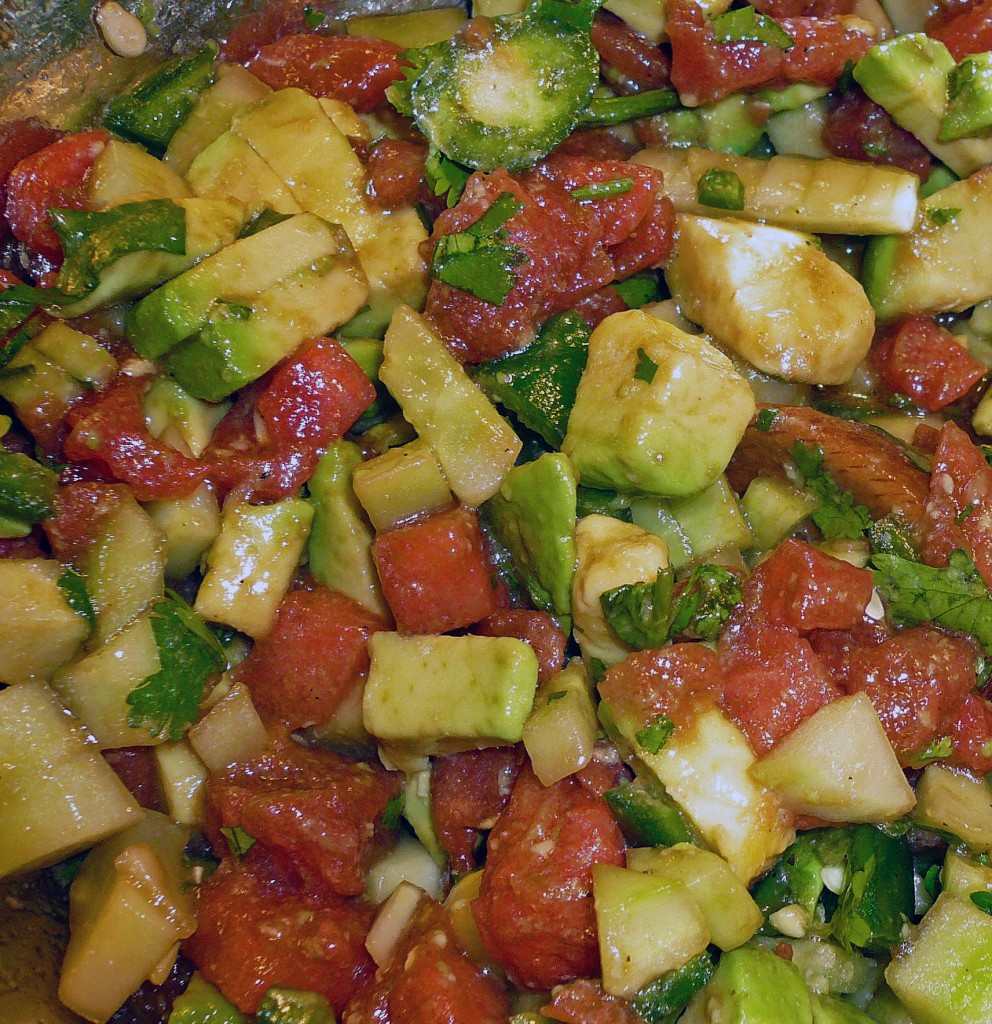 I saw a recipe that intrigued me: a salad of watermelon, cucumbers, and avocado. I tried it and was disappointed. It asked for a combination of balsamic vinegar and watermelon: the result was a color disaster with the bright watermelon color immediately transformed to "old tomato red." The flavor was too simple, lacking the depth of contrast you would expect visually.
Here's my rework with different ingredients and proportions but the same idea: create a crunchy, yummy salad with a kaleidoscope of colors and flavors.
I'm happy with my combination below, but you certainly can play with the amounts of each ingredient and try alternative vinegar flavor.
Made with cucumbers and watermelon, plus avocado, the major ingredients here all share one key factor: they are very heavy in water content. This salad will begin to "weep" upon creation. It will NOT last until later in the day, and never for the next day, in the refrigerator. So make this just before serving and relish in its freshness.
Watermelon, Cucumber and Avocado Salad
Yield: Serves 4-6
·

2 cups of watermelon diced into ¼-inch chucks

·

1 cup cucumber diced into ¼-i inch chunks

·

1 avocado, peeled, halved and finely diced

·

2 jalapenos, halved, seeds removed, and finely diced

·

½ cup cilantro finely chopped

·

Juice of one lemon

·

1 tablespoon sugar

·

2 tablespoons olive oil

·

1 tablespoon red wine vinegar

·

Salt to taste

·

Pepper to taste

·

4-5 scallions sliced very, very thin
Preparation:
Put the watermelon, cucumber and avocado in a large bowl and stir to mix. Add the jalapenos, cilantro, lemon juice, sugar, olive oil and vinegar. Stir to mix, trying to minimize the amount of stirring time so that the watermelon is not crushed.
Adjust the flavor with salt and pepper.
Garnish with the sliced scallions.
Serve immediately.
Source: Brian O'Rourke
On Wednesday, we were in Olive, New York. It was snowing a bit. The daffodils held their heads up nobly. Suzen searched for the car keys and escape.
Today, Saturday, we are in Austin. No immediate threat of snow. Suzen is basking in the heat. But to offset the 90°, our daughter-in-law Michele supplied a watermelon gazpacho that is refreshingly wonderful.
This is an example of recipes passing from generation to generation. Except this is a pass up. And, as always, we have to give full credit: the source is Cooking Light and this recipe is a "10" for both flavor and calorie counting. The taste here is full of sweet heat with crunchy texture. And instead of tomato juice as a base, cranberry-raspberry serves up an eye-opening flavor. Offer this soup very cold, perhaps with a red sangria.
Watermelon Gazpacho
Yield: 7-8 cups
Ingredients:
6 cups cubed seeded watermelon
1 cup coarsely chopped peeled English cucumber
½ cup coarsely chopped yellow bell pepper
⅓ cup chopped green onions
3 tablespoons chopped fresh mint
3 tablespoons fresh lime juice
1 tablespoon extra virgin olive oil
¾ teaspoon salt
½ teaspoon hot sauce
1 garlic clove, minced
1 cup cranberry-raspberry juice
Preparation:
Combine first the 10 ingredients, all but the cranberry-raspberry juice. Place half of this watermelon mixture in a food processor, and pulse 3 or 4 times or until finely chopped. Spoon into a large bowl. Repeat procedure with remaining watermelon mixture. Stir in the cranberry-raspberry juice. Chill thoroughly.
Source: David Joachim in Cooking Light Magazine