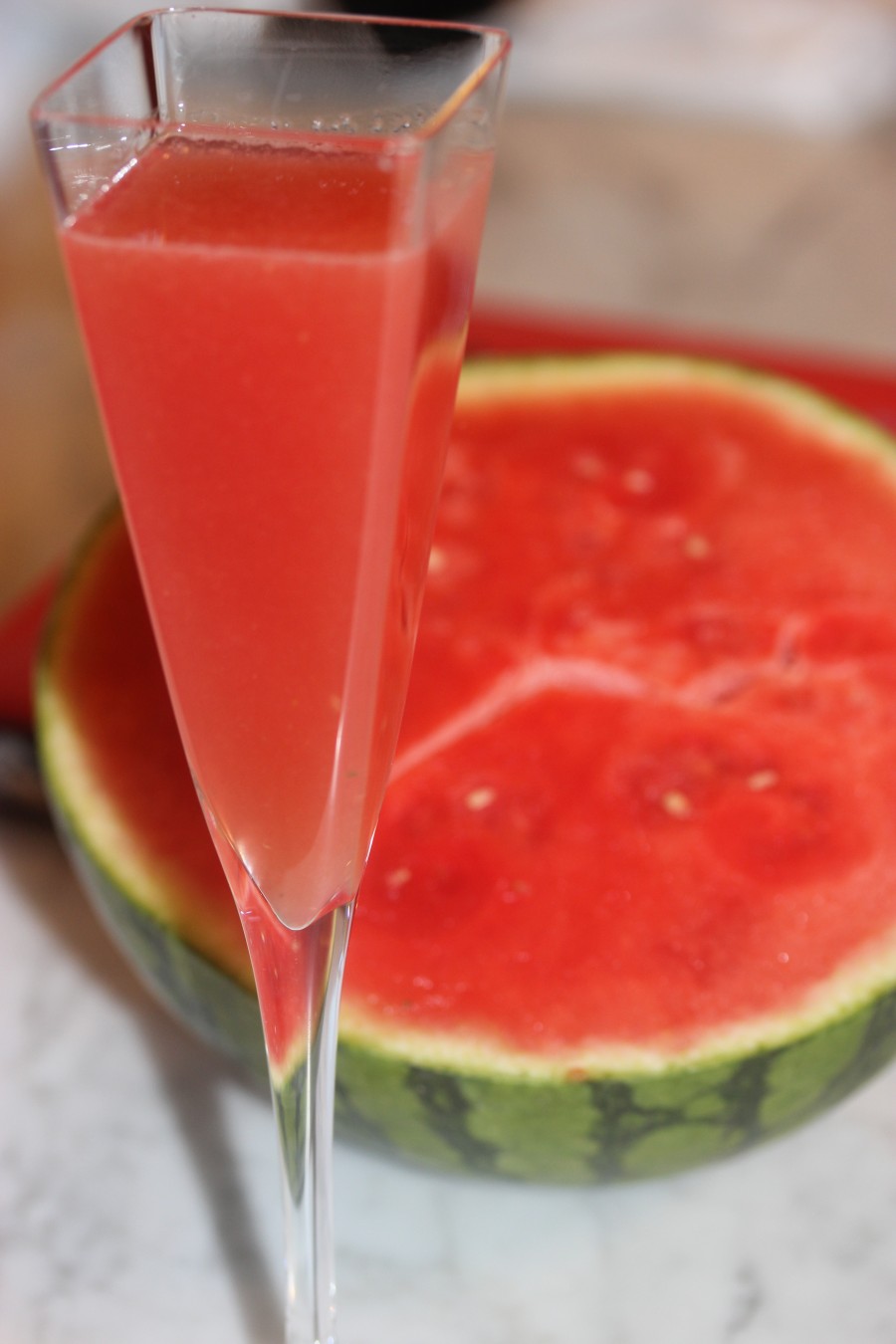 This has happened to you before. You are sitting at a little desk. An authority figure leans over and says, "You can do better." Now comes the flood of emotions: anger, resentment, embarrassment, and, yes, an acknowledgement that I could have done better.
I first blogged this beverage a couple of weeks ago and I loved it. I gave it to Suzen and she said, "This is great. But," now came the verdict, "you can do better."
The authority figure retreats, giving you no idea of what "better" means. You are left huddling before that little desk wondering where to go. Clueless. Dumped on. Head spinning.
Well, I thought about it, and I knew two things had to change. First, my sweet tooth be damned, but the lemon juice had to be replaced by lime.  Then there was the vodka. True vodka is tasteless. It is there for one reason: as a liquid conveyor belt to transfer alcohol into you system. And transfer with a kick. I still wanted the kick, but I wanted flavor, too, something to complement the watermelon juice.
Rum would not do. Too common and too distinctive. [Sorry, Bicardi]. No, what I needed was the "secret rum" — cachaca from Brazil. Same sugar cane origins, but  totally distinctive and subtle flavor profile.
I adjusted the recipe, I made a test glass, and a I found Suzen. "This, this one is fabulous!" she said. I waited for the "but" phrase to come. It did not. Nothing gets better than this.
Besides the cachaca, the secret here is watermelon juice. Proportionately, this drink is high on watermelon juice and low in alcoholic components. Suzen and I are planning a summer party for our friends and this drink is on the menu for many reasons: it is different, it is delicious, it is easy to make, most of it can be made ahead of time, and it can be enjoyed without getting tipsy. It's the ideal party drink.
To get the watermelon juice, I used our new Vitamix blenders. The Vitamix is shockingly fast at doing this. I took one of those smallish spring watermelons, about 5 pounds, and cut it in half. Using only one half, I cut off the exterior green and white to get to the core red fruit, which weighed in by then at just over 2 pounds. I cut that fruit into large chunks put them in the Vitamix, then turned the machine on at an intermediate speed. CAWUMP. It took about three seconds and that fruit was completely converted to juice.
Actually, a thick juice. The great thing about the Vitamix is the ability to liquefy yet have some body by retaining all the fruit, and thus all the nutrients. A blender can't do this. I've tried. Once you've converted to Vitamix, there is no going back. That hint of body in the juice gives you a cocktail that has weight on your tongue and mouth. It's a great feel to complement a great taste.
Brian's Watermelon Elderberry Martini, The Better Version
Yield: 2 bountiful cocktails
Ingredients:
3 ounces cachaca
1 ounce of St. Germain Elderflower liquor
Juice of two limes
2 ounces of simple sugar syrup
6 ounces of watermelon juice [definitely homemade with body]
Preparation:
Put all the ingredients in a cocktail shaker. Add ice and shake for a solid 30 seconds. No cheating. 30 seconds is more than 10 or 12 and yes it does make a difference and you don't have to go to a $400 bartending class to learn this important lesson.
Pour into the glass of your choice. The glass may be rimmed with sugar. You may want crushed ice inside. Or, because the drink is so juice heavy and you want to avoid diluting it, just go ice-less.
Source: Brian O'Rourke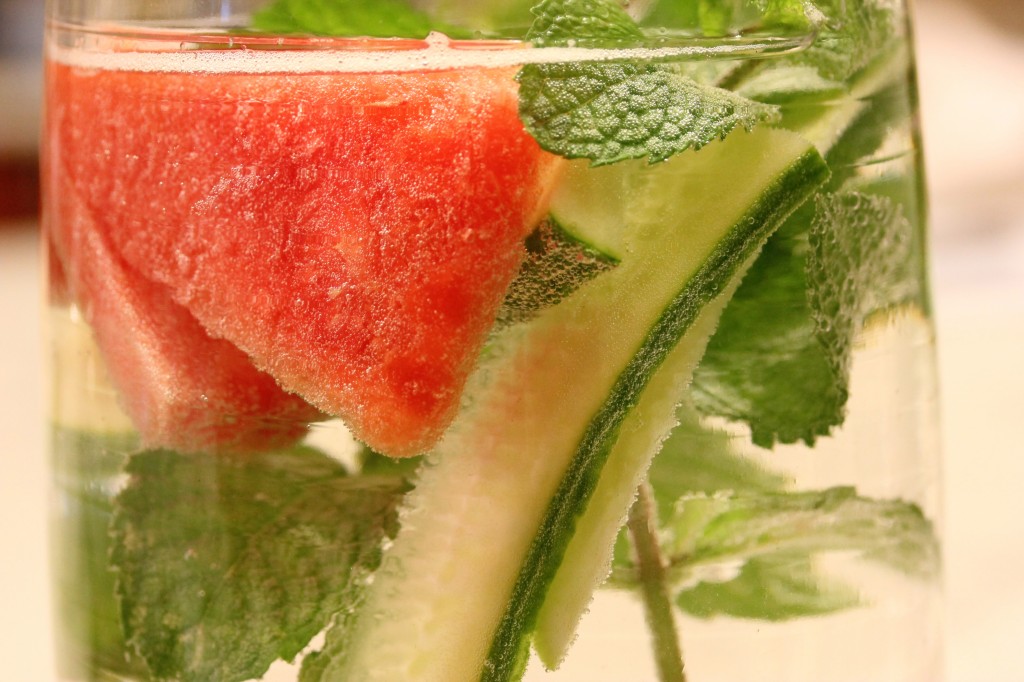 "Rum," Brian said with confidence. A little too much confidence for my taste, but he was about to be cut down to size.
"No," I said quietly.
He pondered the pitcher. I knew the mint was distracting him.
"Tequila," he guessed.
"No."
He stooped low to the pitcher.
"NO CHEATING!" I yelled. "You can't smell!"
"Gin," he was beginning to snarl.
"No," I repeated.
"Ah, you've tried to trick me. It's watermelon-flavored vodka." A bad wild guess on his part. He was wearing down.
"No," I said. "Give up?"
"Yes, damn you." He was now meek and tamed, the way any good husband should be.
"Water," I said.
"Water?" His voice carried terror.
"Yes, water and only water. No booze. No sugar."
"If I drink that it will kill me," he protested.
"If you don't drink it, you'll wish you had." Sometimes a wife deserves to be on top.
When it is smoking hot, and for many of you it is triple digit time, this is a most refreshing beverage. Last Saturday we were at Blue Cashew [www.bluecasherkitchin.com] in Rhinebeck, New York for a book signing. Blue is a superior kitchenware store with an upscale stock of goods that will have you happily wandering for hours.
To make a warm day easier, Blue served this delicious water. It's a simple pitcher with a slice of melon, a slice or two of cucumber, and some mint. Served very cold, it is the perfect pick me up. And, no alcohol. No sugar. Beautiful to behold.
In the end, Brian did taste and he did like it. [I had hidden the sugar container in our kitchen so he had no choice.]
Oh, the book signing was for American Masala by Suvir Saran, a neighbor of ours in the city. Suvir's Manhattan restaurant Devi has received a Michelin star. You should consider his books or his restaurant for marvelous Indian cuisine.
Watermelon, Mint and Cucumber Water
Yield: 1 pitcher
Ingredients:
Water
1 thick slice of ripe water melon
1 sprig of fresh mint
1-2 slices of peeled, seeded cucumber
Preparation:
In a 1-quart or larger pitcher, fill with cold water. Add the melon, mint, and cucumber. Refrigerate until just before serving.
Source: Blue Cashew in Rhinebeck, New York