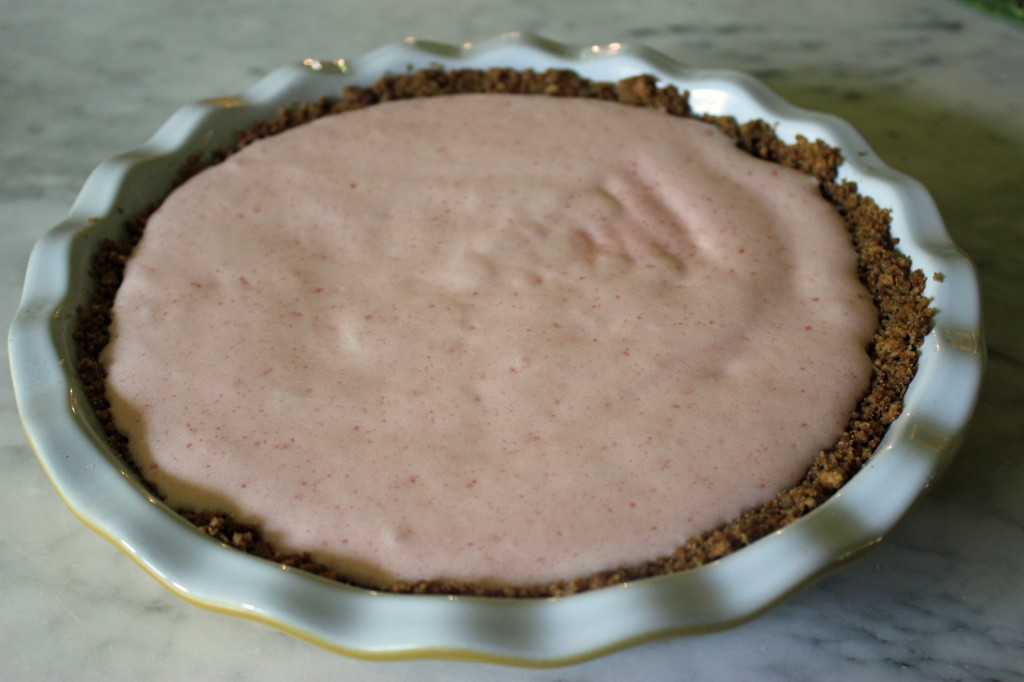 "I'm making dessert tonight," Suzen said.
"What a coincidence, so am I" I said.
"We don't need two."
"I bought the watermelon."
"You," Suzen began, "have a large bug somewhere in your anatomy."
"Yes," I admitted. "Yes, I do and to cure it I'm making this pie."
The name, Watermelon Chiffon Pie, had teased at me for over a year. To my credit, I had asked Suzen on multiple occasions. She eats pie, she does just not spring to make it.
Thing is, I had no idea how this might taste. Watermelon juice has a wonderful flavor, yet the juice itself is very "thin" to the tongue. I've done a variety of chiffon pies in the past year and everyone had a key component: some liqueur. This pie has none. Not even one of those watermelon schnapps creations you might have. Truthfully, watermelon liquors can be awful: sweetish, yet harsh with a chemical aftertaste.
How does this pie rate? It's wonderful. Soft and subtle. The watermelon flavor is there, but does not overpower.
What crust to use? Look at yesterday's post for a graham cracker crust from the same source as this book: Pie by Ken Haedrich.
Two technique matters are important here. First, the way in which the whipped cream and eggs whites are added is important. The method here eliminates of the globs of whipped cream, egg whites, or — worst of all — pieces of watermelon-gelatin.
Second, the method here for getting out the watermelon juice is a bit time consuming. And, I did not follow it. Instead, I put watermelon chunks in our Vitamix and in seconds had watermelon liquid. It's much faster. The liquid, by the way, is not thin juice but has some fine pulp. I could have used that, for a different texture. Instead, I pour 4 cups of pulp through a sieve and got just under 3 cups net of pure juice.
One these endless summer nights, you want something very refreshing. Nothing is better than this pie.
Watermelon Chiffon Pie
Yield: 1 9-inch pie, enough for 6-8 people
Ingredients:
1 graham cracker crust, prepared and baked [see the recipe here on this blog!]
6 cups watermelon flesh [seeks are fine]
1/3 cup granulated water
2 envelopes unflavored gelatin
1 tablespoon fresh lime or lemon juice
2 large egg whites, at room temperature
1 cup heavy or whipping cream
1 cup confectioners' sugar, sifted
Confectioners' sugar for garnish
Fresh whipped cream for garnish [optional]
Preparation:
Combine the watermelon and granulated sugar in a very large bowl. Using a potato masher, mash until the mixture is quite liquid. Set aside for 15 minutes. Drain the mixture through a strainer, reserving almost 2 ¾ cups of the watermelon juice. Discard the pulp and seeds.
Put ¼ cup of the juice in a medium-size bowl and sprinkle the gelatin over it. Set aside for 3 to 4 minutes to dissolve. Meanwhile, heat ½ cup of the juice in a small saucepan over medium heat to a near boil. Whisk the hot juice into the dissolved gelatin. Pour the remaining 2 cups of watermelon juice into a large bowl and stir in the gelatin-watermelon juice mixture. Stir in the lime juice. Place in the refrigerator.
Using an electric mixer, beat the egg white is a medium-size bowl until stiff peaks form. Set aside. Clean and dry the beaters. Using a chilled  medium-size bowl and chilled beaters, beat the heavy cream with the mixer until it holds soft peaks. Add the confectioners' sugar and beat until smooth and stiff  but not graining. Refrigerate.
When the watermelon juice mixture start to firm up, add about one-quarter of the whipped cream and beat with the electric mixer until smooth. Add the beaten egg white and remaining whipped cream and gently fold them in with a large rubber spatula. If necessary, use a whisk — very briefly — to smooth the mixture and break up any large globs of white or whipped cream. Pour the filling into the cooled pie shell, shaking the pan gently to settle the filling. Cover with loosely tented aluminum foil and refrigerate for at least 4 hours, preferably overnight.
To serve, garnish each slice with a dusting of confectioners' sugar, then add a dollop of whipped cream, if desired.
Source: Pie by Ken Haedrich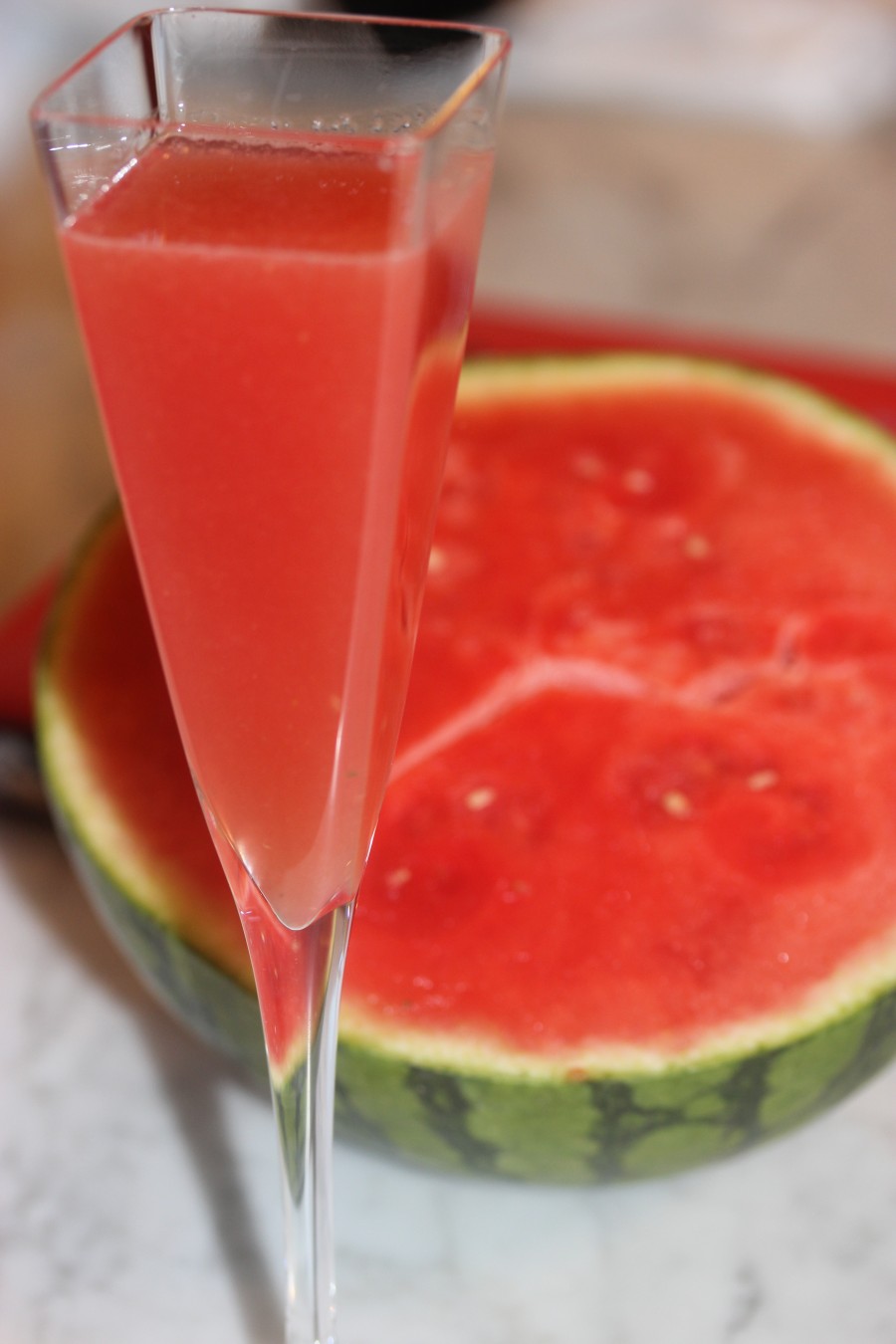 This has happened to you before. You are sitting at a little desk. An authority figure leans over and says, "You can do better." Now comes the flood of emotions: anger, resentment, embarrassment, and, yes, an acknowledgement that I could have done better.
I first blogged this beverage a couple of weeks ago and I loved it. I gave it to Suzen and she said, "This is great. But," now came the verdict, "you can do better."
The authority figure retreats, giving you no idea of what "better" means. You are left huddling before that little desk wondering where to go. Clueless. Dumped on. Head spinning.
Well, I thought about it, and I knew two things had to change. First, my sweet tooth be damned, but the lemon juice had to be replaced by lime.  Then there was the vodka. True vodka is tasteless. It is there for one reason: as a liquid conveyor belt to transfer alcohol into you system. And transfer with a kick. I still wanted the kick, but I wanted flavor, too, something to complement the watermelon juice.
Rum would not do. Too common and too distinctive. [Sorry, Bicardi]. No, what I needed was the "secret rum" — cachaca from Brazil. Same sugar cane origins, but  totally distinctive and subtle flavor profile.
I adjusted the recipe, I made a test glass, and a I found Suzen. "This, this one is fabulous!" she said. I waited for the "but" phrase to come. It did not. Nothing gets better than this.
Besides the cachaca, the secret here is watermelon juice. Proportionately, this drink is high on watermelon juice and low in alcoholic components. Suzen and I are planning a summer party for our friends and this drink is on the menu for many reasons: it is different, it is delicious, it is easy to make, most of it can be made ahead of time, and it can be enjoyed without getting tipsy. It's the ideal party drink.
To get the watermelon juice, I used our new Vitamix blenders. The Vitamix is shockingly fast at doing this. I took one of those smallish spring watermelons, about 5 pounds, and cut it in half. Using only one half, I cut off the exterior green and white to get to the core red fruit, which weighed in by then at just over 2 pounds. I cut that fruit into large chunks put them in the Vitamix, then turned the machine on at an intermediate speed. CAWUMP. It took about three seconds and that fruit was completely converted to juice.
Actually, a thick juice. The great thing about the Vitamix is the ability to liquefy yet have some body by retaining all the fruit, and thus all the nutrients. A blender can't do this. I've tried. Once you've converted to Vitamix, there is no going back. That hint of body in the juice gives you a cocktail that has weight on your tongue and mouth. It's a great feel to complement a great taste.
Brian's Watermelon Elderberry Martini, The Better Version
Yield: 2 bountiful cocktails
Ingredients:
3 ounces cachaca
1 ounce of St. Germain Elderflower liquor
Juice of two limes
2 ounces of simple sugar syrup
6 ounces of watermelon juice [definitely homemade with body]
Preparation:
Put all the ingredients in a cocktail shaker. Add ice and shake for a solid 30 seconds. No cheating. 30 seconds is more than 10 or 12 and yes it does make a difference and you don't have to go to a $400 bartending class to learn this important lesson.
Pour into the glass of your choice. The glass may be rimmed with sugar. You may want crushed ice inside. Or, because the drink is so juice heavy and you want to avoid diluting it, just go ice-less.
Source: Brian O'Rourke