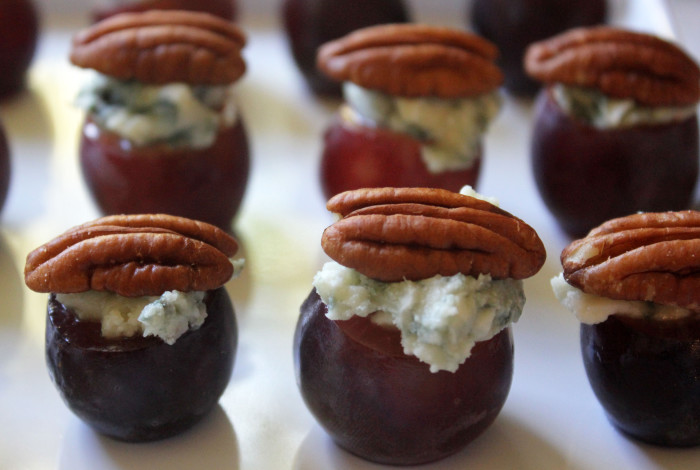 Sometimes you want just a sweet bite of this, a little taste of that. Bites so small it's hard to call them tapas even. Consider Gale Gand's Just a Bite. Published in 2001, we often pull it from our bookshelf.
The 125 recipes here are, technically, all desserts. And there are chapters on cookie bites, cake bites, creamy stuff, frozen, candy, chocolate, fruity, and cheese.
Ah, cheese. The cheese plate. I'm sorry. But cheese is not dessert. Not for me. It's an appetizer, plain and simple. Take Gale's recipe for Maytag Blue Grapes. I don't want to wait until dessert to try these. Although, it is true, these grapes with a grand port might be a delectable and successful end to any meal.
I can't wait. Suzen and I had a plate of these with cocktails last Saturday when the thermometer screamed that summer had arrived. Thunderstorms dotted around us. The wind blew. There was heavy rain and then azure sky. Through it all we just sat on our screened in porch. Eating grapes, sipping gin and tonics.
The technique here affords you ample room for experimentation. Not a fan of blue cheese? Substitute away. If you prefer walnuts, which Gale suggests, than do as you wish. Or mix and match. Or use some cashews. There is room for diversity, and you will experience pleasure in every little bite. Just as Gale intended.
Maytag Blue Grapes
Yield: 20 pieces, enough for 5-6 people
Ingredients:
2 ounces Maytag blue cheese
20 large seedless grapes: green, white, or red
20 small walnut pieces [or pecan halves if you prefer]
Freshly ground black pepper
Preparation:
Use your hands to roll the cheese into very small balls.
Use a very sharp knife to cut a thin slice off the bottom of each grape to give it a flat bottom to stand on. Cut off the top third of each grape. Use the tip of a knife or small spoon to make a little hollow in each grape (to hold the cheese ball). Press a ball of cheese into each hollow and dot with a nut pieces. Sprinkle with pepper.
Serve immediately or chill for up to 12 hours. The grapes can be served chilled or at room temperature, but do not leave out for more than 4 hours.
Sources: Gale Gand's Just a Bite
Photo Information Canon T2i, EFS 60 mm Macro Lens, F/5.6 for 1/60th second at ISO-1600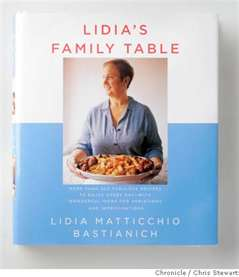 With Thanksgiving behind us, but with frost on the ground, we can all use some lighter food with an autumn touch. Here's a pasta sauce from Lidia's Family Table that is deliciously different. This Butter, Fresh Sage, and Walnut Sauce is lovely over many pasta choices. Lydia's book has recipes for freshly homemade walnut-flavored pasta, and you can consult that book for her exceptional recipe idea [we will blog one of the recipes later this week!].
This sauce works well on store-bought spaghetti and I think it would make for spectacular fettuccini. Pair it with a rich Italian red and salad for a comfy meal before your fireplace.
Some Italian sauces need hours to achieve greatness. This one requires just a few minutes to prepare, so you can easily experiment and enjoy this treat.
You should scan Family Table and really consider adding it to your bookshelf. The recipes are, of course, very authentic, wonderfully written, and will provide you a bevy of new recipe ideas including:
Skillet Green Beans with Gorgonzola
Roast Pork Shoulder with Roasted Vegetables
Cooked Carrot Salad with Pine Nuts and Raisins
Butter, Fresh Sage and Walnut Sauce
Yield: for one pound of pasta
Ingredients:
8 tablespoons [1 stick] butter
6 fresh sage leaves
1 cup chopped walnuts
Hot water from pasta-cooking pot
1 cup freshly grated Parmigiano-Reggiano or Grana Padano
Preparation:
Melt the butter over medium-high heat in the skillet, and scatter the sage leaves around the pan.
When the butter begins to sizzle, drop the chopped walnuts in a hot spot. Toast them, stirring in the butter for a minute or so, until they start to turn light brown.
Ladle in 1 cup of pasta-cooking water. Cook at an active simmer for about 3 minutes, to develop flavor and thicken the sauce.
Finish sauce with the cooked pasta, tossing and cooking together over low heat. Off the heat, toss pasta with the freshly grated cheese just before serving.
Source: Lidia's Family Table by Lidia Bastianich