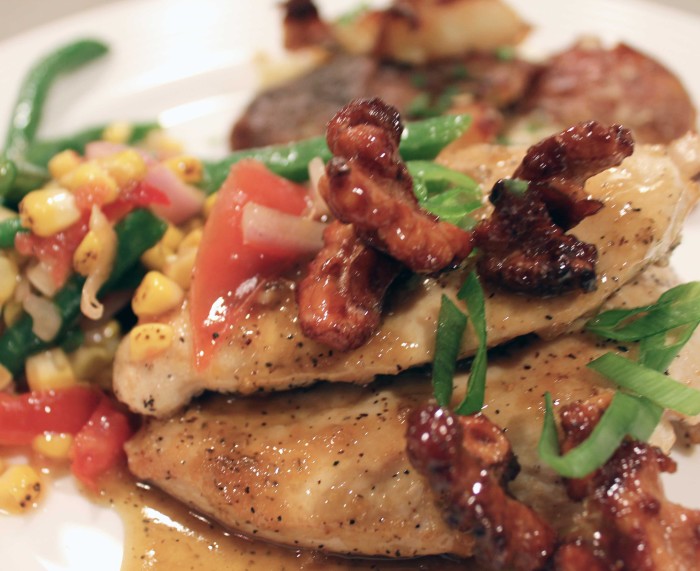 Have you ever followed a recipe in a cookbook, really and truly and honestly followed it, and the result was a disaster?
It wasn't you. It was the cookbook. And the failure of the author and publisher to make sure that each and every recipe in the book has been tested and works exactly as written. A couple of decades ago, you could depend on that quality in any cookbook you bought. Today? It's rare, and the recipes in many books can be hit and miss.
What's the solution to this more than minor problem? First, if you make something and it fails, shoot off an email — maybe with a photo — and just very politely tell the PR department at the publisher that there may be a problem.
Second, and more directly, you can avoid the problem entirely by searching for books from authors and publishers you can trust. Authors like Marie Simmons. With well over a dozen cookbooks in her portfolio, Marie is one of those very special authors you can put full trust in. If it is a recipe in her book, and you follow that recipe, you will have something quite special.
In the past two years, there has been a flurry of cookbooks devoted to one sweet topic: honey. Marie has authored Taste of Honey and it ranks at the top of the hive. Typical of her books, it is smart and simple. The recipes are not 1-2-3 simple, I admit. But, Marie's writing style is excellent. The directions lead you step-by-step with clarity and precision. Most importantly, Marie has a spirit of adventure, like this recipe where honey and ginger and walnuts and chicken all come together in a sticky, delicious delight.
---
Pan-Seared Lemon Chicken with Ginger Honey Sauce and Ginger-Honey Walnuts

Yield: 4 servings

Ingredients:

For the ginger-honey walnuts:

2 teaspoons extra virgin olive oil
½ teaspoon grated ginger
1 small clove garlic, grated
½ cup walnut halves
1 tablespoon honey
½ teaspoon coarse salt
For the lemon chicken:

1 ½ pounds boneless and skinless chicken breasts (see note)
Coarse salt and freshly ground black pepper
4 tablespoons extra virgin olive oil
1 teaspoon grated ginger
1 clove garlic, grated
¼ cup fresh lemon juice
¼ cup chicken broth
2 tablespoons honey
1 thinly sliced scallion (about 1 tablespoon, green part only)
Preparation:

To make the ginger-honey walnuts, place oil, ginger, and garlic in small skillet. Slowly heat over medium-low until garlic sizzles. Add walnuts and honey. Cook on medium heat for about 2-3 minutes, adjusting temperature until honey boils and sticks to walnuts and walnuts turn golden. Sprinkle with the salt, adjusting to taste. Transfer to a side dish or sheet of aluminum foil. Do not put on paper towels because they will stick.
To make the lemon chicken, with a sharp knife, fillet the chicken breasts through the thickest part to make 8 cutlets.
Place them on a large piece of plastic wrap, sprinkle with salt and pepper, cover with second sheet of plastic wrap, and gently but firmly pound chicken with a meat pounder or underside of a small, heavy skillet to make fillets of even thickness of ¼ to ⅓ inch.
Heat 3 tablespoons of the olive oil in large, broad skillet until hot enough to sizzle.
Add the chicken a few at a time and cook 1-2 minutes per side, until lightly browned.
As the chicken is cooked, transfer to a platter and cover with foil to keep warm.
Discard oil in skillet and let skillet cool slightly. Add remaining 1 tbsp. of oil, ginger, and garlic to skillet. Heat and stir over medium-low heat just until garlic sizzles. Add the lemon juice, chicken broth, and honey. Heat, stirring to loosen any browned bits in skillet, for about 3 minutes, or until mixture boils and thickens. Pour sauce over chicken and sprinkle with the walnuts and scallions.
Source: Taste of Honey by Marie Simmons

Photo Information Canon T2i, EFS 60 mm Macro Lens, F/3.5 for 1/30th second at ISO‑500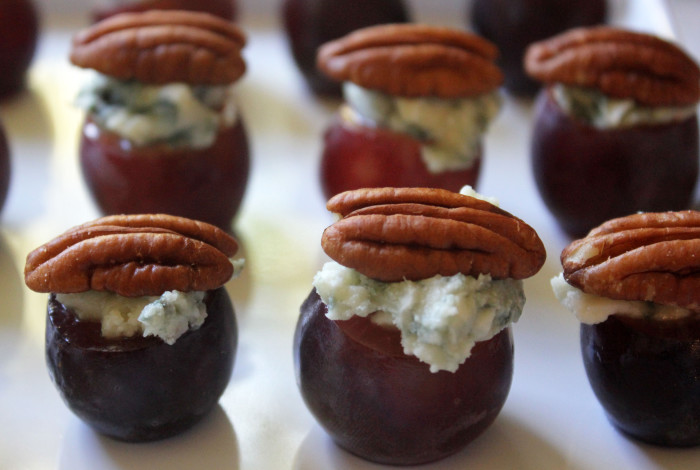 Sometimes you want just a sweet bite of this, a little taste of that. Bites so small it's hard to call them tapas even. Consider Gale Gand's Just a Bite. Published in 2001, we often pull it from our bookshelf.
The 125 recipes here are, technically, all desserts. And there are chapters on cookie bites, cake bites, creamy stuff, frozen, candy, chocolate, fruity, and cheese.
Ah, cheese. The cheese plate. I'm sorry. But cheese is not dessert. Not for me. It's an appetizer, plain and simple. Take Gale's recipe for Maytag Blue Grapes. I don't want to wait until dessert to try these. Although, it is true, these grapes with a grand port might be a delectable and successful end to any meal.
I can't wait. Suzen and I had a plate of these with cocktails last Saturday when the thermometer screamed that summer had arrived. Thunderstorms dotted around us. The wind blew. There was heavy rain and then azure sky. Through it all we just sat on our screened in porch. Eating grapes, sipping gin and tonics.
The technique here affords you ample room for experimentation. Not a fan of blue cheese? Substitute away. If you prefer walnuts, which Gale suggests, than do as you wish. Or mix and match. Or use some cashews. There is room for diversity, and you will experience pleasure in every little bite. Just as Gale intended.
Maytag Blue Grapes
Yield: 20 pieces, enough for 5-6 people
Ingredients:
2 ounces Maytag blue cheese
20 large seedless grapes: green, white, or red
20 small walnut pieces [or pecan halves if you prefer]
Freshly ground black pepper
Preparation:
Use your hands to roll the cheese into very small balls.
Use a very sharp knife to cut a thin slice off the bottom of each grape to give it a flat bottom to stand on. Cut off the top third of each grape. Use the tip of a knife or small spoon to make a little hollow in each grape (to hold the cheese ball). Press a ball of cheese into each hollow and dot with a nut pieces. Sprinkle with pepper.
Serve immediately or chill for up to 12 hours. The grapes can be served chilled or at room temperature, but do not leave out for more than 4 hours.
Sources: Gale Gand's Just a Bite
Photo Information Canon T2i, EFS 60 mm Macro Lens, F/5.6 for 1/60th second at ISO-1600