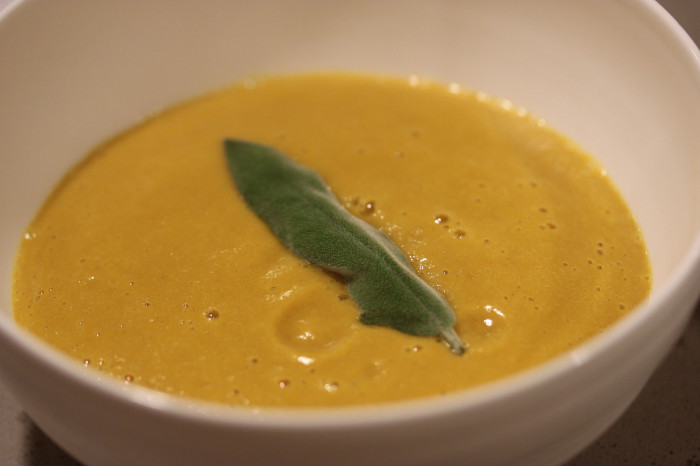 We are fortunate at Cooking by the Book to have the blenders supplied by Vitamix. We actually do not call them blenders. To everyone, staff and guests, they are simply the Vitamixes. We use them, but privately many of us worship them.
These are amazing machines whose power and versatility outdo anything else you might have tried.
Combine that power with time and you get: heat. Squash soup is the perfect vehicle to display the culinary power of the Vitamix.
Keep the machine running on high for just a few minutes, and that liquid in the bowl becomes steaming hot. The instructions below, from Vitamix, show just how quick it can be, how easy to do. What can't be shown, what has to be tasted, is the classic flavor of this soup.
It has always surprised Suzen and me how just a little apple can change the entire flavor profile of squash soup. It adds, people say, sweetness. But it's more than that. There is sharp coolness that the apple punctuates in every spoonful.
The proportions here are for you to play with at will. More apple or spice? Sure, you can't go wrong. Every time you make this soup it will be recognizable. And every time it will be distinctive and surprising.
Oh, the recipe title may say "holiday" but don't be confused. It's not for a holiday. It makes any day a holiday.
Vitamix Holiday Squash Soup
Yield: 5 cups
Ingredients:
2 cups chicken or vegetable broth, homemade ideally
½ buttercup or butternut squash, cook, peeled, or 2 cups of cooked squash or pumpkin
¼ small onion, peeled
¼ medium apple, seeded
¼ teaspoon nutmeg
¼ teaspoon dried sage
¼ teaspoon dried rosemary
⅛ teaspoon white pepper
½ teaspoon salt
¼ cup heavy cream
Preparation:
Place all the ingredients except the heavy cream into the Vitamix container in the order listed. Secure the lid
Select Variable 1. Turn the machine on and quickly increase the speed to variable 10, then to High.
Blend 6-7 minutes or until heavy steam escapes from the vented lid.
Reduce the speed to Variable 4 and remove the lid plug. Add the heavy cream through the lit plug opening. Blend for an additional 20 seconds.
Source: Whole Food Recipes by Vitamix
Photo Information [top picture]: Canon T2i, EFS 60 mm Macro Lens, F/3.2 for 1/100th second at ISO-800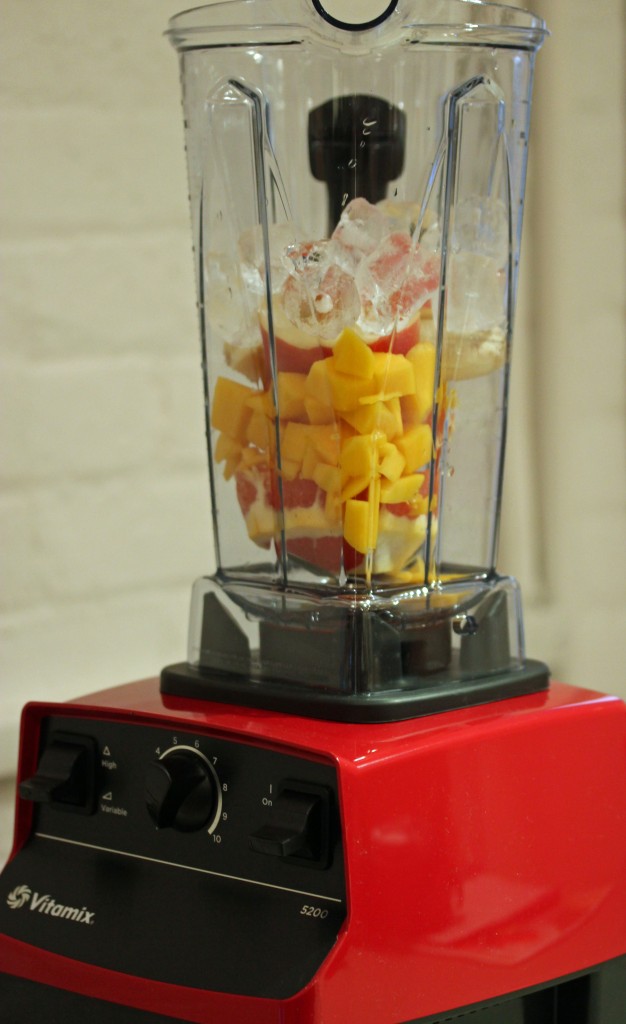 We very, very happy these days at Cooking by the Book. We have just received four powerful Vitamix blenders for our workstations. Vitamix is not just a blender. It is a kitchen wonder.
Ever been to a Jamba Juice and enjoyed one of their smoothies. Remember that mega-machine that whirred away to create your treat? That was a Vitamix.
To inaugurate their arrival at Cooking by the Book, we did what anyone with a Vitamix can do anytime. We filled it with whatever fruit was available — cantaloupe and apples — added some ice, and turned the machine on. In second, literally seconds, we had a smoothie. How did it taste? Well, smooth, really smooth. And vibrant with flavor. Here's a place where freshness counts.
We'll be working with the Vitamix Corporation to demonstrate the power and flexibility of their product. We've already gone beyond smoothies to drink. We've made soups that are impeccably pure in texture. Once you try a Vitamix in your kitchen, you are going to consider it indispensable.
Recipes and ideas to follow!