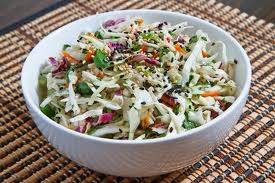 Coleslaw is a ubiquitous dish, appearing on our plates at fast food restaurants, on burgers and hot dogs, and on platters next to those ribs and chicken you have just barbequed.
Making slaw from scratch can be a bit labor intensive. Buying the ready-made versions from you deli counter can often be disappointing, even when you try to doctor them with additional ingredients.
Here is the great slaw compromise.
You can buy packages of shredded cabbage, and other ingredients, in the produce section of your grocery store. These are fresh, clean, and unadorned with dressing.
Ah, the dressing. That's your role. Just make this very wonderful slaw dressing from Perfect Vinaigrettes by Linda Danneberg. Perfect Vinaigrettes is a book we have on the closest shelf in our kitchen. We are always turning to this charmer for ideas and inspiration.
You can just follow the recipe ideas in Perfect Vinaigrettes and have a success. Or, if you feel experimental, take one of these recipes and embellish it: change the vinegar type, more vinegar, less mustard, more herbs. The recipes here are all solid templates for salad success.
We used this particular recipe for packaged slaw and enjoyed it on three consecutive nights: with ribs, with burgers, and then with crab cakes.
This dressing works for both slaw [6 cups of shredded veggies] or potato salad [6 cups of boiled and then sliced potatoes]
Creamy Caraway Seed Dressing for Coleslaw
Yield: serves 6
Ingredients:
2 tablespoons white wine vinegar or sherry vinegar
¾ teaspoon fine sea salt
2 tablespoons sugar
Freshly ground black pepper
1 heaping teaspoon finely minced onion
1 tablespoon caraway seeds
1 cup mayonnaise
2 tablespoons heavy cream
Preparation:
In a bowl combine the vinegar, salt, sugar, and several generous turns of the pepper, and stir until the salt and sugar dissolved. Stir in the onion and caraway seeds, and then add the mayonnaise and cream. Whisk until the dressing is airy, thoroughly blended and smooth.
Place the coleslaw mixture or potatoes in a bowl. Pour the dressing on top, and then toss gently to mix.
Adjust the seasonings to taste, then refrigerate for several hours. Stir once again just before serving.
Source: Perfect Vinaigrettes by Linda Dannenberg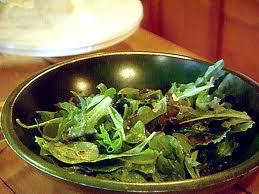 One of the treasures of summer and fall in the Hudson Valley is the array of farmers markets that dot the landscape. On Sundays, Brian and I go to Rhinebeck for their very upscale market. It is smallish, perhaps 25 vendors, but they offer incredible quality. Last Sunday one vendor had bags of wonderful mixed greens. It was salad ready to go.
For our exceptional greens, we wanted an exceptional dressing. Something beyond a simple vinaigrette. Something special that would be appropriate for the dozen flavors we had secured in Rhinebeck. We did some research in our cookbooks, and found this dressing, which was a favorite of patrons of the now-closed Lutece restaurant in New York City.
This thick dressing has a soft yellow color. It provides flavor that complements rather than over powers the greens. The recipe calls for Melfor vinegar if possible. Melfor is Alsatian honey-based vinegar and it just may not be present on your pantry shelf. We used the suggested alternative of tarragon vinegar with those teaspoons of honey.
A key feature of this recipe is the proportion of olive and peanut oils. It might seem heretical, but Chef Andre Soltner was not a fan of olive oil. Using peanut oil here contributes to the viscosity of the dressing.
Now that we've sampled this dressing, we can understand why it such a long time favorite at Lutece. If you try it, you're likely to have it on your "short list" of "old reliable," too.
André Soltner's Lutece Vinaigrette
Yield: Serves 8
Ingredients:
1 heaping tablespoon finely chopped onion
2 teaspoons Dijon mustard
¼ cup Melfor vinegar or tarragon vinegar
1 teaspoon fine sea salt
1/8 teaspoon freshly ground black pepper
2 drops Tabasco sauce
2 tablespoons olive oil
2/3 cup peanut oil
Preparation:
In a small bowl, crush the chopped onion to a puree with a fork. Add the mustard, vinegar, 1 tablespoon water, salt, pepper and Tabasco sauce. Whisk until the ingredient bind. Gradually whisk in the olive oil and the peanut oil until the ingredients are emulsified, then taste and adjust the seasoning. Pour over a salad, toss to coat thoroughly, and serve immediately.
Source: Perfect Vinaigrettes by Linda Dannenberg