Lamb Chops with Roasted Cherry Vinaigrette
Yield: serves 6
Ingredients:
For the vinaigrette:
1 pound fresh sweet cherries such as Bing or Rainer, pitted and halved
8 tablespoons extra-virgin olive oil
Sat salt, preferably gray salt
Freshly ground black pepper
6 scallions, white part only, cut on the bias into ¼ inch pieces
1 ½ tablespoons tarragon vinegar
1 tablespoon minced fresh tarragon
For the lamb:
18 lamb chops cut from a rack of lamb, at room temperature
Sea salt, preferably gray salt
Extra-virgin olive oil for brushing
Preparation:
For the vinaigrette, preheat the oven to 450°F. In a large bowl, mix the cherries with 7 tablespoon of the oil. Season with salt and pepper. Heat an ovenproof sauté pan or skillet over medium-high heat, add the remaining 1 tablespoon olive oil, and heat until shimmering. Add half of the cherries and toss them once or twice. Transfer the pan to the oven and roast until the cherries around the edges of the pan begin to turn lightly brown, about 2 minutes. Remove from the oven and add to the remaining half of the cherries. Add the scallions, vinegar and tarragon. Taste and adjust the seasoning. Set aside.
For the lamb chops, prepare a hot wood fire in a charcoal grill or have a grill pan ready. Season both sides of each chop with salt. Brush lightly over with olive oil. If using a grill pan, heat the pan over high heat and oil and pan. Grill the chops for 3-4 minutes on each side. Transfer the chops to a platter and let rest for 5 to 10 minutes.
If serving with polenta, place a mound of polenta on each warmed plate. Place 3 chops on the top of the polenta with bones pointing towards the plate's center. Top with a spoonful of vinaigrette. Ladle any extra vinaigrette into small ramekins to pass at the table.
Source: Adapted from Michael Chiarello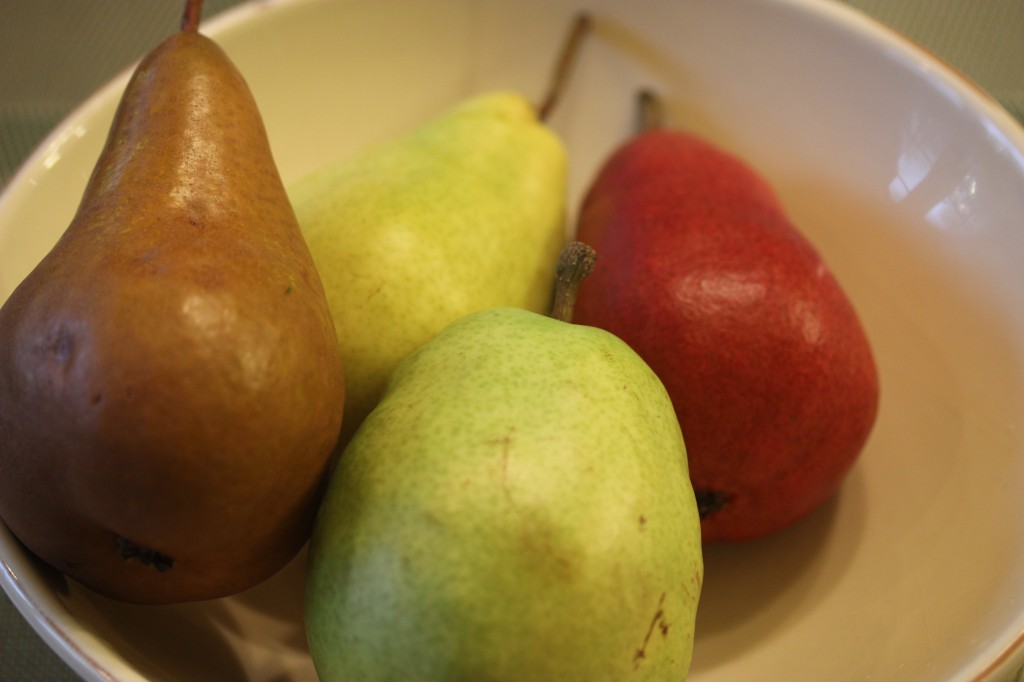 When it comes to salads, you can become stuck in a tragic rut. Different ingredients may go into the bowl, but do you just put the same dressing on them, night after night after night? Even the best salad dressing or vinaigrette can become a bit tired. You need variety in your life. Of course, you don't need disruption either. You want need a vinaigrette with a difference that is quickly made and long enjoyed.
Now, it does happen to be fall and we do have apple cider readily available. Here's an apple cider vinaigrette that you are sure to love. And what do you put it on? Boston lettuce with a bevy of pear slices, perhaps with some finely diced scallions and herbs, does it for Suzen and me. Nothing can top the sweet, delicate flavor of a fall pear. Literally, pearing the wonder of fresh apple cider and pears is a seasonal experience that makes you forget that all those leaves are gone. Or waiting to be raked. Or waiting for the next storm to toss them far, far away.
Apple Cider Vinaigrette
Yield: 1 ½ cups
Ingredients:
1 cup of apple cider
3 tablespoons fresh shallots, diced
2 tablespoons cider vinegar
2 teaspoons grainy mustard
½ cup olive oil
Preparation:
Place the cider, shallots, vinegar and mustard in a bowl. Whisk to mix. Gradually pour in the oil while continuing to whisk. Create an emulsified mixture and use pour immediately over your salad ingredients.
Source: A great website I can't find again. Sorry, Brian.