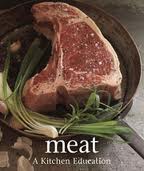 James Peterson is a name that any foodie will instantly recognize. His career as chef, restaurant owner and now distinguished writer has earned him accolades every step of the way. Who hasn't opened Sauces and marveled at the details and scope of that award winner. Peterson is unique in his knowledge, both scientifically of how cooking works and how to translate that insight into beauty and flavor on the plate.
His latest work, Meat: A Kitchen Education, has already been recognized for its quality and importance. James does just what the title says: he provides a solid education to meats of all kinds and all preparations. From chicken to foie gras, his chapters begin with key facts about each meat type, then lead you on to recipes that let you explore the full potential of each meat. In the first chicken chapter, for instance, there are recipes for roasting, poaching, sautéing, fricasseeing, braising, breading, frying, stir-frying, and grilling. The only thing missing is chicken sushi, but I think he's French background just might have drawn the line there.
Of course, you can count on each recipe working for you here. Peterson is professional whose clear writing will guide you to success every time.
Along the way, Peterson shares some insight and history. Sixty years ago, the average American ate seven pounds of veal a year. Now, it has declined to about one pound. There are stories and reasons aplenty to explain the decline, but veal is meat long recognized for its special quality. The 25 veal recipes in Meat will let you appreciate every aspect of flavor.
This dish, veal chops smothered in mushrooms and cooked in a parchment paper pouch, was intriguing to us from the first glance. The chops are first sautéed, then finished in the pouches so they can literally steam to a rich finish. The taste here, buttery veal and aromatic mushrooms, is captivating. All you need is a good bottle of red on the table.
Veal Chops en Papillote
Yield: 4 servings
Ingredients:
4 loin or rib veal chops, about ¾pound each
Salt
Pepper
1½ pounds wild mushrooms such as chanterelle, morel, porcini, or black trumpet, alone or in combination
6 tablespoons butter
½ teaspoon fresh thyme leaves
¼ cup port
1 egg white, lightly beaten
Preparation:
Let the veal chops come to room temperature. Sea­son on both sides with salt and pepper
Quickly rinse the mushrooms in a colander and pat dry. If using large chanterelles, cut them in half or in quarters, following their contours so the pieces maintain their shape. If they are small, leave them whole. If the porcini are large, cut them into thick slices. Morels and black trumpets are usually small enough to leave whole. Set the mushrooms aside.
Place a sauté pan just large enough to hold the chops without crowding over high heat. (Alternatively, sauté the chops in batches or use two pans.) Before the pan gets hot, add 4 tablespoons of the butter to the pan. When the butter begins to froth, add the chops and cook on the first side for about 5minutes, or until well browned. Turn the chops over and brown on the second side the same way. Transfer the chops to a plate and pour the fat out the pan.
Return the pan to high heat and add the remaining 2 tablespoons butter. When the butter froths, add a large handful of the mushrooms and toss and stir for 1 minute. Continue adding the mush­rooms, a handful at a time, and cook, stirring occasionally for about 10 minutes, pr until any liquid they release evaporates and they are browned and fragrant. Season with salt and pepper and remove from the heat.
Preheat the oven to 450°F. Place 1 chop in the center of one-half of a large rectangle of parchment paper. Spoon one-fourth of the mushrooms on top of the chop, sprinkle with one-fourth of the thyme, and drizzle with 1 tablespoon of the port. Brush the edges of the parchment with the egg white, and fold the uncovered half over the chop. Brush the three open edges of the folded parchment and fold over the edges to seal. Repeat with the remaining ingredients and 3 more rectangles of parchment.
Divide the pouches between 2 rimmed sheet pans. Bake for about 12 minutes, or until the parchment puffs up.
To serve, put each pouch on a warmed rimmed plate or soup plate, to trap any liquid that spills when the pouches are cut open. Pass a pair of scis­sors at the table
Source: Meat: A Kitchen Education by James Peterson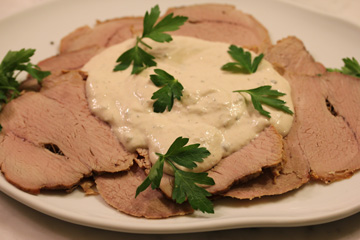 Many, many years ago, when I was first entering the food world, I had the great privilege to partake in one of Anna Teresa Callen's cooking classes. Anna Teresa orchestrated this masterful class in her classic West Village apartment. It was a doubly intoxicating experience. We had the wonderful smell of her cooking and the starry view of lower Manhattan from her balcony ten floors up.
One of the first dishes she taught this very small group of six was Vitello Tonnato. In my best Brooklyn "I thought I was gonna die." This dish was so good and so distinctive. Just say Veal Tonnato to me and my mouth is ready to bite. When I was looking over Jean Anderson's new book Falling Off the Bone and found this recipe I truly ran out to the butcher and fired up my stove to get started on this recipe.
Jean's has authored over 20 cookbooks and they adorn my bookshelves. She is one of those "must" authors who recipes inspire, offer superior taste, and present the home chef with no hurdles. In a fast food world, Jean has devoted this book to dishes that cook long and slow and that build with flavor hour by hour. Here you'll find wonderful recipes, both old favorites and some new wonders.
There are four chapters, each devoted to a serious meat: beef, veal, lamb, and pork. No chicken here. You find onion-smothered chicken-fried steak, Russian crumb crusted veal and beef loaf with sour cream gravy, Umbrian mushroom lamb and cannellini soup, and slow cooker pork ossobuco. If you love meat, or if you are tempted with ending a vegan lifestyle, then surely this is your pathway to satisfaction.
Veal Tonnato
[AKA Vitello Tonnato]
[AKA Cold Sliced Veal with Tuna Mayonnaise]
Yield: 4 servings
Ingredients for the Veal:
3 pounds boned and rolled veal rump, round or shoulder
3 tablespoons extra-virgin olive oil
4 large fresh bay leaves, lightly bruised to release flavors
1 teaspoon salt
¼ teaspoon freshly ground black pepper
1 cup chicken broth or a 50/50 mix of broth and dry white wine
⅓ cup coarsely chopped fresh Italian parsley
 
Ingredients for the Mayonnaise:
2 ⅓ cups mayonnaise
⅓ cup extra-virgin olive oil
¼ cup fresh lemon juice
3 cans (3 ounces each) chunk-light tuna (packed in oil)., drained and liquid reserved
2 tablespoons pan drippings (from the veal above; optional)
⅓ cup well-drained small capers (the tiniest you can find)
¼ teaspoon freshly ground black pepper
Preparation:
Pre heat the oven to 425˚F. Place the veal fat side up in a small roasting pan, rub well with oil, then with bay leaves, and sprinkle with salt and pepper. Drop bay leaves into the pan, slide onto middle oven shelf, and roast uncovered until veal begins to brown — about 30 minutes.
Reduce oven temperature to 350˚F, pour broth over veal, cover with foil, and braise until tender an instant-read thermometer thrust in the center of the veal register 150˚F — 1 1/3 to 1 ¾ hours. Remove veal from the oven, cool, then cover and refrigerate overnight.
For the tuna mayonnaise, whiz the mayonnaise, oil, lemon juice, reserved tuna liquid, and if desire, the pan drippings in a food processor or blender until smooth. Scoop in a nonreactive bowl and set aside. Finely mince the tuna and mix into the mayonnaise along with the capers and pepper. Cover and refrigerate overnight.
When to serve, remove the veal and tuna mayonnaise form the refrigerator. Remove strings from the veal, and set on cutting board. Slice as thinly as possible. Discard the bay leaves.
Overlap slices of veal on a large platter, spoon tuna mayonnaise generously down the middle, and sprinkle with parsley. Pas the remaining tuna mayonnaise separately
Source:  Falling off the Bone by Jean Anderson