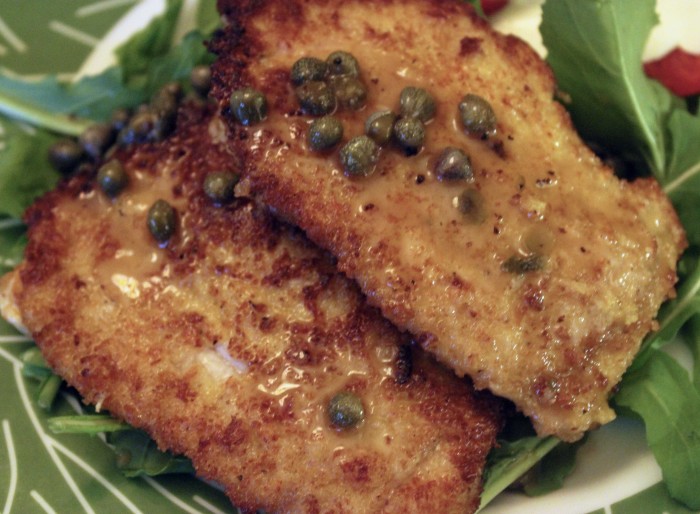 There is a lovely book — Olives, Anchovies, and Capers by Georgeanne Brennan [2001] — that Suzen and I often turn to. We love food with a bite, thus explaining our penchant for hot sauces and the cuisine of Santa Fe. But Mediterranean cuisines have long had the techniques and recipes to satisfy anyone with a "hot" tooth.
There can be no mistaking the intensity of olive, anchovies, or capers. Sometimes Georgeanne combines them all in her exceptional recipes. Sometimes, she lets one flavor shine through.
This is a classic caper dish, intensified by adding a parmesan crust to the veal. The recipe in the book calls for veal chops. We wanted a lighter meal, and did not want to lighten our wallets. So made this dish with veal scallops instead. The recipe below is the original, complete with veal chops.
This is a centerpiece dish, one where the depth and layering of flavors will dominate everything else on the table. So, pair it up with green beans or perhaps some extra-buttery mashed potatoes.
If you love capers, then this can be your next Sunday feast.
Parmesan-Crusted Veal Chops Finished with Lemon and Capers
Yield: serves 4
Ingredients:
⅓ cup freshly grated Parmesan cheese
½ cup freshly made fine dried bread crumbs
1 teaspoon salt
½ teaspoon freshly ground black pepper
1 egg
1 teaspoons water
½ cup all-purpose flour 4 veal chops, each about 6 ounces and ½-inch thick
5 tablespoons extra-virgin olive oil
Juice of 2 lemons, about 1/3 cup
3 tablespoons capers, rinsed and drained
Preparation:
In a shallow bowl, combine the cheese, bread crumbs, salt, and pepper and mix well. In another shallow bowl, whisk together the egg and water just until blended. Spread ½ cup flour on a plate. Coat a veal chop on both sides with the flour, tapping off the excess. Drip the chop into the egg mixture, then dip it into the cheese mixture, coating it on both sides. Set the chop aside on a waxed paper and quickly repeat with the remaining 3 chops.
In a heavy-bottomed skillet, heat the olive oil over medium heat. When it is hot, add the chops and fry, turning once, until a golden crust has formed on the exterior, 2 to 3 minutes on each side. If the chops are browning too quickly, reduce the heat to low. Cover and cook until cooked through but still faintly pink at the center, 3 to 4 minutes. Transfer to a warmed platter or individual plates and keep warm.
Pour off all but 1 teaspoon of the oil from the skillet. Return the pan to medium-high heat, add the lemon juice, and stir to scrape up any bits clinging to the bottom of the pan. Reduce the heat to low, add the capers and cook, stirring, for about 30 seconds.
Pour the lemon juice and capers evenly over the chops and serve immediately.
Source: Olives, Anchovies, and Capers by Georgeanne Brennan
Photo Information Canon T2i, EFS 60 mm Macro Lens, F/5.6 for 1/15th second at ISO‑3200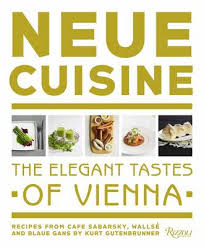 Among world cities, Vienna has long ranked as capital of cuisine. Two years ago Neue Cuisine: The Elegant Tastes of Vienna was published. With fall upon us and winter before us, hearty yet elegant food is what our tables demand. Neue Cuisine remains an inspirational source for you to consider. Author Kurt Gutenbrunner has a small empire of restaurants in New York City: Café Sabarsky, Wallse, and Blaue Gans. Suzen and I live two blocks from Blaue Gans. On nights when she isn't doing a Cooking by the Book event and we want a treat, it's a quick stroll to schnitzel-land.
How fitting that this restaurant empire has been created, for Vienna was the capital of the Austro-Hungarian Empire a hundred years ago. Before World War I, the empire comprised most of what we think of as central and eastern Europe. As an Irishman, I am proud of the cuisine of this Celtic city.
Oh,perhaps I should explain. Around 400BC, northern and central Europe was a mass of forests and wandering tribes. Celts, yes the Irish-type-of-Celts, ranged all across Europe and actually founded the settlement that became Vienna. Not long after, some group calling themselves Romans booted the Celts out. A few hundred years later, barbarian tribes disposed of the Romans. But Charlemagne reclaimed the land and established Vienna a hub of the Holy Roman Empire. Vienna never faced a challenge from the rest of Europe again.
Vienna did face challenges from the east. Vienna was targeted by the Ottoman Empire and nearly conquered several times. In 1683, Vienna was literally just days away from falling. Our world would have been very different if Vienna, and most of central Europe, has become Muslim. Schnitzel might have been a victim. God knows what might have happened to the pastries.
Today, most of us think of Vienna as a city far away with little impact on us, except perhaps for those pastries and the schnitzel. Not true. Just in New York, every day thousands of people invoke a Viennese tradition of great importance. Sigmund Freud was a resident of Vienna and developed this idea of talking about problems on a professional basis. A lot of us do that every week, perhaps with a coffee and pastry beforehand. Or after.
I've wondered if Freud had any lingering Celtic DNA. Probably not. But he surely loved his schnitzel. From Neue Cuisine, here is a fundamental recipe for schnitzel. The techniques here for creating the schnitzel provide deep insights from Chef Gutenbrunner for creating perfect schnitzel. Mixing the eggs with cream creates a better liquid for attracting bread crumbs, than just eggs alone. And you need plenty of bread crumbs, cups and cups of bread crumbs, so that you can lightly drag the cutlets in the crumbs without having to pat them to get total coverage. No patting, period.
These cutlets might be meat, but they need to be treated with delicacy. You'll understand why with the first bite.
Veal Schnitzel
Yield: 4 servings
Ingredients:
4 veal top round cutlets [about 6 ounces each], pounded 1/8 inch thick
Salt and freshly ground white pepper
1 cup all-purpose flour
2 cups fine dry bread crumbs
2 large eggs
2 tablespoons heavy cream
2 cups canola oil
½ cup flat-leaf parsley leaves, coarsely chopped
3 tablespoons unsalted butter
1 lemon, cut into slices, seeds removed
¼ cup ligonberry or cranberry preserves
Preparation:
Season the veal cutlets with slat and pepper. In two separate baking pans, spread the flour and the bread crumbs. In a third baking pan, using a fork, lightly beat the eggs with the cream. Line a large baking sheet with paper towels.
In a large skillet, the deeper the better, heat the oil until quite hot. Put the parsley in a strainer, dip it into the oil, and fry for 10 seconds. Remove the strainer, draining well, and transfer the parsley to a small plate.
Dredge 1 cutlet in the flour patting off the excess. Dip in the egg mixture, letting the excess drip bak into the pan. Coat lightly with the bread crumbs. Do not press the crumbs onto the veal.
Add the butter to the skillet. Add the cutlet to the skillet and fry over high heat, gently moving the skillet in a circular motion to cover the cutlet with fat, until the breading looks bubbly and is starring to brown, about 1 minutes. Turn and cook for another minute, swirling the skillet. Using a slotted spatula, transfer the schnitzel to the baking sheet. Repeat with the remaining cutlets adjusting the heat as necessary so that the coating cooks gradually and evenly, without burning.
Transfer the schnitzels to a warmed platter or plates. Top each with a lemon slice and some fried parsley. Serve with the preserves.
Source: Neue Cuisine: The Elegant Tastes of Vienna: Recipes from Café Sabarsky, Wallse, and Blaue Gans