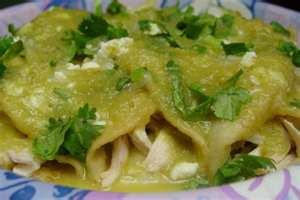 I posted this recipe in early 2010, at my daughter's request, but I'm doing it again because tomorrow you will have leftover turkey and this is just the best possible way to enjoy it. It's not "leftovers." It's "delicious" and rich and different.
The enchiladas are paired with one of my favorite foods: tomatillos.  This green fruit is a staple of Mexican cuisine.  Although in the same botanical family as the tomato, a tomatillo is definitely not a tomato.  If you've had green salsa with a bite, you've enjoyed the particular intensity that only a tomatillo can supply. In this recipe that inherent tomatillo sting is muted into a voluptuous cream sauce that is an outstanding match for that distinctive turkey flavor.  Your mouth is simply going to resonate with a symphony of tones.
When I make this dish, I do follow the recipe but I am heavy handed with the amount of green onion and green chiles. And I suggest sticking with the canned tomatillos, not the salsa verde.
You can garnish the whole dish with cilantro or sliced scallions for one more level of flavor.
Turkey Enchiladas with Creamy tomatillo Sauce
Ingredients:
2 cups shredded roast turkey
2 green onions, including tender green tops, thinly sliced
3 tablespoons cream cheese at room temperature
1 ⅓cups (5 ½ ounces) shredded Monterey Jack Cheese
2 cans (7 ounces each) salsa verde or 1 can (13 ounces) tomatillos, drained
2 tablespoons canned chopped green chiles, drained
½ cup fresh cilantro leaves
⅔ cup heavy (whipping) cream
¼ cup canola oil
8 corn tortillas
Preparation:
Preheat the oven to 350°F. In a medium bowl, combine the turkey, green onions, cream cheese, and 1 cup of the jack cheese and stir to mix thoroughly. Set aside.
In a blender or food processor, combine the tomatillo, chiles, cilantro, and cream and process until smooth.
Heat the oil in a heavy, 6 -inch skillet over medium-high heat. Using tongs, carefully place one tortilla at a time in the hot oil and fry for 5 to 10 seconds just until softened. Flip the tortilla and soften the other side. Drain over the skillet, and place on a plate lined with a paper towel. Place another paper towel on top and press to absorb the oil. Repeat until all 8 tortillas are softened and drained.
Divide the turkey mixture among the tortillas (about ½cup each), mounding it in a line down the center. Roll tightly and then place, seam side down, in a 7 x 11″ baking pan. Pour the tomatillo cream sauce over the enchiladas, and sprinkle the remaining ⅓cup jack cheese down the center. Bake for about 20 minutes until heated through and bubbly. Serve immediately.
Source: The New Thanksgiving Table by Diane Morgan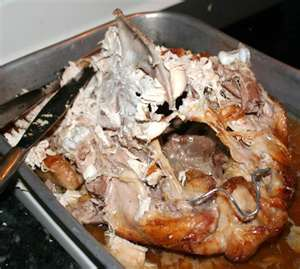 Your Thanksgiving meal is done. The football games are over. Guests are gone. Cleanup, sadly, is necessary.
Here is what NOT to do. Don't throw away that leftover turkey carcass. Even if most of the meat is devoured, save the carcass. You are about to make quarts and quarts of turkey stock for soup, sauces, and to give you a head start on the stock you'll need for that Christmas turkey!
First, remove any seriously large chunks of meat remaining on turkey. I'm talking about the ingredients for sandwiches tomorrow. But do not try to pick off every last pieces of meat. A purely naked carcass will produce a less rich stock. And, personally, I think dark meat scraps produce a better stock and they are already snuggly hidden on the bottom anyway.
Break the carcass into a half dozen pieces, using a knife at first and then just crushing with your hand. Use a mitt or glove to protect yourself from turkey bone shards. The last place you want to be late on Thanksgiving Day is the Emergency Room. You'll wait for hours as they deal with those idiots who just attempted their first deep frying experiment.
Yesterday's blog was about making stock from giblets. This stock is decidedly different, but honestly they are both wonderful and you'll enjoy them equally.
Full Carcass Turkey Stock
Yield: 4 to 5 quarts
Ingredients:
1 meaty turkey carcass, chopped into large pieces
2 medium carrots (do not peel), but cut into 2-inch chunks
1 large yellow onion (do not peel), cut in half
2 large ribs celery, with leaves, cut into 2-inch chunks
1 teaspoon black peppercorns
1 bay leaf
6 sprigs fresh parsley
2 sprigs fresh thyme
Preparation:
Put the chopped turkey carcass in an 8-quart stockpot and add cold water to cover, leaving 2 inches of space at the top of the pot. Bring to a boil over medium-high heat, then reduce the heat to maintain a steady simmer. Using a large spoon or soup skimmer, skim off the brown foam that rises to the top.
After 5 minutes or so, the foam will become white, and no more skimming will be necessary. Add the carrots, onion, celery, peppercorns, bay leaf, parsley, and thyme. Partially cover the pot and adjust the heat so the stock barely simmers. Simmer the stock for at least 2 but preferably 4 hours, adding water, if necessary, to keep the bones covered
Source: The New Thanksgiving Table by Diane Morgan