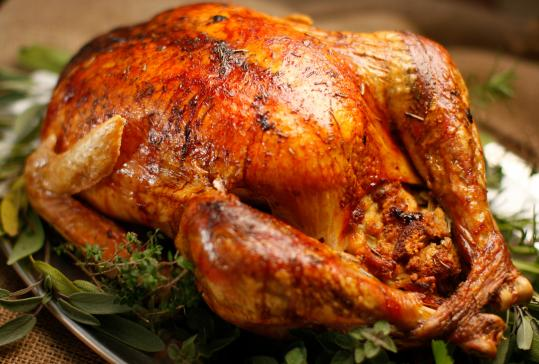 I posted this three years ago, but I'm repeating today for several reasons. It's been just about the most popular post on this site. Second, everyone now is scrambling for "the" recipe for their turkey. Third, we tend to repeat our meal on Thanksgiving so why not repeat here the best recipes for this important American holiday.
Suzi and I are about to have our 26th Thanksgiving together. Believe me, we've tried a lot of things. There was that nasty goose idea where we nearly burned down the house. You think ducks have a fat problem? We've had turducken, deep fried turkey and even swathed a bird in puff pastry, complete with pastry cutouts of leaves and vines. It was beautiful. And it was so much work I have been informed by my wife to never, never request it again. Don't worry about me, folks. I'll find a way.
From all those experiences, though, here is the absolutely best and absolutely foolproof way to cook a wonderful turkey. Now, foolproof is pretty important. Not that any of you are fools, but … Thanksgiving Day can be a zoo. People coming and going. A rush of activity in the kitchen. Deadlines, missing ingredients. The chance that the Detroit Lions will actually win a football game.
Reduce your risk. Use this recipe and relish each
This secret to a great Thanksgiving turkey comes from Ogunquit, Maine. The very distinguished Arrows restaurant has received award after award. For decades they have demonstrated culinary excellence and ingenuity. Their cookbook, surprisingly named The Arrows Cookbook, is a treasure, filled with intriguing ideas.
And the very best of those ideas is their roast turkey. Brian and I, as you know, are always doing something new, something different. For years we had a new turkey idea each Thanksgiving. But for the past decade, we've always done our turkey this way. It was our introduction to brining and we were instant converts.
The picture you see above, of that great bird with mahogany skin, is what you achieve by following this recipe. Butter and cheesecloth and ladled stock can turn you into a foodie Michelangelo.
And the gravy. Brian is a gravy fanatic, but making it is always a bit of a chore. Both Brian and I are intimidating by it. I think the key reason is that by late afternoon on Thanksgiving we are tired. We've been cooking for hours, we are hungry, the smells fill the house, and now there is this one great step for mankind: gravy perfection. This gravy recipe is easy to follow, it works, and the results are wonderful. You just want to dip a spoon in and …
Two things you should know. Even if it is just two of us, we always get a humongous turkey. We love the leftovers — and yes there will be blogs on those in the coming days. And, the bigger the carcass, the more stock you can make. Use that stock through the winter for wonderful soups or broth for noodles. Homemade egg noodles with turkey broth is something that can make January warm.
And the second thing, a confession. We do cook brined turkeys always now. But we have a wonderful source for getting them already brined. In the rush of shopping and traveling, something had to give. Brine yourself if you can. Find a brined turkey source if you must.
Arrows' Roast Turkey
Yield: Makes 8 serving
For the turkey:
Ingredients:
1 fresh turkey, 15 to 20 pounds
1 to 2 3-pound boxes of kosher salt
1 cup olive oil
1 cup chopped herb leaves, such as tarragon, thyme, and sage
16 tablespoons butter at room tempter
Fresh ground black pepper
3 cups chicken stock
Preparation:
Two days before serving, remove the giblets and neck from the cavities of the turkey and cut off the wing tips. Reserve for stock or gravy. Put the turkey into a 5-gallon or larger bucker and add enough cold water) about 3 gallons) to cover the bird. Removed the turkey and set it aside. (This tells you how much water you need to cover the bird.) To the bucket add 1 pound salt (roughly 2 cups) for every gallon or so of water and stir to dissolve it well. Return the turkey to the bucket, put it in a cool place, and let site for at least 8 hours. An unheated garage or porch overnight works fine in cool climates; otherwise remove a shelf from the refrigerator to clear enough space.
The next day, removed the truly from brine. Dry it thoroughly with paper towns. Discard the brine. Transfer the turkey to a large bowl. Pour the olive oil over the turkey and rub the herbs over the outside and inside the turkey. Cover with plastic wrap and marinate overnight in the refrigerator.
On the day of serving, preheat the oven to 450°F.
Scrape off the marinade. Transfer the turkey to a large roasting pan fitted with a rack. Rub the outside of the turkey with 1 stick of the butter to coat the entire bird. Sprinkle salt and pepper liberally over the outside and inside of the turkey. Tie the legs together with kitchen twine. Put the turkey into the oven and immediately reduce the heat to 325°F.
In a large sauce pan melt the remaining 1 stick of butter over medium heat. Remove the pan from the heat and let the butter cool. Put a quadruple layer of cheesecloth, about a foot square, into the pan and coat it with butter. In another saucepan, warm the chicken stock over medium-low heat.
After the turkey has roasted for about 1 to 1 ½ hours and skin is turning golden brown, lay the butter-soaked cheese cloth over the turkey breast to keep it moist. Ladle about 1 cup of the chick stock over the breast. Continue to baste the turkey with the warm stock every hour. Roast the turkey for about 3 hours total until a kitchen thermometer inserted into the thigh registers 175°F. Remove the turkey from the oven and discard the cheesecloth. Transfer the turkey to a platter, cover with foil and allow to rest of 1 hour before serving.
For the gravy:
Ingredients:
Fat and drippings from the roasted turkey
4 tablespoons unsalted butter
½ cup all-purpose flour
4 cups enriched stock or chicken stock
Kosher salt
Freshly ground black pepper
Preparation:
While the roast turkey is resting, pour the drippings from the roasting pan through a fine sieve into a small bowl. Wait about 5 minutes while the fat rises to the surface, then use a spoon or ladle to remove the fat. Reserve separated 1/4cup of the fat and all the pan juices. Discard the remaining fat.
Combine ¼ cup fat and the butter in a medium saucepan and warm over low heat until the butter is melted. Whisk in the flour and increase the heat to medium. Cook over medium heat, stirring constantly, until the mixture is slightly brown and has a nutty smell, about 3 minutes
Slowly pour the stock into the flour mixture, whisking until smooth. Stir in the reserve pan juice and bring the gravy to a boil over medium heat. Reduce the heat to very low and simmer for 10 minutes, whisking frequently so a not to scorch the gravy. Season with salt and pepper.
Pour the gravy through a fine sieve into another pot. Serve at once or cover and keep warm on the back of the stove for up to 2 hours.
Source: The Arrows Cookbook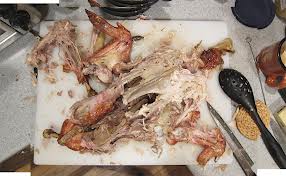 Here's what not to do now. Do not spend endless time carving every last piece of meat off the bones of that turkey. Leave all the fragments, and perhaps a chunk or two. Why? Because you are going to use the carcass on another day to make stock.
Even if most of the meat is devoured, save the carcass. You are about to make quarts and quarts of turkey stock for soup, sauces. You can freeze the stock and use year round. Try some homemade turkey stock with rich egg noddles on a cold night. All you'll need to add is a beer or a Bordeaux.
Here's your approach to stock. First, do remove any seriously large chunks of meat remaining on turkey. . But do not try to pick off every last pieces of meat. A purely naked carcass will produce a less rich stock. And, personally, I think dark meat scraps produce a better stock and they are already snuggly hidden on the bottom anyway.
Break the carcass into a half dozen pieces, using a knife at first and then just crushing with your hand. Use a mitt or glove to protect yourself from turkey bone shards. The last place you want to be late on Christmas Day is the Emergency Room. You'll wait for hours as they deal with those idiots who just attempted their first deep frying experiment.
With your pieces you are ready to go. You can make stock right away, or freeze the pieces and then make stock on a lazy afternoon. You could open a bottle of wine, sip it, watch the stock and maybe add a splash or two.
Or three.
Full Carcass Turkey Stock
Yield: 4 to 5 quarts
Ingredients:
1 meaty turkey carcass, chopped into large pieces
2 medium carrots (do not peel), but cut into 2-inch chunks
1 large yellow onion (do not peel), cut in half
2 large ribs celery, with leaves, cut into 2-inch chunks
1 teaspoon black peppercorns
1 bay leaf
6 sprigs fresh parsley
2 sprigs fresh thyme
Preparation:
Put the chopped turkey carcass in an 8-quart stockpot and add cold water to cover, leaving 2 inches of space at the top of the pot. Bring to a boil over medium-high heat, then reduce the heat to maintain a steady simmer. Using a large spoon or soup skimmer, skim off the brown foam that rises to the top.
After 5 minutes or so, the foam will become white, and no more skimming will be necessary. Add the carrots, onion, celery, peppercorns, bay leaf, parsley, and thyme. Partially cover the pot and adjust the heat so the stock barely simmers. Simmer the stock for at least 2 but preferably 4 hours, adding water, if necessary, to keep the bones covered
Source: The New Thanksgiving Table by Diane Morgan