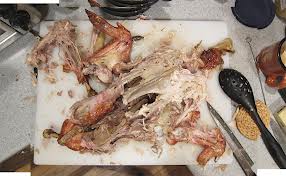 Here's what not to do now. Do not spend endless time carving every last piece of meat off the bones of that turkey. Leave all the fragments, and perhaps a chunk or two. Why? Because you are going to use the carcass on another day to make stock.
Even if most of the meat is devoured, save the carcass. You are about to make quarts and quarts of turkey stock for soup, sauces. You can freeze the stock and use year round. Try some homemade turkey stock with rich egg noddles on a cold night. All you'll need to add is a beer or a Bordeaux.
Here's your approach to stock. First, do remove any seriously large chunks of meat remaining on turkey. . But do not try to pick off every last pieces of meat. A purely naked carcass will produce a less rich stock. And, personally, I think dark meat scraps produce a better stock and they are already snuggly hidden on the bottom anyway.
Break the carcass into a half dozen pieces, using a knife at first and then just crushing with your hand. Use a mitt or glove to protect yourself from turkey bone shards. The last place you want to be late on Christmas Day is the Emergency Room. You'll wait for hours as they deal with those idiots who just attempted their first deep frying experiment.
With your pieces you are ready to go. You can make stock right away, or freeze the pieces and then make stock on a lazy afternoon. You could open a bottle of wine, sip it, watch the stock and maybe add a splash or two.
Or three.
Full Carcass Turkey Stock
Yield: 4 to 5 quarts
Ingredients:
1 meaty turkey carcass, chopped into large pieces
2 medium carrots (do not peel), but cut into 2-inch chunks
1 large yellow onion (do not peel), cut in half
2 large ribs celery, with leaves, cut into 2-inch chunks
1 teaspoon black peppercorns
1 bay leaf
6 sprigs fresh parsley
2 sprigs fresh thyme
Preparation:
Put the chopped turkey carcass in an 8-quart stockpot and add cold water to cover, leaving 2 inches of space at the top of the pot. Bring to a boil over medium-high heat, then reduce the heat to maintain a steady simmer. Using a large spoon or soup skimmer, skim off the brown foam that rises to the top.
After 5 minutes or so, the foam will become white, and no more skimming will be necessary. Add the carrots, onion, celery, peppercorns, bay leaf, parsley, and thyme. Partially cover the pot and adjust the heat so the stock barely simmers. Simmer the stock for at least 2 but preferably 4 hours, adding water, if necessary, to keep the bones covered
Source: The New Thanksgiving Table by Diane Morgan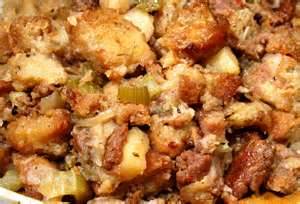 In the groundbreaking book  Around my French Table, one recipe by Dorie Greenspan went viral: a stuffed pumpkin. We've taken that stuffing and adopted it just a tad and for turkey. We first posted this blog in 2010, and here it is again. Don't have all the ingredients? Well, improvise or find one of those markets that are open until 3PM. You'll find this is "your stuffing" from here on out. This is, of course, a stuffing to back on the side, not in the turkey. Food scientists, nutritionists and emergency responders will all tell you the same things: don't stuff the turkey with stuffing. You can toss in herbs or some lemon halves, but bake the stuffing separately.
This recipe is for 4 people. Please scale appropriately for your family size, your party size, or you appetite. And, of course, if you want leftovers the next day or so, then ….
Suzen and I wish you the happiest of holidays.
Thanksgiving Stuffing 2010 and Now 2012
Yield: 4 servings
Ingredients:
¼ pound stale bread, thinly sliced and cut into ½-inch chunks
¼ pound cheese, such as Gruyère, Emmenthal, cheddar, or a combination, cut into ½-inch chunks
2–4 garlic cloves (to taste), split, germ removed, and coarsely chopped
1 chorizo sausage, cooked until crisp, drained, and chopped (my addition)
1 Granny Smith apple, peeled, cored and sliced.
About ¼ cup snipped fresh chives or sliced scallions (my addition)
1 tablespoon minced fresh thyme (my addition)
About ⅓ cup homemade chicken stock
Pinch of freshly grated nutmeg
Preparation:
Preheat the oven to 350˚F. Grease a 1 ½-quart baking dish.
Toss the bread, cheese, garlic, sausage, apple and herbs together in a bowl. Season with pepper — you probably have enough salt from the sausage and cheese, but taste to be sure. Stir in the chicken stock with the nutmeg and some salt and pepper and pour into the baking dish. You might have too much or too little liquid— you don't want the ingredients to swim in the stock, but you do want the bread nicely moistened. (It's hard to go wrong here.)
Bake for 60-90 minutes. Check after 60 minutes. You want the mixture dry and the bread just crisping.
Source: Inspired by Around My French Table by Dorie Greenspan