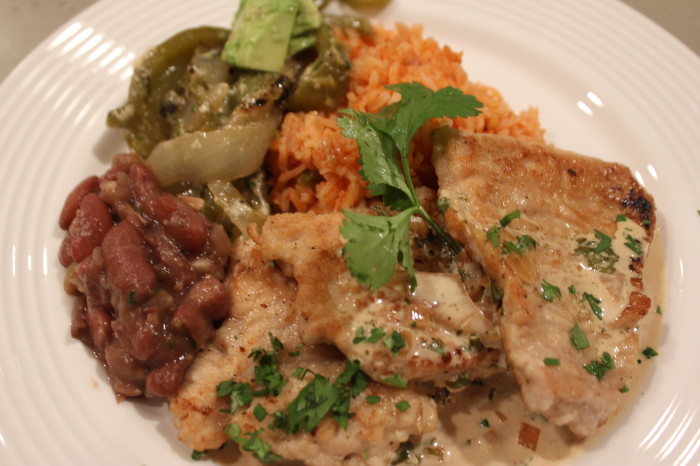 "I need help," Suzen said. She had a different tone to her voice.
My wife often asks for help. I will get in trouble for saying this, but she has a tendency to misplace things. Keys, phone, iPad, keys. Especially the keys. She "knows" where it item has to be. I never go to that place, that room she says it has to be in, because I know that the missing item will be found in a different room. Eventually, the lost item is found. I love her sigh of relief that always comes when the item is revealed. She raises her shoulders, relaxes, and life is resumed.
This time the "help" she needed was not for keys. It was for something that she had never had, but now needed.
"I told a client," she began, "that I would give them a Mexican turkey dish. We need to find one."
So, we began a treasure hunt. Somewhere in 3000 cookbooks, there had to be a recipe that would work. Like a squirrel going for buried nuts, Suzen zoomed to the shelf of Mexican cookbooks. She passed over the newer ones and went to the stare of the shelf: oldest book first. Suzen began Cooking by the Book in 1988. And in 1998 the Junior League of Los Angeles published Gourmet LA. One of those league members contributed this exceptionally flavorful recipe.
These turkey breasts, cooked with lime juice and tequila and cream and coriander, can only be described as addictive comfort food. Very addictive. You'll have one, then dive for another. And there is never enough sauce! One more spoonful is always needed.
These medallions are quite easy to make, so this is a great "quick dinner" dish. With tequila in the sauce, the pairing here is, not with wine, but with some tequila beverage: say, a straightforward, rocks and salt margarita.
The red beans and rice on the left of the picture are the perfect complement. Look for that recipe tomorrow!
Turkey Medallions with Tequila Lime Sauce
Yield: serves 4
Ingredients:
8 turkey medallions, approximately 1 ½ pounds, or 1 ½-2 pounds turkey breast, boned and sliced into 4-ounce slices
4 tablespoons butter
¼ cup fresh lime juice
¼ cup, plus 1 tablespoon gold tequila
⅓ cup heavy cream
¼ tsp ground coriander
2 tablespoons chopped fresh cilantro
2 tablespoons chopped fresh chives
¼ teaspoon salt
¼ teaspoon pepper
Cilantro sprigs for garnish
Preparation:
Pound each medallion between sheets of wax paper to ⅛-inch thickness.
Heat 2 tablespoons butter in a large skillet and sauté the turkey over medium-high heat until golden brown, about 2 minutes on each side. Transfer to a platter and keep warm.
Add lime juice and tequila to the skillet and simmer for about 3 minutes. Add remaining butter and stir until smooth.
Stir in cream and coriander and simmer for another 3 minutes. Add cilantro, chives, salt, and pepper and stir. Remove from heat.
Pour sauce over turkey medallions. Garnish with sprigs of cilantro.
Source: Gourmet LA, Junior League of Los Angeles, 1988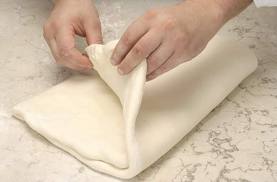 On the Friday after Thanksgiving, you face a kitchen that may still be a bit upside down. And a refrigerator full of goodies. And a family with surprisingly strong appetites.
Sure, you can warm things up and reply the Thursday feast. But, how about giving that leftover turkey a new life. Here is a Turkey Tart that will have every mouth salivating.
Try this open faced tart, with meat and veggies added on top of a rich puff pastry base. Out of the oven, you'll that warm turkey smell again now combined with the intoxicating scent of butter-laden puff pastry.
This recipe is an adaptation of a Duck Confit Tart you can find in an exciting new book, Not-So-Humble Pies by Kelly Jaggers. Here we have borrowed her idea and her technique, but swapped out duck confit for roast turkey leftovers. You can extend the changes yourself by adding in a few vegetables, too. For example, some diced carrot or more onion than just the one shallot called for below.
Whichever route you choose, it's a lively way to make perfect use of that turkey you worked so hard to prepare.
Suzen's Thanksgiving Leftover Turkey Tart
Yield: serves 8, or maybe a few less!
Ingredients:
2 cups of leftover turkey meat, plucked free of skin and bones, then cut into bite size pieces
Salt and pepper to taste
2 teaspoons fresh thyme
1 sheet of puff pastry, 12" X 15"
1 tablespoon of olive oil
1 shallot minced
1 cup slice oyster mushroom, roughly chopped
1 clove garlic, minced
Preparation:
Preheat the oven to 400°F.
Carefully transfer the unbaked puff pastry to a baking sheet lined with parchment paper. Dock the center with a fork, leaving a l" border around the edges. Bake the pastry for 15-20 minutes, or until golden brown and puffed. Set aside to cool slightly.
In a medium skillet over medium heat, add 1 tablespoon of the olive oil. Once the fat ripples and shimmers, add the shallot and cook until tender, about 3 minutes.
Add the mushrooms and cook, stirring frequently, until softened and browned, about 5 minutes.
Add the minced garlic and turkey meat. Cook until the garlic is fragrant, about 1 minute.
Spread the duck mixture over the top of the Blitz Puff Pastry. Return to the oven for 3—5 minutes to warm through. Serve warm.
Source: Inspired by Not-So-Humble Pies by Kelly Jaggers