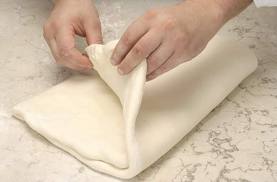 On the Friday after Thanksgiving, you face a kitchen that may still be a bit upside down. And a refrigerator full of goodies. And a family with surprisingly strong appetites.
Sure, you can warm things up and reply the Thursday feast. But, how about giving that leftover turkey a new life. Here is a Turkey Tart that will have every mouth salivating.
Try this open faced tart, with meat and veggies added on top of a rich puff pastry base. Out of the oven, you'll that warm turkey smell again now combined with the intoxicating scent of butter-laden puff pastry.
This recipe is an adaptation of a Duck Confit Tart you can find in an exciting new book, Not-So-Humble Pies by Kelly Jaggers. Here we have borrowed her idea and her technique, but swapped out duck confit for roast turkey leftovers. You can extend the changes yourself by adding in a few vegetables, too. For example, some diced carrot or more onion than just the one shallot called for below.
Whichever route you choose, it's a lively way to make perfect use of that turkey you worked so hard to prepare.
Suzen's Thanksgiving Leftover Turkey Tart
Yield: serves 8, or maybe a few less!
Ingredients:
2 cups of leftover turkey meat, plucked free of skin and bones, then cut into bite size pieces
Salt and pepper to taste
2 teaspoons fresh thyme
1 sheet of puff pastry, 12" X 15"
1 tablespoon of olive oil
1 shallot minced
1 cup slice oyster mushroom, roughly chopped
1 clove garlic, minced
Preparation:
Preheat the oven to 400°F.
Carefully transfer the unbaked puff pastry to a baking sheet lined with parchment paper. Dock the center with a fork, leaving a l" border around the edges. Bake the pastry for 15-20 minutes, or until golden brown and puffed. Set aside to cool slightly.
In a medium skillet over medium heat, add 1 tablespoon of the olive oil. Once the fat ripples and shimmers, add the shallot and cook until tender, about 3 minutes.
Add the mushrooms and cook, stirring frequently, until softened and browned, about 5 minutes.
Add the minced garlic and turkey meat. Cook until the garlic is fragrant, about 1 minute.
Spread the duck mixture over the top of the Blitz Puff Pastry. Return to the oven for 3—5 minutes to warm through. Serve warm.
Source: Inspired by Not-So-Humble Pies by Kelly Jaggers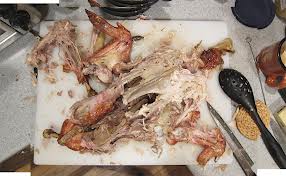 Here's what not to do now. Do not spend endless time carving every last piece of meat off the bones of that turkey. Leave all the fragments, and perhaps a chunk or two. Why? Because you are going to use the carcass on another day to make stock.
Even if most of the meat is devoured, save the carcass. You are about to make quarts and quarts of turkey stock for soup, sauces. You can freeze the stock and use year round. Try some homemade turkey stock with rich egg noddles on a cold night. All you'll need to add is a beer or a Bordeaux.
Here's your approach to stock. First, do remove any seriously large chunks of meat remaining on turkey. . But do not try to pick off every last pieces of meat. A purely naked carcass will produce a less rich stock. And, personally, I think dark meat scraps produce a better stock and they are already snuggly hidden on the bottom anyway.
Break the carcass into a half dozen pieces, using a knife at first and then just crushing with your hand. Use a mitt or glove to protect yourself from turkey bone shards. The last place you want to be late on Christmas Day is the Emergency Room. You'll wait for hours as they deal with those idiots who just attempted their first deep frying experiment.
With your pieces you are ready to go. You can make stock right away, or freeze the pieces and then make stock on a lazy afternoon. You could open a bottle of wine, sip it, watch the stock and maybe add a splash or two.
Or three.
Full Carcass Turkey Stock
Yield: 4 to 5 quarts
Ingredients:
1 meaty turkey carcass, chopped into large pieces
2 medium carrots (do not peel), but cut into 2-inch chunks
1 large yellow onion (do not peel), cut in half
2 large ribs celery, with leaves, cut into 2-inch chunks
1 teaspoon black peppercorns
1 bay leaf
6 sprigs fresh parsley
2 sprigs fresh thyme
Preparation:
Put the chopped turkey carcass in an 8-quart stockpot and add cold water to cover, leaving 2 inches of space at the top of the pot. Bring to a boil over medium-high heat, then reduce the heat to maintain a steady simmer. Using a large spoon or soup skimmer, skim off the brown foam that rises to the top.
After 5 minutes or so, the foam will become white, and no more skimming will be necessary. Add the carrots, onion, celery, peppercorns, bay leaf, parsley, and thyme. Partially cover the pot and adjust the heat so the stock barely simmers. Simmer the stock for at least 2 but preferably 4 hours, adding water, if necessary, to keep the bones covered
Source: The New Thanksgiving Table by Diane Morgan