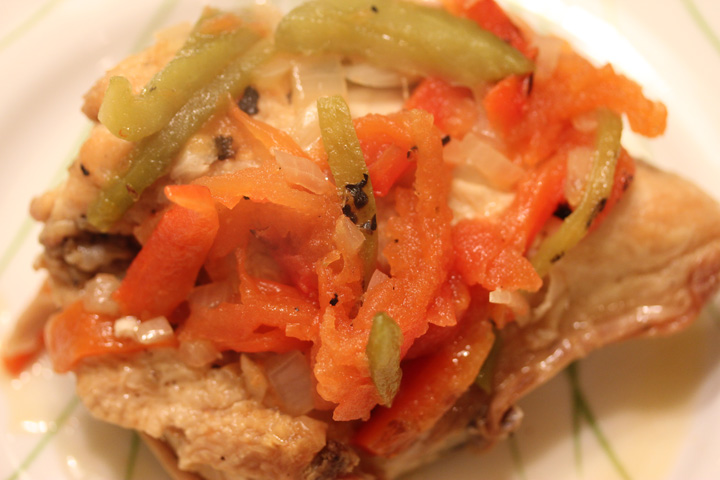 The phrase "tastes like chicken" is not inherently good or bad. Ever had roasted chicken in Paris on a winter's night? Or blackened barbeque chicken from a wood fire on a summer afternoon in New Mexico? Or the spicy red wonder of Tandoori chicken in an Indian restaurant? Chicken truly can be wonderful.
But like so many things, usually our home cooking often does not rise to the heights of Parisian cuisine or the sizzle of real barbeque or the intensity of an Indian oven. We cook our chicken conventionally, and it comes out conventionally and it tastes okay but it just tastes like chicken.
It's as if, to overcome the conventional taste, you have to go to exceptional effort. And that is not true at all. How to do chicken so it is easy and spectacular? Look to France.
I still remember my first trip to Paris, my first walk around a street market. There was a rotisserie seemingly five feet wide and ten feet high — well, I felt dwarfed by the whole experience. Every shelf had a different kind of bird turning over dazzling blue flames. My French was worse than the vendor's English. I did make out that out you could not just ask for "chicken." You had to tell him what kind of chicken. I was too intimidated to make a selection. As I shrunk away, I think the vendor called me "something American." He was right.
Joel Robuchon has the solution for all of us. This chicken is from Southwestern France on the border with Spain heavy with Basque influence. It's not a 15 minute recipe. It takes closer to 90 minutes all in. But it is simply worth every second. The technique here is very interesting. The chicken is cooked with the lid off and then on. The same for the veggies. The combination of searing and steaming creates a moist yet richly cooked bird.
The chicken flavor is there but it's definitely affected by the volumes of onion, peppers and tomatoes that go into the dish. Carefully skinned and seeded, the peppers and tomatoes are thoroughly cooked. They retain their integrity but they deliciously surrender to each bite. A key aspect of this recipe is the ability to achieve such a new flavor combination with really just a handful of common ingredients. This dish is powered by the veggies and a few common herbs. The veggie flavors are powerful, so pick out your best produce from your best supermarket to get the full wonder of this dish.
The chicken and veggies present beautifully on your table, and you will swoon at the flavors. It's not just chicken. More SuperChicken!
For a quick to skin tomatoes, by pretending they are peppers, please look at yesterday's blog.
Basque Style Chicken with Bell Peppers and Tomatoes
Yield: 4 servings
Ingredients:
2 tablespoons olive oil
One 3-pound chicken, cut into 8 pieces
Salt
Pepper
2 medium onion, peeled and minced
2 green bell peppers, peel, seeded, and sliced into thin strips
2 red bell peppers, peel, seeded, and sliced into thin strips
3 cloves garlic, peeled, and minced
1 ½ pounds tomatoes, peeled, seeded, and sliced into thin strips
1 bouquet garni (2 sprigs fresh thyme, 1 bay leaf, and 4 stems flat leaf parsley wrapped and tied in a green leek leaf)
1 cup dry white wine
Preparation:
Heat the olive oil in a Dutch oven over medium heat. Season each piece of chicken with 2 pinches of salt and a dash of pep­per. When the oil is hot, brown the chicken pieces over medium heat about 10 minutes, turning them from time to time. Cover the pot, reduce the heat to low, and cook for 20 minutes, turning the chicken pieces every 5 minutes. After 20 minutes, remove the wings and breasts and set them aside. (Keep them in a 250°F oven with the door ajar or simply tent loosely with aluminum foil.) Cook the dark meat about 5 minutes more, still covered, and then remove it to stay warm with the wings and breasts.
Turn the heat under the pot to low and add the onions and a pinch of salt. Stir constantly for 3 minutes; the onions should not color. Add the peppers and garlic, and stir for 3 minutes. Add the tomatoes and stir. Add the bouquet garni, cover, and cook for 10 minutes over low heat, stirring every 3 minutes.
Add the white wine, cover, and simmer for 10 minutes. Put the chicken back in the pot, cover again, and cook 5 minutes more. Taste for salt and pepper. Remove the bouquet garni.
Serve the chicken coated with sauce.
Source: The Complete Robuchon by Joel Robuchon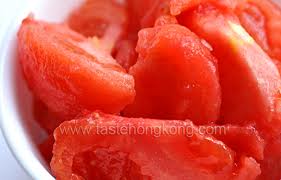 "Does it really matter?" Brian asked me. I would say my husband was being sincere, and not lazy, but I know him. Definitely lazy.
"Get the tongs and get going." I said. He obeyed. And, in the end, he agreed that it was better to follow the recipe. Imagine that: Joel Robuchon gives you a recipe and you discover that it's wise to follow it! I am making slow progress with the man.
Tomorrow's  recipe, which is for Basque chicken, calls for skinned and seeded tomatoes.
Robuchon provides a wonderful tip on how to skin and to seed: you treat the tomato like a pepper and roast it.
Now, to begin with, does it really matter? Do you have to skin? Do you have to seed? No, you don't have to. You don't have to brush your teeth or ever take a shower or buy car insurance. But if you want to be civilized, if you want an exceptional recipe, then "skinned and seeded" means just that. The proof? Do a taste test.
Reluctance to skin a tomato is understandable. It's awkward to get the skin off. Using a peeler is often a disaster where the poor tomato ends up both skinned and abused. That skin is very thin, yet remarkable strong. Oh, that strength? That's what you would have to bite through and that's why this exercise is necessary.
Now the standard technique for skinning or peeling a tomato  is to place the raw tomato in a pot of boiling water for 10 seconds, then remove it and dunk it into a ice bath. It's effective but just awkward with pots and pans and ice … There is negative incentive there to just say it's too complex and skip the step. That's a mistake.
If you compare tasting skinned and unskinned tomatoes, the difference is rather amazing. That thin skin is resistant to the bite. Not extreme, but enough to make a difference. A skinned slice is just simply sliced through, with no need to add that final touch of extra pressure to sever through the skin.
The same thing holds for seeds. Eat a slice of skinned and seeded tomato. Then try a skinned sliced with the seeds still there. There can be a perceptible difference there as your teeth engage the seeds and you automatically apply more pressure. I know, it's slight. It's a tomato. But it's also real. Skinned and seeded, slices of tomatoes are sweet, meaty, and totally soft.
So, how do you do this? It's better with a gas stove, but it's still possible with electric. Turn a burner to high. If the burner is electric hold tomato in tongs over it and every 10 seconds rotate it. [Yes, with electric, that means putting the tomato down somewhere -- not on the burner -- and picking it up again with a different orientation.]
If the burner is gas, life is much simpler. The burner grate is 6 or 8 forks of metal that form a surface for pot or pan to sit on. Those forks all point to the center, but they typically they don't meet there. They form a "hole." Park the tomato in that hole, then every 10 seconds rotate it.
How do you know when you are done? The skin will begin to pucker or blister, turn yellow, and then blacken. When that effect is on most of the surface of the tomato, remove it from the burner and move on to the next tomato [or you can do multiple tomatoes on multiple burners]. Let the tomatoes rest for a few minutes, then simply remove the skin by hand.
Seeding is equally easy. Quarter the skinned tomato. With a small, sharp knife remove the "whitish" core with attached seeds. Using the edge of the knife, or your finger tips, brush the surface of the tomato to remove any remaining seeds.
This method is effective and avoids the clutter of boiling water and ice batch.
Source: The Complete Robuchon by Joel Robuchon