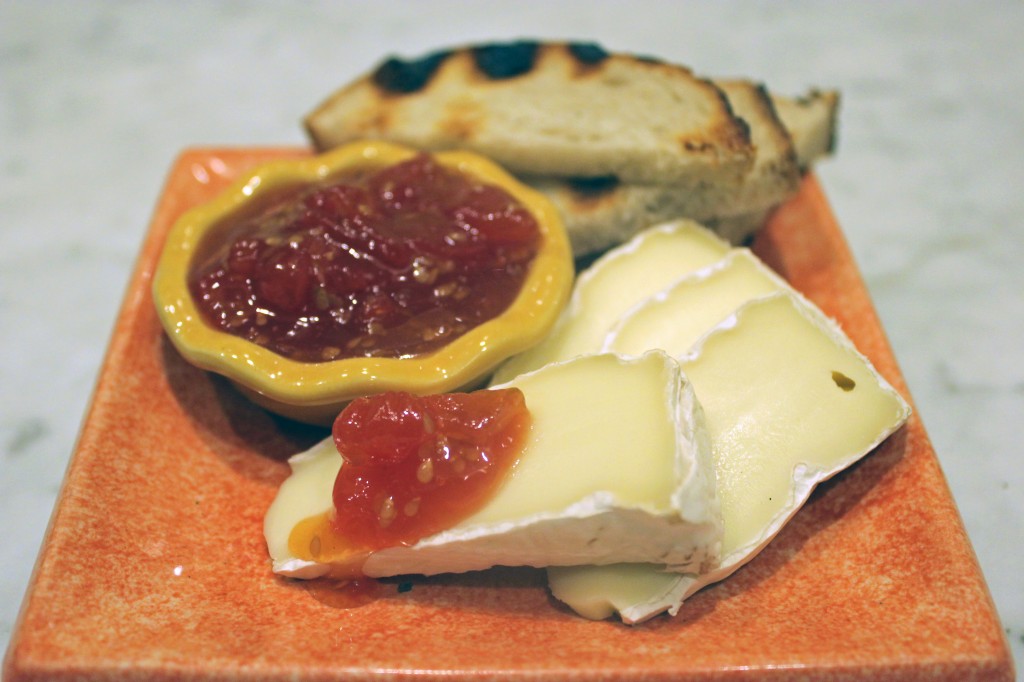 Did you ever have someone give you an absolutely perfect dish? And you were going to get that recipe from them? And then, most sadly, they passed away? You remember their face and their laughter. You remember their tomato conserve that was a miracle.
Suzen and I had the pleasure of knowing Jacques Burdick, a wonderful man who once gave us a small jar of his tomato conserve. He smiled when he passed it to us but he did not make a big deal about his gift or boast that this was a treasure. He went home, we tasted, we could not believe.
And we never got around to asking him for the recipe and now we cannot.
So, we've searched recipe books and googled and never found anything close. Until now.
The Cheesemonger's Table is a gorgeous book filled with cheese-oriented recipes. Serious, upscale recipes. I'll blog about the book itself tomorrow. But very, very importantly, the book has this recipe for Cherry Tomato Jam for cheese. It's quite close to Jacques' miracle.
This jam can be made in an hour with very little effort. Physically, it is stunningly beautiful. Taste wise, it's really, really good. Remember, tomatoes are fruit and all fruit is destined to become jam [or pies, or tarts, or …]
Enjoy this jam with soft white cheese on toasted bread. Triple crème never tasted so good.
The recipe comes from an exceptionally well-trained chef, Chester Hastings, in Los Angles. When he makes this jam, he's mostly using California cherry tomatoes. When I made this jam, I was using supermarket tomatoes in February in upstate New York. My jam was great, but it was a bit lemony. I would suggest that when you make it, do some taste tests along the way, before and during the addition of the lemon juice to reach the flavor balance you like.
The yield stated in the recipe is 1 ½ cups. I got just over 1 cup. I think it's a matter of the juiciness of the tomatoes and how much mass is lost when you take the skins off.
If you don't get enough, just make more. All that you are doing is letting tomatoes fulfill their culinary destiny. It's kinda religious. It's definitely delicious.
Cherry Tomato Jam
Yield: 1 ½ cups
Ingredients:
2 cups [340 grams] cherry or grape tomatoes
¾ cup [150 grams] sugar
3 tablespoons freshly squeezed lemon juice
Zest of 1 lemon
½ teaspoon fresh rosemary, finely chopped
Preparation:
Heat the oven to 350°F.
Cut the tomatoes in half and place on a baking sheet lined with aluminum foil. Bake for about 15 minutes to loosen the skins. Remove the tomatoes from the oven and let cool slightly before carefully peeling away the skins.
Place the tomatoes and the sugar in sauce pan over medium heat and gently melt the sugar. Bring to a boil and cook, boiling rapidly for 5 to 7 minutes, or until thick and syrupy. Remove from the heat and stir in the lemon  juice, lemon zest, and rosemary.
Transfer to a clean, sterilized jar and seal well. The jam can be kept refrigerated for 2 weeks, though I doubt it will last that long.
Source: Cheesemonger's Kitchen by Chester Hastings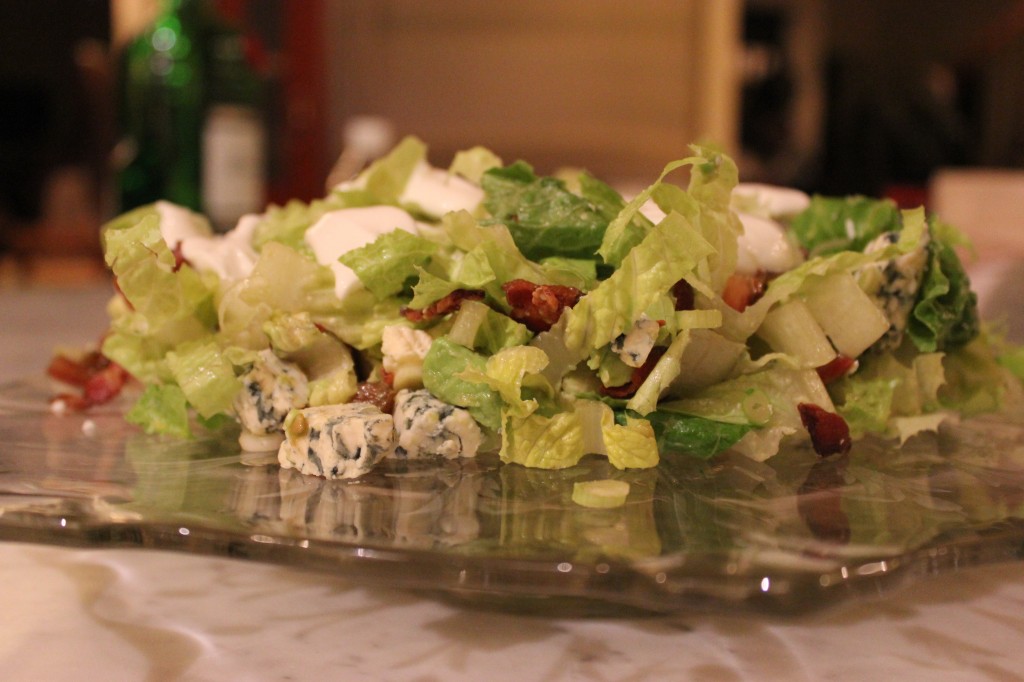 I am, in a word, a fan of Patricia Wells. I love her cookbooks, packed with ideas that tempt me page by page. I relish her travel books: those Food Lover's Guides to Paris and to France have given many of us perfect journeys along the timeless streets of cities or the rural byways of France.
Her twelfth book, Salad as a Meal, is out and simply extends her record of superb writing and recipe presentation. Her inspiration for this book was, truthfully, negative. At Brasserie Lipp on the Left Bank in Paris, there is a small sign saying: No Salad as a Meal. It struck Patricia as both humorous and totally at odds with French cuisine.
In love with salads, Patricia has a broad definition of that dish. Her salad does not have to include greens at all, and she prefers salads with protein. So, Salad as Meal is organized with chapters devoted to protein type including:
Eggs, Cheese and Bean

Fish and Shellfish

Poultry

Meat

Bread

Classics
In that last category, Classic, there is this recipe for Cobb Salad, a robust, old-fashioned ride of iceberg lettuce, tomato, bacon, and blue cheese. [Yes, in the picture above we used romaine, not iceberg, but Patricia approves of creativity]. This salad was created in the 1930 by Robert Cobb, one of the owners of the Brown Derby restaurant chain. The main restaurant, nestled on the border of Beverly Hills and Hollywood, was famous for its Wilshire Avenue location. At night, it was the home to the famous stars, from Hollywood, and the infamous, dapper men from the Los Angeles underworld. Everyone, regardless of status in life, loved this salad.
Oh, I know you want to look at the recipe but let's go back to Wilshire Boulevard for some great history. Wilshire runs 28 miles from downtown Los Angeles to the Pacific in Santa Monica. It was developed starting around 1900 in sections, one at a time, ranging from a few blocks to almost a mile. Each round of developers provided new ideas, architectures, and scenery.
When Wilshire began, there were oil derricks in downtown LA. Some entrepreneurs got a lease for a plot of land [an old Spanish ranch land grant] several miles west of downtown LA. They set up a derrick to drill for oil. They drilled and they struck. Water. They moved the derrick. They drilled. Water. Move, drill, water. Move, drill, water.
Water does not burn well, but it has, and had, value in land that was basically desert. So, running out of money but still having hope, the entrepreneurs laid out a grid of streets, planted a different species of tree on each main thoroughfare, and built some model homes. They advertised the water supply.
And, in the end, there was no oil but a nice little community grew up. The next time you are in LA, you can visit and see how it all turned out. Just ask anyone for the directions to Beverly Hills. Oh, and do stop to shop and eat. Try the Cobb Salad somewhere. It's really good.
Cobb Salad
Yield: serves 4
Ingredients for the Salad:
2 1/2 ounces smoked bacon, rind removed, cut into matchsticks (¾ cup)

1 head iceberg lettuce, chopped (4 cups)

2 ripe heirloom tomatoes, cored, peeled, seeded, and chopped

1 large ripe avocado, halved, pitted, peeled, and cubed

4 ounces chilled blue cheese (preferably Roquefort), crumbled (1 cup)

4 small spring onions or scallions, white part only, trimmed, peeled, and cut into thin rounds

Yogurt and Lemon Dressing (recipe follows)

Coarse, freshly ground black pepper
Ingredients for the Yogurt and Lemon Dressing:
½ cup plain low-fat yogurt

2 tablespoons freshly squeezed lemon juice

¼ teaspoon fine sea salt
Preparation of the Salad:
In a large, dry skillet, brown the bacon over moderate heat until crisp and golden, about 5 minutes. With a slotted spoon, transfer the bacon to several layers of paper towels to absorb the fat. Blot the top of the bacon with several layers of paper towel to absorb any additional fat. Set aside.
In a large, shallow bowl, combine the bacon, lettuce, tomatoes, avocado, cheese and spring onions. Toss with just enough dressing to lightly and evenly coat the ingredients. Season generously with pepper, and serve.
Preparation of the Yogurt and Lemon Dressing:
Use a jar with a tight lid. Place all the ingredients in the jar. Cover with the lid and shake to blend. Taste for seasoning. The dressing can be used immediately or stored for a week (shake to blend again before serving).
Source: Salad as Meal by Patricia Well (published by William Morrow)