I am, in my soul, a gazpacho addict. I love the concept and all the flavors that gazpacho, made with fresh ingredients, can deliver to my table.
Funny thing, after thinking conventional tomato soup was ghastly, any tomato soup on a menu now captures my attention. Even roasted tomato soup. From canned tomatoes.  I must admit that for this recipe, roasting the tomatoes in brown sugar may have something to do with my new found preferences. Just maybe.
This lovely soup has this key advantage: it is available year round. No need to wait for Jersey tomato giants in August. This generously flavored soup has a peasant food heritage: diced bread and grated cheese merged with half-and-half. This soup can be your introduction to a full meal, but it has the body to, on its own, be the centerpiece of your evening. Just pair with a salad. And, of course, finish with a clever dessert. [Need a clever idea? Try our earlier post on Cutie Pies!]
Ingredients:
Nonstick cooking spray
2 (28 ounce) cans whole peeled tomatoes, drained, liquid reserved
Kosher salt and freshly ground black pepper
3 tablespoons dark or light brown sugar
Half a medium loaf of focaccia bread, cut into a 1/2″ dice (about 3 cups bread cubes)
1 tablespoon extra virgin olive oil
1/2 cup finely grated sharp cheddar cheese (use a Microplane grater)
2 tablespoons unsalted butter (see note above)
4 large shallots, peeled and roughly chopped
1 large or 2 medium garlic cloves, peeled and chopped (about 2 teaspoons)
1 teaspoon chopped fresh thyme leaves (optional)
1 tablespoon tomato paste
About 3 cups water
1/2 cup half-and-half
Preparation:
Adjust oven racks to middle positions and preheat oven to 375°F.
Prepare the tomatoes: spray a large rimmed sheet tray with an even coating of cooking spray. Add drained tomatoes and space evenly. Season tomatoes to taste with salt and pepper, then divide brown sugar over tops of tomatoes. Roast tomatoes in oven until sugar is browned and tomatoes have shrunken slightly, about 45 minutes. Remove tomatoes from oven.
Meanwhile, prepare the croutons. In a large bowl, toss cubed bread with olive oil, salt and pepper to taste, and grated cheddar cheese. Massage bread so cheese adheres well. Turn out onto a rimmed baking sheet and bake, stirring occasionally, until well-browned and crisp, 10 to 12 minutes. Remove from oven and let cool.
Prepare the soup: Heat butter in a large, heavy-bottomed Dutch oven set over medium heat. Add shallots, garlic, and thyme (if using), and season with salt and pepper. Cook, stirring occasionally, until shallots are translucent but not browned, about 6 minutes. Add tomato paste and cook, stirring, until it browns, about 2 minutes. Add roasted tomatoes, reserved tomato liquid, and enough water to cover, about 3 cups. Bring soup to a boil, reduce to a simmer and cook, stirring occasionally, until some liquid has evaporated, about 30 minutes.
Let soup cool slightly, about 10 minutes. Add half and half and use a hand blender to blend soup until smooth. Alternatively, blend soup in a blender in two batches. Check soup for seasoning, adding more salt and pepper to taste. Serve in bowls, garnished with a handful of croutons.
Source: Serious Eats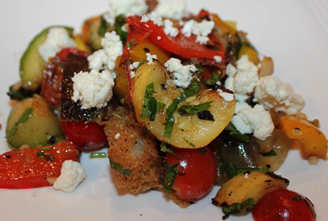 Oh, it's winter and grilling is something you probably cannot conceive of. For this salad, you need grilled veggies but you can do this indoors. Your stove may have a grilling section, or you can buy a simple grilling surface to fit over your regular burners.
Why now, in the middle of winter? This salad is bright, filled with flavor and those grilling smells inside your kitchen will spread cheer on the coldest of days. This "salad" is perfect for a main course. On a football Sunday, you can offer up a bowl of bread salad and let folks serve themselves, grab a beer, and return to that television showing grown men pound each other into oblivion. Let those gridiron gladiators fight away. You can indulge away on these dashing flavors while your football heroes dash about on snowy or rainy fields.
Zucchini, Tomato, Onion, Ricotta Salata and Bread Salad
Yield: serves 6
Ingredients:
For the salad:
½ large sweet onion, sliced ¼ inch thick
1 large red bell pepper, cored, seeded, and sliced ¼ inch thick
1 large yellow bell pepper, cored, seeded, and sliced ¼ inch thick
1 tablespoon extra-virgin olive oil
1 teaspoon fine sea salt and freshly ground black pepper to taste
1 large yellow zucchini, halved lengthwise
1 large green zucchini, halved
4 large heirloom tomatoes of mixed colors, cored and cut into large dice
1 loaf ciabatta bread (8 to 10 oz)
½ medium red onion, thinly sliced (about ½ cup)
¼ cup fresh summer savory
2 ounces ricotta salata
For the dressing:
1 cup extra-virgin olive oil
¼ cup aged sherry vinegar
2 tablespoons freshly squeezed lemon juice
2 tablespoons summer savory
1 tablespoon finely chopped garlic
 Preparation:
—– GRILL THE VEGETABLES —–
In a large bowl, toss the sweet onions and peppers with 1 tablespoon of olive oil. Season with salt and pepper. Brush the zucchini with some of the olive oil and season with salt and pepper.
Preheat a barbecue or stove top grill to medium-high heat. Place the zucchini halves cut-sides down on the grill. Spread the onions and peppers around the zucchini in a single layer. Grill the vegetables, turning them often, until charred and softened, about 5 minutes for the onions and peppers and slightly longer for the zucchini. Cut the peppers and zucchini crosswise into 1-inch pieces.
—– MAKE THE DRESSING —–
In a large bowl, whisk together the oil, vinegar, lemon juice, savory, parsley, and garlic. Season with salt and pepper.
—– MARINATE THE VEGETABLES —–
Add the grilled vegetables and tomatoes to the bowl with the dressing. Adjust seasonings. Set aside.
Trim the crust off the bread and cut into 1-inch slices. Brush each slice with olive oil. Heat grill to medium-high heat. Grill the bread, turning once, until browned and crisp on both sides.
—– ASSEMBLE THE SALAD —–
Add the onion and savory leaves to the marinated vegetables. Place a piece of toast in the middle of each plate. Divide the vegetable mixture evenly among the plates. Shave the ricotta salata over the salad.
Alternatively, the bread can be chopped and mixed in with the vegetables.
Source: Bistro Laurent Tourondel