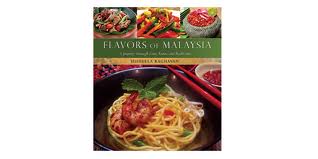 Okay, let's do a scavenger hunt. Go to your bookshelf, the bookshelf you have devoted to cookbooks.
Good. Now go to the row devoted to Asian food.
Good. Now go to the section devoted to Malaysian food.
Good? Or not good?
Oh, you don't have Malaysian books? Or any Asian books? Good God, no cookbooks?
I can suggest multiple solutions to this gap in your life. You could start with Flavors of Malaysia by Susheela Raghavan. A Malaysia native, she takes you on a brilliant food tour of her extensive land through 150 recipes. Good recipes. Different recipes, and yet not that different.
Take this salad, for example. You've had cucumber and tomato salad probably. But now, with some chilies and yoghurt, you get a different experience. This salad is easily made and more easily loved.
Flavors of Malaysia is filled with ingredients you know about but now assembled in new fashions to give you a wonderful new set of flavor notes. It's an easy book to read and follow, with well written recipes and pictures that will tempt you to buy some curry for your kitchen. Yes, a visit to an Asian market is in your future.
In terms of recipes, start with this salad, to dip you toe in, and then experiment with some challenging flavor combinations you've probably not put in your mouth:
·         Pickled Mango Salad
·         Pork Rib Soup
·         Spicy Egg Curry
·         Chinese Stir-Fried Rice Noodles
·         Braised Spicy Long Beans
Flavors of Malaysia is published by Hippocrene Books in New York. They specialize in world cookbooks, with volumes ranging from Estonia to Asia. There are many European cuisines in their repertoire, but it is the Asian books that caught my eye. Start with Flavors of Malaysia and then find other Hippocrene offerings. Then you can journey, foodwise at least, to Laos, Turkey, Lebanon, and a host of other lands.
Spicy Cucumber Tomato Salad
Yield: 5 to 6 servings
Ingredients:
The Salad
2 medium (about 1 pound or cups) cucumbers, peeled, cored, and julienned into 2-inch by ¼-inch pieces
¾ to 1 teaspoon salt
1 heaping cup (about 7 ounces) cubed tomatoes in 1-inch pieces
The Dressing:
1 to 1 ½ teaspoons cumin seeds, dry roasted and pounded or ground or simply use ground cumin
4 to 5 fresh green or red chiles (jalapeno, Fresno, Serrano, Thai, cherry, or cayenne), sliced and coarsely pounded (about ¼ cup)
¼ cup chopped shallots or red onions
2 cups plain yogurt
⅛ teaspoon turmeric powder, if desired
The Final Garnish:
1 tablespoon cooking oil
¼ to ½ teaspoon black or dark brown mustard seeds
8 fresh curry leaves
Preparation:
Rub cucumber slices with salt and let sit in colander with the cucumbers weighted down by a plastic bag of water for about 15 to 20 minutes, until all liquid is drained from the cucumbers. Alternative, place the cucumbers in a non-reactive bowl, add 3 cups  warm water or enough to cover, and let sit for about 15 to 20 minutes; drain in a colander and gently squeeze out excess water. Set the cucumbers aside.
Combine the dressing ingredients and blend well. Add cucumber and tomatoes and coast well with the dressing.
Before serving, heat the  oil in a small skillet. When hot, add mustard seeds and curry leaves, cover and let the seeds pop. When popping subsides, uncover and pour this savory mixture over the salad.
Source: Flavors of Malaysia by Susheela Raghavan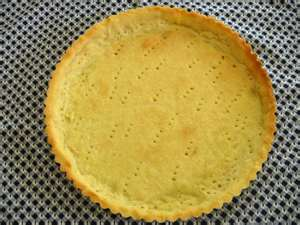 Yes, that's an empty tart shell, waiting to serve you. What you need is a delicious way to fill it to the brim.
Here's an elegant way to serve potatoes and tomatoes in a tart with with a crust that adds the flavor overtones of Parmesan and chili. "Tart" is, for me, a special word. It always seems to denote something special, something personal, something with a twist that will make me smile. This tart is exactly that lovely treat. There is a dash of richness from the creme fraiche, overtones from sea salt, and a chile hit.
This tart consists of a tomato base topped with potato slices. You can artfully arrange those slices in different patterns and perhaps top with some additional chili flakes or herbs.
This tart takes a bit of effort, but you'll truly appreciate the results. It can be a side dish, but has the substance of a main course. Try this on a Sunday afternoon. Let the ballgames play out on television while you focus on something sure to be a success. [This blog was written by a New York Giants fan after three consecutive losses. I need, and deserve, serious comfort food.]
Chile Potato Tart
Yield: Makes 6 servings
Ingredients:
Filling:
1 ½ pounds ripe red plum tomatoes halved lengthwise and seeded [or cherry tomatoes]
3 tablespoons extra-virgin olive oil
4 whole garlic cloves, unpeeled
1 large red chile
1 ½ teaspoons sea salt flakes
1 tablespoons sugar
1 pound waxy potatoes boiled in their skins for 15 minutes then peeled and thinly sliced
1 ¼ cups crème fraiche lightly whipped and seasoned with salt and pepper
Salt and freshly ground black pepper
Chile Pastry:
1 ⅓ cups all-purposes flour
Pinch of salt
7 tablespoons unsalted butter, diced,
¼ cup finely grated Parmesan cheese
1 red chile, seeded and very finely chopped (optional)
Preparation:
Filling:
Preheat oven to 350° F.
To roast the tomatoes, lightly brush a baking tray with some of the olive oil and arrange the tomatoes cut side up.  Add the garlic and whole chile and sprinkle with the remaining olive oil.  Sprinkle the salt and sugar evenly over the tomatoes and bake in the preheated oven.
Remove the garlic after 10-15 minutes when soft, and squeeze the flesh into a bowl.  Remove the chile after 15-20 minutes when the skin is blistered and slightly charred.  Leave the tomatoes for 45-50 minutes until very soft and slightly charred.  Cool the chile a little, then peel, seed, chop finely, and add to the garlic.  Scoop the tomato flesh into the bowl, discarding skins [with cherry tomatoes, simply mash the skins].  Mash the flesh.  Season to taste.
Pastry:
Sift the flour and salt into a bowl.  Rub the butter until the mixture resembles fine crumbs.  Stir in the Parmesan and chile, if using.  Add enough cold water to make firm dough.
Roll out on a lightly floured surface and use to line a greased, 10-inch fluted art pan.  Lightly prick the base with a fork.  Chill for 30 minutes, then line with foil and baking beans.  Heat a baking tray on the middle shelf of a preheated oven at. 400°.  Put the tart shell on the tray, bake for 10-15 minutes, then remove from the oven and remove the foil and beans.  Increase the oven heat to 450°.
Spread the tomato mixture evenly over the tart base, then over with concentric circles of potato slices.  Pour the crème fraiche over the potato.  Bake for 8 to 10 minutes until the top is golden.
Source:
Potatoes: From Mash To Fries by  Annie Nichols