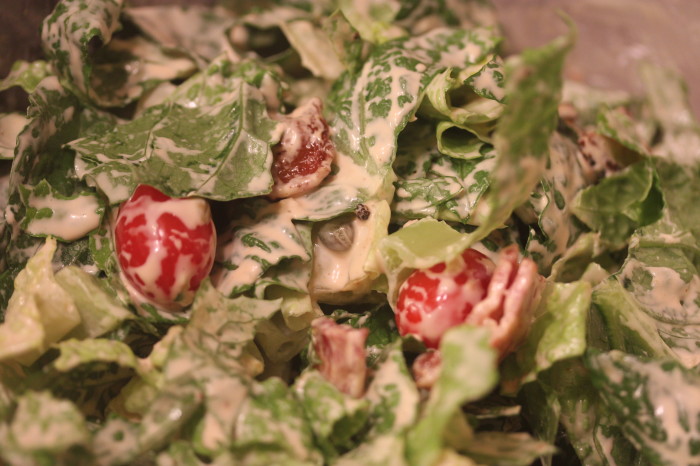 The picture above is Suzen's interpretation of this recipe.
"It's raining," she said. "I'm not grilling."
And so, we did not grill the romaine lettuce but simple served it tossed with bacon, tomatoes and dressing. Either way, this salad is treat, familiar yet dramatically different. This dish easily forms a full meal. Miss the bread of your traditional BLT? How about a warm dinner roll with butter.
Particularly if you do not grill the lettuce, you can create this meal in minutes.
Chilled white wine. You probably want that along with the rolls.
This recipe comes from 365 Comfort Foods from Better Homes and Gardens. Just as that BLT sandwich is something many of us crave [I can do it daily], this is a salad you'd enjoy on a regular basis.
Finally, when baking the bacon, consider topping it with brown sugar or maple syrup. The sweetened bacon will contrast with the buttermilk dressing and give your dish an added lift.
BLT Salad with Buttermilk Dressing
Yield: serves 4
Ingredients:
4 slices bacon
2 tablespoons crème fraiche or sour cream
2 tablespoons mayonnaise or salad dressing
1 tablespoon snipped fresh dill
1 tablespoon cider vinegar
1 clove garlic
¼ cup buttermilk
Freshly ground black pepper
2 head romaine lettuce
 Olive oil
1 cup cherry tomatoes, halved
½ cup shaved Parmesan cheese
Preparation:
Preheat the oven to 375°F. Arrange the bacon in a shallow baking pan. Bake about 15 minutes or until crisp. Remove the bacon and drain on paper towels. Rumble the bacon and set aside.
Meanwhile, for the dressing, in a small bowl whisk together the crème fraiche, mayonnaise, dill, vinegar, and garlic. Whisk in the buttermilk. Seaton to taste with salt and pepper.
Cut each head of the lettuce in half lengthwise. Brush lettuce with oil and sprinkle with additional salt and pepper. For a charcoal or gas grill, place the lettuce on the rack of a covered grill directly over medium heat. Grill about 2 minutes or until lightly charred, turning one halfway through grilling. For a grill pan, preheat the pan, add the lettuce and cook as above.
Place the lettuce on 4 plates. Sprinkle over the bacon and tomatoes. Pour over the dressing and sprinkle with the Parmesan.
Source: 365 Comfort Foods from Better Homes and Gardens
Photo Information: Canon T2i, 18-55MM Macro lens, F/2.8, 100th second, ISO 1000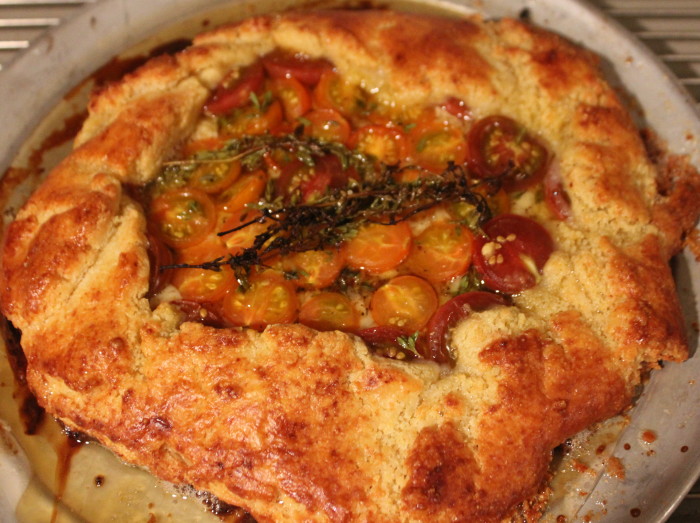 A couple of weeks ago the Wednesday food section of The New York Times featured a photograph so big you'd have to be 20/500 not to have seen it. A tart, no a crostata with tomatoes and a shimmering honey-thyme glaze.
Who would conceive of such a thing? Why Melissa Clark, of course. Suzen and I look for articles and recipes by Melissa for multiple reasons. They read good. They taste good. They never fail. And they instantly become one of those recipes you tell yourself to make once a month upon pain of deprivation. A diet of only Melissa Clark recipes would be life sentence you'd relish for decades.
Melissa was writing about the waning weeks of summer and what to do with ingredients that might just not be in summer prime. Like tomatoes. She devised this wonderful treat which Suzen made at the first opportunity. Our only improvisation, and Melissa gave us permission, was to use sliced cherry tomatoes instead of full size ones.
The crostata is just heaven. The glaze over the tomatoes gives them added sweetness with definite herby overtones. The crust, made with cheese and cornmeal, is soft and satisfying. If, and I mean if, you should have leftovers, then the cornmeal flavor will be dominant that second day. But hot out of the oven the cornmeal notes are quietly buried away. You can taste something is there, but it is hard to identify with the barrage of all the flavors exploding in your mouth.
"I'm doing this again," Suzen said after two forkfuls. "But next time …" And then she began to rattle off all the things you could play with: adding goat cheese, using some onions, making it all onion, filling it with mélange of already cooked veggies instead of tomatoes, … The possibilities are endless.
But no matter what form it takes, Suzen and I will always pause with that first bite and offer thanks to Melissa for adding to our short list of "must make" favorites.
Tomato Crostata with Honey-Lime Glaze by Melissa Clark
Yield: serves 6 to 8 as a side, 4 as a main course
Ingredients:
For the crust:
125 grams all-purpose flour [about 1 cup], plus more for rolling out dough
75 grams fine cornmeal [about ½ cup]
¼ teaspoon fine sea salt
10 tablespoons cold unsalted butter, cut into small cubes
24 grams grated extra sharp Cheddar [about ½ cup]
For the filling:
1 ½ pounds different-colored tomatoes, sliced ¼-inch thick []or halved if cherry or grape tomatoes]
1 teaspoon kosher sea salt, plus a pinch
2 tablespoon cider vinegar
1 tablespoon honey
½ bunch fresh thyme sprigs, plus 2 tablespoons chopped fresh thyme leaves
2 tablespoon olive oil
3 garlic cloves, smashed an peeled
65 grams extra-sharp Cheddar, grated [about 1 cup]
Black pepper to taste
1 large egg
Flaky sea salt, like Maldon
Preparation:
Begin by making the crust. In a food processor, briefly pulse together flour, cornmeal and slat. Add butter and cheese and pulse until mixture forms chickpea-size [3 to 4 one-second pulses]. Add ice water 1 tablespoon at a time, up to 6 tablespoons, pulsing occasionally until mixture is just moist enough to hold together. Form dough into a ball, wrap with plastic and flatten into a disk. Refrigerate at least 2 hours.
Meanwhile, line a rimmed baking sheet with a double layer of paper towels. Spread out the tomato slices in a single layer. Sprinkle with 1 teaspoon salt and let sit for at least 1 hour and up to 3 hours.
In a skillet over medium heat, combine vinegar, honey and thyme sprigs and bring to a simmer; let simmer 2 minutes, then transfer a bowl. Wipe out skillet, then add olive oil and garlic. Cook garlic for 2 to 3 minutes, or until it is golden and caramelized. Remove garlic and finely chop. Reserve garlic oil.
Line a rimmed baking sheet with parchment paper. Lightly flour a work surface and rolling pin. Gently roll out dough to ¼-inch thickness, dusting with flour if dough is sticking. Transfer dough to baking sheet and return to the fridge for another 20 minutes.
Heat oven to 425 degrees. Pat tomatoes dry with paper towels. Brush tomatoes with honey mixture [reserve the thyme springs]. Leaving a 3-inch border, distribute cheese, garlic and half the chopped thyme leaves on center of crust. Add black pepper to taste, then layer tomatoes in an overlapping pattern, maintaining the border. Drizzle garlic oil over tomatoes, sprinkle with remaining thyme leaves and lay the reserved whole thyme sprigs on top. Gently fold crust up around tomatoes, make a 2-inch boarder.
In a small bowl, whisk egg and 1 teaspoon water. Using a pastry brush, brush egg wash over crust and sprinkle top of crostata with flaky salt. Bake for about 35 minutes, until pastry is deeply golden brown. Serve warm or at room temperature.
Source: Melissa Clark, The New York Times, August 7 2013
Photo Information: Canon T2i, EFS 18-55mm lens, F/4 and 1/50th second at 3200
[Why are my ISO values so high so often; the camera is so good I do not get any noticeable graininess and I can avoid the shadowing from the built in flash that I prefer not to have.]