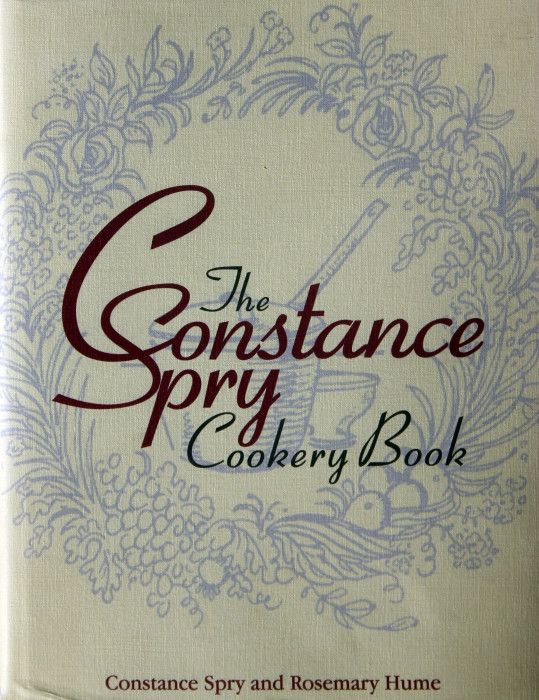 It is Throwback Thursday. Time to review an old cookbook with great contemporary value. We are going back here almost 60 years, to 1956 and the publication of The Constance Spry Cookery Book.
First things first. "Cookery" is an odd sounding word to Americans, but it is the common British term instead of just "cooking." It actually has a double nuance, officially defined as the "art of preparing food by the application of heat." It's not just cooking. It's an art. And heat, the mechanism for transformation, is right there. British cuisine is cooked, not raw. The term cookery has been part of the language since the 14th century.
Who was Constance Spry? Think of her as the English Julia Child + Ina Garten + Martha Stewart. Someone very accomplished, and very talented, and on a very grand scale. Born in 1886, she served in the Dublin Red Cross at the start of World War One, then head of the women's staff [welfare and medical treatment] at the Ministry of Aircraft Production.
After the war, something drew her to flowers and she quickly became the most famous florist for high society in London. Famed for her arrangements based on Dutch 17th and 18th century paintings, she scoured the byways of London to find unusual objects for containers and she employed unexpected garden elements including weed, grasses, and ornamental kale. By 1934, she had 70 employees.
When World War Two broke out, she expanded from gardens with flowers to gardens for food during a time of stress and conservation. She cultivated roses while working with co-author Rosemary Hume [whose Au Petit Cordon Bleu cooking school in London fell victim to World War Two shortages], to fashion new recipes, gather historic ones, and assemble this thousand page volume that is an early British version of The Joy of Cooking.
Cookery is vast, detailed, and lovely. The purpose of the book was to take the knowledge of culinary professionals and write it in a form that British housewives could understand and use. It was, and it remains, the British cookery [and cooking] bible.
There are 37 chapters, over a 1000 pages, and 100's of recipes. I can't begin to detail it all. It's far too vast. What I can do is give you some samples and encourage you to look for the book. It was reprinted 10 times after 1956, the last in 1990. Now, thanks to Grub Street Publishers in London we have a new edition [2011] that you can search for, scan, buy, use, adore, and pass on to your daughter. Or your son. It's a treasure.
It's lovingly dated in places. There is unchanged wording from the 1956 edition about parsnips mentioning that there used to be more sugar available. World War Two food rationing did not officially end until 1950 and there were cultural and economic ramifications in Britain all through the 1950s. So the Parsnip Galette recipe, using sugar, is treated here as an old friend that hopefully will come back to life when times are better. And now, they are.
There is a tradition of decrying British cuisine. Constance would battle anyone saying a disparaging syllable. If you scan this book, you'll be amazed at the ideas. She borrowed heavily from France, loving the marriage of French technique with British ingredients. British terroir is certainly not what you will find along the Loire or in Provence. France, and no other country, is the inspiration here. There is little pasta, for example, but a glorious range of soups and sauces. Desserts aplenty, soufflés, and mousses. It's not simple borrowing. It's more of an appreciative marriage, with those British ingredients — a gammon of bacon — given a fresh French buff of herbs and spice.
And there are things here that you have never seen. Suzen and I will be experimenting. For example, the Bananes Gratinees which is French [google "bananes gratinees and paprika"] but seems like some Hungarian-Italian-Swiss fantasy: bananas are first pan cooked in butter with salt and paprika, then sprinkled with bread crumbs, Parmesan and Gruyere cheeses, and baked. We are going to attempt this and offer it to dear friends, ones who are happily eager to be the testbeds for the very new or the very different.
Perhaps a little less extreme, the recipe below for Tomato Ice offers a velvety different take on how to create a shrimp or lobster cocktail. The British are seafood fanatics, and their repertoire goes far beyond mere Fish and Chips. So, this Tomato Ice may be the way you break the ice and consider looking at The Constance Spry Cookery Book. It will entertain and fascinate you.
If you are a foodie, if you love food history and "old recipes, then this is a book you simply must possess.
---
Tomato Ice

Yield: enough for 6

Ingredients:
½ cup thick mayonnaise
½ cup tomato pulp made from 1 pound of tomatoes stewed with a little garlic, bay leaf and lemon thyme or basil and then sieved
1 teaspoon tomato puree
Juice of 1 lemon
Grated rind of 1 orange
5 tablespoons partially whipped cram
Pinch of sugar
Salt and pepper to taste
Preparation:

Make the mayonnaise yourself from scratch, using lemon juice instead of vinegar to sharpen the flavor. Incorporate the ingredients in the order given. The tomato puree is added if the fresh tomatoes are poor in flavor or lacking in strength. Taste and adjust the seasonings. Pour into a container and freeze. The mixture will be thick yet creamy.
The Tomato Ice may be use either as an accompaniment to grilled sole and turbot or as the base of a prawn or shrimp cocktail. Freshly chopped herbs as well as shredded or chipped lobster may be added to the mixture together with a dash of brandy or sherry, so turning it into a lobster ice or frozen lobster cocktail.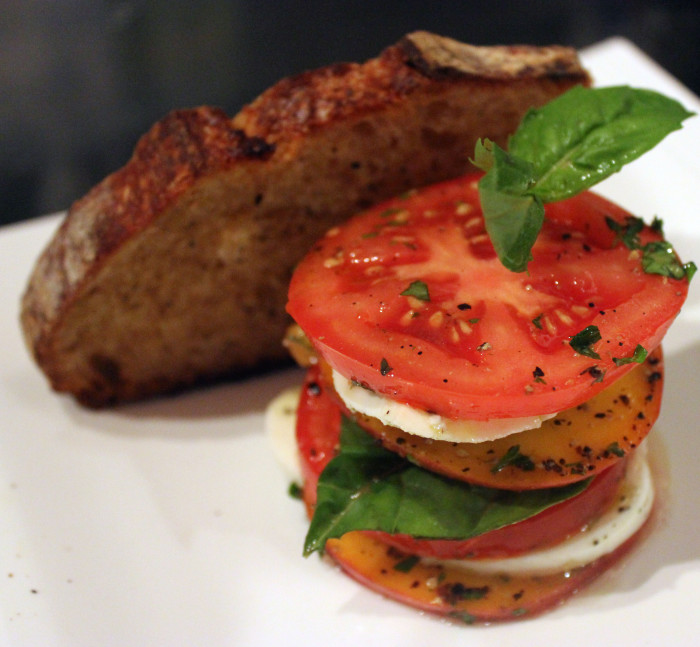 Eating a peach with salt, basil and olive oil is not something I would automatically do. Just too strange. But when Michele Scicolone suggests it, Suzen and I were intrigued. This salad is a favorite for Suzen's culinary team building events. It is the ideal recipe for a small team to tackle. Plenty of slicing of peaches and tomatoes. There is basil to tear and the matching crostini to adorn with herbs and olive oil.
And then there is the fun of assembling the dish. As you can see from the photo, the tower can be quite striking. When the salad is placed before someone, there is that slight pause: "If I eat this, it won't be pretty anymore."
Go ahead. Cut in with that fork. You can always, and easily, make more.
And do yourself a big favor. The next time you have a sliced peach, try the salt, basil and olive oil. Darned if there is not a delicious alternative to sugar on fruit!
---
Peach, Tomato and Burrata Salad

Yield: serves 4

Ingredients:

For the salad:

3 firm but ripe peaches, pitted and cut into thin slices
2 ripe medium tomatoes, cut into thin slices
Coarse salt
8 ounces Burrata or fresh Mozzarella Cheese
12 fresh basil leaves, torn into bits
¼ cup extra virgin olive oil
For the olive oil herbed crostini:

12 (½-inch thick) slices rustic bread
1 teaspoon dried oregano
1 teaspoon dried thyme
Salt and pepper
Preparation:

For the salad, alternate the peach and tomato slices on a platter. Sprinkle with coarse salt.
Cut the Burrata into chunks and place them in the center of the peaches and tomatoes. Scatter the basil on top, drizzle with oil and serve.
If you prefer, substitute sliced ripe avocado or ripe figs for the peaches.
For the crostini, place a rack in the center of the oven and preheat the oven to 375 degrees.
Arrange the bread in a single layer on a large baking sheet. Bake for 5 to 10 minutes, or until lightly browned and crisp. Remove from the oven.
Prepare the olive oil mixture: add a pinch of dried oregano or thyme and a sprinkle of salt and pepper to the olive oil before brushing the toasts.
Brush the bread on one side with the herbed olive oil mixture. Serve hot or at room temperature.
Source: The Italian Vegetable Cookbook by Michele Scicolone

Photo Information Canon T2i, EFS 60 mm Macro Lens, F/5 for 1/60th second at ISO‑1000