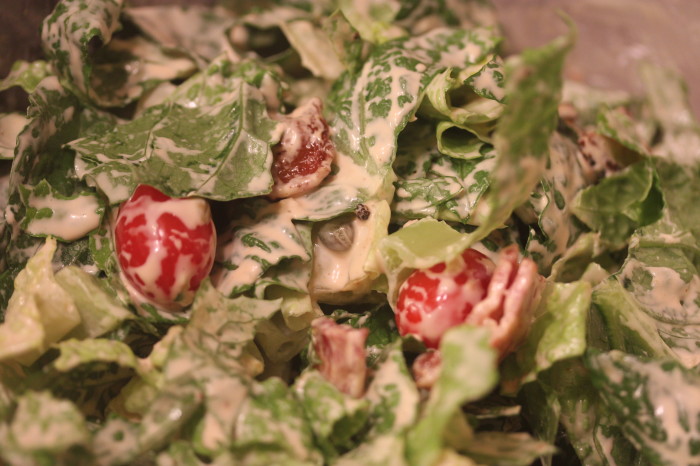 The picture above is Suzen's interpretation of this recipe.
"It's raining," she said. "I'm not grilling."
And so, we did not grill the romaine lettuce but simple served it tossed with bacon, tomatoes and dressing. Either way, this salad is treat, familiar yet dramatically different. This dish easily forms a full meal. Miss the bread of your traditional BLT? How about a warm dinner roll with butter.
Particularly if you do not grill the lettuce, you can create this meal in minutes.
Chilled white wine. You probably want that along with the rolls.
This recipe comes from 365 Comfort Foods from Better Homes and Gardens. Just as that BLT sandwich is something many of us crave [I can do it daily], this is a salad you'd enjoy on a regular basis.
Finally, when baking the bacon, consider topping it with brown sugar or maple syrup. The sweetened bacon will contrast with the buttermilk dressing and give your dish an added lift.
BLT Salad with Buttermilk Dressing
Yield: serves 4
Ingredients:
4 slices bacon
2 tablespoons crème fraiche or sour cream
2 tablespoons mayonnaise or salad dressing
1 tablespoon snipped fresh dill
1 tablespoon cider vinegar
1 clove garlic
¼ cup buttermilk
Freshly ground black pepper
2 head romaine lettuce
 Olive oil
1 cup cherry tomatoes, halved
½ cup shaved Parmesan cheese
Preparation:
Preheat the oven to 375°F. Arrange the bacon in a shallow baking pan. Bake about 15 minutes or until crisp. Remove the bacon and drain on paper towels. Rumble the bacon and set aside.
Meanwhile, for the dressing, in a small bowl whisk together the crème fraiche, mayonnaise, dill, vinegar, and garlic. Whisk in the buttermilk. Seaton to taste with salt and pepper.
Cut each head of the lettuce in half lengthwise. Brush lettuce with oil and sprinkle with additional salt and pepper. For a charcoal or gas grill, place the lettuce on the rack of a covered grill directly over medium heat. Grill about 2 minutes or until lightly charred, turning one halfway through grilling. For a grill pan, preheat the pan, add the lettuce and cook as above.
Place the lettuce on 4 plates. Sprinkle over the bacon and tomatoes. Pour over the dressing and sprinkle with the Parmesan.
Source: 365 Comfort Foods from Better Homes and Gardens
Photo Information: Canon T2i, 18-55MM Macro lens, F/2.8, 100th second, ISO 1000
Source: Pasta by The Culinary Institute of America [Gianni Scappin, Alberto Vanoli, and Francesco Tonelli]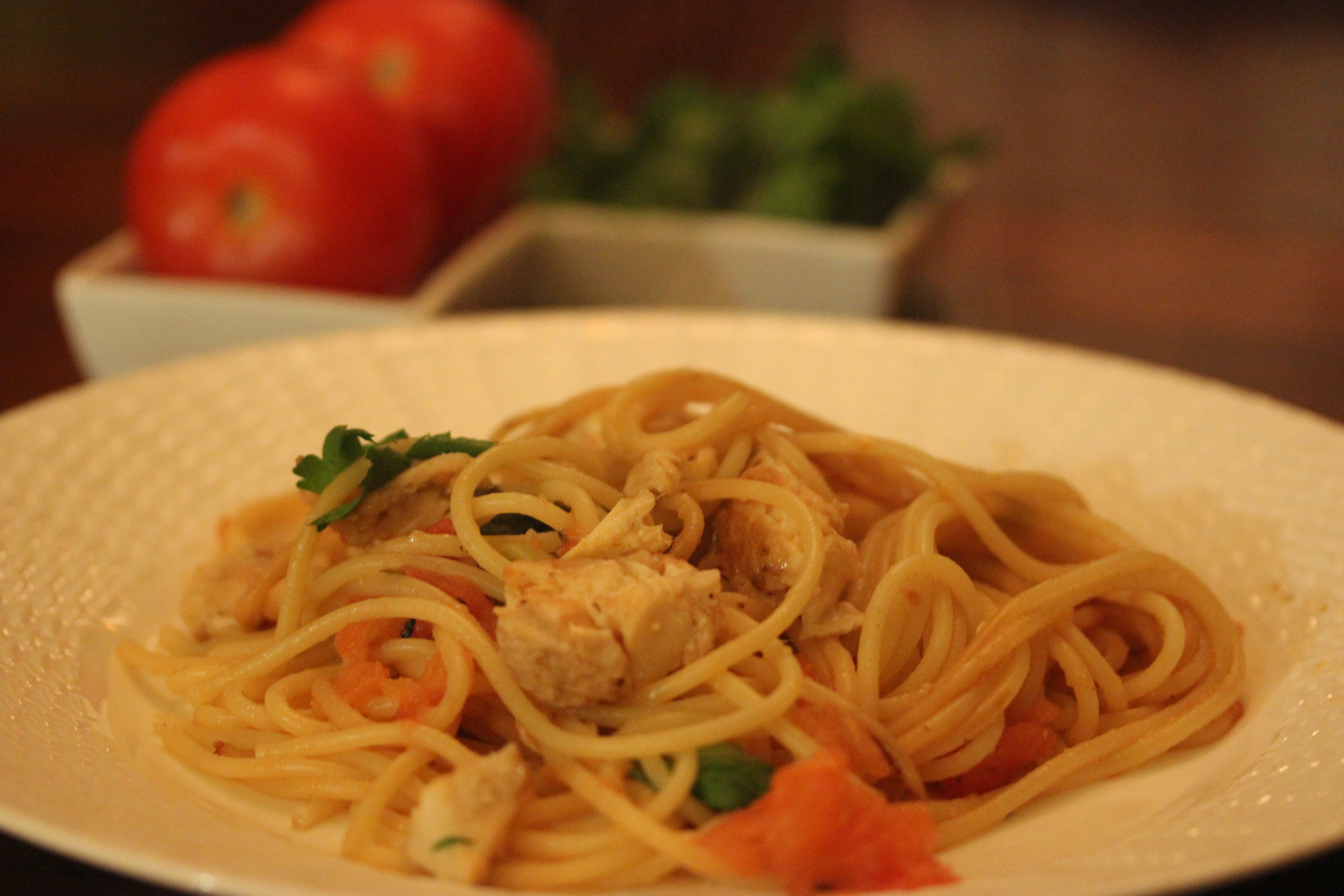 The Culinary Institute of America — yes, that CIA —  is recognized as the best culinary school in America. If you can't invest two or four years to attend, then you have an alternative: the series of cookbooks written by the CIA staff. The latest in this series, Pasta, is a wonderful book that will appeal both to professional chefs and foodies.
When we cook pasta at home, the tendency is to be two toned: spaghetti or lasagna. How many of us have ventured out to cook risotto, crespelle, or polenta. Sample them at a restaurant? Sure. Try it at home? Uh, maybe not.
Pasta is designed to carry you over the threshold, to inform you, educate you, and in the end to let you prepare an exceptional meal.
Sure, Pasta has spaghetti and lasagna recipes. But, probably not ones you have tried:
Lasagna with Asparagus and Fontina
Lasagna with Eggplant, Tomato, and Mozzarella
Vegetable Lasagna with Tomato Sauce
Spaghetti with Anchovies, Wild Fennel, and Toasted Bread Crumbs
Fresh Spaghetti with Lamb Sauce
Handmade with Spaghetti with Porcini Mushrooms
Spaghetti with Garlic, Tomato, Mint and Fresh Tuna [recipe below!]
Pasta is organized seasonally [Summer, Autumn, Winter, and Spring] but truly you probably can source the fresh ingredients you need for any of these recipes almost year round. At the back of the book is a strong appendix with basic pasta and sauce recipes. Well, not that basic. How about Red Wine Fettuccine and Rabbit Broth? That's a meal in itself.
Pasta has 150 recipes and 100 full-page color photos [styled and shot by Franceso Tonelli] to inspire and guide you. The typical recipe is one page: 6-10 ingredients, 3-8 steps. The intensity level of the recipes ranges from moderate to serious. I was cooking on my own, so I went for a spaghetti recipe. Suzen is much more dexterous and would jump to tackle one of the almost 20 gnocchi recipes [like pumpkin with crayfish].
These are the sorts of recipes that you would "buy" at a truly high end, contemporary Italian restaurant. Yet here they are, staged and ready for you to try at home.
My spaghetti dish was wonderful, in large part because of the technique. Garlic, tomatoes and eventually the tuna are cooked in heavy skillet. The spaghetti is, of course, boiled. But the spaghetti is pulled from the pot two minutes early and finished off back in that skillet where it can absorb the flavors. The result? If you just eat strands of pasta — with no fish in that forkful — you still get a delicate fish flavor that has entered the pasta. Sublime and quite satisfying. I had a very strong sense of accomplishment [achieved without sugar or chocolate!]
It's a challenge to write a cookbook that is serious, fun, and sure to produce an exceptional dish, page after page. Pasta is just that kind of book. Pick up a copy. Let the pictures seduce you, and put some water in the pot.
Spaghetti with Garlic, Tomato, Mint and Fresh Tuna
Yield: serves 4 to 6
Ingredients:
⅓ cup extra-virgin olive oil
3 garlic cloves, crushed
10 ounces fresh tuna, cut into ¼ inch cubes
2 teaspoons minced garlic
2 tablespoons chopped flat-leaf parsley
⅓ cup dry white wine
2 cups peeled seeded diced fresh or canned tomatoes
Kosher salt, as need
1 pound dried spaghetti
1 tablespoon thinly slice or chopped mint
Preparation:
Heat the oil in a wide saucepan or skillet over medium-high heat. Add the crushed garlic cloves and sauté until the garlic is aromatic and just staring to turn brown. Remove and discard the garlic. Add the tuna and cook, stirring as necessary, until the tuna is seared on all sides, about 1 minute.
Add the minced garlic and the parsley and stir to combine. Add the wine and once the wine is simmering, about 1 minute, add the tomatoes. Cook, stirring frequently, until the tuna is fully cooked, about 5 minutes. Set aside.
While the tuna is cooking, bring a large pot of salted water to a boil over high heat. Add the spaghetti and stir to submerge and separate the strands. Cook, uncovered, until the pasta is almost fully cooked, 5 to 7 minutes [check the recommended cooking time for your pasta and cook 1 to 2 minutes less than that recommended time].
Drain the spaghetti in a colander. Shake well to remove any water clinging to the pasta. Pour the drained pasta in the pan with the tuna and sauce and toss together over medium heat until evenly combined. Add the mint and cook over low heat until the spaghetti is fully cooked and the sauce thickens and clings to the spaghetti, about 2 minutes.
Serve at once in a heated serving bowl or in pasta plates.
Source: Pasta by The Culinary Institute of America [Gianni Scappin, Alberto Vanoli, and Francesco Tonelli]