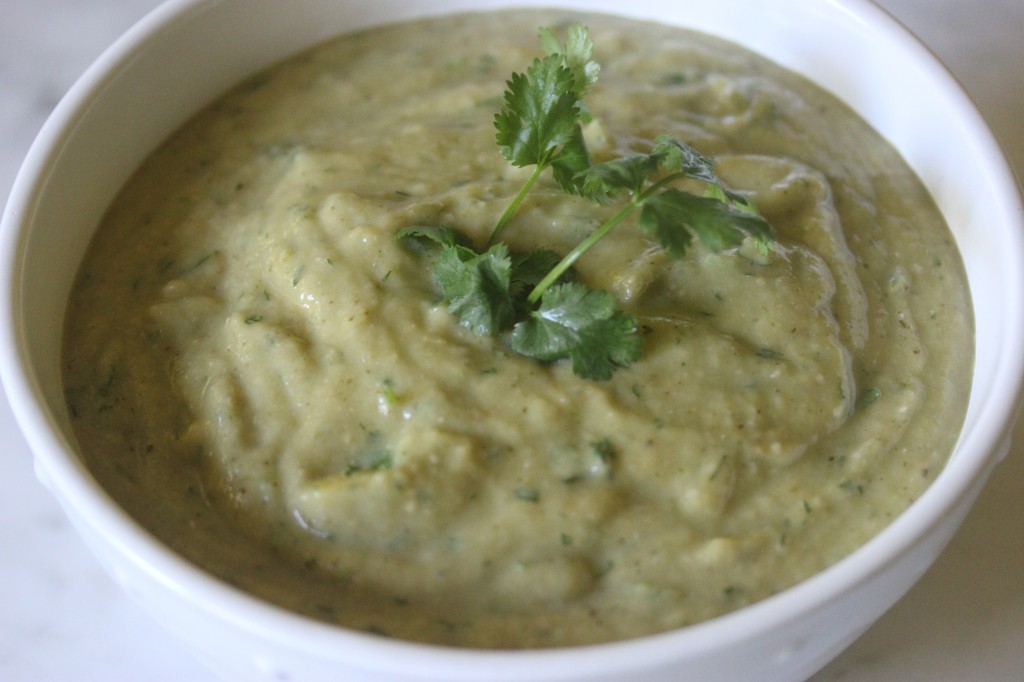 "These will all take a week," the man said. His wife frowned.
"We've been everywhere," she said.
"Where have you been?" I asked. Suzen and I were at Adams Fairacres Market in Kingston, New York in search of avocados. Avocados that could be used the same day.
"We went to Sam's Club and Walmart," the husband said. "There are all these crates of fresh ones but nothing that can be used now."
"Oh, dear," Suzen said. She tugged at my sleeve. Her finger went to her mouth. I understood exactly what she meant. We were not going to tell anyone about our fallback: Hurley Ridge Market.
Which is where we found one, exactly one, ripe avocado. For the night's party, we were to bring guacamole for fifteen. One avocado was going to make for slim portions.
But, we did have an ace in a hole. Another sauce, quite green, quite mellow, with a touch of avocado. This salsa is scrumptious on chips, and it pairs superbly with barbequed chicken or grilled fish.
We did not have the serrano chile called for here, but the poblano in our fridge was a noble substitute. We used our Vitamix, not a blender, when it came time to puree. The Vitamix was so powerful that we did not need the broth, which I believe left us with a much purer vegetable flavor.
Roasted Tomatillo and Cilantro Salsa [with Avocado, too]
Yield: 1 ½ cups
Ingredients:
1 ½ pounds tomatillos, husked, rinsed and halved
2 small onions, outer skins removed and then halved
1 serrano chile, halved, stemmed, and seeded
2 tablespoons olive oil
Salt and freshly ground black pepper
1 head garlic, wrapped tightly in aluminum foil
½ cup chicken broth
½ avocado, halved, pitted, peeled and dice
3 tablespoons chopped fresh cilantro
Preparation:
Preheat the oven to 350⁰F.
Put the tomatillos, onions and serrano chile on a baking sheet, all cut side up. Drizzle with the olive oil and sprinkle generously with salt and pepper. Put the foil-wrapped garlic on the same baking sheet. Roast for 45 minutes, or until the garlic and vegetables are soft and the edge of the vegetables are beginning to born. Let cool slightly.
Transfer the tomatillos, onion, and Serrano chile to a blender. Unwrap the garlic and squeeze the garlic cloves from their papery skins into the blender. Add the broth, and puree to a chunky texture.
This salsa can be made 1 day ahead up to this point. Just cool, cover, and refrigerate. The next day, the pectin in the tomatillos may have stiffened the salsa. Stir to loosen and add some liquid if necessary: water, lemon juice, lime juice.
Just before serving, fold the avocado and cilantro into the salsa and season to taste with salt and pepper.
Sources: Fresh Mexico by Marcela Valladolid
"Make this," Brian asked. "Please," he added.
I didn't care about the magic word. I had looked at the recipe and was skeptical. He was insistent.
I relented, and we made this salsa from James Peterson's Sauces. I must say it is hot: both temperature wise and chili wise. Brian loves it and I find it good, and certainly different from anything I have ever attempted. I have used Sauces many times, and I think of it as reference for all those French concepts of intense flavor based on meat, poultry, fish, or veggies. I was surprised to find this blazing gem in the book, and Brian seized on it like a brownie.
This is a cooked salsa. Cooked in a pan. Cooked with the cilantro. It's unlike anything we've ever tried. The recipe calls for 2 small hot peppers. That's a key point. Use no more than two peppers and do make them small. Two jalapenos are ideal. Still, our mouths were on fire.
This tomatillo salsa is cooked with raw, chopped tomatillos put into a pan already containing sweated onion, garlic and peppers. The chopped tomatillos are added and immediately begin to reduce in size as they exude their liquid. The volume of the final salsa is half what you start with.
And, you'll love this, as you finish this salsa off, you can add a few tablespoons of heavy cream to mellow the heat and create a smoother salsa. This is certainly the only salsa I ever made with heavy cream!
We ate a bowl of this along with a bowl of sweet, cool guacamole. I must say it was fun to dip into one bowl and then the other. Hot salsa in one bowl, chilly avocado in another. The contrast was striking. The beer was a necessity.
Brian is out looking for more tomatillos.
Cooked Tomatillo Salsa
Yield: serves 4
Ingredients:
1 pound fresh or canned tomatillos
1 small onion, finely diced
2 garlic cloves, peeled and finely diced
2 small hot peppers, seeded and chopped
3 tablespoons olive oil
4 tablespoons chopped cilantro
Preparation:
If using fresh tomatillos, remove the papery sheath from the outside. I using canned, drain them. Chop the tomatillos in pieces the size of the tip of your index finger.
Sweat the onion, garlic and the hot peppers in the olive oil for 10 minutes, taking care not to burn them.
Add the chopped tomatillos and stew the mixture until the are completely soft. Stir occasionally.
Add the chopped cilantro and cook for 2 to 3 minutes
For a smoother sauce, add 3-4 tablespoons of heavy cream before adding the cilantro.
Source: Sauces by James Peterson