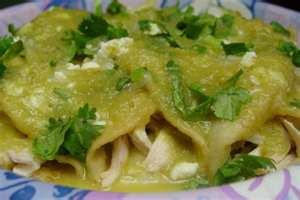 "Uh, not next week," I said to Suzen. "Thanksgiving cannot be next week."
"It is," Suzen insisted.
"But, but, the Christmas decorations have only been up for six weeks," I said. "This is screwed up."
"Very," Suzen agreed.
On this blog we have always treated Thanksgiving as very, very special. We have posted some great ideas and, while we normally don't repeat items, for this holiday Suzen and I want to blast out some old but wonderful ideas for you over the next few days. A week from today, it will be the day after Thanksgiving. You will be tired. Relaxing. Hopefully have the day off. And you will be hungry. Thursday night you will have sworn off food for life. By Friday night, that resolution will have you sticking your head inside your refrigerator. You have some leftover turkey? Now you have this spectacular recipe.
I posted this recipe in early 2010, at my daughter's request, but I'm doing it again because this is just the best possible way to enjoy leftover turkey. It's not "leftovers." It's "delicious" and rich and different. This recipe stands on its own.
The enchiladas are paired with one of my favorite foods: tomatillos.  This green fruit is a staple of Mexican cuisine.  Although in the same botanical family as the tomato, a tomatillo is definitely not a tomato.  If you've had green salsa with a bite, you've enjoyed the particular intensity that only a tomatillo can supply. In this recipe that inherent tomatillo sting is muted into a voluptuous cream sauce that is an outstanding match for that distinctive turkey flavor.  Your mouth is simply going to resonate with a symphony of tones.
When I make this dish, I do follow the recipe but I am heavy handed with the amount of green onion and green chiles. And I suggest sticking with the canned tomatillos, not the salsa verde.
You can garnish the whole dish with cilantro or sliced scallions for one more level of flavor.
Turkey Enchiladas with Creamy tomatillo Sauce
Ingredients:
2 cups shredded roast turkey
2 green onions, including tender green tops, thinly sliced
3 tablespoons cream cheese at room temperature
1 ⅓cups (5 ½ ounces) shredded Monterey Jack Cheese
2 cans (7 ounces each) salsa verde or 1 can (13 ounces) tomatillos, drained
2 tablespoons canned chopped green chiles, drained
½ cup fresh cilantro leaves
⅔ cup heavy (whipping) cream
¼ cup canola oil
8 corn tortillas
Preparation:
Preheat the oven to 350°F. In a medium bowl, combine the turkey, green onions, cream cheese, and 1 cup of the jack cheese and stir to mix thoroughly. Set aside.
In a blender or food processor, combine the tomatillo, chiles, cilantro, and cream and process until smooth.
Heat the oil in a heavy, 6 -inch skillet over medium-high heat. Using tongs, carefully place one tortilla at a time in the hot oil and fry for 5 to 10 seconds just until softened. Flip the tortilla and soften the other side. Drain over the skillet, and place on a plate lined with a paper towel. Place another paper towel on top and press to absorb the oil. Repeat until all 8 tortillas are softened and drained.
Divide the turkey mixture among the tortillas (about ½cup each), mounding it in a line down the center. Roll tightly and then place, seam side down, in a 7 x 11″ baking pan. Pour the tomatillo cream sauce over the enchiladas, and sprinkle the remaining ⅓cup jack cheese down the center. Bake for about 20 minutes until heated through and bubbly. Serve immediately.
Source: The New Thanksgiving Table by Diane Morgan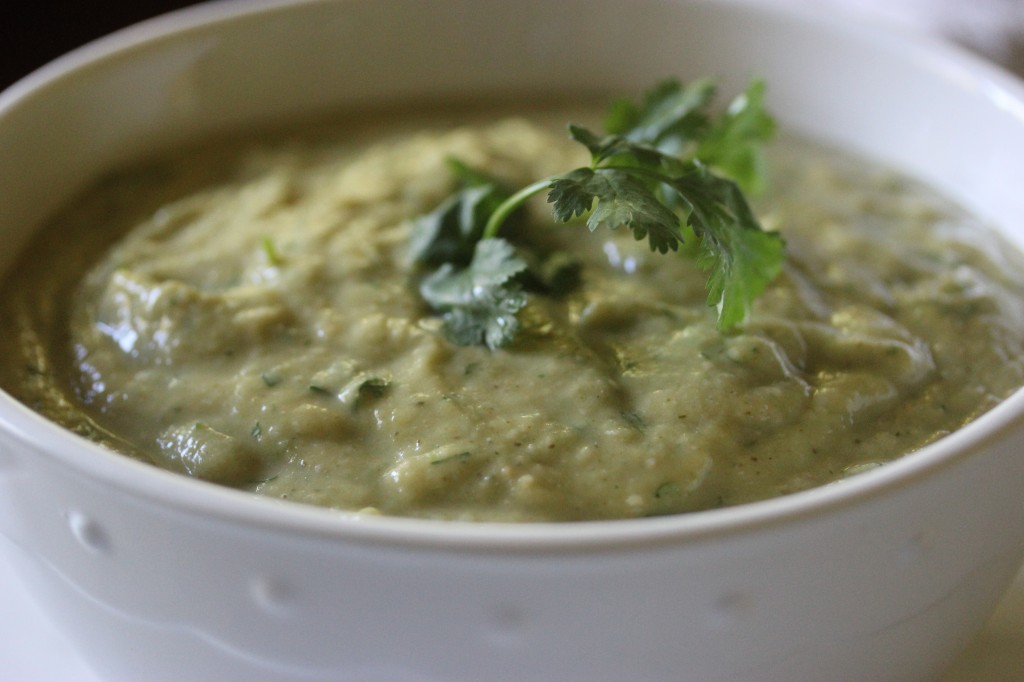 There are times when I just crave the tartness of a green salsa. And many of those times, I'm impatient. I want it NOW. I could seek counseling for my inability to deal with  need and want. Or I can pick up a can of tomatillos.
I choose the can. Although you can make salsa from raw tomatillos, I prefer them cooked in some manner before going into the salsa. You can boil or roast them. Either way, with fresh tomatillos you have to peel them, then halve them if you are roasting, and there's the mess and … There's that can solution again: already with the leaves off, and already cooked.
All I have to do is not mess up with can opener and spill juice on the counter or floor. My lovely wife Suzen is fastidious about a kitchen free of mess, wet spots and sticky spots. She keeps finding them. I don't know who puts them there.
This recipe produces a salsa that is tart but not overly so. The avocado adds to the green but of course contributes essential smoothness. This recipe calls for some heat, one serrano chile. Open up your vegetable bin and use what you have, just adjusting the amount depending on the actual type of chiles you have around.
What did I use? One poblano unroasted but washed, quartered and tossed into the blender. I was hotly happy with the results and very happy at my preparation time. I know the recipe says to refrigerate for up to two hours or until ready to use. I was ready then, and the next day the leftovers were even better. [Yes, the tomatillos had contributed some pectin so the next day required just a touch of stirring to loosen it up. That's your chance to add some additional lemon or lime juice to brighten the flavor if you desire.]
This recipe comes from Fresh Mexico, a delightful book with 100 very authentic, very quick and very, very delicious recipes.
Easy Tomatillo Avocado Salsa
Yield: about two cups
Ingredients:
8 ounces tomatillos from the can
1 avocado, halved, pitted and peeled
½ cup [packed] fresh cilantro leaves
1 serrano chile
1 tablespoon fresh lemon juice
Salt and freshly ground black pepper
Preparation:
Combine the tomatillos, avocado, cilantro, serrano chile, and lemon juice in a blender and puree until smooth. Season the salsa to taste with salt and pepper.
Refrigerate for up to 2 hours or until ready to use.
Source: Fresh Mexico by Marcela Valladolid