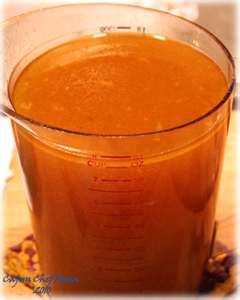 Gravy. After blood, the most precious liquid known to man. And that turkey gravy recipe you have may well call for using turkey stock. Here is a fast, easy, but delicious stock recipe from The New Thanksgiving Table by Diane Morgan.
This recipe uses those "extra turkey parts" or giblets stuffed inside your turkey. Or you can buy a package of turkey giblets separately, and make this stock ahead of time. Stock is a wonderful tool to have in your freezer anyway. The stock is an excellent base for making enriched soups during the cold of winter.
The yield here is relatively small: 3 cups. You begin with much more liquid, but reduce it down over time to generate a thick, flavor rich stock. You may want to double this recipe to have extra, beyond Turkey Day, to freeze.
If you are going to make a bigger batch, Diane suggests using about 5 pounds of turkey wings, thighs, or drumsticks in place of the giblets and turkey neck listed in this recipe and double the quantities of the rest of the ingredients. Brown the turkey parts in a roasting pan in a preheated 400°F oven for 1 ½ hours. Transfer them to a stockpot and proceed with the recipe, starting after the browning step.
Preparation here is made easy for you several ways. You don't peel the carrot or get all the skin off the onion. You get a head start by using some canned chicken stock, so make that head start count by finding an upscale brand.
If you buy a separate package of turkey parts to make this stock or use the giblets from inside the neck, the package should include the liver. Diane says to NOT use the liver in this stock, because it may add a bitter taste. But you can, if you choose, cook the liver, chop it up and add it to your dressing.
Turkey Stock
Yield: 3 cups
Ingredients:
2 tablespoons canola oil
1 turkey neck, tail, gizzard, and heart
1 yellow onion, root end trimmed but peel left intact, quartered
1 large carrot, scrubbed but not peeled, cut into 2-inch chunks
1 large rib celery including leafy tops, trimmed and cut into 2-inch lengths
2 Sprigs fresh thyme
4 sprigs fresh parsley
1 bay leaf
6 black peppercorns
2 cups canned low sodium chicken broth
5 cups cold water
Preparation:
In a large saucepan, heat the oil over medium heat. Add the turkey neck, tail, gizzard, and heart and sauté until browned on all sides, 5 to 7 minutes. Add the onion, carrot, celery, thyme, parsley, bay leaf, peppercorns, chicken broth, and water to the pan.
Bring to a boil over medium-high heat, then reduce the heat to low. Skim any brown foam that rises to the top. Simmer the stock until it reduces by half, about 1 hour. Pour the stock through a fine-mesh sieve set over a bowl or 4-cup glass measure.
Set aside the neck, gizzard, and heart until cool enough to handle. Discard the rest of the solids. Let the stock cool completely.
Skim off any fat that rises to the top. Cover and refrigerate until ready to use. (When you're ready to make gravy, skim the fat from the top of the stock again, if necessary.)
If making giblet gravy, shred the meat from the neck and finely dice the gizzard and heart. Cover and refrigerate until you are ready to use. (Some cooks prefer to make a smooth gravy and add the diced gizzard and heart to their stuffing.)
Source: The New Thanksgiving Table by Diane Morgan
Here is a Thanksgiving dessert that is classic yet different. The pumpkin flavor is here, but it's a cake, a glorious chiffon cake, and not a pie. [Okay, make the pie, too, and serve it on Friday to avoid tears].
I led my Cooking by the Book team as the official test kitchen for the last two editions of The Joy of Cooking. That last time, I was the only test kitchen. This wasn't a one week job. It was 18 months, five days a week, with 4 or 5 people here every day. Besides the thousands of recipes in the book, the team had to test all those wonderful recipes that did not make it into the book, because the editors had a page limit. Literally.
That testing process is now mostly a blur. In all that time, with all those recipes, it's hard to remember any one thing. Hard, but not impossible. We all remember testing this cake and being stunned by how absolutely, delectably wonderful it is. Truthfully, her team made it twice just to make sure it was as grand as it seemed. It was and is.
Chiffon cakes are light and airy. This one is certainly that with 8 egg whites. But that airiness is now filled with pumpkin flavor. It's truly a wonderful dessert, and one that all your Thanksgiving table will give thanks for.
Pumpkin Chiffon Cake
Yield: about 10 slices
Equipment: one ungreased 10-inch tube cake or a139-inch cake pan
Have all ingredients at room temperature, about 70°F. Preheat the oven to 325°F.
Ingredients:
2 ¼ cups sifted cake flour
1 ¼ cups sugar
1 tablespoon baking powder
1 teaspoon salt
1 ½ teaspoons ground cinnamon
¾ teaspoon ground ginger
½ teaspoon grated or ground nutmeg
¼ teaspoon ground cloves
5 large egg yolks
1 ¼ cups cooked or canned pumpkin
½ cup vegetable oil
1 teaspoon vanilla
8 large egg whites
½ teaspoon cream of tartar
¼ cup sugar
Preparation:
In a large bowl, whisk the cake flour sugar, baking powder, and salt.
In a mixer bowl place the egg yolks, water, oil, pumpkin, and vanilla. Beat on high speed until smooth.
Clean the beaters. Any remaining trace of egg yolk or oil will cause problems with the egg whites. In a clean bowl, place the egg whites and cream of tartar. Beat on medium speed until soft peaks form. Then gradually add the sugar, beating on high speed. Beat the whites until they are so stiff they being to lose their gloss. Use a rubber spatula to fold 0ne-quarter of the egg whites into the egg yolk mixture, then fold in the remaining whites.
Scrape the batter into the pan and spread evenly. Bake until the top springs back when lightly pressed and toothpick inserted in the center comes out clean, 55 to 60 minutes, for a tub e pan or 30 to 35 minutes for a baking pan. Let the tube cake cool upside down as for an Angel Food cake. Rest the 9×13-inch pan on 4 glasses.
Unmold when cooled.
To finish the cake, you have many options: whipped cream, ice cream, a cream cheese frosting, or a quick icing with some spices. I opt for the icing with some ginger and cinnamon. Here's the recipe.
Spiced Quick Icing
Ingredients:
4 cups (1 pound) confectioners' sugar, sifted
½ cup (1 stick) unsalted butter, softened
4 to 6 tablespoons milk, dry sherry, rum, brandy or coffee [I prefer half milk, half brandy]
½ teaspoon ginger
1 teaspoon cinnamon
2 teaspoons vanilla
¼ teaspoon salt
Preparation:
In a mixing bowl, add the sugar and butter and beat until combined.
Add the remaining ingredients, using just 4 tablespoons of the liquid. Beat until smooth. Add more liquid to achieve the consistency you want.
With this icing, you can attempt to classically frost the cake. Or you can add more liquid to have a runny consistency so this icing is more of a glaze, which you can simply pour over the cake.
Source: The Joy of Cooking 75th Anniversary Edition