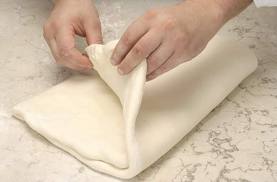 On the Friday after Thanksgiving, you face a kitchen that may still be a bit upside down. And a refrigerator full of goodies. And a family with surprisingly strong appetites.
Sure, you can warm things up and reply the Thursday feast. But, how about giving that leftover turkey a new life. Here is a Turkey Tart that will have every mouth salivating.
Try this open faced tart, with meat and veggies added on top of a rich puff pastry base. Out of the oven, you'll that warm turkey smell again now combined with the intoxicating scent of butter-laden puff pastry.
This recipe is an adaptation of a Duck Confit Tart you can find in an exciting new book, Not-So-Humble Pies by Kelly Jaggers. Here we have borrowed her idea and her technique, but swapped out duck confit for roast turkey leftovers. You can extend the changes yourself by adding in a few vegetables, too. For example, some diced carrot or more onion than just the one shallot called for below.
Whichever route you choose, it's a lively way to make perfect use of that turkey you worked so hard to prepare.
Suzen's Thanksgiving Leftover Turkey Tart
Yield: serves 8, or maybe a few less!
Ingredients:
2 cups of leftover turkey meat, plucked free of skin and bones, then cut into bite size pieces
Salt and pepper to taste
2 teaspoons fresh thyme
1 sheet of puff pastry, 12" X 15"
1 tablespoon of olive oil
1 shallot minced
1 cup slice oyster mushroom, roughly chopped
1 clove garlic, minced
Preparation:
Preheat the oven to 400°F.
Carefully transfer the unbaked puff pastry to a baking sheet lined with parchment paper. Dock the center with a fork, leaving a l" border around the edges. Bake the pastry for 15-20 minutes, or until golden brown and puffed. Set aside to cool slightly.
In a medium skillet over medium heat, add 1 tablespoon of the olive oil. Once the fat ripples and shimmers, add the shallot and cook until tender, about 3 minutes.
Add the mushrooms and cook, stirring frequently, until softened and browned, about 5 minutes.
Add the minced garlic and turkey meat. Cook until the garlic is fragrant, about 1 minute.
Spread the duck mixture over the top of the Blitz Puff Pastry. Return to the oven for 3—5 minutes to warm through. Serve warm.
Source: Inspired by Not-So-Humble Pies by Kelly Jaggers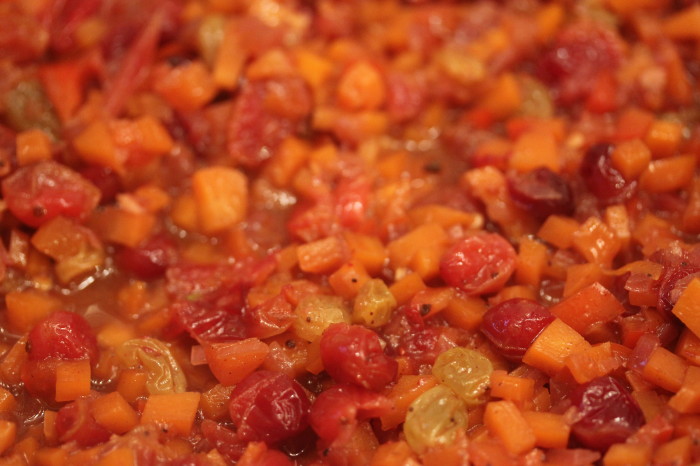 "How does this taste?" I asked Suzen.
"Like a dentist," she replied.
That was bad. Very bad.
Not because dentists are inherently bad. But because her first husband was a dentist. Ugly divorce.
Still, she had a point, the spice mix did kinda resemble that goop a dentist can apply before sticking a needle in your gum. I always hate the needle, but I actually like the spice stuff.
And so will you. No, you are going to love the spices, the carrots, the onions, the cranberries, the raisins, …
This chutney will bring an avalanche of flavors to your holiday table. This is Suzen's recipe, inspired by one in Chutneys & Relishes by Lorraine Bodger, published in 1995. Lorraine's Golden Carrot Chutney recipe has been extended here for the Thanksgiving table.
Here's a way to get your cranberries and your carrots, all packaged up in one sweet and spicy dish. Suzen added the cranberries. I added a lot more spices. The result is a dish that is simply packed with flavor. It's a great mate for turkey and can be served either cold or hot, although I think that hot is more aromatic.
Suzen's Thanksgiving Chutney: Carrots, Raisins, Bell Pepper and Cranberries
Yield: serves 8
Ingredients:
1 pound of carrots
2 tablespoons olive ol
1 Spanish onion, diced
1 red pepper, diced
2 garlic cloves, minced
½ cup golden raisins
½ cup light brown sugar, packed
½ cup vinegar
½ cup water
1 teaspoon salt
½ teaspoon ground cloves
½ teaspoon cinnamon
½ teaspoon nutmeg
½ teaspoon ground ginger
½ teaspoon ground allspice
1 tablespoon hot red pepper flakes
Preparation:
Trim and peel the carrots; mince them or cut them in small dice. Heat the oil in a large skillet, add the carrots and onion and sauté until the onion is translucent.
Meanwhile, cut the bell pepper in small dice. Add the bell pepper, garlic and raisins to the skillet and sauté just until the pepper softens.
Add all the remaining ingredients and stir well. Then cover the skillet tightly and cook over low heat for 20 minutes, until the carrots are tender but not mushy. Remove the cover and continue cooking for another few minutes until all the liquid evaporates.
Serve hot or cold.
Source: Inspired by Chutneys & Relishes by Lorraine Bodger
Photo Information: Canon T2i. EFS 60 macro lens, F/2.8, 1/100th second, ISO 2000