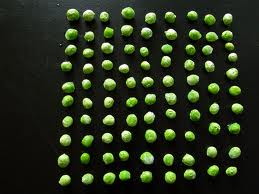 "They want a green vegetable," Suzen said to me.
"God, not green beans. Please, I can't do it."
We were discussing our hosts' requests for what to bring on Thanksgiving. This year we've opted to share the holiday with lovely friends. There will be wine, noise, shared cooking, and wine. Good wine.
"I'm researching," I said.
"Go right ahead," Suzen gave me my freedom.
Look, I like green beans. But if I see one more roasted green bean with slivered almonds, I am going to pick it up and stab someone in the eye.
Green? What do I really like that is green — aside from tomatillos? Well, mint but you can't eat mint all by itself. Ah, but mint and peas? No, that would be springtime. Still, peas.
One of my all-time favorite cookbooks is The New Thanksgiving Table from Diane Morgan. I've actually scanned several of her recipes into my "database" to have with me anywhere my laptop and I travel. And here, here is where I found Cracked Pepper and Butter Peas with Parmesan.
We are taking this to our friends on Thursday, and you, too, may be very interested in this recipe. Why? That's easy. This recipe is easy.
Have you ever made a Thanksgiving dinner where, by the time you sat down, you were too exhausted to eat it? Oh, last year? Me, too.
For holidays, you can go so far out on so many recipes at once, that by mealtime you are toasted. Look, some things need attention. The turkey, the stuffing, and god knows that gravy. But you don't have to kill yourself over each and every dish. You need some simple yet wonderful things. This recipe is one of them. Now, to be sure, this calls for preparation just before you eat, but it is so simple that won't be a chore.
Oh, this recipe with its Parmesan on top is sort of a halfway journey to Italy. So, you can extend the recipe if you want. No, not pearl onions. Please, think out of the box. How about some really good roasted mushrooms, some diced up marinated artichoke hearts or even some white anchovy? This basic recipe is wonderful and you're free to do whatever else you want. Just be sure to take care of yourself, too, and take the time to enjoy the meal.
And lastly, yes, this recipe calls for frozen peas. Normally, I squawk about using frozen food but peas are special. Unlike most vegetables, you can freeze them without losing that wonderful distinctive flavor.
Cracked Pepper and Butter Peas with Parmesan
Yield: serves 8 to 10
Ingredients:
1 cup chicken stock, preferably homemade
3 cups frozen peas
2 tablespoons unsalted butter, melted
Kosher or sea salt
Coarsely ground black peppercorns
1/3 cup freshly grated Parmesan cheese, preferably Parmigiano-Reggiano.
Preparation:
In a medium saucepan, bring the chicken stock and 2 cups of water to a boil over high heat. Add the peas and cook for 1 to 2 minutes just until the peas turn bright green. Remove from the heat, drain all the liquid, and transfer to a warm serving bowl. Toss the peas with the butter, season with salt and a generous amount of freshly cracked pepper. Scatter the Parmesan over the top and serve immediately.
Source: The New Thanksgiving Table by Diane Morgan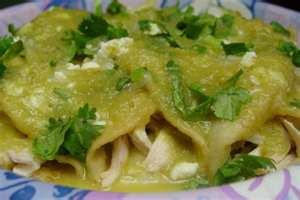 I posted this recipe in early 2010, at my daughter's request, but I'm doing it again because tomorrow you will have leftover turkey and this is just the best possible way to enjoy it. It's not "leftovers." It's "delicious" and rich and different.
The enchiladas are paired with one of my favorite foods: tomatillos.  This green fruit is a staple of Mexican cuisine.  Although in the same botanical family as the tomato, a tomatillo is definitely not a tomato.  If you've had green salsa with a bite, you've enjoyed the particular intensity that only a tomatillo can supply. In this recipe that inherent tomatillo sting is muted into a voluptuous cream sauce that is an outstanding match for that distinctive turkey flavor.  Your mouth is simply going to resonate with a symphony of tones.
When I make this dish, I do follow the recipe but I am heavy handed with the amount of green onion and green chiles. And I suggest sticking with the canned tomatillos, not the salsa verde.
You can garnish the whole dish with cilantro or sliced scallions for one more level of flavor.
Turkey Enchiladas with Creamy tomatillo Sauce
Ingredients:
2 cups shredded roast turkey
2 green onions, including tender green tops, thinly sliced
3 tablespoons cream cheese at room temperature
1 ⅓cups (5 ½ ounces) shredded Monterey Jack Cheese
2 cans (7 ounces each) salsa verde or 1 can (13 ounces) tomatillos, drained
2 tablespoons canned chopped green chiles, drained
½ cup fresh cilantro leaves
⅔ cup heavy (whipping) cream
¼ cup canola oil
8 corn tortillas
Preparation:
Preheat the oven to 350°F. In a medium bowl, combine the turkey, green onions, cream cheese, and 1 cup of the jack cheese and stir to mix thoroughly. Set aside.
In a blender or food processor, combine the tomatillo, chiles, cilantro, and cream and process until smooth.
Heat the oil in a heavy, 6 -inch skillet over medium-high heat. Using tongs, carefully place one tortilla at a time in the hot oil and fry for 5 to 10 seconds just until softened. Flip the tortilla and soften the other side. Drain over the skillet, and place on a plate lined with a paper towel. Place another paper towel on top and press to absorb the oil. Repeat until all 8 tortillas are softened and drained.
Divide the turkey mixture among the tortillas (about ½cup each), mounding it in a line down the center. Roll tightly and then place, seam side down, in a 7 x 11″ baking pan. Pour the tomatillo cream sauce over the enchiladas, and sprinkle the remaining ⅓cup jack cheese down the center. Bake for about 20 minutes until heated through and bubbly. Serve immediately.
Source: The New Thanksgiving Table by Diane Morgan