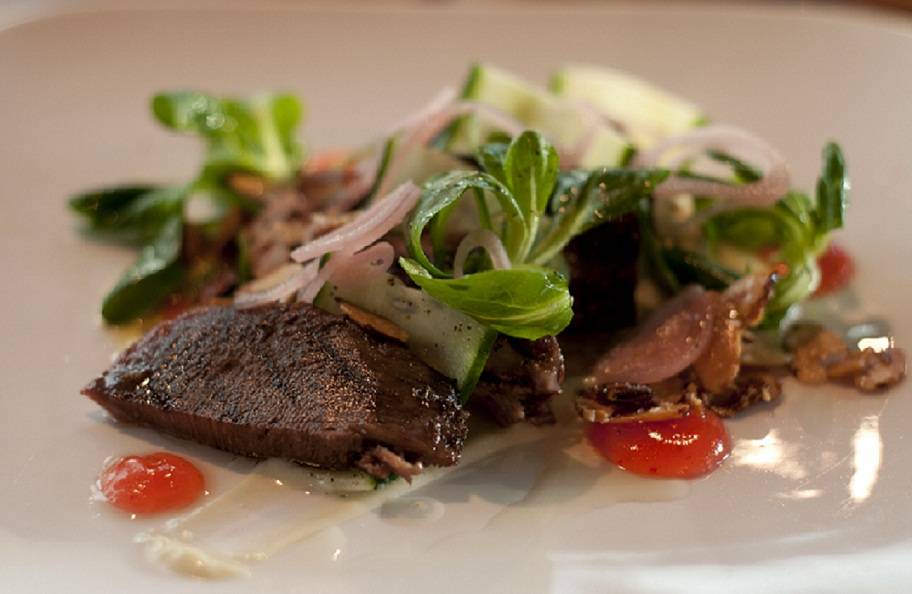 If by chance you are in Austin and you long for some good Thai food, then you need to go to Spin at 14005 North US Highway 183, Suite 100. Austin is booming and the north side is one endless string of strip malls. Except this strip mall is nice.
And this food is not just good, it's remarkable. Filled with flavor, different from any Thai food you might have had, and very, very reasonably priced. The photo above may be styled, but it's very representative of the quite lovely plates that float to your table.
The menu changes frequently, but there are some items there you just have to have. Kabocha or pumpkin [Japanese pumpkin] tempura is simply wonderful. It's an appetizer you want to order twice, but you need to wait and move on. There's the Salmon Tataki: salmon with garlic, shallot, pineapple and green apple chili sauce. Or Duck Wing Saam Rot: fried confit duck coated in sweet chili tamarind vinaigrette, garnished with sliced green onion and served with pickled cabbage salad. That's a mouthful to write but a great mouthful to munch on.
To sip away the heat, you can do a Thai Basil Mint Sangria or a Tamarind Lime Mimosa. The list of beverages and dishes is long. It's best to get a gaggle of friends, order massively, and share the joys.
Spin calls itself modern Thai Cuisine. It's right there in URL: www.spinmodernthai.com. It's a very fine restaurant and quite representative of the excellent food scene in Austin. If you can, drop in and be ready to smile.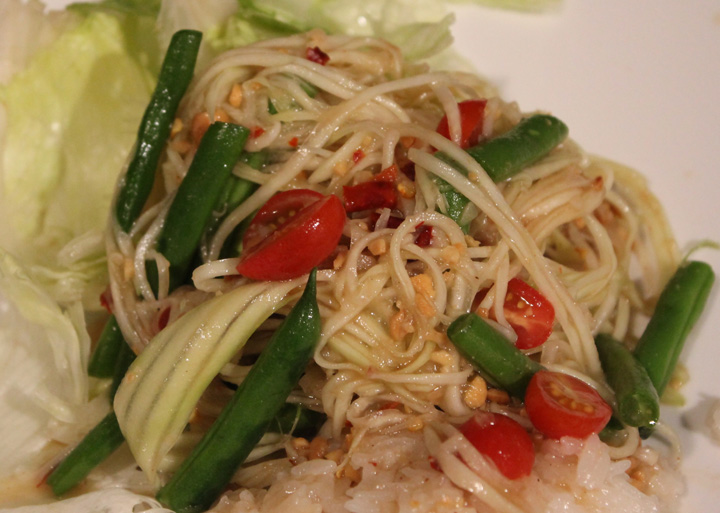 Whenever I eat Asian food I feel healthy. Okay, not when I gobble the dumplings or the deep fried goodies from my local Chinese spot. But, in principal, most Asian cuisine is breathtaking, in terms of taste and aroma and visual appeal, while being truly a very healthy alternative.
Brian and I are lucky. We live in Lower Manhattan, so low we have to go north to get to the Lower East Side. Chinatown is just a ten minute walk away. Except Chinatown — which has grown in every possible direction — is now packed with Asian restaurants and markets of all varieties. There are Thai restaurants nestled there whose food just amazes us. And every time we eat Thai, we say to ourselves: wish we could do that.
Thanks to a brilliant and beautiful new book, Thai Street Food by David Thompson, now we can. If fact we have. Our favorite restaurant dish is Green Papaya Salad, an astonishing flavor barrage of hot, sour, sweet and salt. Thompson's recipe works wonderfully and yields a true-restaurant quality dish. Actually, it yields a real Thai dish. Thompson has been visiting Thailand for 30 years and knows the story behind each recipe: new or old, Thai or Chinese, north or south or northeast or … Thompson knows the DNA and zip code of every dish here.
Now, a true characteristic of Thai food is that everyone prepares the "recipes" with their own personal touch. We have two Thai restaurants near each other, both are excellent, but Pad Thai in one is quite different from the other. Thompson explains that Thai families and street vendors hone their personal versions of recipes for years or for decades. They guard their culinary secrets carefully. Thankfully, with perseverance and time, Thompson has gleaned the secrets of dozen of Thai dishes.
This oversized book is filled with pictures of life among the street vendors throughout Thailand. The pictures are filled with a buzz of colors, contours, angles, and textures. The energy there is beautiful and addictive.
There have been, of course, two barriers to cooking Thai: recipes and ingredients. This book solves the first problem. Yes, the ingredients below include some things that are not familiar to most of us. We're lucky to have Thai markets near us, like Bangkok Center Grocery, a 500 square foot store on Mosco Street [a rare one block street!]. At Bangkok Center, you can show up with a shopping list and be hand-guided to get everything you need. If you are not in New York City, you may have to search and drive a bit, but Thai food is very popular and you'll find a market to meet your needs.
Or, you can call Bangkok Center at 212-349-4321. They ship by UPS. Their quality and selection are excellent.
Green Papaya Salad
Serves: 2
Ingredients:
3 garlic cloves, peeled
Pinch of salt
2 tablespoons roasted peanuts, coarsely crushed
2 tablespoons dried prawns, rinsed and drained
2 slices or small wedges of lime, optional
6 cherry tomatoes, quarter
2 snake beans, cut into ½ inch lengths
4-6 bird's eye chilies to taste
2 cups shredded green papaya for a about 1 small papaya
3-4 tablespoons shaved palm sugar, to taste
2-3 tablespoons fish sauce
2-3 tablespoons lime juice
1 tablespoon tamarind water
Steamed rice and raw vegetables, to serve
Preparation:
Using a mortar and pestle, pound the garlic with the slat then add the peanuts and dried prawns and pound to a coarse paste. Add the lime, if using, bruising it with the pestle, then add the cherry tomatoes and beans to the mortar and carefully work everything together. Next add the bird's eye chilies, barely crushing them. The more they are pounded, the hotter the dish — and how hot you want it is up to you. Add the earlier if you're after revenge.
Finally add the green papaya and lightly bruise with the pestle, while turning and tossing the mixture with a large spoon held in your other hand. Season the salad with palm sugar, fish sauce, lime juice and tamarind water. It should taste sweet, sour, hot, and salty.
Place about 1 cup of steamed rice on each plate. Spoon over the green papaya salad and eat with fresh raw vegetables, such as cabbage, green beans, and betel leaves.
Source: Thai Street Food by David Thompson