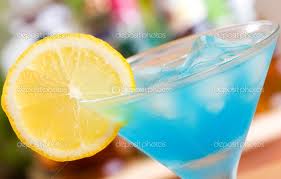 Blue is not Christmas green or red, but the blue of blue curacao is surely a message of celebration. This cocktail, from Holiday Cocktails by Jessica Strand, is a beautiful surprise. You may love tequila. You probably love champagne, or some sparkling wine. Citrus flavors always make the palette sparkle. In this drink, you combine all those flavors in one enchanting beverage.
This recipe calls for champagne but obviously any sparkling wine will create interesting flavors. I particularly like Cava. A little added sweetness is a great match for the lime juice here. And, as usual, lemon juice can be substituted for the lime juice to form a different flavor profile.
This cocktail can easily be scaled up. A pitcher of these would be a fine way to begin a holiday party.
Feliz Navidad
Yield: 1 drink
Ingredients:
1 ounce blue curacao
1 ounce tequila
1 ounce freshly squeezed lime juice
4 ounces champagne
Citrus slice for garnish [orange, lemon, or lime]
Preparation:
Pour the blue curacao, tequila, lime juice, and champagne into a glass — classic cocktail or red wine — filled with 4 to 5 ice cubes. Stir with a bar spoon, then garnish with the orange slice.
Source: Holiday Cocktails by Jessica Strand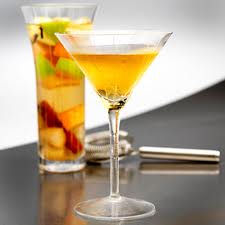 It's true fall and your farmers market is abundant with fruit, particularly apples and pears. I have this love/hate relationship with pears that cannot be solved. When good, a pear is the best fruit possible. Of course, a pear is at its peak for all of 90 minutes it seems.
How can you preserve that pear wonder? Well, yesterday, I blogged about how to make pear-infused silver tequila. It takes just 6 days to prepare. You want silver, not dark, tequila because pear is a fragile flavor and the flavor notes of dark tequila would literally run ragged over the poor pear.
When you have the pear-infused tequila on hand, how to use it? A glass, some ice, and a fireplace is one route. Here's a more adventuresome way to proceed.
Famed cocktail virtuoso Brian Miller has created this gem, the Vipera adding applejack and chartreuse to the pear-infused tequila. I advise drinking this sitting down. His recipe calls for garnishing with a slice of pear but the accompanying picture has a lot more fruit. Plus a cinnamon stick and some clove. Feel free to improvise. A few of these, and you won't be feeling anything anyway.
Vipera is a real word. You can look it up on Wikipedia. Then you'll be sure to be sitting down when you imbibe.
The Vipera
Yield: 1 cocktail
Ingredients:
2 ounces pear-infuse silver tequila
½ ounce yellow chartreuse
½ ounce applejack
Cracked ice
Preparation:
Pour ingredients over cracked ice and stir. Strain into chilled martini glass and garnish with a thin slice of pear.
Source: Brian Miller, Death and Company