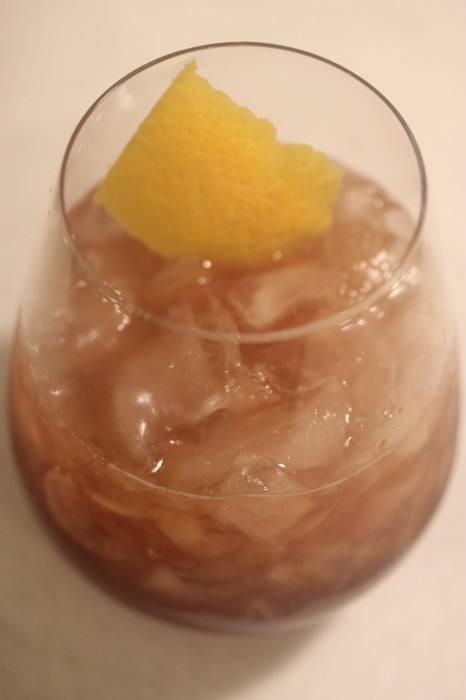 Inspired creativity is the raw source for many food recipes. And for beverages, too.
Sometimes creativity is not inspired. It is demanded.
"I need grapefruit," I was yelling at Suzen as she left for the store.
"Use oranges. We have some." That was her closing remark. Very closing. The door actually closed. I could not say to her, "But I need grapefruit to make that drink, the Bamboozle, you loved." I wanted to do something for her. But …
Well, I did do something. I used the oranges. I had found the Bamboozle in The Modern Mixologist by Tony Abou-Ganim. He's a world famous mixologist. The Modern Mixologist is a world class repository of recipes and lore.
For my inspired-by-need version, something I call the Bamboozle II, I did substitute orange for grapefruit juice and dark tequila for light. The result? A deeply dark and rich beverage. The dark tequila has that dark, slightly smokey flavor that contrasts with the sweeter orange juice. Grapefruit juice might just punctuate with a sting here. Orange juice surrounds with a familiar, comfortable flavor.
These are the last days of summer. The Bamboozle II is a fine way to watch the sun go down. A little earlier each day. With light that dashes through leaves no longer bright green but now softening, darkening, reddening. Just like the drink.
Bamboozle II
Yield: one cocktail
Ingredients:
1 ½ ounces dark tequila
½ ounce Crème de Cassis
1 ½ ounces freshly squeezed orange juice
½ ounce freshly squeeze lime juice
½ ounce agave nectar
Preparation:
Place all the ingredients in a cocktail shaker. Add ice, then shake to thoroughly chill the beverage. Pour into a chilled cocktail glass. Add crushed ice. Garnish, if you wish, with the peel of an orange, lime, or even a lemon.
Source: Brian O'Rourke inspired by Suzen O'Rourke and Tony Abou-Ganim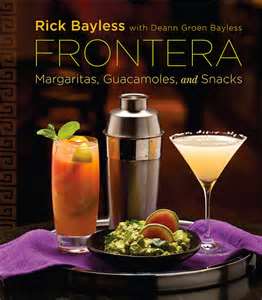 Mexican food maven, Rick Bayless, has a wonderful new book. Frontera: Margaritas, Guacamoles and Snacks offers sensational ideas from his famed Frontera Grill restaurant.
Here's a beverage idea, a duo idea, that is not a margarita but does employ the ever-versatile tequila. It's a sweet agua fresca that can be converted into a delightful cocktail.
The agua fresca is watermelon with lime juice and sugar. By itself, it's very satisfying on a warm day. [Oh, come on, spring will come. Summer will follow. Have some faith. Wait a moment here, I have to close my window. So damn cold …]
And for the cocktail, some tequila and that wonderful liquor Aperol transform agua fresca into something with deeper meaning. Well, deeper flavor.
Watermelon Lime Agua Fresca
Yield: 4 cups
Ingredients:
A 3-pound chunk of ripe, seedless watermelon
½ cup fresh lime juice
½ cup sugar
Water
Preparation:
Cut the rind off the watermelon, then cut the fruit into rough 1-inch chunks. You need about a generous 4 cups [1 ½ pounds] cleaned cubes.
Put the cubes into a blender — or better a Vitamix — then add the lime juice and the sugar. Blend until smooth.
Now, look at the measure scale on the side of your blender and add enough water to make 4 cups. Blend to mix. Strain to remove any seeds [that's the good part about using a Vitamix: typically no seeds survive and you get all the nutrients].
Pour into a storage container, cover and refrigerate. This agua fresca is best used the day it is made.
Watermelon Lime Cocktail
Yield: 8 cocktails
Ingredients:
One batch of watermelon lime agua fresca [recipe above]
1 ½ cups blue agave blanco tequila
¾ cup Aperol
8 cups ice cubes
Preparation:
In a large pitcher, combine the tequila, Aperol and watermelon lime agua fresca. Stir to combine, then cover and refrigerate until chilled, about 2 hours.
When ready to serve, pour about ¾ cup of the cocktail mixture into each of eight 12-ounce highball glasses. Add about a cup of ice to each one and serve immediately.
Source: Frontera: Margaritas, Guacamoles, and Snacks by Rick Bayless