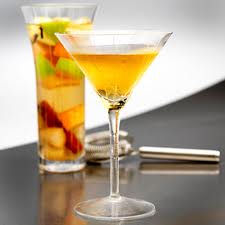 It's true fall and your farmers market is abundant with fruit, particularly apples and pears. I have this love/hate relationship with pears that cannot be solved. When good, a pear is the best fruit possible. Of course, a pear is at its peak for all of 90 minutes it seems.
How can you preserve that pear wonder? Well, yesterday, I blogged about how to make pear-infused silver tequila. It takes just 6 days to prepare. You want silver, not dark, tequila because pear is a fragile flavor and the flavor notes of dark tequila would literally run ragged over the poor pear.
When you have the pear-infused tequila on hand, how to use it? A glass, some ice, and a fireplace is one route. Here's a more adventuresome way to proceed.
Famed cocktail virtuoso Brian Miller has created this gem, the Vipera adding applejack and chartreuse to the pear-infused tequila. I advise drinking this sitting down. His recipe calls for garnishing with a slice of pear but the accompanying picture has a lot more fruit. Plus a cinnamon stick and some clove. Feel free to improvise. A few of these, and you won't be feeling anything anyway.
Vipera is a real word. You can look it up on Wikipedia. Then you'll be sure to be sitting down when you imbibe.
The Vipera
Yield: 1 cocktail
Ingredients:
2 ounces pear-infuse silver tequila
½ ounce yellow chartreuse
½ ounce applejack
Cracked ice
Preparation:
Pour ingredients over cracked ice and stir. Strain into chilled martini glass and garnish with a thin slice of pear.
Source: Brian Miller, Death and Company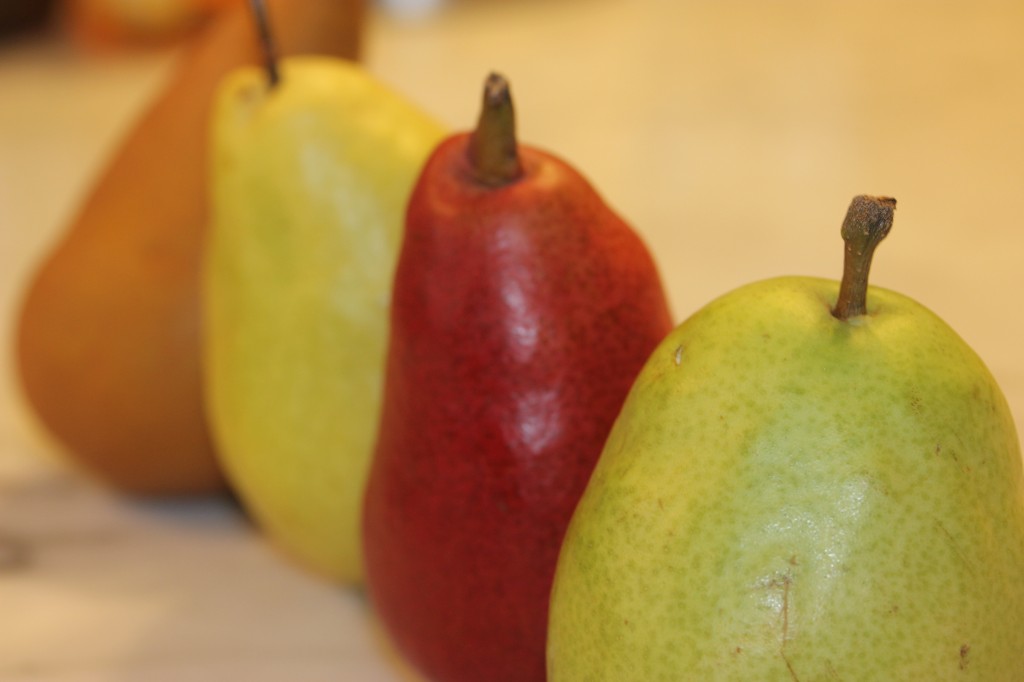 Fall is upon us. Fruit abounds and there are many ways to use it.
"I'm going to make this so we can deglaze with it. Think of the flavors," I said.
"That would be flambe," Suzen rebutted.
"I'm not setting fire to this," I protested.
"With that much alcohol, you won't need to," Suzen said. "Just tell me when you are going to do it."
"Why? You gonna watch?"
"No, I'm going to make sure I am far from the kitchen, have my cell phone, and already dialed  9-1. I'll just have the final 1 to hit for the fire department."
No, matter. I am making this tequila with pear infusion for two reasons. First, I do think it would be great to deglaze with it. It will add very distinctive flavor to that pan. Perfect for chicken. Second, there is a cocktail coming that using this liquour. I'm shooting to blog it tomorrow. I promise.
I'll be making this concoction myself next week. But I'm blogging it in advance so you can get a head start. In fact, over the next month or so, I have several liquour/cordial recipes to blog for you. Some, like this one, are quick: just 6 days from start to finish.
Other recipes will  take far longer, a month or more with intermediate steps. But these homemade treats are wonderful holiday gifts. People truly appreciate the effort you have made, and the tastes can be quite exceptional. When you make it at home, make it fresh, make it with just pure ingredients and no preservatives, you get distinction. And, you get uniqueness. We're using pears here. Future recipes have more pears, apples, berries, all kinds of goodies. You know that the pears will be different the next time you try this, the apples more sweet or less, … Every time you make these liquours you have distinction.
The cocktail recipe come tomorrow. I'm searching for it now. In the meantime, you can always just sip this by itself, over ice, slow and easy.
Uh, point of order here. If you do use this to deglaze, make sure you have a fire extinguisher in the kitchen. And, pour in a little liquid from a small, separate measuring cup. NEVER POUR LIQUOR INTO A HOT PAN DIRECTLY FROM THE BOTTLE. Potentially, it is a Molotov Cocktail in reverse. And that's not a urban myth.
Pear Infused Tequila
Yield: 1 liter
Ingredients:
3 USA Bartlett pears
1 Granny Smith apple
2 Cloves
1 Cinnamon stick
1 liter silver tequila, such as Herradura Silver or Sauza Hornitos Silver
Preparation:
Cut pears and apple into cubes, leaving peels and cores intact, and place in a large glass container with a tight-fitting lid. Add cloves, cinnamon stick, and tequila. Place lid on container and store at room temperature for six days, shaking periodically. Double strain to remove fruit and spices. keep infused tequila refrigerated.
Source: Brian Miller, Death and Company