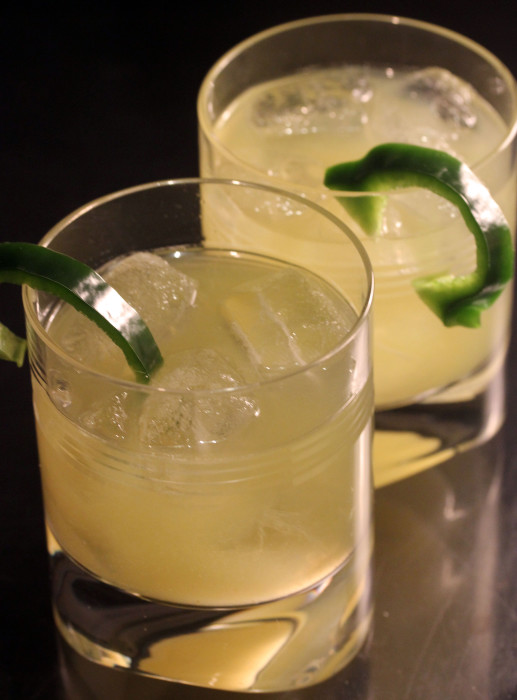 Bars can be expensive. Not that hotel bar you eye occasionally, the one with the $15 drinks. No, I'm talking about your home bar.
If you love cocktails and cocktails books — which I do — then it is possible to have stack of "gotta make" recipes. Taken together, all those recipes can demand that your home bar be extensively stocked. And there's the rub.
I collect the Food and Wine Cocktails books, one published each year. The 2013 edition is easily the best, flush with wonderful beverage ideas. I recommend the ideas and the book.
One idea called for both tequila and mescal. Tequila I have in abundance. Of Mescal, not a drop. I know enough to know that all tequilas are a subset of mescal so, I assumed, the larger collection of mescals had to include some bottles with modest price tags. My first nearby liquor store want $54. I passed, heading for my corner store which always has a good selection at modest prices. $120 and $80. I now began my mantra of "Curse you, Red Baron."
Back home I examined the recipe. It wanted agave, which I believe, based on the prices in Whole Foods, is as outrageously priced as certain liquors that are based on plants related to asparagus. [Oh, you thought agave used to be considered a cactus but is really a lily. There's been a little update and it has been reclassified again as a cousin to asparagus. That should give tequila drinkers both pause and smug satisfaction: it is, too, healthy.]
I felt confused and cheap. I rethought the whole concept for this cocktail and I revised it. A lot. It's now my concoction.
What had caught my eye initially was the heat. This drink begins by muddling poblanos, along with jalapenos the most popular of hot peppers. I imagined a meal of stuffed poblanos consumed with a fork accompanied by muddled poblanos consumed sip by sip.
To fight the poblano heat, the muddling includes fresh pineapple chunks. Then tequila, and lemon juice and that backbone ingredient of most cocktails: a simple sugar syrup. All that resonates in my brain like a mariachi band.
Once made, the drink is pretty to look at that I waited, perhaps, a full three seconds before imbibing. Frankly, my dear, I don't think mescal would have made a damn difference.
As a hint of things to come, I have been experimenting with hot sugar syrups, spicy hot. In place of the simple syrup, you could use a habanero sugar syrup here for a refined blast of fire.  More about that as spring evolves.
Muddled Heat and Sweet
Yield: 1 cocktail
Ingredients:
4 ¼ inch thick rings of poblano + 1 more for garnish
4 1-inch cubes of fresh pineapple
2 ounces of silver tequila
1 ounce of freshly squeezed lemon juice
1 ounce simple syrup
Preparation:
In a cocktail shaker, muddle 4 of the poblano chile rings with the pineapple. Add the tequila, lemon juice and simple syrup. Fill the shaker with ice, and shake vigorously. Pour into a chilled cocktail class filled with crush ice. Garnish, if you wish, with a poblano ring or a citrus round.
Source: Brian O'Rourke with inspiration from Food and Wine Cocktails 2013 [the Pablo Escabar]
Photo Information: Canon T2i, EFS 60MM Macro Lens, F/5.6, 1/100th second, ISO-1600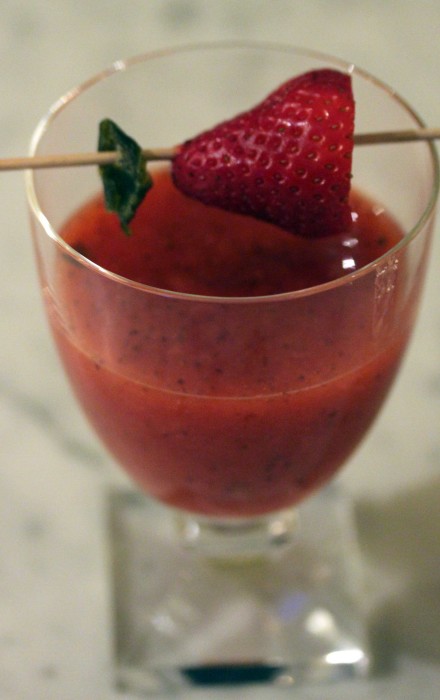 There is that old tale, promoted by real estate agents, that if your house is going to be shown, then you should have chocolate chip cookies in the oven. The aroma will sell your house. Not that pool.
Nonsense. You should have strawberries roasting. It's far more poetic.
From Cocktails for the Four Seasons, by Jenny Park and Teri Lyn Fisher, here's a flavor bundle that will surely please you. And perhaps confound you, too. I tasted this and could do nothing but smile.
The idea is this. Roast strawberries to intensify their flavor. Freeze them and put the cold gems in a blender with booze and jalapeno simply syrup. The roasted strawberries have an intensified, dark flavor. They are still quite sweet, though, which provides the contrast for the smoky heat of the jalapeno simple syrup. It's one of those rare times where you can be confused and pleased all at the same time.
I made this drink my own way, of course. I wanted it very cold so some ice cubes went into the blender. Mango flavored rum replaced the coconut — there are times when I want simple fruit sophistication instead of blunt force coconut power. You have leeway here and can use the rum of you daily preference. It's much less about the rum. Much more about the jalapeno syrup.
Roasted Strawberry and Jalapeno Freezer
Yield: 4 drinks
Ingredients:
2 pounds strawberries, hulled and sliced in half
2 tablespoons champagne vinegar
1 ½ tablespoons extra virgin olive oil
12 ounces tequila blanco
6 ounces coconut rum
6 ounces jalapeno simple syrup
Juice of two limes
4 strawberries hulled [for garnish]
4 candied jalapeno knots [for garnish, see yesterday's post]
Preparation:
Preheat the oven to 375°F.
Spread the strawberries onto a baking sheet and drizzle them with the vinegar and olive oil. Toss them tougher and roast for 30 to 40 minutes.
Allow the strawberries to cool. Pour the berries into a parchment-lined baking dish and place it in the freezer.
Once the strawberries are fully frozen [about 3 hours], place them in a blender with the remaining ingredients and blend until smooth. Pour the mixture into four snifter or hurricane glasses.
Garnish each glass with a candied jalapeno knot and strawberry skewered on a cocktail pick.
Imbibe. Enjoy.
Source: Cocktails for the Four Seasons, by Jenny Park and Teri Lyn Fisher
Photo Information [top]: Canon T2i, EFS 60mm Macro Lens, F/2.8, 1/20th second, ISO-3200