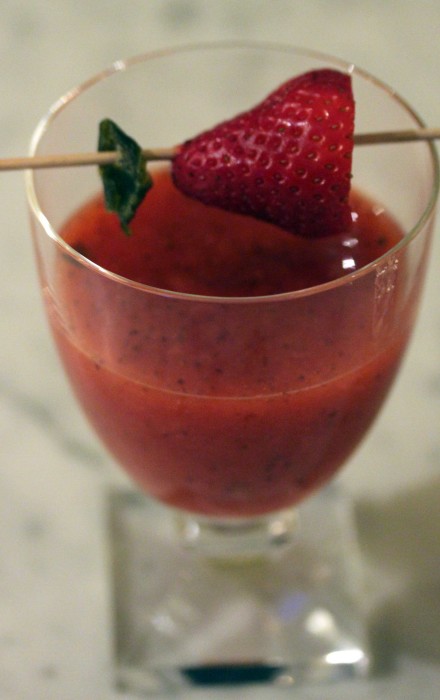 There is that old tale, promoted by real estate agents, that if your house is going to be shown, then you should have chocolate chip cookies in the oven. The aroma will sell your house. Not that pool.
Nonsense. You should have strawberries roasting. It's far more poetic.
From Cocktails for the Four Seasons, by Jenny Park and Teri Lyn Fisher, here's a flavor bundle that will surely please you. And perhaps confound you, too. I tasted this and could do nothing but smile.
The idea is this. Roast strawberries to intensify their flavor. Freeze them and put the cold gems in a blender with booze and jalapeno simply syrup. The roasted strawberries have an intensified, dark flavor. They are still quite sweet, though, which provides the contrast for the smoky heat of the jalapeno simple syrup. It's one of those rare times where you can be confused and pleased all at the same time.
I made this drink my own way, of course. I wanted it very cold so some ice cubes went into the blender. Mango flavored rum replaced the coconut — there are times when I want simple fruit sophistication instead of blunt force coconut power. You have leeway here and can use the rum of you daily preference. It's much less about the rum. Much more about the jalapeno syrup.
Roasted Strawberry and Jalapeno Freezer
Yield: 4 drinks
Ingredients:
2 pounds strawberries, hulled and sliced in half
2 tablespoons champagne vinegar
1 ½ tablespoons extra virgin olive oil
12 ounces tequila blanco
6 ounces coconut rum
6 ounces jalapeno simple syrup
Juice of two limes
4 strawberries hulled [for garnish]
4 candied jalapeno knots [for garnish, see yesterday's post]
Preparation:
Preheat the oven to 375°F.
Spread the strawberries onto a baking sheet and drizzle them with the vinegar and olive oil. Toss them tougher and roast for 30 to 40 minutes.
Allow the strawberries to cool. Pour the berries into a parchment-lined baking dish and place it in the freezer.
Once the strawberries are fully frozen [about 3 hours], place them in a blender with the remaining ingredients and blend until smooth. Pour the mixture into four snifter or hurricane glasses.
Garnish each glass with a candied jalapeno knot and strawberry skewered on a cocktail pick.
Imbibe. Enjoy.
Source: Cocktails for the Four Seasons, by Jenny Park and Teri Lyn Fisher
Photo Information [top]: Canon T2i, EFS 60mm Macro Lens, F/2.8, 1/20th second, ISO-3200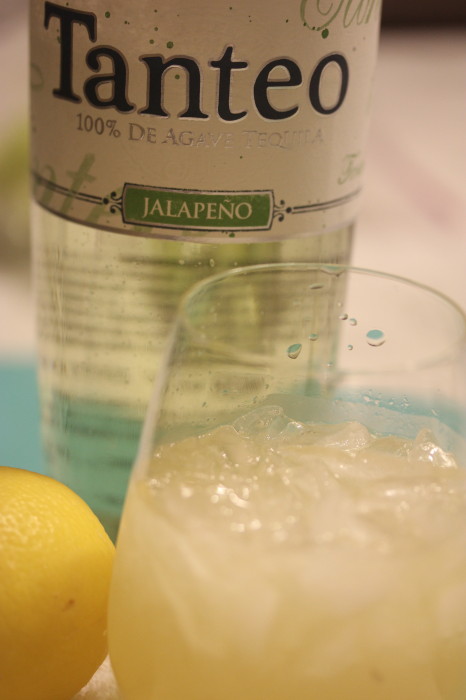 I am not a fan of "adulterated" food and beverages. A flavored tequila? I'll make my own.
Not any more. Tanteo is a new firm with a line of flavored tequilas that you must, must try: jalapeno, cocoa, and tropical.
Jalapeno tequila? You are thinking what I did: kitsch, ugly flavor, waste of money.
"The best places are serving it. My customers love it. You will, too." My local liquor store is literally around the corner from me. I don't have to cross a street to get to the smallish store with the smiling Indian entrepreneur. He's always so calm and, in a tight space, he always seems to have those very latest thing.
So, over time, I have come to trust him. If he says try it, I do.
You can just sip Tanteo Jalapeno. Slowly. Your mouth fills with a full tequila blow and then comes the aftertaste, strong and surely jalapeno yet not overwhelming. Suzen and several of her staff have sampled it here at Cooking by the Book, all with the same reaction: eyes that open wide in surprise and smile that says, "Yes."
On the neck of the bottle, there is one of those little pamphlets with recipes. The Jalapeno Margarita was my first test. I did, I admit, take a hard look at this. The only booze here is the jalapeno tequila: no triple sec, no orange liquor. Just the tequila.
I made a batch for our Saturday dinner, which happens to have been guacamole and chips. Suzen had done a baby shower in the afternoon and we had eaten a full meal at 3PM. So, at 8PM, we were hungry but we just wanted a little something. Chips and margarita sounded fine to both of us.
Chips and a jalapeno margarita were oh so fine.
I really, truly, sincerely encourage you to try this tequila and this beverage. It's exceptional. Do not, not, over pour the tequila. You really want to follow the proportions here. And, in full disclosure, I made mine with lemon and not lime juice. Did I miss something? I don't know, but I'm going to find out next Saturday!
Jalapeno Margarita
Serves: 1
Ingredients:
2 ounces Tanteo Jalapeno Tequila
1 ounce freshly squeezed lime juice
¾ ounce agave nectar
Preparation:
Place all the ingredients in a cocktail shaker with ice. Vigorously shake to chill. Pour into an ice-filled glass, possible rimmed with salt or sugar.
Source: Tanteo Tequila Company