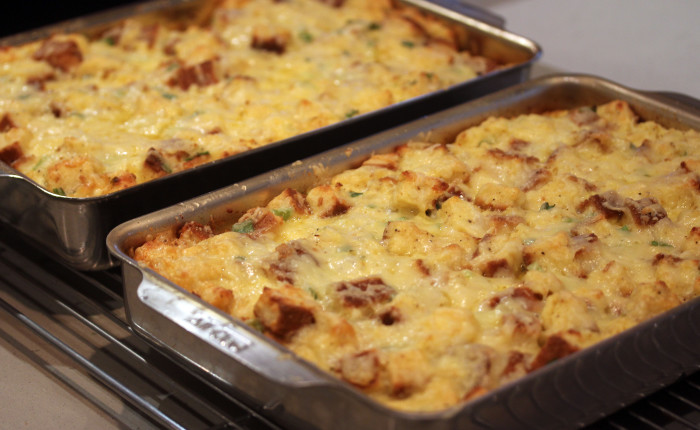 Yesterday's post talked about team building and brunch and families. Suzen has created a brunch menu that is targeted towards that first team you probably had: your family. Yes, you have fought and argued and scrambled with you siblings and parents. But, everybody eats. Every family.
Even my family almost always waved a white flag at meal time.
Here's a center piece dish for your brunch. A cheese strata is a breakfast casserole that you can adapt to your own particular needs and preferences. The recipe below, for example, includes bacon as an option. You can add peppers, herbs, … The list is endless, the combinations all a miracle to the mouth.
Be sure to assemble this breakfast casserole the night before so the bread has time to absorb the egg mixture. For a special treat, you can use artisanal bread from a favorite baker and real Parmigiano-Reggiano cheese for delicious results. In Suzen's case, she uses homemade challah, soft and luxuriously eggy.
This recipe is from Entertaining Simple, an exceptional book. Yes, it has recipes for food, but it really has recipes for entertaining. If the thought of throwing a party gives you hives [or spasms], then you want this book. Everything, from the table set up to dessert, everything is carefully described and photograph. This is your guidebook to party success. No Maalox needed.
Cheese Strata
Yield: serves 10
Ingredients:
·       3 tablespoons unsalted butter
·       1 medium onion, thinly sliced (1 cup)
·       4 scallions, white and green parts, finely chopped
·       10 slices ¼ inch thick, hearty white bread, lightly toasted and cut in half crosswise or in ¾ inch cubes
·       8 slices cooked bacon, chopped into -inch pieces (optional)**
·       6 ounces Parmesan cheese, finely grated (1 cup)
·       8 ounces Gruyere cheese, coarsely grated (2 cups)
·       10 large eggs
·       2 cups milk or Half & Half
·       2 teaspoons kosher or sea salt
·       1 teaspoon freshly ground black pepper
Preparation:
Preheat the oven to 425⁰F.
In a medium sauté pan over medium-high heat melt 1 tablespoon of the butter. Add the onion and cook, stirring, until translucent, 3 to 4 minutes. Add the scallions and cook, stirring, until they turn bright green, about 2 minutes more. Remove the pan from the heat and let the contents cool to room temperature.
Grease the bottom of a large baking dish with the remaining 2 tablespoons butter.
If using bacon, line the bottom of the dish with half the pieces of bread (slices can overlap). Sprinkle an even layer of bacon on top of the bread. Spoon on the onion and scallion mixture and sprinkle with both cheeses. Arrange the remaining bread slices in overlapping rows on top.
If not using bacon, just put down a layer of bread. . Spoon on the onion and scallion mixture and sprinkle with both cheeses.
In a medium bowl, whisk together the eggs and milk until well combined. Whisk in the salt and pepper. Pour the egg mixture over the bread in the baking dish. Gently push the bread into the egg mixture. Cover the dish with foil (butter the underside of the foil that will be on top of the food) and refrigerate for 8 to 10 hours or overnight.
Preheat the oven to 375°F.
Bake the foil-covered strata for 20 minutes, then remove the foil and bake for 20 minutes longer until the top is golden brown.
Source: Entertaining Simple by Matthew Mead
Photo Credits: Canon T2i, 18-55MM Macro lens, F/2.8, 1/80th second, ISO 400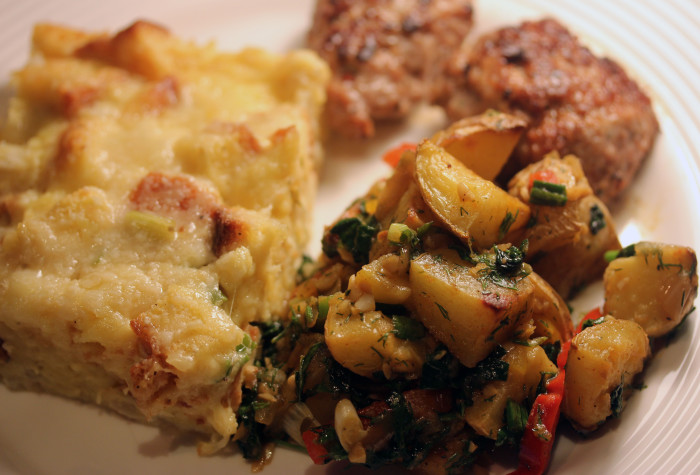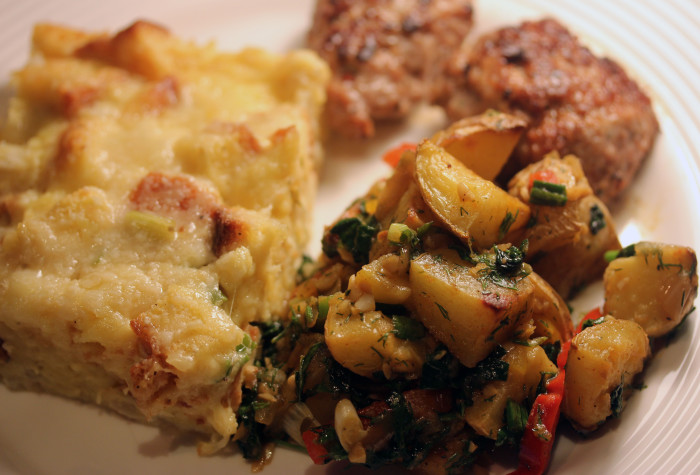 Suzen is an expert in culinary team building. Really, the expert. She pioneered using the kitchen for team activities. What kind of activities? Perhaps just an episode of fun with people casually preparing a meal together. Perhaps an evening filled with challenges to improve a team's communications or sharing skills.
Different teams come to Cooking by the Book. Teams that have been working together for years. Teams newly formed. Teams that have been talking to each other worldwide but never been in the same room together!
And families. You may never have played sports. You may work on your own. But, most of us have families, and those families are our first team. So, for family teams, Suzen has special programs where generations come together to prepare a meal, share their stories, and enjoy the products of their kitchen activities.
For brunch, Suzen offers an exceptional meal:
Cheese Strata: a rich breakfast casserole
Breakfast Potatoes: not just potatoes!
Breakfast Sausage: meat and herbs and more
Ambrosia Fruit Salad: an old fashioned and lovely breakfast dessert
Suzen created this meal to make sure each dish let people cook together cooperatively. Each dish has enough step, enough work, so you divide and conquer. For example, the Breakfast Potatoes below have lots of ingredients, lots of chopping. Last weekend, we had a grandmother, mother, and grandson working together to make a batch of these potatoes. They were each doing their part, talking about how it would come together, and laughing all the time.
Sometimes teamwork means you score a touchdown. Or get a 100 point shift in your stock prices. Or you get the best darn breakfast you ever had. And learn a something very special about a family member.
Here's the recipe for the potatoes. In the next three days, you'll get the other recipes, too. Just in time for this weekend!
Breakfast Potatoes
Yield: serves 12
Ingredients:
·       1 bag (5 Pounds) Red Potatoes, cut into ⅛" cubes
·       4 cloves garlic, minced
·       1 whole onion, peeled and roughly chopped
·       2 whole yellow bell pepper, seeded and julienned
·       2 whole red bell pepper, seeded julienned
·       1 bunch scallions whole stem cut on bias
·       1 bunch of dill or cilantro chopped
·       2 bunches of Tuscan kale stems removed and julienned
·       3 lemons juiced and zested
·       1/4 cup olive oil
·       1/2 teaspoon cumin
·       1/2 teaspoon smoked paprika
·       Koshers salt and freshly ground black pepper
Preparation:
Preheat the oven to 425⁰F.
In a large bowl, toss together the potatoes, olive oil, paprika, cumin some kosher salt and pepper. Pour potatoes onto two rimmed baking sheets. Bake for 20 -025 minutes, shaking the pan twice.
While potatoes are baking, on medium heat sauté onion until almost caramelized, then add garlic and bell peppers toss all ingredients until well mixed and peppers are warm.
In a large bowl mix kale, scallions, dill or cilantro and toss, then add onion and pepper mixture to bowl toss and then add lemon juice and zest and add in hot potatoes, toss all together.
Taste to see if little more salt and pepper is needed before serving.
Source: CBTB staff
Photo Credits: Canon T2i, 18-55MM Macro lens, F/2.8, 1/100th second, ISO 320