When Brian and I had our class two weeks ago at Stone Turtle in Maine, one of the students was an active writer. Kathy Gunst is a fabulous cookbook author, with books of her own and co-authorship of the Stonewall Kitchen cookbooks. She appears on NPR on the Here and Now show from WBUR in Boston and heard on 65 stations across the county. And her website, www.kathygunst.com, is strikingly beautiful and filled with resources and ideas.
Kathy's next book, Notes from a Maine Kitchen, will be published in September. If you can't wait, and if you have spring ramps to enjoy, then here is the perfect preview. This tart will make you proud. Ordinarily , a tart should serve 6-8, but Kathy says 4-6. One taste will explain the difference.
Ramp and Mushroom Tart by Kathy Gunst
If you can find wild spring morels this French-style tart bursts with the flavors of the spring woods. Or use crimini mushrooms or your favorite variety of wild mushroom. Serve with a salad of spring greens and a lightly sparkling white wine.
Serves: 4-6
Ingredients:
For the Pastry:
1 1/2 cups flour
a pinch salt
1 1/2 sticks unsalted butter, chilled, and cut into small pieces
1/3 cup ice cold water
For the tart:
2 tablespoons olive oil
1 large Vidalia onion, thinly sliced
salt and freshly ground black pepper
8 1/2 ounces ramps, ends trimmed, and skin removed from the white bulb, with the bulb
and greens chopped
7 ounces morels or crimini mushrooms, or wild local spring mushrooms, ends trimmed
and thickly sliced
2 eggs
3/4 cup heavy cream
1 cup grated Gruyere cheese
1/2 cup grated Parmesan cheese
Preparation:
In the container of a food processor whirl the flour and salt. Add the butter and pulse about 15 times, or until the butter is the size of coarse cornmeal. With the motor running add enough cold water until the dough just begins to come together and pull away from the sides of the machine. Remove the dough and place in plastic wrap and chill for at least an hour.
Make the filling in a large skillet. Heat 1 1/2 tablespoons of the oil over low heat. Add the onion and cook, stirring frequently, for 8 minutes. Season with salt and pepper. Add the ramps and cook, stirring frequently, for 5 minutes. Add the remaining oil and the mushrooms and cook another 5 minutes, stirring once or twice. Remove from the heat and let cool.
In a large bowl, whisk together the eggs, with a pinch of salt and pepper. Whisk in the cream and then stir in the two cheeses.
Remove the pastry from the refrigerator. Working on a well floured surface roll out the dough to fit an 11 X 8 inch rectangular tart pan or 9-inch round tart pan with a removable bottom. Trim the excess pastry off the edges and discard. Poke a few holes in the bottom and sides of the pastry with the tines of a fork. Chill.
Preheat the oven to 350 degrees.
Place the crust in the preheated oven for 10 minutes. Remove from the oven. Raise the oven temperature to 400 degrees.
Pour the cooled ramp mixture into the egg mixture, stirring well. Place the filling in the prepared pastry and bake on the middle shelf for 30 minutes. Reduce the heat to 325 degrees and continue baking for another 20 minutes, or until the filling turns a light golden brown, and a toothpick inserted in the center comes out dry. Let cool for a few minutes and then cut into serving pieces. Serve hot or at room temperature.
Excerpted from Notes from a Maine Kitchen by Kathy Gunst, to be published in September 2011 (Down East Books).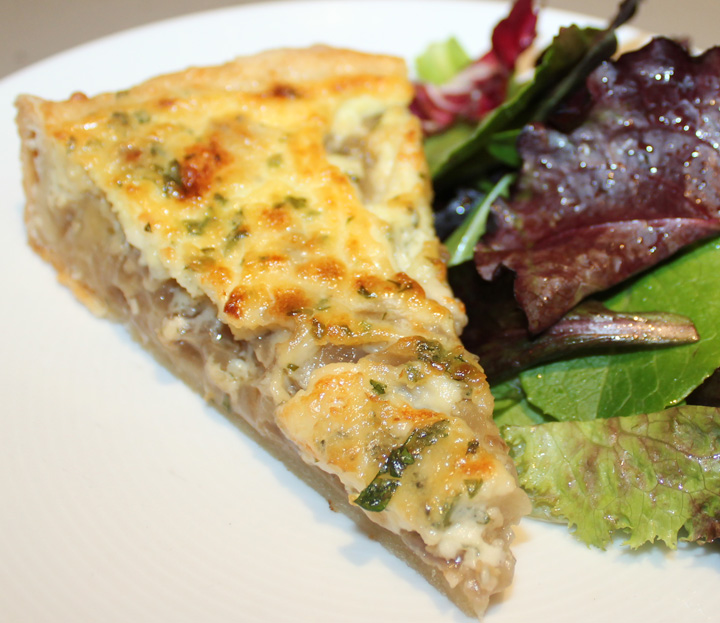 Abigail Kirsch is renowned for her catering company, THE premier New York City event caterer. If you are ever fortunate enough to attend an event where she provides the food, then one thing is certain: you will be amazed at the richness and completeness of her recipes. They are visually stunning and then you tasted them and … You'll want more and you'll want to know how to create each dish.
Abigail shared some of her recipe treasures with us in her book The Bride & Grooms Menu Cookbook. This tart was inspired by that Bride & Groom trove. I was in a garlic mood and I had a half-filled bottle of white wine. So the garlic here and the wine are my additions to an already awesome recipe. Paired with a simple green salad, this tart is certainly a perfect meal for Sunday brunch or for dinner any time. The flavors here are intense, so a subtle white wine will be overmatched. Be bold!
Gorgonzola and Caramelized Onion Tart
Yield: serves 8
Ingredients for the Apple Cake:
1 pre-made 9" savory pastry shell of your choice
2 tablespoons unsalted butter
2 tablespoons extra virgin olive oil or 2 tablespoons pancetta fat
2 large onions, chopped medium
1 head roasted garlic
¼ teaspoon salt
½ teaspoon sugar
½ cup dry white wine
2 large eggs, beaten
1 cup heavy cream or half and half
4 ounces gorgonzola cheese, finely crumbled
2 tablespoons flat-leaf parsley, washed, tough stems removed, chopped
Preparation:
Preheat the oven to 375˚F.
Heat the butter and oil (or reserved fat) in a large skillet over medium heat. Add the onion, roasted garlic, salt, and sugar and cook, stirring frequently, until the onion is golden brown and caramelized, 15 to 20 minutes. Add the wine and deglaze the pan and continue to cook 5 minutes longer until all wine has evaporated. Cool slightly and evenly distribute in the bottom of the partially baked savory tart shell. valign="top">Whisk the eggs, cream, and Gorgonzola together in the bowl until thy mixture is well blended.
Pour the custard over the onion and bake the tart for 30 to 40 minutes, until a knife inserted in the corner comes out clean. Transfer the tart to a cooling rack for 10 minutes.
Inspired By: Bride and Groom Cookbook by Abigail Kirsch