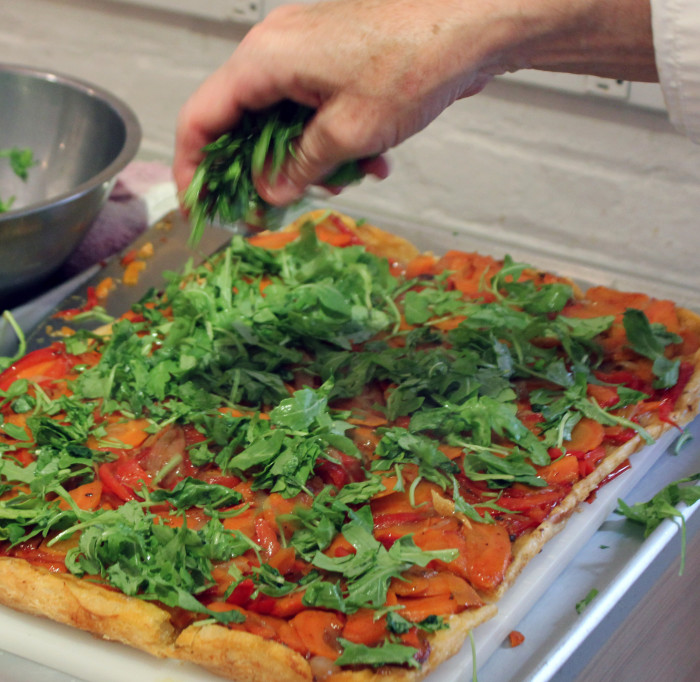 Sometimes a book can be a life saver. Almost literally.
For a recent corporate team building event at Cooking by the Book, Suzen faced a serious challenge. The team of twenty had a number of food issues. The meal had to be vegetarian, but in addition, several of the team members had strong food allergies. The restrictions meant that a number of common ingredients could not be used for any dish that day. Yet Suzen still wanted a delicious meal for this team to prepare together in our kitchen. The whole concept here is that you cook together and then eat what you cook. So, food restrictions have to diversions and not blockades.
What would be a safe combination of ingredients for a first course, and where would Suzen find it?
The Best of Rose Elliot is a wonderful book reviewed here in May. This is simply the best vegetarian cookbook we've seen. In fact, it's much more appropriate to say this is one of the best cookbooks. Period. The dishes here reflect Rose's incredible experience in fashioning recipes that have great satisfaction: both to the palate and to the eye.
Suzen walked through The Best until she found this first course that met the needs of everyone in the team. The dish is simple to create and tantalizing on the eye and the tongue. We modified the original version which called for making individual rounds of puff pastry. Here, we just made a rectangle of the pastry, covered it with veggies, baked, divided it up with a sharp knife, and ate away.
Suzen's clients that day were not fussy; they just had a number of food restrictions. On any day when you have some special cravings or maybe some restrictions of your own, then The Best of Rose Elliot is just fine for one-stop shopping and dining.
---
Carrot, Shallot and Red Pepper Tarte Tatins with Cardamom

Yield: 12 servings
Ingredients:
10 carrots (about 1 ½ pounds), thinly sliced
1 large garlic clove, crushed
3 cups red peppers sliced thin (about 3 large peppers)
1½ cups shallots sliced thin (about 3 large)
3½ tablespoons olive oil
½ tablespoons of unsalted butter
¾ cup water
1½ teaspoons granulated sugar
20 cardamom pods
12 ounces frozen ready-to-bake all-butter puff pastry
Salt and black pepper
3 cups arugula, coarsely chopped
Preparation:

Put the sliced carrots into a saucepan with the garlic, olive oil, water, sugar, and some salt and black pepper.
Crush the cardamom and discard the pods. Crush the seeds a little, and then add to the saucepan. Bring to a boil, then reduce the heat, cover, and cook gently for about 10 minutes, or until the carrots are tender and glossy, and the water has disappeared. If there is still water left, remove the lid from the pan and boil the liquid rapidly until it has disappeared. Cool.
Sautéed the red peppers and shallots in ½ T. of olive oil and ½ T. of butter until golden and then added them to the cooked carrot mixture.
Line an 8 ½ x 12 ½ inch jellyroll pan with nonstick parchment paper. Spread the carrots mixture evenly over the bottom and cover with the pastry, pressing it down and trimming it to fit the pan. Prick the pastry all over, and then bake in a preheated oven, at 400°F, for 15 minutes, until puffy, golden brown, and crisp.
Let the tart cool completely, and then turn it out onto a board so that the carrots are on top. Use a rolling pizza cutter and cut it into 12 squares and over the top sprinkle the coarsely chopped arugula
Source: Adapted from The Best of Rose Elliot by Rose Elliot

Photo Information Canon T2i, EFS 60 mm Macro Lens, F/4 for 1/50th second at ISO‑1250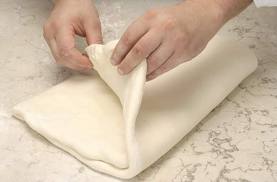 On the Friday after Thanksgiving, you face a kitchen that may still be a bit upside down. And a refrigerator full of goodies. And a family with surprisingly strong appetites.
Sure, you can warm things up and reply the Thursday feast. But, how about giving that leftover turkey a new life. Here is a Turkey Tart that will have every mouth salivating.
Try this open faced tart, with meat and veggies added on top of a rich puff pastry base. Out of the oven, you'll that warm turkey smell again now combined with the intoxicating scent of butter-laden puff pastry.
This recipe is an adaptation of a Duck Confit Tart you can find in an exciting new book, Not-So-Humble Pies by Kelly Jaggers. Here we have borrowed her idea and her technique, but swapped out duck confit for roast turkey leftovers. You can extend the changes yourself by adding in a few vegetables, too. For example, some diced carrot or more onion than just the one shallot called for below.
Whichever route you choose, it's a lively way to make perfect use of that turkey you worked so hard to prepare.
Suzen's Thanksgiving Leftover Turkey Tart
Yield: serves 8, or maybe a few less!
Ingredients:
2 cups of leftover turkey meat, plucked free of skin and bones, then cut into bite size pieces
Salt and pepper to taste
2 teaspoons fresh thyme
1 sheet of puff pastry, 12" X 15"
1 tablespoon of olive oil
1 shallot minced
1 cup slice oyster mushroom, roughly chopped
1 clove garlic, minced
Preparation:
Preheat the oven to 400°F.
Carefully transfer the unbaked puff pastry to a baking sheet lined with parchment paper. Dock the center with a fork, leaving a l" border around the edges. Bake the pastry for 15-20 minutes, or until golden brown and puffed. Set aside to cool slightly.
In a medium skillet over medium heat, add 1 tablespoon of the olive oil. Once the fat ripples and shimmers, add the shallot and cook until tender, about 3 minutes.
Add the mushrooms and cook, stirring frequently, until softened and browned, about 5 minutes.
Add the minced garlic and turkey meat. Cook until the garlic is fragrant, about 1 minute.
Spread the duck mixture over the top of the Blitz Puff Pastry. Return to the oven for 3—5 minutes to warm through. Serve warm.
Source: Inspired by Not-So-Humble Pies by Kelly Jaggers