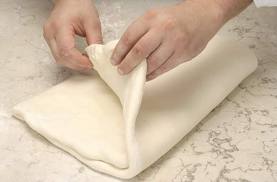 On the Friday after Thanksgiving, you face a kitchen that may still be a bit upside down. And a refrigerator full of goodies. And a family with surprisingly strong appetites.
Sure, you can warm things up and reply the Thursday feast. But, how about giving that leftover turkey a new life. Here is a Turkey Tart that will have every mouth salivating.
Try this open faced tart, with meat and veggies added on top of a rich puff pastry base. Out of the oven, you'll that warm turkey smell again now combined with the intoxicating scent of butter-laden puff pastry.
This recipe is an adaptation of a Duck Confit Tart you can find in an exciting new book, Not-So-Humble Pies by Kelly Jaggers. Here we have borrowed her idea and her technique, but swapped out duck confit for roast turkey leftovers. You can extend the changes yourself by adding in a few vegetables, too. For example, some diced carrot or more onion than just the one shallot called for below.
Whichever route you choose, it's a lively way to make perfect use of that turkey you worked so hard to prepare.
Suzen's Thanksgiving Leftover Turkey Tart
Yield: serves 8, or maybe a few less!
Ingredients:
2 cups of leftover turkey meat, plucked free of skin and bones, then cut into bite size pieces
Salt and pepper to taste
2 teaspoons fresh thyme
1 sheet of puff pastry, 12" X 15"
1 tablespoon of olive oil
1 shallot minced
1 cup slice oyster mushroom, roughly chopped
1 clove garlic, minced
Preparation:
Preheat the oven to 400°F.
Carefully transfer the unbaked puff pastry to a baking sheet lined with parchment paper. Dock the center with a fork, leaving a l" border around the edges. Bake the pastry for 15-20 minutes, or until golden brown and puffed. Set aside to cool slightly.
In a medium skillet over medium heat, add 1 tablespoon of the olive oil. Once the fat ripples and shimmers, add the shallot and cook until tender, about 3 minutes.
Add the mushrooms and cook, stirring frequently, until softened and browned, about 5 minutes.
Add the minced garlic and turkey meat. Cook until the garlic is fragrant, about 1 minute.
Spread the duck mixture over the top of the Blitz Puff Pastry. Return to the oven for 3—5 minutes to warm through. Serve warm.
Source: Inspired by Not-So-Humble Pies by Kelly Jaggers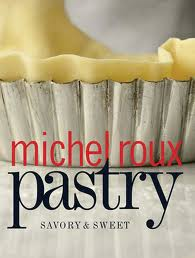 For a tart, you need a tart shell and the question arises: what dough to use. For the Semi-Confit Cherry Tomato Tart I blogged two days ago, author Michel Roux of Pastry suggests this Pâte Brisée. This is a short pastry, so called because it does not contain any leavening agent that would make it rise. You want that tart bottom to just "be bottom."
Roux has two short pastries: this Pâte Brisée, which is more delicate, and a firmer Pâte à Foncer. Suzen has made this Pâte Brisée many times. The recipe is flawless, the taste immense.
We'll test and blog the other short pastry shortly.
This pastry can be prepared in just a few moments. Less time that it would take you to drive to the store and buy a "manufactured" crust. You get a twofer with is recipe: you save gas and you get a much, much, much better tasting pastry shell.
Pâte Brisée
Yield: about 1 pound
Ingredients:
1 ¾ [250 grams] cups all-purpose flour
⅔ [150 grams] cup butter, cut into small pieces and slightly softened
1 teaspoon of fine slat
Pinch of superfine sugar
1 medium egg
1 tablespoon cold milk
Preparation:
Heap the flour on a counter and make a well. Put in the butter, salt sugar, and egg. Using your fingertips, mix and cream these ingredients together.
Little by little, draw in the flour, working the dough delicately until it has a grainy texture.
Add the milk and incorporate gently with your fingertips until the dough begins to hold together.
Using the palm of our hand, work the dough by pushing it away from you 5 to 5 times, until smooth. Roll it into a ball, wrap in plastic wrap, and chill until ready to use.
Source: Pastry by Michel Roux