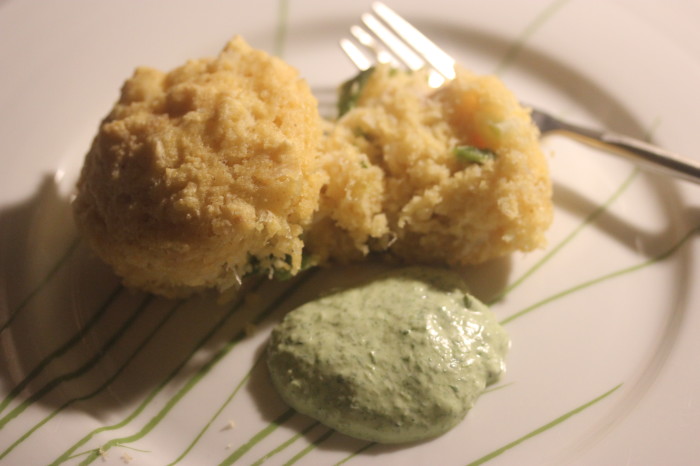 "What are you making?" Suzen asked me. I was upstate. She was in the city. It was dinner time, I was on my own, and I had the opportunity to do whatever I wanted. Whatever. Things I had wanted for decades and never, never got to have. I don't want to give you the impression I'm deprived. But, still, …
"Hush puppies," I answered with quiet confidence.
"Don't make a mess," she cautioned. I heard the panic: "what is that man about to do to my kitchen."
"I'm fine. It'll be fine." I tried to reassure her.
"I mean it," she emphasized.
I ended up cleaning for hours. The "hush puppy" pan I thought I had did not quite work out. Wrong shape. Wrong size. Wrong. I tried it, but … There was some spilling, some sizzling, heavy smoke, intense smell.
So for the rest of the batter, I used mini-cupcake tins which worked just fine. [And that explains the picture above!] The flavor of poblano and crab does not depend on the shape or size. It's all in the mixture.
From The Cast Iron Skillet Cookbook, these puppies are richly satisfying. They can be an appetizer or the main course. The Green Goddess Dipping Sauce was posted yesterday, because it truly stands on its own. There is synergy though in having these highly flavored puppies with the tarragon tang of Green Goddess.
Roasted Poblano and Crab Hush Puppies
Yield: 24 puppies
Ingredients:
1 poblano pepper
1 ½ cup yellow cornmeal, finely ground
1 cup all-purpose flour
1 tablespoon sugar
¾ teaspoon salt
½ teaspoon freshly ground black pepper
1 teaspoon baking powder
2/3 teaspoon baking soda
2 large eggs, beaten
1 cup buttermilk
¼ cup [1/2 stick] unsalted butter
3 tablespoons finely chopped green onion
 ½ pound fresh cap [or shrimp, roughly chopped]
¼ cup vegetable oil
Green Goddess Dipping Sauce [see separate post]
Preparation:
On an open flame of a gas burner, on a barbecue, or on a baking sheet under the broiler, roast the pepper until charred on that side. Rotate until charred all over. Transfer with gongs to a brown paper bag and close. Let the pepper steam for 5 minutes. When cool enough to handle, peel, seed, stem, and finely chop
Meanwhile, combine the cornmeal, flour, sugar, salt, pepper, baking powder, and baking soda and mix well. In a separate bowl, combine the eggs, buttermilk, melted butter, poblano pepper, green onion and crab [or shrimp].Fold the wet ingredients into the dry ingredients until combined. Do not ovemix.
Over medium heat place your hush puppy pan [ebeskiver] o the burner and allow to warm up. Add 2 teaspoons of vegetable oil to each well. Once hot, add heaping tablespoons of the butter to each well. Cook until they are golden and release easily, about 4 minutes, then flip with a skewer or fork. Cook for another 4 to 5 minutes, then plop all of them out onto a platter.
Serve at once with the sauce. Cool any remainders and freeze.
Source: The Cast Iron Skillet Cookbook: Recipes for the Best Pan in Your Kitchen by Sharon Kramis and Julie Kramis Hearne
Photo Information: Canon T2i, 18-55MM Macro lens, F/2.8, 1/100th second, ISO 1600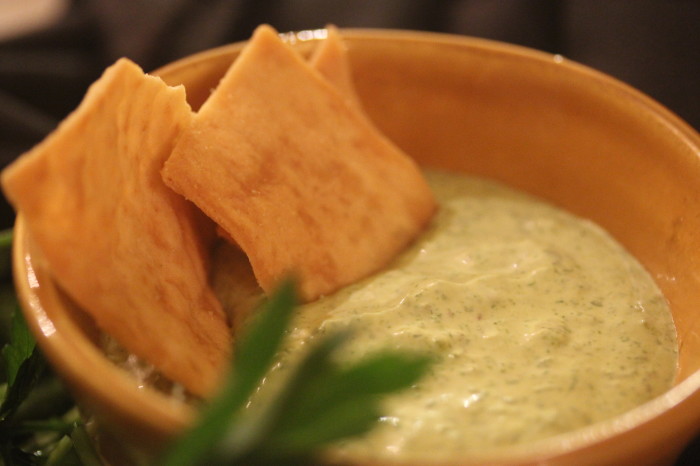 Do you like tarragon? French nobility did. As one of the "fine herbes" in French cuisine, tarragon plants were a key component of the gardens of French nobility. Peasants need not apply.
And while the French Revolution was certainly not tarragon inspired, one benefit was the release of tarragon seeds to the world.
A little goes a long way. Read any description about tarragon, and you will get that warning. The flavor is distinct and can easily overpower a dish.
A cardinal dish that is tarragon-based is the famed Green Goddess Dressing. According to Wikipedia, this dressing was created in San Francisco in 1923 to recognize actor George Arliss for his play The Green Goddess. The original version, supposedly, was based on mayonnaise, sour cream, chervil, chives, anchovy, tarragon, lemon juice and pepper. My version below has parsley, not chervil, and optionally suggests yogurt instead of sour cream.
The changes are minor and you are free to make yours. The original recipe is lost in time. In the 1970s, manufacturers created bottled versions of the dressing, which now appear on a limited number of store shelves. Some "new" versions are out there, like a brown tahini version thanks to Trader Joe's. You are far better off sticking with the green style, tart and vibrant. And you are far, far better off if you make your own.
As a salad dressing, Green Goddess will bring life to your table. As an appetizer with chips, it can stand side to side with the best of margaritas.
What is the perfect accompaniment? Crab. Crab. Crab. In fact, tomorrow's post is Crab Hush Puppies! That recipe and this one come from the lovely book The Cast Iron Skillet Cookbook, which is filled with ideas for the black pan sitting on your shelf. Use it! And, there's a new edition of the book with even more for you to enjoy.
Green Goddess Dressing and Dip
Yield: about 2 cups
Ingredients:
¾ cup fresh tarragon leaves
¾ cup fresh snipped chives
¾ cup fresh Italian parsley leaves
⅓ teaspoon salt
1 clove garlic
¼ cup freshly squeezed lemon juice
2 tablespoons anchovy paste
1 tablespoon Dijon mustard
⅓ cup extra-virgin olive oil
¾ cup sour cream or plain yogurt
Freshly ground black pepper
 Preparation:
Place the herbs, salt, garlic, lemon juice, anchovy paste, and mustard in a blender. Puree until smooth. With the blender on, slow add the olive oil.
Transfer the mixture to a medium bowl, and stir in the sour cream until well combined. Season to taste with additional salt and pepper.
Source: The Cast Iron Skillet Cookbook: Recipes for the Best Pan in Your Kitchen by Sharon Kramis and Julie Kramis Hearne
Photo Information: Canon T2i, 18-55MM Macro lens, F/2.8, 1/25th second, ISO 3200