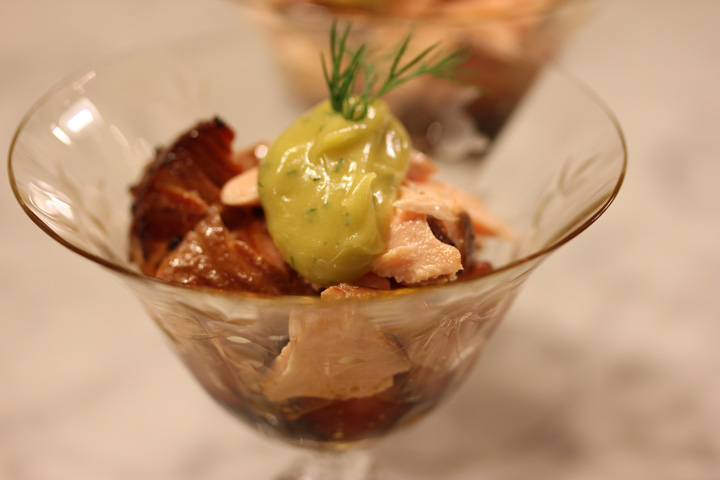 Tapas dishes can be simple yet delicious. Or they can be a bit complex and totally delicious. This is the latter. It's a fabulous dish that will awe anyone who eats it. The prep time here includes peeling tomatoes, a necessary step to make sure that the texture of all the components is delightfully consistent.
This is an example of a dish that in France would be called a verrine: a "vertical" terrine. It's layered with each layer independently contributing visually as well as to the palette.
I was very proud of this dish, just to look at it. Taste wise? It's wonderful. On my personal scale of 1 to 10, this rates an 8 or 9. How to get to a 10? I think you can add flavor here. Some smoked peppers with the tomatoes or as a separate layer. Perhaps some onion. This dish, wonderful by itself, simply begs for you to tinker and enjoy.
The dill sauce here is almost a mayonnaise. It just lacks lemon juice or vinegar. If you prefer, a splash of sherry vinegar at the end makes it brighter and, I think, a better match for the smoked salmon. As for that salmon, I posted a few days ago the idea of smoking your own at home using a Cameron stovetop smoker. This recipe is the perfect example of how that handy device can make your home cooking 3 star class.
To accompany this, Brian and I had some sparkling Cava with a splash of pomegranate liquor. Elegantly sophisticated and very gratifying. If you make this dish, you're going to want something to wash down your pride.
This recipe comes from The Book of Tapas by Simone and Ines Ortega. Published last year, Book of Tapas is a treasure trove of delights like this one. You've had salmon with dill before, but never quite like this. I heartily recommend the book as source to inspire and please you.
Little Glasses of Salmon with Dill Sauce
Yield: Serves 6-8
Ingredients for the Dill Sauce:
1 egg yolk
1 tablespoon sugar
1 tablespoon chopped fresh dill
1 tablespoon sweet mustard
¾ cup olive oil
Salt
Ingredients for the Tomato and Salmon Layers:
1 tablespoon walnut oil
1 tablespoon balsamic vinegar
3 ripe tomatoes, peeled, seeded, and diced
1 pound smoked salmon in one piece
Freshly ground pink pepper
2 ounces salmon roe, drained
1 sprig dill for garnish
Preparation of the Dill Sauce:
Whisk the egg yolk in a bowl. Add the sugar, dill and mustard and continue whisking. Gradually whisk in the oil, little by little. Season to taste with salt and place in the refrigerator.
Preparation of the Layers and Construction:
Whisk the walnut oil and balsamic vinegar together in another bowl. Add the pink pepper and salt to taste and continue whisking until all the ingredients are amalgamated. Add the tomatoes and gently toss until they are well coated with the dressing. Divide the tomatoes between 6-8 glasses.
Cut the salmon into small cubes. Add a layer of salmon cubes to each glass and spoon the sauce over each glass. Top with a little salmon roes. Chill until required, then garnish with dill and serve.
Tasting Notes:
As a variation, puree the salmon in a blender. Mix it with a little light cream, then make the salmon layer with this puree.
Source: Adapted from The Book of Tapas by Simone and Ines Ortega
Spain is famous for its perfect climate of heat, one that creates distinctive flavors in wine and olive oil. Culinarily, Spain has been hot for a decade. Its fabulous restaurants and inventive chefs have had world-wide influence. If you've eaten a foam dish, it's because of Spain.
Long before foam, Spanish cuisine gave us tapas, those little plates of food to share and gobble down. Tapas restaurants keep popping up and are endlessly crowded. It turns out that beside our apish genes, we must have some grazing stock in us, too. People love tapas.
Although tapas is associated with that phrase "little plates" I think better way to view it is cooking "with a little of this and little of that." The tapas combinations are endless, with cooks loving to experiment and find new ways to combine common ingredients into new culinary experiences. This salad is an example. You've probably had mushrooms and onions. You've probably had carrots and onions. But how about mushroom and onions and carrots, cooked in wine, then chilled and eaten cold? It's a totally new experience.
This dish is earthy in flavor and would be the perfect match for some meat-based tapas: say sausages or meat balls. The flavors are intense and deserve table mates that can stand up. Oh, when we made this dish, we cheated and first ate it hot off our skillet. That may not have authentic, but with our steak it was yummy.
This recipe is one of hundreds from a very beautiful and very serious new book: The Book of Tapas. If that sounds like something out of the Bible, well, maybe that is what was intended because you will find this to be a bible for tapas. The authors are Simone and Ines Ortega. In 1972 Simone wrote what is considered the Spanish Joy of Cooking: 1080 Recipes. 1080 Recipes is still in print and you can buy a copy of that, too. This tapas book is focused just on the spectrum of flavors destined for those small plates. The book is organized by ingredients. Chapters are devoted to vegetables, eggs and cheese, fish, and meat. And, in true tapas style, each chapter is broken into hot and cold.
The book has all the classic standards: garlic shrimp, spicy potatoes, and bread with tomato. But these quintessential experts of Spanish cuisine offer other equally important recipes: awesome meatballs, fried breadcrumbs with chorizo, shirmp croquettes, ham empanadillas, chicken with pine nuts, …
Very importantly, this book presents 150 color photographs of some of its dishes. Because tapas dishes are often unconventional or unfamiliar combinations of ingredients, it's not always immediate what the recipe is going to look like on your table. Now you will know. It's impossible to browse through those photographs and not say, "I'm making that today."
Summer is the perfect season to start on the tapas path. I suggest you get a copy of The Book of Tapas and become a tapas convert. It is a good experience.
Chilled Onion, Carrot and Mushroom Salad
Yield: serves 8
Ingredients:
9 ounces mushrooms
½ lemon
2 tablespoons olive oil
3 carrots, peeled and sliced
9 ounces small onions, peel but left whole
1 ½ cup white wine
3 tablespoons tomato paste
Salt and pepper to taste
Preparation:
Wash the mushrooms in a bowl of water with a few drops of lemon juice. Remove the mushrooms and set aside on a paper towels. Heat the oil in a skillet or frying pan, add the carrots and lightly pan-fry over medium heat. When they begin to soften, add the onion, s mushrooms, white wine and tomato paste, hen season with salt and pepper and stir.
Bring to a boil, then turn the heat to low and simmer for 15 minutes. Remove the skillet form the heat and let cool completely, then transfer the mixture to a bowl and put in the refrigerator until required. Serve chilled.
Source: The Book of Tapas by Simone and Ines Ortega