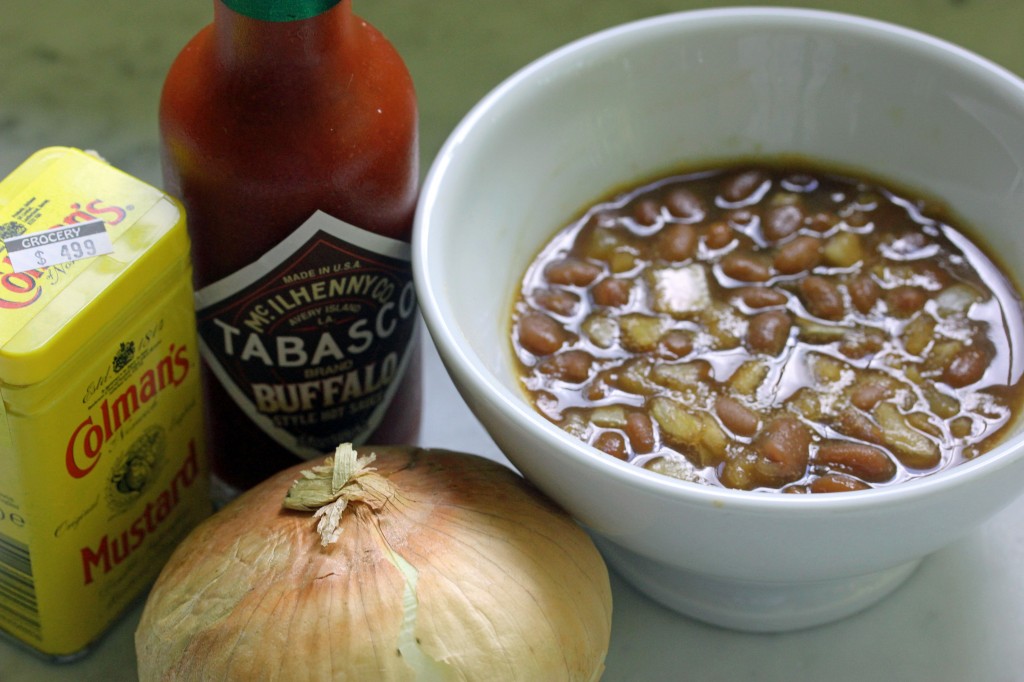 You are male. You are by yourself. You are hungry.
Your tools: a can, a can opener, onion, hot sauce, and mustard.
Your prospects: excellent.
Sometimes I am by myself and I do not have Suzen here to help me, encourage me, or feed me. I happen to like my foods hot and sweet. You can't live on chicken wings and chocolate chip cookies. Not all seven nights.
Regular canned baked beans are decent, but here's the way to convert them into a truly interesting dish, for a side or for you main dish.
Just use regular beans but add to them. Seriously add to them. In the picture above, I show the big three contributions: dry mustard, Tabasco Sauce, and onion. Oh, you could add a sweetener, too, say sugar, but I did not put that in the photo. I'm on a diet. It's in the recipe below though. The proportions here are approximate and you are perfectly free to use more, to use less, or to substitute: scallions, peppers, dice tomatoes, …
These beans are very simple to make and addictive. They will get you through until you see your wife again.
Brian's Beans
Yield: 2 servings
Ingredients:
1 16-ounce can of bake beans [the bland normal style is fine, it'll be fixed]
1 medium onion, diced medium
2+ tablespoons Tabasco Sauce
1 tablespoon dry mustard
½ cup brown sugar [optional but I think mandatory]
½ cup molasses [optional but up to you]
Preparation:
Put all the ingredients in a saucepan and stir to mix. Then turn the heat to medium. Stir occasionally, making sure that the sugar melt.
Bring almost to a boil and simmer for two minutes.
Serve immediately.
These do store for the next day and lunch, in case she has not come home yet.
Source: Brian O'Rourke
The Super Bowl has been a side topic here for the past week, and I hope you understand. Suzen and I are true football fans, New York Giant fans, and it all comes together for us this exceptional weekend. For Americans as a society, the Super Bowl has become the dominant sporting event. [I know, there's this thing called the World Cup and I would care about it, too, if you could just tackle and use your hands!].While the Super Bowl is on, nationally the crime rate plummets, traffic throttles to trickle, and the nation is focused as perhaps in no other four hour period.
If you not a football fan but you are a foodie, the Super Bowl is still a major day for you. Many people watch, not for the game, but for the commercials. Ever since that iconic rollout "1984" ad for the original Macintosh computer — shown on television only once during the 3rd quarter of Super Bowl XVIII in the actual year 1984 — the advertising stakes have gone exponential.
You'll hear the hype about how much a 30-second slice of airtime costs. This year it is $4 million but the audience is there to support that price point. And, marketing studies conducted after previous Super Bowls have concluded those ad dollars do pay off. At the website businessinsider.com, there is this quote:
According to Nielsen, ads that aired during 2011's Super Bowl XLV were, on average, 58 percent more memorable than commercials airing during regular programming in the first quarter of 2011. In addition, brand awareness for commercials airing during the Super Bowl was up to 275 percent higher than awareness for the same creative during regular programming.
Super Bowl ads have been dominated by cars in recent years, but food advertising runs almost as strong. For example, those Dorito commercials, and the Coke versus Pepsi battles, have had strong buying consequences. The Monday after the Super Bowl, you'll find major web and newsprint articles on the "good" and the "bad" in those ads. What we see the rest of the year in commercials, even what we see on our grocery store shelves, is affected by the reactions and buying trends demonstrated during the Super Bowl aftermath.
Of course, because so many of us love to watch those commercials, we really don't have time to cook during the game [or visit the rest room except during the extra long halftime show which is why so many people did NOT see the Janet Jackson wardrobe malfunction.]
This year, the estimate is that $11 billion will be spent on snack foods for the game. That's the easy solution to ensuring that no score, penalty, or errant piece of clothing is missed.
Here at this blog, we've suggest recipes ideas that are really better than "snack food" and will delight you and the others gathered around that extra big television set.
One item we blogged this week was Santa Fe Chicken Wings using the famous Frank's Hotsauce. Perhaps, not surprisingly, this past week the Tabasco sauce folks, the McIlhenny Company from Louisiana, have rolled out a new product, surprisingly called Tabasco Buffalo. The two companies are engaged in ad war now that is costing tens of millions. Suzen and I will be searching for a bottle of the new Tabasco product, we'll give it a try, and we'll let you know.
Oh, I adamantly said this week that fried wings outdo baked ones. But the new Tabasco Buffalo product offers this recipe where you bake at high temperature for a long time. This week will see a lot of wing testing across America. If I were a chicken, I'd be in hiding.
Buffalo Chicken Wings from Scratch

Yield: 8 to 10 servings

Ingredients:

• 3 pounds wings and/or drumettes
• 1 (5-ounce) bottle of Tabasco brand Buffalo Style Hot Sauce
• 1/2 cup (1 stick) butter, melted
• Chunky blue cheese dressing (optional)
• Celery sticks (optional)
Preparation:

Bake chicken pieces on foil-lined pan in 425°F oven for one hour or until fully cooked, turning once halfway. In a large bowl, combine TABASCO® Buffalo Style Sauce and melted butter. Toss cooked wings in sauce to coat completely. If desired, serve with blue cheese dressing and celery sticks.
Source: www.tabasco.com