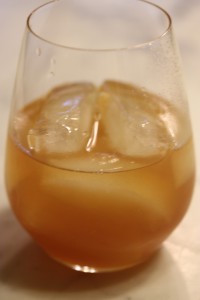 Please continue to read all of this. Yes, there is diatribe at the beginning, but the beverage that results from all this is spectacular. Really, it is.
Ah, the political conventions are over and we have been enlightened and informed. One person said our economic problems were so bad that no one could have solved them in a mere four years.
Some of us have been aware of that. For some time.
Like me. Suzen and I visiting my daughter in Seattle and we were at a huge farm stand selling hundreds of "gourmet" products from around the country. In my hand, I held a bottle of sweet potato syrup for $12. Four years ago, I would have bought it with no inhibition. But now, no. There was the price thing. And what would I do with it? And then the ingredients, which Suzen pointed out, began with corn syrup. I'm not paying $12 for corn syrup.
But, I was intrigued. How could I make that syrup, and how would I use it. Well, I googled, and I found a recipe for sweet potato syrup and even a cocktail recipe to use it. Sadly, that recipe for the syrup fails, in the sense that the syrup does not taste like sweet potato and it was very difficult to make. Getting the cooked sweet potato to dissolve into the syrup proved impossible, so I've added using a sieve in my version of life.
My version tastes predominately like clove. Mix that clove flavor with bourbon, or whiskey, and you have a great cocktail. A Whiskey Sour that hits you with the alcohol and then lets the clove tickle your tongue. And, yes, there's a hint of sweet potato there still.
Try this cocktail and use this syrup recipe. In the meantime, I'm off to cook more sweet potatoes and come up with a true sweet potato syrup. If any of you out there have ideas, please let me know.
Whiskey Sour with Clove and Sweet Potato Syrup
Yield: 1 cocktail
Ingredients:
2 ounces bourbon
1 ounce of clove and sweet potato syrup
1 ounce of orange liqueur [Mandarin Napoleon if possible]
Juice of ½ lemon
Ice cubes
Preparation:
Put the bourbon, syrup, orange liqueur and lemon juice in a cocktail shaker. Fill with ice and shake vigorously. Pour into a cocktail glass filled with ice.
Garnish at will.
Note: this beverage is strong, so you may wish to top it off with an ounce or so of club soda to mellow it out.
Clove and Sweet Potato Syrup
Yield: about 1 cup
Ingredients:
1 sweet potato
1 cup of water
½ cup granulated sugar
½ teaspoon nutmeg
¼ teaspoon ground cloves [or less!]
Preparation:
Preheat the oven to 375°F. Place the sweet potato in a roasting pan, cover with aluminum foil and roast until soft in the center, about1 hour at least. You want the sweet potato thoroughly cooked so that the "meat" will easily dissolve into your syrup; if it is undercooked, you'll have difficult time integrating the sweet potato in the liquid.
Remove and discard the skins, and let the leftover juices from the potato cool in the pan. Pour the juices into a glass bowl.
Combine You want the sweet potato thoroughly cooked so that the "meat" will easily dissolve into your syrup; if it is undercooked, you'll have difficult time integrating the sweet potato in the liquid.
The one cup of water, 2 tablespoons of the cooked sweet potato, the sugar, 1 tablespoon of the potato roasting liquid, the nutmeg and cloves in a small saucepan. Bring to a simmer over low heat, stirring or whisking to keep it from burning. You objective is to dissolved the sugar, that's easy, and the sweet potato, that's not so easy.
Allow to boil for 2-3 minutes to reduce by 30% or so. Cool slightly, then strain into a class container. When you strain, you'll capture a lot of sweet potato goop. Use the back of a spoon to press and get any juices you can.
Allow the uncovered container to cool to room temperature, then cover and refrigerate. Use within two weeks.
Source: Brian O'Rourke
When is summer over? About 90% of the leaves have fallen from our trees. It's time to stop kidding ourselves and face facts: it is not going to be 80° outside for a long, long time. Given the price of heating oil, it is never going to be 80° inside!
So we've conceded to the seasons and begun doing the fall things. We are actively stacking firewood on the deck. We are passively watching the wind blow the leaves away. We consider very un-Green to rake and burn. Besides with three acres, do you know how many leaves there are?
We have put away summer clothes and dug out the winter stuff.
We have put away summer cookbooks and dug out the winter stuff. And that brings us to old friends and cookbook treasures.
We've blogged a few times from Eat Feed Autumn Winter by Anne Bramley:
Ancho Chili Soup with Sweet Potatoes and Chorizo
Indian Spiced Cauliflower
Wild Rice Pilaf with Cherries and Pecans.
You can find these recipes by using the search box on this blog. We're going back to this book for the fall and will post even more recipes.
You might want to treat yourself and look for a copy of Eat Feed Autumn Winter at your local bookstore or online. It's a book worthy of being on your shelves.