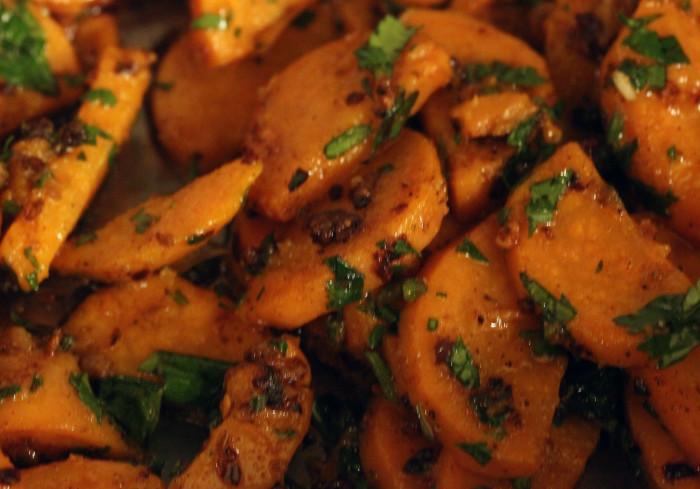 When Suzen tells a group that has come to do a group event at Cooking by the Book that they will be preparing a sweet potato side dish, you can see the frowns on many faces.
"Trust me. You haven't had anything like this," she reassures her audience.
We never have leftovers. Guests, who come here to make a meal in our kitchen and then go into our dining room to consume their creativity, keep coming back for seconds. Not of the chicken or the salmon or the steak. Of these marvelous sweet potatoes.
I know. It does seem a bit of an oxymoron to call them sweet. Unless you are recalling that catastrophic recipe where they are baked with marshmallows.
No, here you go the other way: spice and heat. Okay, there is just a glimmer of sweetness from the apple juice, and yes the 20 cloves of garlic do tend to sweeten a tad when sautéed. All that aside, this dish has a little fire to it. Definitely serve it warm to accentuate that sensation of heat.
This is fine accompaniment to chicken, steak, or even fish. The flavor is deliciously distinctive without being overwhelming. It pairs well with a strong wine, either red or white.
And, yes, you'll be asking for seconds yourself.
Sweet Potatoes with Garlic, Ginger, and Cilantro
Yield: 8 to 10 servings
 Ingredients:
4 medium sweet potatoes cut into ½-inch cubes
¼ cup olive oil, divided
6 tablespoons onion powder, divided
2 tablespoons smoked paprika, divided
20 cloves of garlic, minced
1 1-inch piece of fresh ginger minced
3 tablespoons apple juice
2 teaspoons sherry vinegar
1 small punch of fresh cilantro roughly chopped
Seat salt and freshly ground black pepper to taste
Preparation:
Preheat the oven to 400°F. Toss the sweet potatoes with 3 tablespoons of olive oil, then add 3 tablespoons onion powder, salt and pepper. Roast the potatoes for about 35 minutes until cooked through and starting to brown.
Heat 2 tablespoons of olive oil in a large sauté pan on low heat, add the ginger and garlic. Sauté gently for about 5 minutes, stirring to blend and to keep from sticking to the pan bottom.
When ginger and garlic are tender, add 3 tablespoons of onion powder and 2 tablespoon of smoky paprika, salt and pepper. Stir to combine. Cook scraping up all the bits from the bottom of the pan. Distribute those flavor bits through the potatoes by stirring to mix well.
Raise the heat to medium high. Deglaze the pan with the apple juice and sherry vinegar until most of the liquid is evaporated, about 2 minutes.
Transfer the warm potatoes to a large bowl. Gently toss with the garlic ginger mixture. Toss in and mix in the cilantro at the end. Serve warm.
Source: Chef Mariya Yufest at Cooking by the Book
Photo Information [top picture]: Canon T2i, EFS 60 mm Macro Lens, F/5.6 for 1/20th second at ISO-3200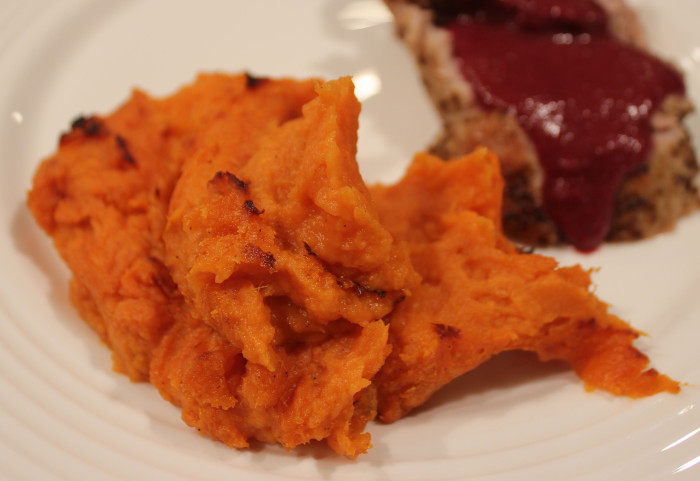 This recipe is brought to you thanks to the kindness of Sasquatch Books. They sent me a review copy of The Cast Iron Skillet. It sits in my upstate house, buried in snow. Suzen and I haven't tried to get upstate in three week. We have plenty of snow, and ice, right here in Manhattan.
But I wanted to test recipes, and Sasquatch emailed me a PDF of the book. Suzen was able to scroll through all the sumptuous recipes. As I expected, she stopped when she got to this one, Sweet Potato Soufflé.
I don't know if you have a problem with sweet potatoes, but I do. It all began when I was a child and my mother, at Thanksgiving, presented a tub of sweet potatoes crowned with marshmallows. I still talk to my therapist about the trauma. Can you get PTSD from one serving of goop? I think I did.
After decades of avoiding them, I now love sweet potatoes. A month ago, we did some experiments and I got a new favorite recipe: sweet potatoes blended in a hot mixture of chiles. It's wonderful and I will blog it soon. But, but, this soufflé recipe is easily my favorite sweet potato concoction. And I doubt it can ever be surpassed.
"No eggs. How can it be a soufflé?" Suzen asked. She was reading the recipe. I was standing over her shoulder.
"Maybe the half-and-half," I suggested. "Or the apple cider. Or the butter. Or the sugar. Maybe we should add more sugar."
I got a dirty look. "Remember, we ate at the restaurant where one of these authors was the chef? Remember how good it was? How Paris-quality it was? We are not messing with anything."
With perfect diligence, Suzen measured and I obeyed. This recipe is perfectly balanced in its flavors. And the techniques, hand mashing and then beating with an electric mixer, yield a monster result. The sweet potato flavor here is sheltered in layers of apple, orange, and cinnamon. There is dairy richness: butter and half-and-half. All these flavors, all the techniques, and the result is sublime.
This recipe will be appreciated at any time of the year.
I will suggest it for you next holiday [Thanksgiving]. It will make the meal. And, as a side benefit of this side dish, it could spare you years of therapy.
Sweet Potato Soufflé
Yield: 6-8 servings [perfect for a holiday meal]
Ingredients:
8 medium sweet potatoes or yams (about 4 pounds)
1 teaspoon salt
5 tablespoons salted butter, at room temperature
½ cup half-and-half
¼ cup apple cider
3 tablespoons packed light brown sugar
½ teaspoon ground cinnamon
1 teaspoon grated orange zest
3 tablespoons chilled salted butter, cut into small pieces
Preparation:
Position a rack in the center of the oven and preheat to 350°F.
Put the sweet potatoes in a large stockpot, cover with cold water, and add the salt. Bring to a boil over high heat. Reduce the heat to medium and cook the potatoes until soft when pierced, 30 to 40 minutes. Drain and allow to cool.
Peel the sweet potatoes and place in a large bowl. Mash to a coarse consistency with a potato ricer or masher. Add the room-temperature butter, half-and-half, apple cider, brown sugar, cinnamon, and orange zest. Beat with an electric mixer on medium speed until fluffy, about 2 minutes.
Transfer to a buttered 10- or 12-inch cast iron skillet. Dot the potatoes with the chilled butter pieces and bake in the oven until the top is golden brown, about 30 minutes. For a perfect golden crust on top, broil for the last 5 minutes.
Source: The Cast Iron Skillet Cookbook by Sharon Kramis, Julie Kramis Hearne and Charity Burggraff
Photo Information: Canon T2i, EFS 18-55MM lens, F/3.5, 1/30th second, ISO-200