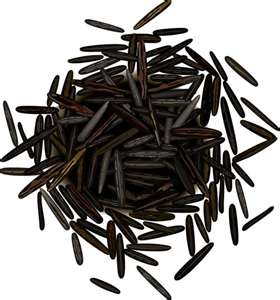 "Our garden herbs are still fresh, right?" I asked.
"Yes," Suzen said.
"And you love pine nuts, right?"
"What do you want, Brian." She was now on alert.
"Well, I found this stuffing recipe that uses them and I just thought …"
"Let me see," she asked and extended her hand for the cookbook I was holding.
"Oh," she continued, "wild rice. Yum, my favorite." She handed me back the book.
She is not a fan of wild rice. I am. We will not be cooking this stuffing this year, or probably any other. Normally, I don't blog a recipe Suzen and I haven't tested, but this comes from Diane Morgan, so we know this recipe will work. I know this recipe will be delicious. I just hope that someone, somewhere is able to enjoy what I am not. If you'd just like to drop me a note telling me how wonderful it was, well, that would give me some satisfaction.
I have to stop blogging now. I have bread crumbs to make. For stuffing. I wonder if I can cut them into the shape of little rice grains?
Wild Rice Stuffing with Pine Nuts, Dried Apricots, and Fresh Herbs
Yield: serves 6 to 8
Ingredients:
2 cups wild rice
2 cups chicken stock or canned low-sodium chicken broth
½ teaspoon salt
½ cup pine nuts
¾ cup dried apricots, quartered
5 tablespoons unsalted butter
2 large ribs celery, finely chopped
2 large carrots, peeled and finely chopped
1 medium yellow onion (about 8 ounces), finely chopped
1 tablespoon fresh thyme leaves
1 tablespoon minced fresh sage
½ cup minced fresh parsley
Freshly ground pepper
Preparation:
In a medium saucepan, combine the rice, stock, and 1/4  teaspoon of the salt, and add 2 cups of water. Bring to a boil over medium high heat.
Reduce the heat to a simmer, partially cover, and cook, stirring occasionally, until the rice is tender, about 40 minutes. (Not all of the liquid will be absorbed.)
Meanwhile, place a small, heavy skillet over medium-high heat. When it is hot, but not smoking, add the pine nuts. Stirring constantly, toast them until nicely browned, about 3 to 5 minutes. Transfer to a plate and set aside to cool.
Place the dried apricots in a small bowl, add hot water to cover, and allow to plump for 20 minutes. Drain and reserve.
In a 10-inch sauté pan, melt 4 tablespoons of the butter. Swirl to coat the pan and sauté the celery, carrots, and onion until soft and lightly browned, about 5 minutes. Add the thyme, sage, and parsley and sauté 1 more minute. Remove from the heat.
Preheat the oven to 350°F. When the rice is tender, add the sautéed vegetable mixture to the rice. Add the reserved pine nuts and apricots, and stir to combine. Add the remaining ¼ teaspoon of salt, and a few grinds of pepper. Taste and adjust the seasonings.
Use the remaining 1 tablespoon of butter to grease an oven-to-table casserole dish. Spoon in the rice stuffing and cover. Twenty minutes before serving, bake the stuffing until heated through. (The stuffing can be made up to 1 day in advance. Refrigerate, covered, and bring to room temperature 1 hour before baking. Increase the baking time to 40 minutes to insure it's heated through.)
Source: The New Thanksgiving Table by Diane Morgan
"How long have you had these symptoms?" the doctor asked me.
"A week or two," I answered.
"About a month at this level. Decades at a reduced level." Suzen was contributing to my diagnosis. I did not appreciate the "decades" bit.
"So," the doctor continued, "your issue is confusion."
"Yes," I said.
"YES," Suzen said. I really must remember not to bring her next time.
"Who is the President of the United States?" the doctor asked me.
"You don't want to get into politics with Brian," Suzen remarked quickly. You know, she does serve a purpose.
"What month is it?" the doctor continued.
"November," I said. "But it seems endless to me. I just received more emails saying our blog has not put up any Thanksgiving recipes."
"And?" the doctor asked.
"Well, I figured Thanksgiving had to be over already."
"Why?" the doctor probed.
"Because Christmas decorations and store displays have been up for six weeks now. We have to be way past Thanksgiving," I argued.
"Thanksgiving is next week, Brian," the doctor corrected me.
"Yes, Brian." Suzen concurred.
"Oh, dear," I slumped back. "What can I do?"
"Well, I think you need to publish some Thanksgiving recipes on your blog," the doctor began. "And then you might consider moving to a society that is less commercially oriented. I hear Iceland is a very mellow place."
"Oh, great," Suzen was staggered. "Can't you just give him a prescription?"
So, we are six days from Thanksgiving 2011 and you may be wondering what to do. In the coming week I will, of course, supply you with some new holiday ideas. Fortunately, this blog is already flush with great menu ideas, from appetizers thru dessert. Here's a table showing the blog titles for several wonderful recipes. And, I've included the word to search on, using the blog's search feature, so you can easily isolate the recipe.
I'll say that the Arrows Roast Turkey recipe is now our standard. We've done it for five or six years running and it has become a tradition. Nick's Cranberry Sauce defines Thanksgiving for Suzen. Dorie Greenspan broadened everyone's food horizons last year with Around My French Table. The stuffed pumpkin is directly from the book and Suzen created a stuffing recipe, sans pumpkin, as an alternative.
Here you go. I'll be blogging more after my next doctor's appointment. I've never been to Iceland.
| | |
| --- | --- |
| Blog Title | Search Word |
| Arrows Roast Turkey | Arrows |
| Nick's Cranberry Sauce | Nick's |
| Pumpkin Stuffed with Everything Good by Dorie Greenspan | Pumpkin |
| Thanksgiving Stuffing 2010 with Thanks to Dorie Greenspan | Stuffing |
| Pumpkin Chiffon Cake for Thanksgiving | Pumpkin |
| Apple and Jalapeno Tailgate Pie | Tailgate |