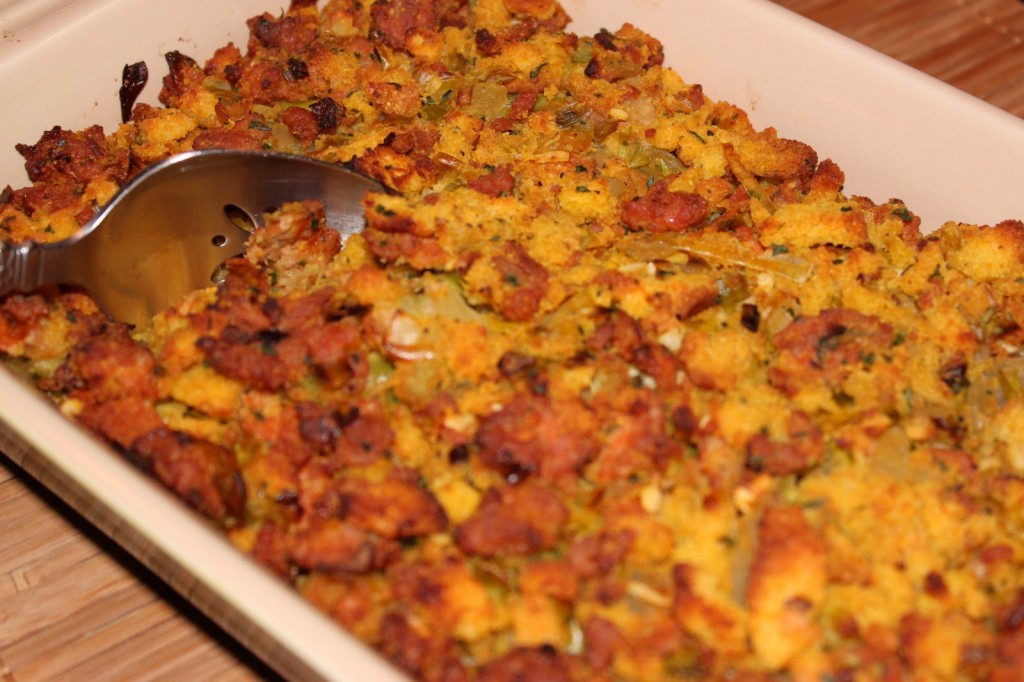 Many of us, especially if we have southern backgrounds, are used to cornbread stuffing for our holiday meal. Being born in Southern California, I am happy to continue the tradition.
This recipe is from The Thanksgiving Cookbook, the crafted product Holly Garrison. This book was published in the last century, but Suzen and I use it every holiday season. In fact, you will see a few favorites from this book over the next few days. It's a brilliant book.
One of the ingredients here is "1 recipe Basic Corn Bread." That means you need to bake up an 8" by 8" pan of cornbread using your favorite recipe. Don't have one handy? I'll have it ready for you tomorrow. Promise. Swear to god, because I've also got a great cornbread cookbook I pulled off our shelf.
Why should you do this cornbread stuffing? Because it is sophisticated and complex in flavor. Oh, I know, cornbread is not sophisticated. Or so you think. I'm going to change your mind, beginning with this stuffing recipe.
If you Google about, and look at cornbread stuffing recipes, most of them are not inspirational. This one is because it is moist and filled with rich flavors from mushrooms and raisins. This is just a flavor combination that I have not found anywhere else. It's a treat to have that distinct cornbread flavor combined with mushroom muskiness and the sweetness of raisins. Oh, and there's a little kick from some port wine.
This is an artfully conceived and balanced recipe. You can make this in the bird or, better, put it in a dish and cook separately. Be careful not to overbake. It's meant to moist.
For color and contrast, like you see in the picture above, you can include some diced peppers or green onions
Corn Bread and Mushroom Stuffing
For Turkey, Chicken, Capon or Cornish Hens
Yield: about 7 cups, enough to fill a 12-14 pound turkey, a 6-7 pound chicken with 3 cups left over or 6 Cornish hens
Ingredients:
¼ pound [1 stick] butter melted
2-3 celery ribs, finely chopped (1 cup)
½ pound small regular white mushrooms, sliced (about 2 cups)
1 recipe Basic Corn Bread Broken into small pieces, about 6 cups
1 cup dried currants or golden raisins
2 teaspoons dried sage leaves, crumbled
2 teaspoons dried thyme leaves, crumbled
½ teaspoon salt
¼ teaspoon freshly ground black pepper
¼ cup dry port wine
1 large egg beaten
¾ cup turkey or chicken broth
Preparation:
Preheat the oven to 350°F.
Melt the butter in a large skillet over medium-high heat. When hot, add the celery, onion, and mushrooms and cook, stirring frequently, until the mushrooms are limp while some liquid remains.
Place the corn bread in a large mixing bowl. Stir in the skillet vegetables, currants, sage, thyme, salt, pepper and toss to thoroughly combine. Drizzle the port, egg, and about half of the turkey broth over the mixture and toss again. If necessary, add more turkey broth, a little at a time, until the stuffing is moist and holds together when lightly pressed between the palms of your hands.
Either use this stuffing inside your bird, or place it in a 1 ½ to 2 quart baking dish. Cook for 30 to 45 minutes, checking for doneness after 30 minutes.
Source: The Thanksgiving Cookbook by Holly Garrison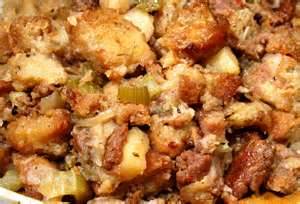 In the groundbreaking book  Around my French Table, one recipe by Dorie Greenspan went viral: a stuffed pumpkin. We've taken that stuffing and adopted it just a tad and for turkey. We first posted this blog in 2010, and here it is again. Don't have all the ingredients? Well, improvise or find one of those markets that are open until 3PM. You'll find this is "your stuffing" from here on out. This is, of course, a stuffing to back on the side, not in the turkey. Food scientists, nutritionists and emergency responders will all tell you the same things: don't stuff the turkey with stuffing. You can toss in herbs or some lemon halves, but bake the stuffing separately.
This recipe is for 4 people. Please scale appropriately for your family size, your party size, or you appetite. And, of course, if you want leftovers the next day or so, then ….
Suzen and I wish you the happiest of holidays.
Thanksgiving Stuffing 2010 and Now 2012
Yield: 4 servings
Ingredients:
¼ pound stale bread, thinly sliced and cut into ½-inch chunks
¼ pound cheese, such as Gruyère, Emmenthal, cheddar, or a combination, cut into ½-inch chunks
2–4 garlic cloves (to taste), split, germ removed, and coarsely chopped
1 chorizo sausage, cooked until crisp, drained, and chopped (my addition)
1 Granny Smith apple, peeled, cored and sliced.
About ¼ cup snipped fresh chives or sliced scallions (my addition)
1 tablespoon minced fresh thyme (my addition)
About ⅓ cup homemade chicken stock
Pinch of freshly grated nutmeg
Preparation:
Preheat the oven to 350˚F. Grease a 1 ½-quart baking dish.
Toss the bread, cheese, garlic, sausage, apple and herbs together in a bowl. Season with pepper — you probably have enough salt from the sausage and cheese, but taste to be sure. Stir in the chicken stock with the nutmeg and some salt and pepper and pour into the baking dish. You might have too much or too little liquid— you don't want the ingredients to swim in the stock, but you do want the bread nicely moistened. (It's hard to go wrong here.)
Bake for 60-90 minutes. Check after 60 minutes. You want the mixture dry and the bread just crisping.
Source: Inspired by Around My French Table by Dorie Greenspan