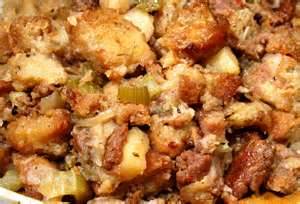 In the groundbreaking book  Around my French Table, one recipe by Dorie Greenspan went viral: a stuffed pumpkin. We've taken that stuffing and adopted it just a tad and for turkey. We first posted this blog in 2010, and here it is again. Don't have all the ingredients? Well, improvise or find one of those markets that are open until 3PM. You'll find this is "your stuffing" from here on out. This is, of course, a stuffing to back on the side, not in the turkey. Food scientists, nutritionists and emergency responders will all tell you the same things: don't stuff the turkey with stuffing. You can toss in herbs or some lemon halves, but bake the stuffing separately.
This recipe is for 4 people. Please scale appropriately for your family size, your party size, or you appetite. And, of course, if you want leftovers the next day or so, then ….
Suzen and I wish you the happiest of holidays.
Thanksgiving Stuffing 2010 and Now 2012
Yield: 4 servings
Ingredients:
¼ pound stale bread, thinly sliced and cut into ½-inch chunks
¼ pound cheese, such as Gruyère, Emmenthal, cheddar, or a combination, cut into ½-inch chunks
2–4 garlic cloves (to taste), split, germ removed, and coarsely chopped
1 chorizo sausage, cooked until crisp, drained, and chopped (my addition)
1 Granny Smith apple, peeled, cored and sliced.
About ¼ cup snipped fresh chives or sliced scallions (my addition)
1 tablespoon minced fresh thyme (my addition)
About ⅓ cup homemade chicken stock
Pinch of freshly grated nutmeg
Preparation:
Preheat the oven to 350˚F. Grease a 1 ½-quart baking dish.
Toss the bread, cheese, garlic, sausage, apple and herbs together in a bowl. Season with pepper — you probably have enough salt from the sausage and cheese, but taste to be sure. Stir in the chicken stock with the nutmeg and some salt and pepper and pour into the baking dish. You might have too much or too little liquid— you don't want the ingredients to swim in the stock, but you do want the bread nicely moistened. (It's hard to go wrong here.)
Bake for 60-90 minutes. Check after 60 minutes. You want the mixture dry and the bread just crisping.
Source: Inspired by Around My French Table by Dorie Greenspan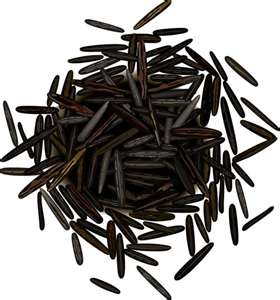 "Our garden herbs are still fresh, right?" I asked.
"Yes," Suzen said.
"And you love pine nuts, right?"
"What do you want, Brian." She was now on alert.
"Well, I found this stuffing recipe that uses them and I just thought …"
"Let me see," she asked and extended her hand for the cookbook I was holding.
"Oh," she continued, "wild rice. Yum, my favorite." She handed me back the book.
She is not a fan of wild rice. I am. We will not be cooking this stuffing this year, or probably any other. Normally, I don't blog a recipe Suzen and I haven't tested, but this comes from Diane Morgan, so we know this recipe will work. I know this recipe will be delicious. I just hope that someone, somewhere is able to enjoy what I am not. If you'd just like to drop me a note telling me how wonderful it was, well, that would give me some satisfaction.
I have to stop blogging now. I have bread crumbs to make. For stuffing. I wonder if I can cut them into the shape of little rice grains?
Wild Rice Stuffing with Pine Nuts, Dried Apricots, and Fresh Herbs
Yield: serves 6 to 8
Ingredients:
2 cups wild rice
2 cups chicken stock or canned low-sodium chicken broth
½ teaspoon salt
½ cup pine nuts
¾ cup dried apricots, quartered
5 tablespoons unsalted butter
2 large ribs celery, finely chopped
2 large carrots, peeled and finely chopped
1 medium yellow onion (about 8 ounces), finely chopped
1 tablespoon fresh thyme leaves
1 tablespoon minced fresh sage
½ cup minced fresh parsley
Freshly ground pepper
Preparation:
In a medium saucepan, combine the rice, stock, and 1/4  teaspoon of the salt, and add 2 cups of water. Bring to a boil over medium high heat.
Reduce the heat to a simmer, partially cover, and cook, stirring occasionally, until the rice is tender, about 40 minutes. (Not all of the liquid will be absorbed.)
Meanwhile, place a small, heavy skillet over medium-high heat. When it is hot, but not smoking, add the pine nuts. Stirring constantly, toast them until nicely browned, about 3 to 5 minutes. Transfer to a plate and set aside to cool.
Place the dried apricots in a small bowl, add hot water to cover, and allow to plump for 20 minutes. Drain and reserve.
In a 10-inch sauté pan, melt 4 tablespoons of the butter. Swirl to coat the pan and sauté the celery, carrots, and onion until soft and lightly browned, about 5 minutes. Add the thyme, sage, and parsley and sauté 1 more minute. Remove from the heat.
Preheat the oven to 350°F. When the rice is tender, add the sautéed vegetable mixture to the rice. Add the reserved pine nuts and apricots, and stir to combine. Add the remaining ¼ teaspoon of salt, and a few grinds of pepper. Taste and adjust the seasonings.
Use the remaining 1 tablespoon of butter to grease an oven-to-table casserole dish. Spoon in the rice stuffing and cover. Twenty minutes before serving, bake the stuffing until heated through. (The stuffing can be made up to 1 day in advance. Refrigerate, covered, and bring to room temperature 1 hour before baking. Increase the baking time to 40 minutes to insure it's heated through.)
Source: The New Thanksgiving Table by Diane Morgan