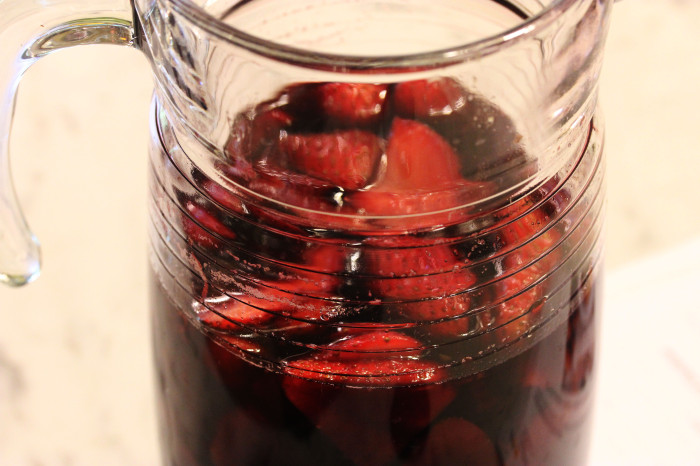 I was making sangria this weekend and I had two assets: time and a great Cab.
Time was important because like many of you I am often tempted to "throw sangria together" at the last moment — or perhaps the last hour. I do give it time to chill, but not really the time to mellow and let all the flavors rise to the occasion and max the mix. I had four hours on Saturday.
And, for that wine, I had a bottle of Don Melchor, the superior Cabernet Sauvignon from Concha Y Toro in Chile. This wine is a sophisticated delight on its own, with fine cheese, or the intensity of a steak streaked with black and juicy red in the center.
Use that quality wine in a sangria? Yes. Definitely. Hell, yes. You are not in college anymore, you know. You've got 40 years left? Goodness, you have less than 16,000 nights of imbibing left. Don't waste one precious opportunity. Sangria can be as wonderfully exciting and marvelous as any wine beverage if …
If you use time and use your ingredients to their full advantage. I had my Cab. I had a perfectly ripe mango. And I had a pint of peaking strawberries. One sangria technique, the quick one, is to cut up the fruit, dump it into the wine, perhaps add some sugar, and top it off with a quantity of something strong: say a cup of brandy. That's the wrong way to go. You want to cut the fruit and let it macerate with some sugar and an appropriately selective liqueur. You do that for some time to extract juice, and therefore flavor, from the fruit.
That is the trick I employed here: use a different liqueur for each fruit. Literally, match the liqueur to the fruit. For the tropical mango, what better thing than Cachaca from Brazil. For the strawberries, Fragoli strawberry liqueur for the berries. The result? A densely, intensely flavorful sangria. Full of fruit notes that swirl in your mouth in great complexity. Berry then mango then back to berry. The flavors dash about, never competing, but surely reinforcing. And beneath it all is the base flavor of that lovely Chilean Cab.
Sophisticated Sangria
Yield: 6 large portions
Ingredients:
1 pint of strawberries, husked and halved
¼ cup of sugar
½ cup of Fragoli strawberry liqueur
1 ripe mango, peeled and sliced
¼ cup of sugar
½ cup of Cachaca
1 bottle of Don Melchor
Preparation:
Place the strawberry halves in a small bowl and sprinkle with sugar. Top with the Fragoli, and stir to mix.
In a second bowl, place the mango slices. Sprinkle with sugar, top with the Cachaca and stir to mix. Cover both bowls and refrigerate for two hours.
Open the Don Melchor and pour into a pitcher. Empty the two fruit bowls into the pitcher and stir to mix. Refrigerate for two more hours.
Serve in chilled glasses adorned with strawberry halves or slice of lemon or lime.
Source: Brian O'Rourke
Photo Credits: Canon T2i, 18-55mm lens at F/6, 1/60th second at ISO 3200 [no flash]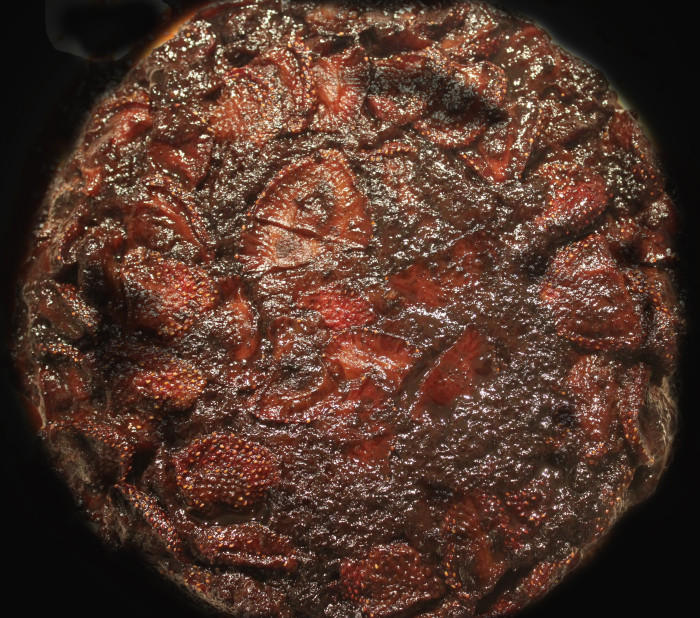 I was in error yesterday. The Strawberry Balsamic and Olive Oil Upside Down Cake was fine, but my description of the version that Suzen was so proud of – well, I did not do justice to her version.
Cooking by the Book works very closely with Center for Celiac Disease at Columbia University. Founded by Dr. Peter Green, the world's foremost expert in celiac disease, the Center provides a variety of services for people with celiac. Those expanding rows of gluten-free products in your grocery store? They are in response to the rapidly growing population of children and adults who have developed the disease. Untreated, celiac can wreak havoc with both the patient and their family.
How does Cooking by the Book help? We offer monthly events for the Center's patients, showing families how to prepare gluten-free dishes that are a match for any gluten-based dish out there. There is no reason, none at all, for someone with celiac to ever feel food-compromised. Our gluten-free meals here bring smiles to everyone.
Which is why Suzen was so proud of her gluten-free cake. It's delicious. It's every bit as incredible as the original. Suzen's modifications to the recipe are included in the reworked recipe below.
What changes did Suzen have to make? Well, obviously, the flour in the original recipe had to go, replaced by a Gluten-Free All Purpose Flour, a product available from the famous grain product firm Bob's Red Mill. If you have a special need, look to Bob's to assist you.
Oh, three was one more change: adding some xanthan gum as a new dry ingredient. What's that? Xanthan is produced by fermenting corn sugar — it seems corn is embedded into our culinary lives where ever we turn. Xanthan is a thickener, emulsifier and stabilizer. You most probably have had it in some dairy products or commercial salad dressing.
Here, the properties of xanthan are exactly what is needed to compensate for the absence of gluten and the structure that if provides in, say, a cake.
With or without gluten, this recipe is superior. Its creator has suggested it be consumed for an eye-opening breakfast. Let's see: cereal or outstanding cake?
Cake, please!
Strawberry Balsamic and Olive Oil Upside Down Cake: Gluten Free Version
Yield: 8 to 10 servings
Ingredients:
For the balsamic vinegar glaze and strawberry spiral:
1 pound fresh strawberries
½ cup brown sugar
½ cup golden balsamic vinegar
2 tablespoons olive oil
1 tablespoon honey
For the cake:
1 cup sugar
¼ cup golden balsamic vinegar
½ cup buttermilk
3 eggs
1 ¾ cup Gluten Free All-Purpose Flour from Bob's Red Mill
1 ½ teaspoon baking powder
½ teaspoon salt
¾ teaspoon xanthan gum
⅔ cups olive oil
Preparation:
Preheat the oven to 350 degrees F.
Spray an 8-inch cake pan with olive oil spray. Line the bottom with a circle of parchment paper (this is an important step — it will help your cake release from the pan after baking without disturbing the arrangement of your strawberries). Spray again with olive oil.
Remove stems and slice strawberries vertically. Arrange them in a spiral, starting with the outside layer and overlapping slightly at the bottom of the cake pan.
Combine the brown sugar, golden balsamic vinegar, olive oil, and honey in a stainless steel pan and whisk to emulsify. Bring to a boil and stir frequently until thickened enough that it drips more slowly from your stirring spoon. Remove from heat and pour carefully over the arranged strawberries.
To make the cake batter, start by whisking together in one bowl the sugar, buttermilk, vinegar, and eggs.
In another bowl, whisk together your dry ingredients: the flour, baking powder, xanthan and salt.
Add your wet ingredients to your dry ingredients in three stages, stirring to incorporate each time.
Add your olive oil in 3 stages, folding and stirring to incorporate each time.
Slowly and carefully pour the batter over the strawberries. Don't pour too rapidly, or you'll displace your carefully-arranged spiral.
Bake for approximately an hour. The cake is done when the top is golden and it has pulled away slightly from the edges of the pan.
Cool for 10 minutes, and then run a knife between the cake and the pan to make sure it is completely loosened.
Put a flat plate atop the pan, and then, using potholders to protect your hands, quickly flip the cake while holding the plate tightly to the pan.
Slowly lift the pan, and the cake will be sitting, covered in parchment paper, on the plate. Peel off the parchment paper and be greeted by a beautiful spiral of sweet-tart fruit atop a golden cake.
Source: indieculinary at Food52c with modifications by Suzen O'Rourke
Photo Credits: Canon T2i, 18-55mm lens at F/4.5, 1/50 second at ISO 3200 [no flash]