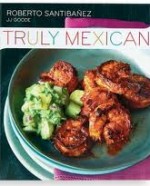 Cinco de Mayo. It's become something like St. Patrick's Day, an extended holiday where all of us can share some joy. Personally, I prefer Cinco. St. Patrick's is about parades and beer. Cinco is about food and beer — and margaritas.
Brian and I try to expand our repertoire of Mexican recipes each Cinco. From the new book Truly Mexican by Roberto Santibanez, here is an idea that will fortify your table and please every guest who loves heat. It's a salsa with the fire of chilies, the tang of tomatillos, and the lovely sweetness of early strawberries. Rather than have "plain old" salsa, liven it up with this new flavor combination.
This recipe calls for dried arbol chilies, not fresh. The dried versions are rated as very spicy. You do not have to deseed or devein them before roasting.
Sweet Strawberry Salsa with Arbol Chiles
Yield: 1 ½ cup
Ingredients:
2 dried arbol chilies, wiped clean stemmed
2 tomatillos, husked and rinsed
1 pound strawberries, rinsed, hulled and quartered [3 ½ cups]
½ cup sugar
10 whole peppercorns
2 whole cloves
2 small Turkish bay leaves or 1 small California leaf
¼ teaspoon fine salt or ½ teaspoon kosher salt
Preparation:
Heat a heavy skillet over medium-low heat and roast the tomatillos and toast the chilies, turning the chilies over and pressing down on them frequently with tongs, until they are browned all over and with some blackened spots, 3 to 4 minutes. Remove the chilies and continue to roast the tomatillos, turning them over only once, until their tops and bottoms have blackened and the tomatillos are khaki-green color and cooked to the core, 20 to 30 minutes total.
Add the strawberries to the tomatillos in the hot skillet and cook, stirring over medium heat, until they start to give off liquid.  Add the toasted chilies, sugar, peppercorns, cloves, bay leaves, and salt. Cook until the strawberries are soft, about 5 minutes.
Transfer the mixture to the blender jar and blend until the spices break down and salsa is very smooth, about 1 minute, then strain the mixture through a fine mesh sieve, pressing don and then discard the solids.
This salsa keeps in the refrigerator for up to three days.
Source: Truly Mexican by Roberto Santibanez
Yesterday I posted a blog for green beans, noting that I have been told, professionally, to find balance in my life.
Okay, I did that.
Back to dessert. Look, I hate to say this but there are leaves turning in the Catskills. The time left for fresh berries is beginning to dwindle. We do still have strawberries up there and lots of blackberries. So for one last time, how about homemade shortcake with fresh berries? This recipe comes from master chef Larry Forgione. It is the quintessential strawberry shortcake. His restaurant is superior and you should look at his matching book, An American Place, for other perfect tastes.
I know, next to where the berries are stashed in your market there is that adjoining rack with those packets of itty bitty sponge cakes you can use to "make" strawberry shortcake.
Put the packet down. Step away from the packet. Carefully pick up a container of berries, keep your hands in sight and slowly back away. That's it. Good. Good. You can do this.
Really, you can.
You're going to get dough on your hands. That's why it's called "Old Fashioned." Think of it as culinary therapy.
Old Fashioned Strawberry Shortcake
Servings: 6
Ingredients:
For the Shortcake:
2 cups all-purpose flour
¼ cup plus 1 tablespoon sugar
1 tablespoon plus ½ teaspoon baking powder
6 tablespoons unsalted butter, chilled and cut into small pieces
¾ cup heavy cream
2 mashed hard-cooked large egg yolks
2 tablespoons unsalted butter, melted
For the Filling:
3 pints strawberries, washed, hulled and halved or quartered if very large
2 tablespoons sugar
1 cup heavy cream
 
Preparation:
Preheat the oven to 375°F. Lightly butter a baking sheet. Sift the flour, ¼ cup of the sugar, and the baking powder into a bowl. Add the butter pieces. Using your fingertips, work the butter quickly and lightly into the flour until the mixture is the consistency of very fine crumbs or sand. add the cream and egg yolks and stir with a fork until the dough just holds together.
Turn the dough out onto a floured work surface and knead briefly, just until it forms a smooth dough. Do not overwork. Pat or roll out the dough to a thickness of ¾-inch. Using a floured 3-inch cookie cutter, cut out 4 rounds of dough. gather up the dough scraps, reroll and cut out 2 more rounds.
Put the rounds on the prepared baking sheet. Brush with the melted butter and sprinkle with the remaining 1 tablespoon sugar. bake on the middle rack of the oven for 12 to 15 minutes, until the biscuits are golden brown and
firm to the touch.
Meanwhile, put the strawberries in a bowl and toss them with the sugar.
In a medium bowl, whip the cream until soft peaks form, cover and refrigerate.
Transfer the biscuits to a rack and let cool for 2 to 3 minutes. Carefully split the biscuits in half and set the tops aside. Place the bottoms on dessert plates and heap the strawberries onto them. Generously spoon whipped cream over the strawberries, and replace the biscuit tops. Serve immediately, with any remaining whipped cream on the side.
Source: An American Place by Chef Larry Forgione