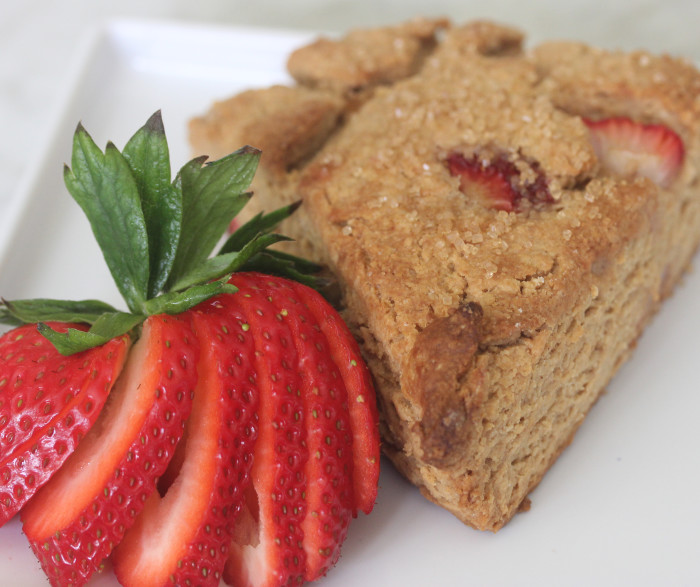 From Maximum Flavors comes this turn-the-world-around recipe for scones. Although the recipe below calls for nut butter and some kind of fruit, in the headnotes authors Aki Kamozawa and Alexander Talbot do give away their favorite combination: peanut butter and strawberries.
I know that "peanut butter" says "butter" but I never think of it as "butter" like the yellow stuff Suzen and I bake with. Yet here it is. And the result is a light, melt-in-your-mouth texture. The peanut flavor is an undertone with the strawberry highlights punctuating palate in unexpected surprises.
These scones are rich enough that no additional butter is needed. Pairing these scones with a hot espresso is precisely the way to begin a winter morning.
Nut Butter Scones
Yield: 12 smallish scones
Ingredients:
1 ½ cups/ 225 grams all-purpose flour
I ½ cups / 210 grams white whole wheat flour
½ cup / 100 grams granulated sugar
2 teaspoons / 12 grams baking powder
½ teaspoon / 2.5 grams baking soda
½ teaspoon / 3 grams fine sea salt
1 cup / 270 grams nut butter (peanut, cashew, almond, etc.), cold
1 cup / 260 grams whole milk (or substitute soy, almond, or rice milk)
¾ cup fruit (berries, raisins, diced bananas, etc.)
2 tablespoons / 25 grams raw sugar
Preparation:
Preheat the oven to 400°F. Line a baking sheet with parchment paper.
In a food processor, combine the flours, granulated sugar, baking powder, baking soda, and salt and pulse a few times to blend. Add the nut butter and pulse to blend. The mixture should look coarse and granular. Add ½ cup (195 grams) of the milk and pulse until the mixture begins to clump together. If it seems too dry, add the remaining milk, 2 tablespoons (32.5 grams) at a time, pulsing in between additions, until it begins to clump together and look like coarse streusel.
Turn the dough out onto a lightly floured countertop and scatter the fruit over the top. Use your hands and a bench scraper, if you have one, to gently fold the fruit into the dough, adding a bit of flour if the juices from the fruit make the dough too wet to hold together. It should just hold when you press the dough together. Form the dough into an 8-inch (20 cm) round and cut it into 12 equal wedges. Or you can shape it into two 4-inch (10 cm) rounds and cut each in to 6 pieces.
Put the scones on the baking sheet. Sprinkle the tops with the raw sugar. Bake for 8 minutes, rotate the sheet, and bake until golden brown, 4 to 8 minutes more, checking after 4 minutes. Let the scones cool on the baking sheet for 5 minutes before serving.
Source: Maximum Flavor Aki Kamozawa and Alexander Talbot
Photo Information [top picture]: Canon T2i, EFS 60 mm Macro Lens, F/4.5 for 1/100th second at ISO-1000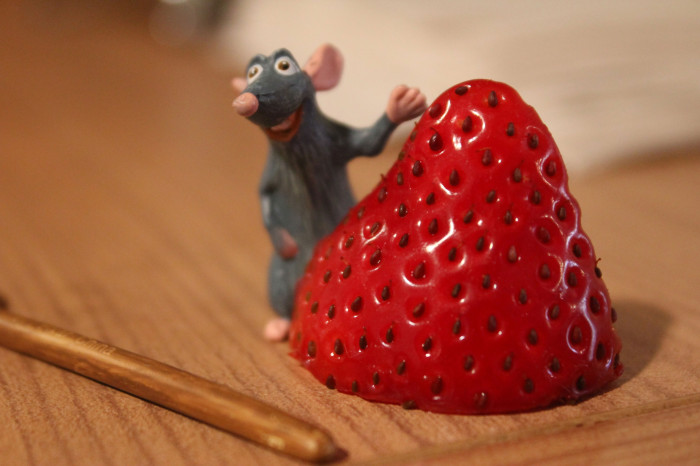 Suzie and I love our blog and the ability to share with your our culinary journeys. We've learned, from your responses and from what is happening on other food sites, that the opening picture is often worth far more than just 1000 words. If you compare our photos from a couple of years ago, you'll see we are making photographic progress. One step, no one shot, at a time.
I love this picture and so do the others who have seen it. The thing is, this photo is one you could do. There is nothing "special" technologically about this shot. It was taken with a Canon T2i using the standard 18-55MM lens that comes with the camera. That's a modest investment of a few hundred dollars, not thousands.
I did use a camera setting called AV where I could limit the depth of field, so the strawberry is in focus along with the rat's nose, but the rest of the rat is intentionally fuzzy.
I did not use Photoshop or any other tool here. This is  just straight out of the camera.
What does it take to get a fun shot with these kinds of highlights and shadows? Patience. Just think a bit about the lighting and where those shadows fall. And it takes quantity. These are digital cameras, for pete's sake, so just shoot. Take 20 shots, moving around with different angles and different focal points.
Experiment. And enjoy it! You want a good shot. Don't try for perfection, although I kinda think this photo is pretty high on the scale. Just learn and get good. Some of your shots are going to be golden nuggets in no time.
Take shots when you are cooking, first of the ingredients on the table and then on the stove or in the pot or pan. After cooking as your serve, take your first plate and make it a showpiece to shoot. Wipe away those little imperfections: a trail of gravy or sauce, a crumb too many, a leaf out of place. You were taught as a child not to play with your food. You are now an empowered adult. Play away.
Ah, the rat. We had a visiting chef who tours the country. She may not want her name in the same sentence as rat so I will just say she is famous and wonderful and works in Colorado. She's quite sane but I guess a bit superstitious. So she brings her plastic rat mascot — you knew it was fake, right? — and she asks people to put it somewhere while she cooks. She happened to have brought the most perfect strawberries — the rat is plastic but that berry is real and perfect. The rat looked hungry so I "fed" it. I had no plan on taking a photo, but how could I not come in close and personal.
The berries were great. The rat is home in Colorado.