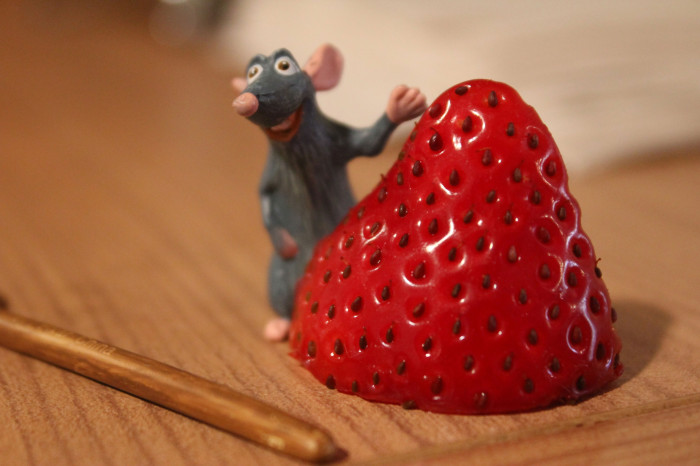 Suzie and I love our blog and the ability to share with your our culinary journeys. We've learned, from your responses and from what is happening on other food sites, that the opening picture is often worth far more than just 1000 words. If you compare our photos from a couple of years ago, you'll see we are making photographic progress. One step, no one shot, at a time.
I love this picture and so do the others who have seen it. The thing is, this photo is one you could do. There is nothing "special" technologically about this shot. It was taken with a Canon T2i using the standard 18-55MM lens that comes with the camera. That's a modest investment of a few hundred dollars, not thousands.
I did use a camera setting called AV where I could limit the depth of field, so the strawberry is in focus along with the rat's nose, but the rest of the rat is intentionally fuzzy.
I did not use Photoshop or any other tool here. This is  just straight out of the camera.
What does it take to get a fun shot with these kinds of highlights and shadows? Patience. Just think a bit about the lighting and where those shadows fall. And it takes quantity. These are digital cameras, for pete's sake, so just shoot. Take 20 shots, moving around with different angles and different focal points.
Experiment. And enjoy it! You want a good shot. Don't try for perfection, although I kinda think this photo is pretty high on the scale. Just learn and get good. Some of your shots are going to be golden nuggets in no time.
Take shots when you are cooking, first of the ingredients on the table and then on the stove or in the pot or pan. After cooking as your serve, take your first plate and make it a showpiece to shoot. Wipe away those little imperfections: a trail of gravy or sauce, a crumb too many, a leaf out of place. You were taught as a child not to play with your food. You are now an empowered adult. Play away.
Ah, the rat. We had a visiting chef who tours the country. She may not want her name in the same sentence as rat so I will just say she is famous and wonderful and works in Colorado. She's quite sane but I guess a bit superstitious. So she brings her plastic rat mascot — you knew it was fake, right? — and she asks people to put it somewhere while she cooks. She happened to have brought the most perfect strawberries — the rat is plastic but that berry is real and perfect. The rat looked hungry so I "fed" it. I had no plan on taking a photo, but how could I not come in close and personal.
The berries were great. The rat is home in Colorado.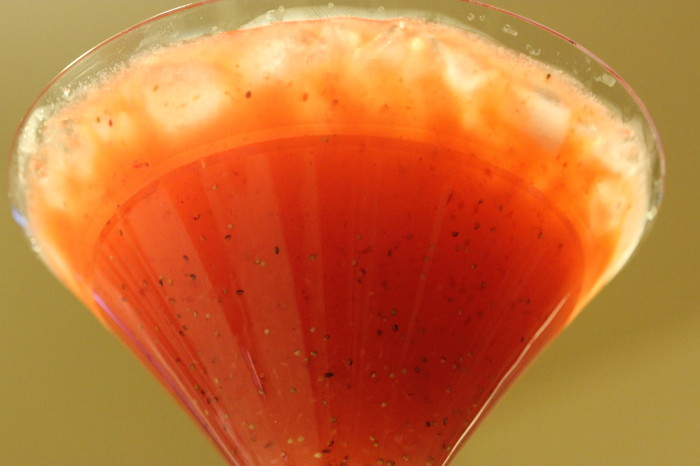 Ultimate is one of those words that just might seem a bit egotistical. The ultimate? The best?
"Best drink ever," Suzen beamed at me. She meant it. "How did you do this?"
"Sugar," I said.
"I know that. What else?"
"Aperol."
"No. Tell me the truth or I'll be forced to …"
"It's Aperol." I was telling the truth.
"Brian?"
"Yes?"
"How much Aperol do we have?"
In the past few months, I've touted Aperol as the liqueur that,  for those of who find Campari too harsh, anyone can enjoy with a smile. Aperol is orange and bitter. Margaritas demand orange and sweet. How can you make Aperol work here?
You make this strawberry margarita with strawberry puree — the recipe was posted a couple of days ago here. Basically, take 4 cups of strawberry halves and ¾ cup of sugar, and put them in a blender. Let it rip for 3 minutes. Sieve if you want, but the picture above shows those pretty black seedlets that I think gives character to the drink.
The balance of flavor here is perfect. You get the orange from the Aperol, plus the undertones of bitterness to contrast with the puree which is, in a word, sweet.
The drink is seductively smooth and does not overpower you like many a margarita can. This is about enjoying flavor. You'd have to drink a boatload to get smashed. Course, it tastes so good, a boatload is feasible.
There are liqueur options below. Besides Aperol, Rick Bayless suggests optionally paring up with Cointreau or Fragoli, the Italian strawberry liqueur. There are many, many flavor combinations here to enjoy. Somewhere, you'll find a favorite.
The recipe below calls for Strawberry Sugar for rimming the glass. It's really optional but easily done. To make it, just put equal amounts of freeze dried strawberries and granulated sugar in spice grinder or small food processor and pulverize.
Ultimate Strawberry Margarita
Yield: 1 drink
Ingredients:
Strawberry sugar for rimming
1 lime wedge
1 ½ ounces blue agave blanco tequila
¾ ounce lime juice
1 ounce Aperol, or ½ ounce Aperol and ½ ounce Cointreau or ½ ounce Aperol and ½ ounce Fragoli
1 ½ ounces strawberry puree
6 to 10 ice cubes
Strawberry fan for garnish [optional]
Preparation:
Spread the Strawberry Sugar on a small plate. Moisten the rim of a 6-ounce margarita glass with lime wedge and upend the glass onto the sugar to crust the rim.
In a cocktail shaker, combine the tequila, lime juice, Aperol [and other liqueurs], strawberry puree and ice. Cover and shake vigorously until frothy and cold. Tiny ice crystals will appear in the drink after about 15 seconds of shaking. Strain into the sugar-rimmed glass and serve immediately. Garnish with the strawberry, if you like.
Source: Frontera: Margaritas, Guacamoles, and Snacks by Rick Bayless with Deann Groen Bayless
Photo Credits: Canon T2i, 18-55mm lens at F/5.7, 1/60second at ISO 3200 [no flash]