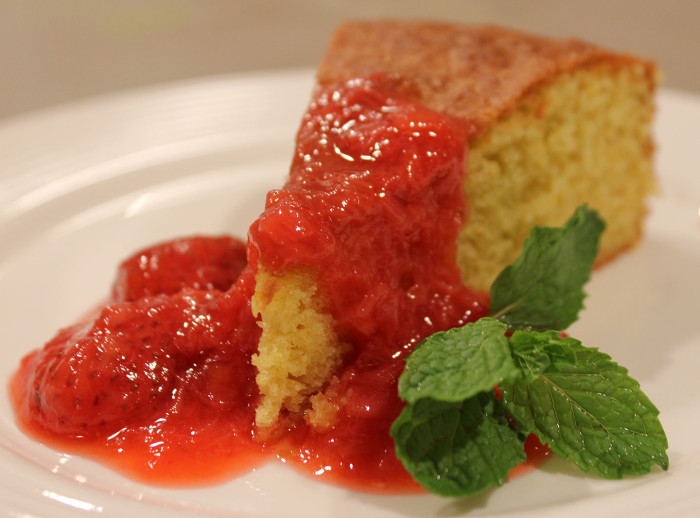 Ordinarily, I want my cake made with butter and not oil. It's a personal preference matter. I just find oil-based cakes to be less attractive in terms of taste and texture.
Except for olive oil cakes. Somehow a good olive oil seems to shine in creating a very special density and texture that I love — and that I don't believe butter can match.
Beyond olive oil, this cake is rich with eggs and milk, plus citrus impact from zest and juice and liqueur. And the cake is paired with a spring celebration of strawberries and rhubarb in a compote.
"Compote" is a French word for "mixture." The dessert began in the 1600's in France combing fruit, often whole, cooked in sugar syrup seasoned with spices or other fruit: cinnamon, lemon or orange peel, vanilla. Sometimes almonds, coconut, candied fruit or raisins were added. These were very sweet desserts.
Served with biscuits and sour cream, the French believed a compote balanced the effect of summer humidity on the human body. Think of it as organic air conditioning.
This cake, served with the strawberry-rhubarb compote, is a totally satisfying dessert all by itself, but it is also a platform for extensions: whipped cream, ice cream, gelato, … You can make it simple, as pictured, or an extravaganza. Add a scoop of blueberry gelato, for example, and you have your total 4th of July dessert.
The compote can be chilled before using, or served warm which actually intensifies the rhubarb notes.
Olive Oil Cake with Strawberry Rhubarb Compote
Yield: serves 8
Ingredients:
For the Cake:
2 cups all-purpose flour
1 ¾ cup sugar
1 ½ teaspoons kosher salt
½ teaspoons baking soda
½ teaspoons baking powder
1 ⅓ cup extra-virgin olive oil
1 ¼ cup whole milk
3 large eggs
1 ½ tablespoons grated orange zest
¼ cup fresh orange juice
¼ cup Grand Marnier
For the Compote:
12 ounces slender rhubarb stalks (about 3), cut into 2-by ⅓ – inch-thick sticks
1 pound fresh strawberries, halved
½ to ¾ cup granulated sugar
3 tablespoons fresh lemon juice
Confectioners' sugar, for dusting
Extra virgin olive oil for drizzling
Preparation:
For the Cake:
Heat the oven to 350° F. Oil, butter, or spray a 9-inch cake pan that is at least 2 inches deep with cooking spray and line the bottom with parchment paper. (If your cake pan is less than 2 inches deep, divide between 2 pans and start checking for doneness at 30 minutes.)
In a bowl, whisk the flour, sugar, salt, baking soda and powder. In another bowl, whisk the olive oil, milk, eggs, orange zest and juice and Grand Marnier. Add the dry ingredients; whisk until just combined.
Pour the batter into the prepared pan and bake for 1 hour, until the top is golden and a cake tester comes out clean. Transfer the cake to a rack and let cool for 30 minutes.
Run a knife around the edge of the pan, invert the cake onto the rack and let cool completely, 2 hours.
For the Compote:
In a large heavy skillet, bring the rhubarb, strawberries, sugar, and lemon juice to a simmer over medium-high heat, stirring often. Continue to cook, stirring often, for about 5 minutes, or until the juices thicken slightly and the rhubarb is falling apart. Let cool.
Sift confectioners' sugar over the cake. Cut the cake into wedges, place on dessert plates, and spoon the compote on top. Drizzle a little olive oil around the cake and serve.
Sources: cake from Maialino Restaurant in New York City and compote from Curtis Stone's What's for Dinner
Photo Information: Canon T2i, EFS 60 mm Macro Lens, F/5 for 1/50th second at ISO-640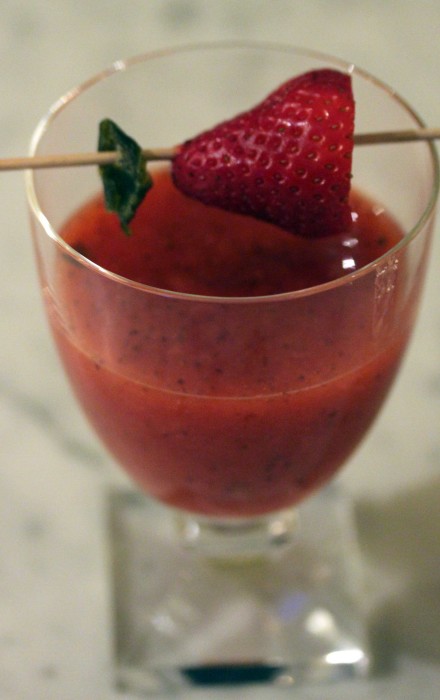 There is that old tale, promoted by real estate agents, that if your house is going to be shown, then you should have chocolate chip cookies in the oven. The aroma will sell your house. Not that pool.
Nonsense. You should have strawberries roasting. It's far more poetic.
From Cocktails for the Four Seasons, by Jenny Park and Teri Lyn Fisher, here's a flavor bundle that will surely please you. And perhaps confound you, too. I tasted this and could do nothing but smile.
The idea is this. Roast strawberries to intensify their flavor. Freeze them and put the cold gems in a blender with booze and jalapeno simply syrup. The roasted strawberries have an intensified, dark flavor. They are still quite sweet, though, which provides the contrast for the smoky heat of the jalapeno simple syrup. It's one of those rare times where you can be confused and pleased all at the same time.
I made this drink my own way, of course. I wanted it very cold so some ice cubes went into the blender. Mango flavored rum replaced the coconut — there are times when I want simple fruit sophistication instead of blunt force coconut power. You have leeway here and can use the rum of you daily preference. It's much less about the rum. Much more about the jalapeno syrup.
Roasted Strawberry and Jalapeno Freezer
Yield: 4 drinks
Ingredients:
2 pounds strawberries, hulled and sliced in half
2 tablespoons champagne vinegar
1 ½ tablespoons extra virgin olive oil
12 ounces tequila blanco
6 ounces coconut rum
6 ounces jalapeno simple syrup
Juice of two limes
4 strawberries hulled [for garnish]
4 candied jalapeno knots [for garnish, see yesterday's post]
Preparation:
Preheat the oven to 375°F.
Spread the strawberries onto a baking sheet and drizzle them with the vinegar and olive oil. Toss them tougher and roast for 30 to 40 minutes.
Allow the strawberries to cool. Pour the berries into a parchment-lined baking dish and place it in the freezer.
Once the strawberries are fully frozen [about 3 hours], place them in a blender with the remaining ingredients and blend until smooth. Pour the mixture into four snifter or hurricane glasses.
Garnish each glass with a candied jalapeno knot and strawberry skewered on a cocktail pick.
Imbibe. Enjoy.
Source: Cocktails for the Four Seasons, by Jenny Park and Teri Lyn Fisher
Photo Information [top]: Canon T2i, EFS 60mm Macro Lens, F/2.8, 1/20th second, ISO-3200