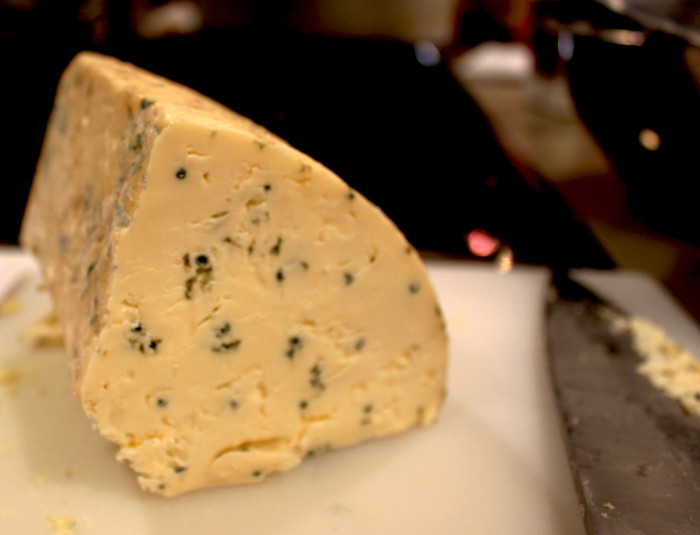 Blue cheese. I just hate assocaitin the word "bacteria" with something so beautiful. And so versatile. I love to eat blue cheese, directly, on crackers, by the quarter pound. But the truth is blue cheese belongs in salad and soups and, yes sauces.
There is a photo at the bottom of this post of the actual sauce. I will be chided for the photo. It's a conundrum. I have this great recipe and this not so perfect photo. Suzen will be displeased, but it's summer barbecue season and I cannot go another day without giving you this secret. So, I shall publish and bear the consequences.
Do you know what the hardest think to photograph is? Soup. Followed by beverages. Followed by sauces, like a blue cheese sauce. If it's liquid, it's hard. Rock solid hard. Does that make sense? Probably.
I'm working on it. Please bear with me. Because of the way digital cameras focus, a liquid surface confuses the computer chips and algorithms in a digital camera. People are working on better computers, better algorithms, better lighting techniques, … better everything.
Now about the sauce. There is nothing like a great barbecued steak. It's simple, direct and deep in flavor. So why do we all employ sauces that are so powerful they can show up on the Richter scale? Seriously. You aren't eating steak with sauce. It's sauce with steak. Or maybe just sauce.
Too often sauces dominate, burying all those steak flavors. What if you want a sauce that does have flavor, but that smoothly complements the meat instead of being its bitter rival.
Here's a solution, a blue cheese dressing that you can adjust for heat but that will not overpower you meat. You can make this sauce in a couple of minutes. If you are adventuresome, you can add some herbs, too, but beware of being your own worst meat enemy.
---
Brian's Blue Cheese Steak Sauce

Yield: serves 2

Ingredients:

2 ounces of blue cheese
¼ cup buttermilk
Freshly ground pepper
Hot sauce to taste [Tabasco or your favorite but do not overdo it!]
Preparation:
Put the cheese and buttermilk in a metal bowl. Using a fork, work the cheese into the buttermilk. At first you'll have just crumbled cheese and buttermilk liquid but the mixture will ultimately homogenize. Add the pepper and then a few drops of hot sauce. Adjust the hot sauce to your preference. Because you used blue cheese, salt should not be necessary.

Source: Brian O'Rourke

Photo Information Canon T2i, EFS 60 mm Macro Lens, F/5 for 1/20th second at ISO‑3200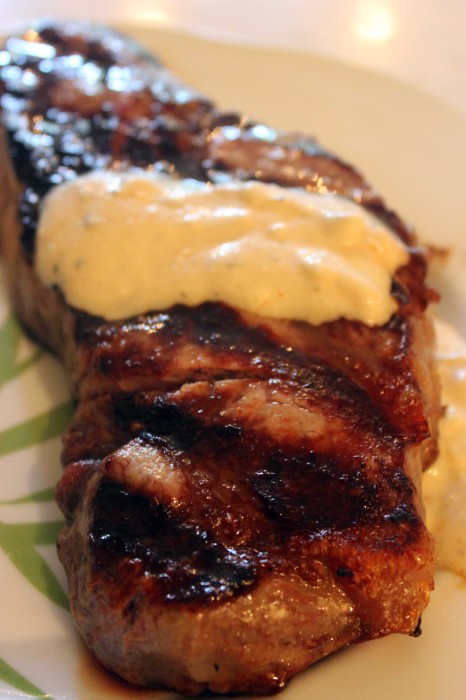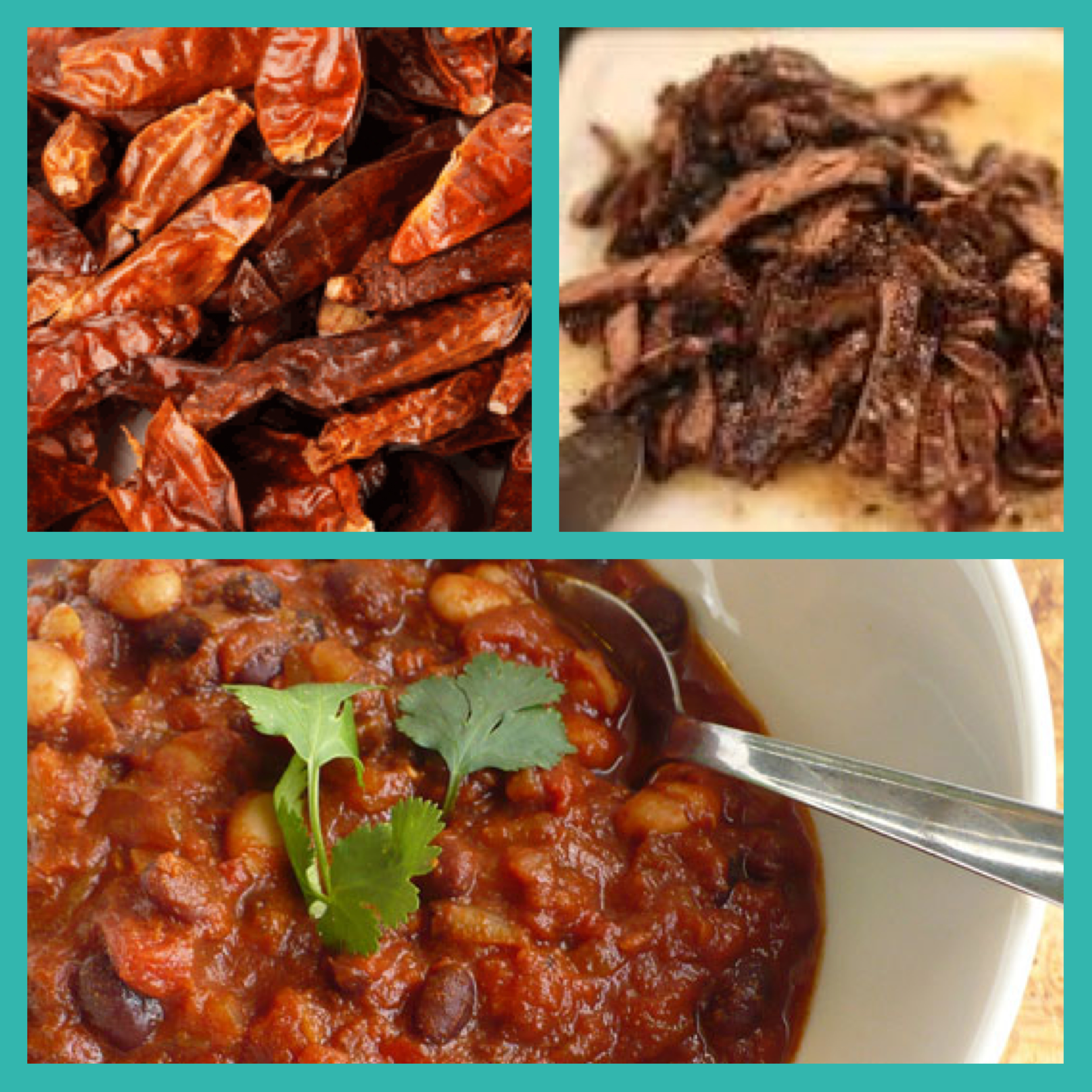 On Sunday, watching both the Super Bowl and the commercials, Suzen and I wanted food prepared in advance, easy to serve and as spicy as the New Orleans setting.
Suzen had some leftover steak and a friend who had sample the meat said, "Make chili!" Great advice. This recipe cooks for hours but that's good because your kitchen will be totally aromatic.
We used six dried chilies, three of them ancho, and the other three were dried, red and hot. This is a panty-clearing option for you. How do you know if you have enough chilies, the right chilies? It's simple. After you have soaked and blended the chilies into a puree, take a whiff or a taste. If it blasts you off your feet, cures sinus problems, and make you search for a beer, you have succeeded. [That means, if the mixture is not earth shaking yet, you'll need to add another chile, which means you'll want to soak a couple of extra ones. Don't worry. You can always put those extra pods to use. For example, blend the leftover chilies with mayonnaise for a different chip dip.]
Suzen's Chili with Beans, Steak and Tequila
Yield: serves 8
Ingredients:
1 pound cooked red beans [discussed below]
1 teaspoon oregano
1 bay leaf
3 dried ancho chilies, toasted and seeded
3 other dried chilies, toasted and seeded
1 teaspoon dried oregano [Mexican variety preferred], crumbled
1 28-ounce can tomatoes
2 bay leaves
1 teaspoon salt, or to taste [very likely you'll use more]
½ to 1 pound cooked steak, cut into small, bite-size pieces
1 medium white onion, chopped
2 tablespoons tequila
Chopped fresh cilantro for garnish
Chopped white onion for garnish, optional
Shredded cheese for garnish, optional
Sliced avocado for garnish, optional
Preparation:
Prepare the beans by putting them in a large pot and covering with water. Add a teaspoon of Mexican oregano and a bay leaf. Cook over medium heat for 1 ½ hour until the beans are tender, but not falling apart. Remove the bay leaf.
While the beans are cooking, soak the toasted chilies in very hot water for 30 minutes to soften. Only use enough water to just cover the chilies. Put the chilies in a blender and discard the soaking water. Add the oregano and tomatoes. Blend until as smooth as possible. [This is precisely the situation where a Vitamix is preferable to a conventional blender. The Vitamix will produce a perfectly smooth product for you.]
Strain the cooked beans and return to their pot. You may wish to save some of the bean water to thin the dish out as it cooks. Add the pureed chili mixture to the beans. Add the bay leaves, salt and sliced steak. Cover and begin to cook.
In a skillet with a little olive oil, fry the onion until it starts to brown. Add the onion and the tequila to the beans. All to cook for at least 30 minutes so the flavors can blend.
Serve then, with the garnishes. Alternatively, remove from the heat for up to two hours, then reheat and serve.
Left overs can be frozen and delectably desired later.
Serving options include straight in the bowl, over chips, or over rice. White rice flavored with cilantro is an excellent option.
Source: Suzen O'Rourke