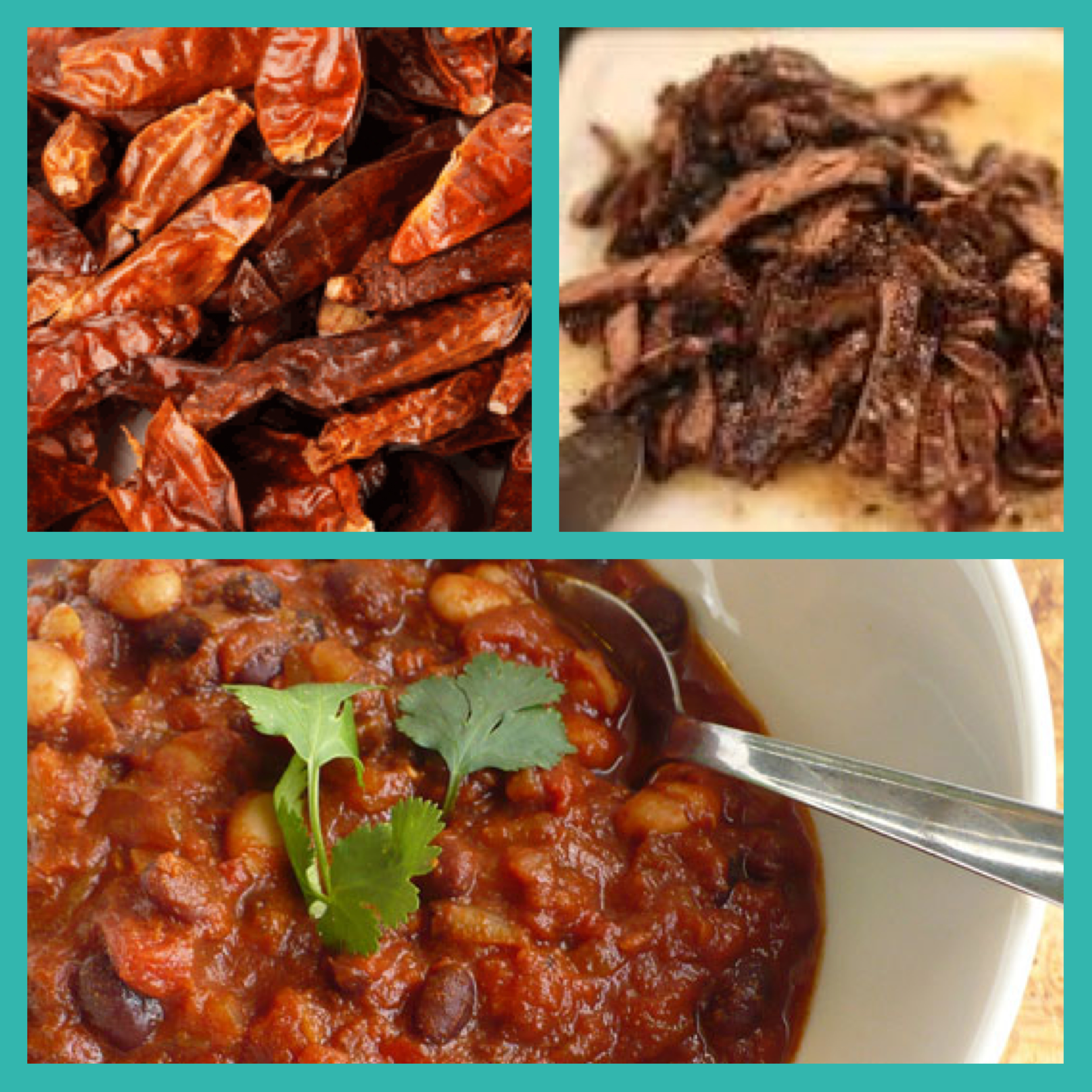 On Sunday, watching both the Super Bowl and the commercials, Suzen and I wanted food prepared in advance, easy to serve and as spicy as the New Orleans setting.
Suzen had some leftover steak and a friend who had sample the meat said, "Make chili!" Great advice. This recipe cooks for hours but that's good because your kitchen will be totally aromatic.
We used six dried chilies, three of them ancho, and the other three were dried, red and hot. This is a panty-clearing option for you. How do you know if you have enough chilies, the right chilies? It's simple. After you have soaked and blended the chilies into a puree, take a whiff or a taste. If it blasts you off your feet, cures sinus problems, and make you search for a beer, you have succeeded. [That means, if the mixture is not earth shaking yet, you'll need to add another chile, which means you'll want to soak a couple of extra ones. Don't worry. You can always put those extra pods to use. For example, blend the leftover chilies with mayonnaise for a different chip dip.]
Suzen's Chili with Beans, Steak and Tequila
Yield: serves 8
Ingredients:
1 pound cooked red beans [discussed below]
1 teaspoon oregano
1 bay leaf
3 dried ancho chilies, toasted and seeded
3 other dried chilies, toasted and seeded
1 teaspoon dried oregano [Mexican variety preferred], crumbled
1 28-ounce can tomatoes
2 bay leaves
1 teaspoon salt, or to taste [very likely you'll use more]
½ to 1 pound cooked steak, cut into small, bite-size pieces
1 medium white onion, chopped
2 tablespoons tequila
Chopped fresh cilantro for garnish
Chopped white onion for garnish, optional
Shredded cheese for garnish, optional
Sliced avocado for garnish, optional
Preparation:
Prepare the beans by putting them in a large pot and covering with water. Add a teaspoon of Mexican oregano and a bay leaf. Cook over medium heat for 1 ½ hour until the beans are tender, but not falling apart. Remove the bay leaf.
While the beans are cooking, soak the toasted chilies in very hot water for 30 minutes to soften. Only use enough water to just cover the chilies. Put the chilies in a blender and discard the soaking water. Add the oregano and tomatoes. Blend until as smooth as possible. [This is precisely the situation where a Vitamix is preferable to a conventional blender. The Vitamix will produce a perfectly smooth product for you.]
Strain the cooked beans and return to their pot. You may wish to save some of the bean water to thin the dish out as it cooks. Add the pureed chili mixture to the beans. Add the bay leaves, salt and sliced steak. Cover and begin to cook.
In a skillet with a little olive oil, fry the onion until it starts to brown. Add the onion and the tequila to the beans. All to cook for at least 30 minutes so the flavors can blend.
Serve then, with the garnishes. Alternatively, remove from the heat for up to two hours, then reheat and serve.
Left overs can be frozen and delectably desired later.
Serving options include straight in the bowl, over chips, or over rice. White rice flavored with cilantro is an excellent option.
Source: Suzen O'Rourke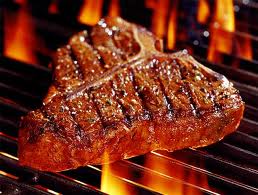 While nothing beats a great steak, we often struggle to attain that greatness. How often have you, or someone at your table, reached for salt, and salt, and salt, to get the flavor boost you are convinced that steak needs.
Of course, there are the endless lines of bottled steak sauces all there for you to try, too, all designed again to somehow "add flavor." And when we try a sauce, nobody does it a teaspoon at a time. That steak, fresh off the grill, may often find itself drowning in sauce.
So much sauce that you can end up eating sauce with steak on the side. The meat flavor is lost in what came out of that bottle: tomatoes, vinegar, onion, salt, herbs, more salt, …
Yes, I'm on a salt kick but only because my doctor told me so. Here's a path to a perfectly satisfying  steak that works and that is easy.
First, turn the grill on and get it hot. Grilling the steak is, for many of us, the only way to prepare our meat.
Second, a half hour before you grill, take the steak out of the fridge and let it come to room temperature. Don't cook cold. The temperature shock when cold meat is plopped on a hot grill can result in tissue breakdown that destroys the texture of the meat.
Third, during that half hour, coat the steak in a little olive oil and then liberally salt and pepper each side of the steak. By "liberal" I'm talking about a teaspoon a side at most. This is the last time your steak will see salt, by the way.
Fourth, grill away to reach you doneness standard. There's a "four minutes a side" rule which of course ignores steak thickness and therefore is really not a universal rule. It's a few minutes a side, though, not several. You do want some redness inside and you do not want to create shoe leather.
Fifth, pull the steak off the grill and do NOTHING. Give it a five minute rest. Now is the time to finally open that bottle of wine, or pour yourself another glass.
Last, plate the steak and serve. Take  2-3 teaspoons of cold butter and drop them on the top of the steak. As the butter melts, squeeze half a lime over the flowing butter. Just half. Pick up your knife and fork and consume away.
Steak sauces generally tend to have a "sour" flavor to them. That "sharpness" is supposed to complement the meat. Well, with this butter-lime technique you cut to the quick. The butter adds richness, just as it would if the steak were pan cooked and then the juice converted into a sauce using, of course, butter. The lime juice gives you that seemingly hidden "brightness" you want  – it really does amplify the flavor — but without all the complex baggage of the "other" flavors that come in those bottle sauces. You'll taste meat now, not the complex array of tones coming from the bottle.
Miss your sauce? Want to used it anyway? Put in on your baked potato. There, the best of both worlds.