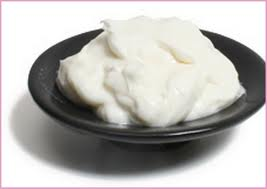 Sour cream. It has many uses: dips, baked potatoes, dips, chili topping, dips, …
It's wrong, I know, but the flavor image that pops into my head is Lipton Onion Soup mix and sour cream. And, of course, I always double the amount of soup mix so that the dip literally burns your tongue. What could be better?
That ability of sour cream to offer cool, tangy flavor is, in fact, very versatile. The curt tang can be a perfect contrast to something that is "too" sweet. "Too" sweet? Yes, it's possible. Some rich brownie recipes are so intense with chocolate and sugar that it's hard to eat more than one. Even for a chocoholic, approaching-diabetic like me.
Here is the solution: a Sour Cream Icing that is made with chocolate and becomes the perfect, muting crown for brownies, cakes, or cupcakes.
You'll want to let your sour cream come fully to room temperature. If it is still cold and is added to the melted chocolate, the chocolate will seize and you are dead. You can't reheat the mixture. Sour cream does not reheat well. So, just plan ahead and you'll be able to enjoy every bite of this distinctive icing.
Sour Cream Icing
Yield: about 1 ½ cups
Ingredients:
6 ounces bittersweet or semisweet chocolate, chopped
8 ounces sour cream (regular, low-fat, or fat-free) at room temperature
1 teaspoon vanilla extract
Preparation:
Place the chocolate in the top of a double boiler set over simmering water. Stir constantly until half the chocolate is melted. Remove the top of double boiler from the pot, then continue stirring, off from the heat, until the chocolate is completely melted.
Alternatively, you can melt the chocolate in a microwave, too. Again, keep in the microwave until only about half is melted, then remove and stir with a spoon until completed mixed and melted.
[Nothing, nothing is sadder than chocolate microwaved until it scorches. You kitchen will smell like it's been on fire and the glass bowl will be so much fun to clean. That burnt chocolate almost becomes a mortar. Always under heat!]
Add the sour cream and vanilla. Beat them into the chocolate with an electric mixer on low speed. Continue beating until the frosting can hold a peak when molded with a spoon, about 4 minutes. Spread immediately.
You can use your stand mixer for this, but here's a case where one of those little, hand-held mixers is much easier to use and maneuver.
Source: The Ultimate Brownie Book by Bruce Weinstein
Here's another Really Simple recipe to get you past a mistake.
What mistake? The one we all have made. In the guise of saving money and thinking about all the things we are going to do,  we all have created "The Shelf." It's there. In your kitchen. One entire shelf, lonely, untouched, unapproachable.
You did have the best of intentions. At the market, you were in the spice aisle and you saw those little bottles of things, and their price, and then the big, big bottles of things, and their price. And, well, on a cost efficiency basis, that big bottle of onion flakes was a hell of a lot cheaper per ounce. And you planned to use it. And that was years ago. The bottle is still there, 90% full still. Now you are wondering if they would accept it at the dump.
We all have bought those gargantuan containers of spices and goodies, with the best intentions of using them on a regular basis. But those containers get pushed to the shadows of the back of the shelf. It can be months, or years, before they see the light of a countertop with their lids open.
We are going to fix all that. First, do not feel guilt. Second, feel some ambition. Third, buy sour cream.
The simple way to a good onion dip, and it is good, is a packet of onion soup mix tossed into sour cream. Let's improve on that, and, at the same time, really use the stuff on that shelf.
This onion dip is, well, oniony. That's why we make it. But this one has a fire, a kick, that makes your mouth perk up [and crave beer]. I give the basic recipe below, with some options. Feel free to adjust the amounts and even what goes in. After all, it is your shelf.
One warning: don't over salt the dip. Those dried onion flakes will awaken in a few minutes and the entire flavor balance will change. So, mix this dip up, but let it sit for an hour before making any adjustments.
Back of the Shelf Onion Dip
Yield: serve 2-3 people or 1 husband eating alone when his wife is out with friends
Ingredients:
1 cup sour cream
½ cup dried onion flakes
1 teaspoon garlic powder
1 teaspoon chili powder
1 teaspoon red pepper flakes
Optional Ingredients:
1 teaspoon salt
Pepper to taste
Chopped herbs: parsley, cilantro, chives
Chopped scallions
Preparation:
Combine ingredients in a glass bowl and carefully mix. Cover and refrigerate for one hour. Taste and adjust seasonings. Remove from refrigerator at least one hour before serving; the dip becomes very solid in the fridge.
Source: Brian O'Rourke