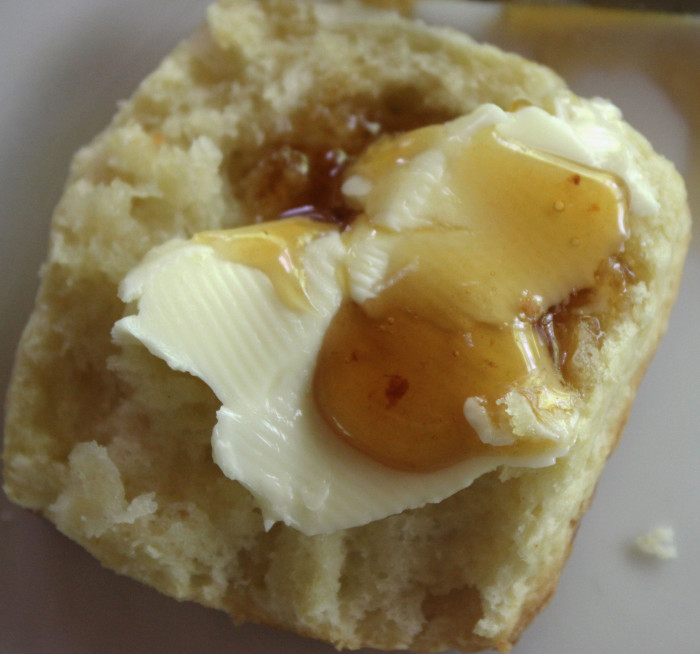 Breakfast is that meal we often skip. And if we are not skipping, then too often we are opening up some cardboard container racing to a quick start to a busy day. Suzen and I avoid the cardboard containers, but we do get a cardboard cup each weekday morning from the Starbucks on our block. According to our FitBit, it is just 100 steps away.
On weekends, though, the nearest Starbucks is 12 miles away. In our weekend retreat, we do have a wonderful espresso machine — which we fuel with Starbucks products. And to eat on weekends? We rarely make a full breakfast: pancakes or waffles or omelet. But a biscuit, simple yet grand, a biscuit is inviting to us both.
From One Bowl Baking comes this recipe for biscuits with a sweet/sour combo. The sweetness is a topping of turbinado sugar. The sour comes from using sour cream, and not milk or buttermilk, for the dairy component.
The resulting biscuit does have a tang, but it is muted and lovely. It pairs well, as you can see, with a dab of butter and your favorite honey. Merely add espresso and you will be delighted. And you won't miss Starbucks on this particular morning.
---
Sour Cream Breakfast Biscuits

Yield: about six 3½ inch biscuits

Ingredients:

Biscuit Batter:

1 ½ cups all-purpose flour
4 ½ teaspoons granulated sugar
1 tablespoon plus 2 ¼ teaspoons baking powder
½ teaspoon salt
6 tablespoons (3 ounces or 85 grams) unsalted butter, cold, cut into Winch pieces
1 large egg yolk
¾ cup sour cream
Topping:

2 tablespoons heavy cream
2 tablespoons turbinado sugar
Preparation:

Place an oven rack in the upper-middle position. Preheat the oven to 375°.Line a baking sheet with parchment paper.
To make the batter, in a large bowl, combine the flour, sugar, baking powder, and salt.
Cut the butter into the flour mixture until it looks like coarse cornmeal, but is not clumping up. Stir in the yolk and sour cream until completely combined.
Roll out the dough on a lightly floured surface to about 1-inch thick. Using a floured 2½-inch round cookie cutter [or drinking glass] to cut out biscuits and place them evenly on the pan. Reroll dough if needed.
To make the topping, brush the tops of the biscuit with the cream and sprinkle with the turbinado sugar.
Bake until light golden and just firm, about 20 minutes. Let the biscuits cool on the pan for 5 minutes, then transfer to a wire rack to cool. Serve warm or at room temperature.
Source: One Bowl Baking by Yvonne Ruperti

Photo Information [bottom shot]: Canon T2i, EFS60mm Macro Lens, F/ 5.6 for1/60thsecondatISO‑1250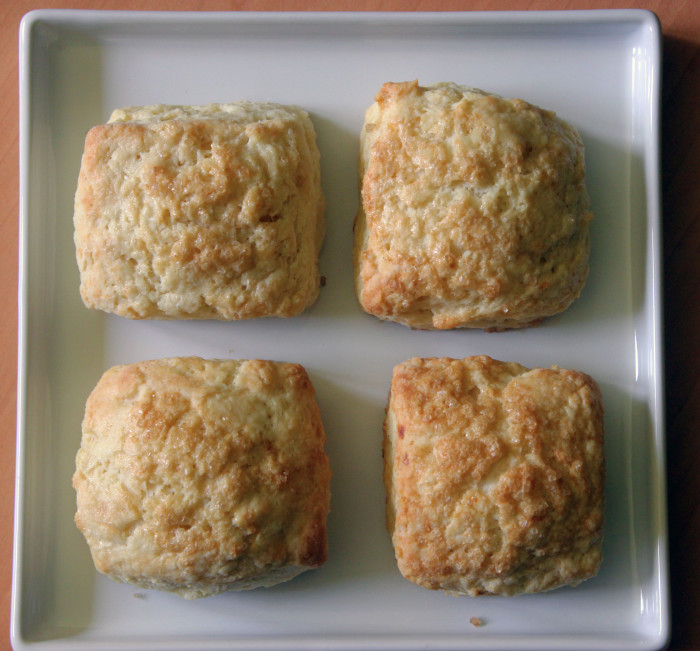 Bribe is such an ugly four-letter word. I know, there are five letters, but it seems to reek of four-letter connotation. I think inducement is a better way to phrase what is about to transpire.
Few of us, vegetarians aside, eat enough veggies. There are reasons for that, some of them legitimate genetic hangovers from our hunter-gatherer days [see my post on the book Taste]. But, today, few of us hunt and few gather, except in the parking lot of the super market where we find our veggies showcased in metal, plastic and glass. All of them wet from the sprays meant to inspire visions of freshness. It may be wet, but it traveled 800 miles or so to get to your store.
To get more veggies in us, we need that inducement. I won't eat raw carrots. Period. Ever. Unless, and here's the exception, there's a dip involved. That's where dill comes in. Distinctive and powerful, that dill flavor can make any raw veggie seem yummy. Well, almost any.
Far and wide, dill is an herb of utility and prowess. Scandinavians use it on seafood. In northern and central Europe dill is used in preparing root vegetables, cabbage, and cauliflower, transforming them from bland to interesting. In Turkey and Iran, dill is added to rice, beans, zucchini, and celery root. In Iran, spinach with dill and shallots is common. In India, it is lentils and spinach with both dill leaves and seeds. And when most of us pickle, the first herb in the jar is that sprig of dill. Dill pickles, anyone?
Not only does dill have that marked flavor, it also is able to mate well with other flavoring items: basil and capers, garlic and horseradish, mustard in all its forms, paprika both normal and smokey, and parsley and cilantro.
That means that when making a dip with dill, there is a bounty of additional notes you can add to the culinary score.
The starting point for many dip recipes is equal amounts of mayonnaise and sour cream. To that is added the dill [fresh, or in seed form], perhaps some salt and pepper, then onion and then … On and on it goes.
For the diary, you can use cream cheese, or yogurt or crème fraiche. And here "use" means substituting or adding and adjusting the relative proportions. There is no "right" way to make this dip — although your mother or mother-in-law might have an opinion.
So here's my kitchen sink recipe for a dill dip with a matrix of ingredients and a spectrum of flavors. Feel free to adjust quantities, add new things, or leave some of these out. Just to stir your imagination, this recipe has no chili, no celery salt, no grated cucumber [a Greek thing], no bell pepper, and no hot sauce.
If you were in the Army, you'd recognized this as a free fire zone, but we're in the kitchen instead. Have fun, and do taste test along the way.
Oh, as a little aside, if you like this dip, you could utter the phrase, "It's a dilly." People have been using dill for thousands of years. How long have we been saying, "It's a dilly?" Only since about 1935. At that point, it meant something was remarkable or delicious. Now, if we say it, it means something is special. Like this dip.
Brian's Dill Dip

Yield: 3 cups

Ingredients:

1 cup mayonnaise
1 cup sour cream or crème fraiche
1 cup plain yogurt
3 tablespoons snipped fresh dill or 2 tablespoons dried
2 tablespoons chopped onion [scallions are fine]
2 garlic cloves, finely diced
2 tablespoons cilantro
2 tablespoons of lemon juice, plus more to taste
Salt and pepper to taste
Preparation:

In a metal bowl, combine the mayonnaise, sour cream and yogurt. Mix until completely blended. Short of the salt and pepper, stir in the other ingredients being careful to fold over and obtain a uniform distribution of the flavor.
Stop and taste test. Add salt and pepper to refine the taste, then consider adjusting any of the earlier ingredients. If you using fresh dill, you may want more for a higher flavor level. If it's too "dilly" then stir in more plain yogurt to ensure mellowness.
Source: Brian O'Rourke with input from Herbs & Spices: The Cook's Reference by Jill Norman

Photo Information Canon T2i, EFS 60 mm Macro Lens, F/4 for 1/25th second at ISO‑3200