I am, in my soul, a gazpacho addict. I love the concept and all the flavors that gazpacho, made with fresh ingredients, can deliver to my table.
Funny thing, after thinking conventional tomato soup was ghastly, any tomato soup on a menu now captures my attention. Even roasted tomato soup. From canned tomatoes.  I must admit that for this recipe, roasting the tomatoes in brown sugar may have something to do with my new found preferences. Just maybe.
This lovely soup has this key advantage: it is available year round. No need to wait for Jersey tomato giants in August. This generously flavored soup has a peasant food heritage: diced bread and grated cheese merged with half-and-half. This soup can be your introduction to a full meal, but it has the body to, on its own, be the centerpiece of your evening. Just pair with a salad. And, of course, finish with a clever dessert. [Need a clever idea? Try our earlier post on Cutie Pies!]
Ingredients:
Nonstick cooking spray
2 (28 ounce) cans whole peeled tomatoes, drained, liquid reserved
Kosher salt and freshly ground black pepper
3 tablespoons dark or light brown sugar
Half a medium loaf of focaccia bread, cut into a 1/2″ dice (about 3 cups bread cubes)
1 tablespoon extra virgin olive oil
1/2 cup finely grated sharp cheddar cheese (use a Microplane grater)
2 tablespoons unsalted butter (see note above)
4 large shallots, peeled and roughly chopped
1 large or 2 medium garlic cloves, peeled and chopped (about 2 teaspoons)
1 teaspoon chopped fresh thyme leaves (optional)
1 tablespoon tomato paste
About 3 cups water
1/2 cup half-and-half
Preparation:
Adjust oven racks to middle positions and preheat oven to 375°F.
Prepare the tomatoes: spray a large rimmed sheet tray with an even coating of cooking spray. Add drained tomatoes and space evenly. Season tomatoes to taste with salt and pepper, then divide brown sugar over tops of tomatoes. Roast tomatoes in oven until sugar is browned and tomatoes have shrunken slightly, about 45 minutes. Remove tomatoes from oven.
Meanwhile, prepare the croutons. In a large bowl, toss cubed bread with olive oil, salt and pepper to taste, and grated cheddar cheese. Massage bread so cheese adheres well. Turn out onto a rimmed baking sheet and bake, stirring occasionally, until well-browned and crisp, 10 to 12 minutes. Remove from oven and let cool.
Prepare the soup: Heat butter in a large, heavy-bottomed Dutch oven set over medium heat. Add shallots, garlic, and thyme (if using), and season with salt and pepper. Cook, stirring occasionally, until shallots are translucent but not browned, about 6 minutes. Add tomato paste and cook, stirring, until it browns, about 2 minutes. Add roasted tomatoes, reserved tomato liquid, and enough water to cover, about 3 cups. Bring soup to a boil, reduce to a simmer and cook, stirring occasionally, until some liquid has evaporated, about 30 minutes.
Let soup cool slightly, about 10 minutes. Add half and half and use a hand blender to blend soup until smooth. Alternatively, blend soup in a blender in two batches. Check soup for seasoning, adding more salt and pepper to taste. Serve in bowls, garnished with a handful of croutons.
Source: Serious Eats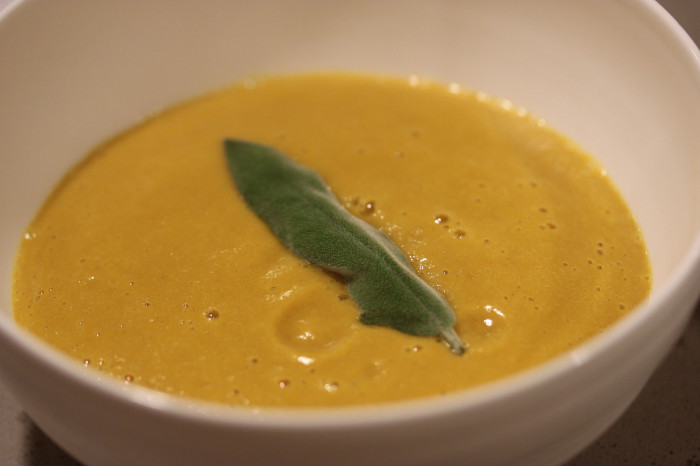 We are fortunate at Cooking by the Book to have the blenders supplied by Vitamix. We actually do not call them blenders. To everyone, staff and guests, they are simply the Vitamixes. We use them, but privately many of us worship them.
These are amazing machines whose power and versatility outdo anything else you might have tried.
Combine that power with time and you get: heat. Squash soup is the perfect vehicle to display the culinary power of the Vitamix.
Keep the machine running on high for just a few minutes, and that liquid in the bowl becomes steaming hot. The instructions below, from Vitamix, show just how quick it can be, how easy to do. What can't be shown, what has to be tasted, is the classic flavor of this soup.
It has always surprised Suzen and me how just a little apple can change the entire flavor profile of squash soup. It adds, people say, sweetness. But it's more than that. There is sharp coolness that the apple punctuates in every spoonful.
The proportions here are for you to play with at will. More apple or spice? Sure, you can't go wrong. Every time you make this soup it will be recognizable. And every time it will be distinctive and surprising.
Oh, the recipe title may say "holiday" but don't be confused. It's not for a holiday. It makes any day a holiday.
Vitamix Holiday Squash Soup
Yield: 5 cups
Ingredients:
2 cups chicken or vegetable broth, homemade ideally
½ buttercup or butternut squash, cook, peeled, or 2 cups of cooked squash or pumpkin
¼ small onion, peeled
¼ medium apple, seeded
¼ teaspoon nutmeg
¼ teaspoon dried sage
¼ teaspoon dried rosemary
⅛ teaspoon white pepper
½ teaspoon salt
¼ cup heavy cream
Preparation:
Place all the ingredients except the heavy cream into the Vitamix container in the order listed. Secure the lid
Select Variable 1. Turn the machine on and quickly increase the speed to variable 10, then to High.
Blend 6-7 minutes or until heavy steam escapes from the vented lid.
Reduce the speed to Variable 4 and remove the lid plug. Add the heavy cream through the lit plug opening. Blend for an additional 20 seconds.
Source: Whole Food Recipes by Vitamix
Photo Information [top picture]: Canon T2i, EFS 60 mm Macro Lens, F/3.2 for 1/100th second at ISO-800