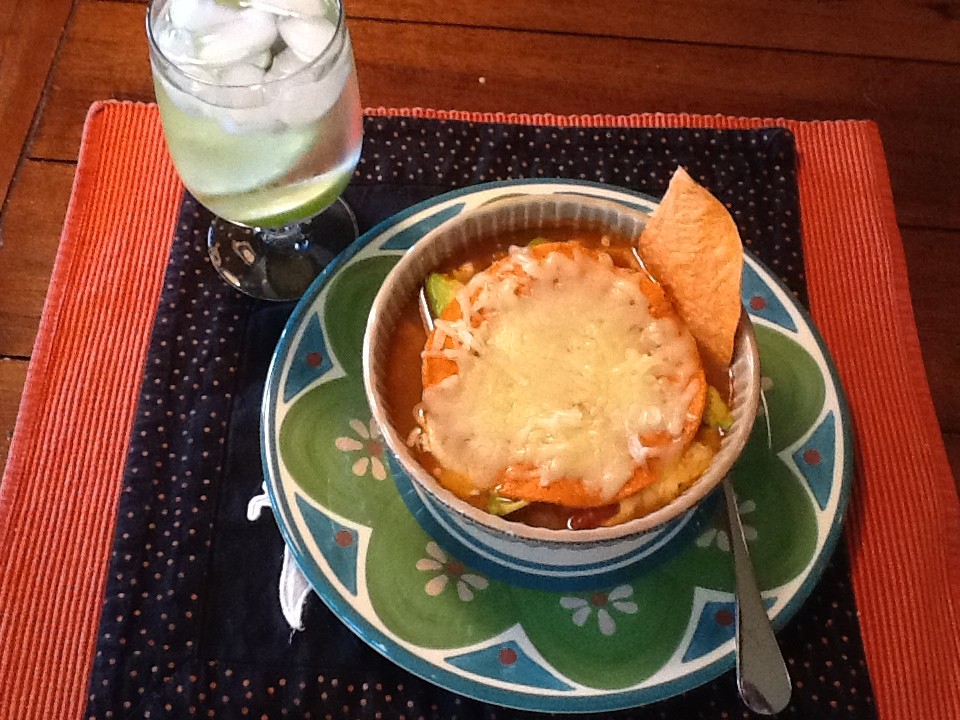 My daughter-in-law Michele grew up in Kansas City. But she went to college and graduate school in Texas and now lives in Austin. She is very proud of this soup. And I will say rightfully so.
You remember how French Onion soup seems so satisfying. Well, this is a serious rival. The broth and chicken provide substance. That thick top with cheese, avocados and tortilla chips is a delight itself. The combination of that rich top and the deeply flavored broth lets you relax and enjoy each spoonful.
I've had this dish for lunch and for the main meal. It's a delight either way. I do suspect that Michele may sometimes try it for breakfast.
Michele's Favorite Tortilla Soup
Yield: Serves 4-6
Ingredients:
3 chicken breasts, poached
2 tablespoons oil
1 large onion chopped
4 garlic cloves, mashed
1 8-ounce can green chiles, diced
2 8-ounc e cans stewed tomatoes
4 cups chicken broth
2 cups beef bouillon
2 teaspoons chili powder
2 teaspoons salt
½ teaspoon pepper
2 teaspoons Worcestershire sauce
2 avocados, peeled and sliced
1 cup of broken tortilla chips
1 cup Mexican mix shredded cheese or Monterrey Jack chees
Preparation:
Poach the chicken breasts, cool, and shred. Set aside.
Sauté the onion, garlic and green chilies in oil until soft. Add the tomatoes, chicken broth, and beef bouillon and shredded chicken. Mix in spices and simmer for 1 hour.
Place in bowls and cover with avocados, tortilla chips and cheese.
Place under broiler or microwave to melt the cheese if desired.
Source: Michele Barr O'Rourke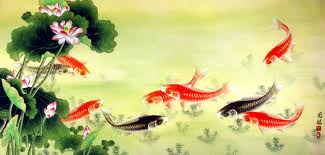 This is a recipe for a very authentic Southeast Asian soup. That authentic character means this is a multistage recipe, building to a sumptuous conclusion. There are a lot of ingredients and the preparation time is going to be about 3 hours.  Now, there is a tradition of fish on Christmas Eve. If you have that tradition, or want to start one, and want something sensationally different, then this is a festive dish that you will devour with delight.
You begin by making a broth to serve as the base for a curry soup. Once the curry soup is made, fish is marinated, then added to the soup. This is project involving many ingredients and flavors. The effort produces a flavor rainbow you will relish.
Hot Pot Fish Soup
Broth for Soup
Ingredients:
2 stalks lemon grass, sliced
1 ½ tablespoons sesame oil
5 garlic cloves, minced
3"-piece galangal, sliced, optional
3"piece ginger, peeled and sliced
5 Kaffir lime leaves or the zest of 3 limes
4 cups water
2 tablespoons cup brown sugar
Preparation:
Mix all ingredients together in a large pot, bring to a boil then simmer together for 1 hour, then strain.
Curry Soup
Ingredients:
2 cans Thai red curry paste curry powder
2 can unsweetened coconut milk (14 ounces)
3 limes fully juiced
¼ cup gluten free tamari or soy sauce, or to taste
Vegetables for soup, listed below are good options
2 heads bok choy, sautéd
1 bunch Chinese broccoli, sautéd –
1 pound long beans, sliced into 1 inch pieces –
1 red peppers seeded and julienned –
1 yellow peppers seeded and julienned –
Preparation:
Mix curry paste, coconut milk, lime juice and tamari into a large pot. Add strained broth mixture to Curry Soup.
Bring to a boil and then simmer for 30 minutes. While the soup is simmering, prepare optional ingredients and marinade for fish.
Marinated Fish 
Ingredients:
4 pounds salmon filets – skin on, cut into individual portions
¾ cup of red miso
¼ cup gluten free tamari
½ cup of water
¼ cup honey
2 tablespoons sesame oil
2 packages Rice noodles
1 tablespoon vegetable Oil
For Garnish
1 scallion trimmed and cut on diagonal
½ cup minced cilantro
½ cups roasted shiitake mushrooms
Preparation:
Thoroughly mix miso, tamari, water, sesame oil, and honey and place in a large zip lock bag or flat casserole dish with 2 inch sides.
Add fish to marinate in bag close or dish seal closed with plastic wrap or sealable top. Set aside for 30 minutes.
Prepare rice noodles according to package instructions.
In a hot cast iron pan add vegetable oil, sear fish skin side down till crisp then flip and cook to desired doneness.
Assembly of the final dish:
Construct the soup by placing noodles into individual bowls, add curry soup mixture with vegetables and topped with cooked fish serve with garnish.
Source: Cooking by the Book