Well, it's January 3rd and many of you may already be seeing the challenge of those New Year's Resolutions. If you had wanted to eat better, healthier, with wonderful new flavors, then there is nothing better than this soup with its distinguished intensity.
From Eat Feed Autumn Winter, Chicago author Anne Bramley offers her rif on Mexican cuisine. Chicago has a huge Mexican population, with a bounty of wonderful restaurants and Latin stores. Anne created this homey soup based on her Chicago "south of the border" experiences.
This is a great soup, one you can adorn with tortilla chips, or sour cream, or just eat by its yummy self.
When I saw this recipe I must admit I was a little worried about slicing uncooked chorizo and putting it in the soup. I was afraid the sausage would literally fall out of its casing. I followed the recipe to the letter and all worked well. The sausage slices cook quickly and retain their integrity.
Ancho Chile Soup with Sweet Potatoes and Chorizo
Yield: serves 4 as a main course, 8 for a side dish
Ingredients:
2 tablespoons olive oil
2 garlic cloves, minced
1 tablespoon ancho chili powder
5 cups (40 ounces) chicken broth
1 pound sweet potatoes, peeled and cut into ¼-inch cubes
2 fresh Mexican chorizo sausages (about 2/3 pound), sliced ¼ inch thick
One 15.5-ounce can hominy
Salt
Freshly ground pepper
 
Preparation:
Heat the oil in  large saucepan over low heat. Add the garlic and sauté until beginning to soften, about 3 minutes. Stir the ancho chili powder thoroughly into the garlic. Pour in the chicken broth, turn heat to high, and bring to a gentle boil. Add the sweet potatoes and cook until almost tender, 5 to 6 minutes. Add the sausages and hominy and simmer about 4 minutes, until the sausage is cooked through. Season to taste with salt and pepper.
Source: Eat Feed Autumn Winter by Anne Bramley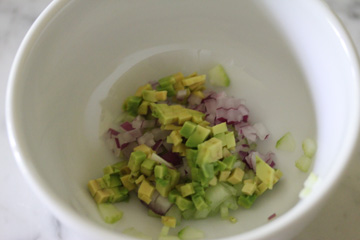 Brian has a couple of recipes he always for in a new cookbook. Brownies, of course. But, perhaps surprisingly, gazpacho. Brian first heard about this sumptuous soup thirty years ago, watching a cooking show on television. Yes, they had cooking shows then. The show ended, he went to the store, came back with veggies and V8 juice, and reached for his blender.
Every since we met, we've been trying gazpacho recipes on a regular basis. They come in red, green, orange and white. With tomatoes, almonds, lettuce, … I really can't say I've ever had bad gazpacho, but there are some recipes out there I would not try again.
This recipe, on the other hand, is one to use throughout the summer. It does have tomato, well tomato juice, but the main ingredient is watermelon. This soup is thin [depending on how much bread you use] and delicate, but not watery. The watermelon flavor is intense, supported by the slight additions of vinegar, lemon juice and pepper. It's a lovely variation on the standard tomato-based gazpacho.
The picture at the top here shows the one variation that we applied. We first filled the bowls with diced onion and avocado. Not too much, but enough to add some texture and tang.
The summer of 2010 heat wave seems endless. This soup won't stop the heat, but it will make it happily bearable.
Watermelon Gazpacho
Yield: 4 servings
Ingredients:
8 cups coarsely charged seedless watermelon, plus ½ cup finely diced seedless watermelon
½ loaf country bread, crust removed and torn into small pieces (about 4 cups)
½ cup extra virgin olive oil plus more for drizzling
⅓ cup tomato juice preferably low sodium
⅓ cup water
¼ cup sherry vinegar
2 tablespoons fresh lemon juice
½ teaspoon cayenne pepper
Salt
4 toasted bread rounds
Piment d'Espelette (or mildly hot paprika), for serving
Preparation:
In a food processor, purée the 8 cups coarsely chopped watermelon. Pass through a mesh strainer (you should have 4 cups watermelon juice). Discard the remaining pulp.
Return the watermelon juice to the fruit processor along with the bread, olive oil, tomato juice, water, vinegar, lemon juice, and cayenne. Purée until smooth and strain into a large bowl. Season to taste with salt, cover and refrigerate until well chilled, about 4 hours
Divide gazpacho among 4 shallow bowls. Garnish each bowl with about 2 tablespoons of finely diced watermelon. Place a toasted bread round on top. Finish with a drizzle of olive oil and light dusting of Piment d'Espelette.
Source: Epicurious