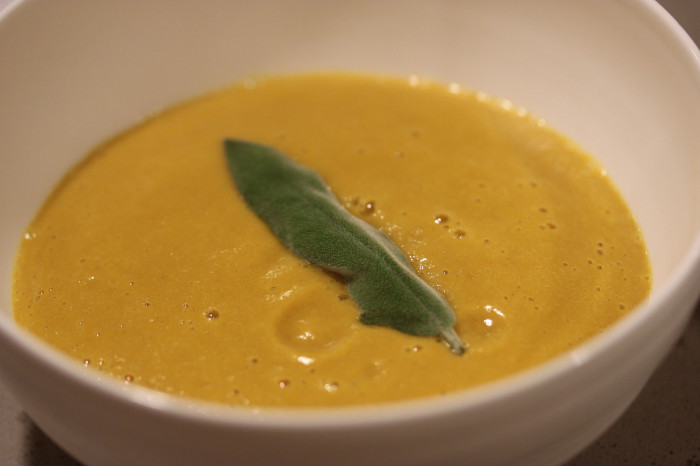 We are fortunate at Cooking by the Book to have the blenders supplied by Vitamix. We actually do not call them blenders. To everyone, staff and guests, they are simply the Vitamixes. We use them, but privately many of us worship them.
These are amazing machines whose power and versatility outdo anything else you might have tried.
Combine that power with time and you get: heat. Squash soup is the perfect vehicle to display the culinary power of the Vitamix.
Keep the machine running on high for just a few minutes, and that liquid in the bowl becomes steaming hot. The instructions below, from Vitamix, show just how quick it can be, how easy to do. What can't be shown, what has to be tasted, is the classic flavor of this soup.
It has always surprised Suzen and me how just a little apple can change the entire flavor profile of squash soup. It adds, people say, sweetness. But it's more than that. There is sharp coolness that the apple punctuates in every spoonful.
The proportions here are for you to play with at will. More apple or spice? Sure, you can't go wrong. Every time you make this soup it will be recognizable. And every time it will be distinctive and surprising.
Oh, the recipe title may say "holiday" but don't be confused. It's not for a holiday. It makes any day a holiday.
Vitamix Holiday Squash Soup
Yield: 5 cups
Ingredients:
2 cups chicken or vegetable broth, homemade ideally
½ buttercup or butternut squash, cook, peeled, or 2 cups of cooked squash or pumpkin
¼ small onion, peeled
¼ medium apple, seeded
¼ teaspoon nutmeg
¼ teaspoon dried sage
¼ teaspoon dried rosemary
⅛ teaspoon white pepper
½ teaspoon salt
¼ cup heavy cream
Preparation:
Place all the ingredients except the heavy cream into the Vitamix container in the order listed. Secure the lid
Select Variable 1. Turn the machine on and quickly increase the speed to variable 10, then to High.
Blend 6-7 minutes or until heavy steam escapes from the vented lid.
Reduce the speed to Variable 4 and remove the lid plug. Add the heavy cream through the lit plug opening. Blend for an additional 20 seconds.
Source: Whole Food Recipes by Vitamix
Photo Information [top picture]: Canon T2i, EFS 60 mm Macro Lens, F/3.2 for 1/100th second at ISO-800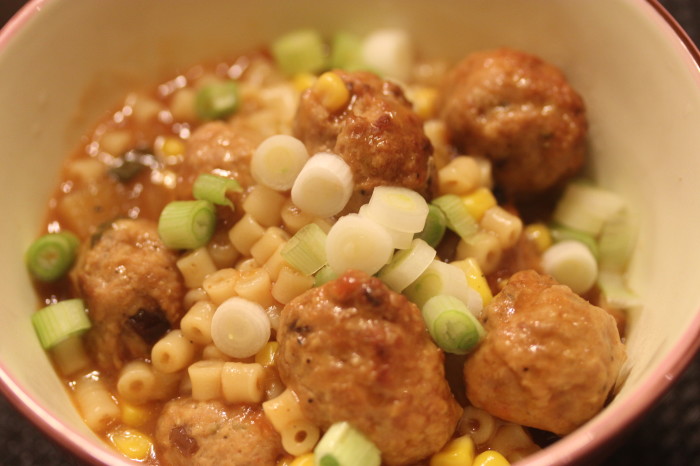 I, uh, wanted something unhealthy for dinner. Not really terribly unhealthy. Just a lot of cheese and some meat and …
"No." Suzen said. She took the magazine from me, sat, turned pages, stood up and showed me a picture.
"You'll like this. I'm making it."
Now, at that point I had choice of actions, but not really. It was time to contemplate a dinner of soup, which reminded me of characters in a Charles Dickens' novel. But I'm not allowed to say that.
Hours later, I was actually really happy. I even said, "More, please." And I got more.
From Mexican by Better Homes and Gardens, this Mexican meatball soup comes with a surprise: pasta. It's pasta and meatballs combined with pineapple relish and cranberries. This is a hearty, one-dish meal that is perfect for a winter night. You need to make meatballs, a lot of them, so I suggest this meal is good for a Sunday afternoon, when you are in the third quarter, the game is being, lost and everyone will welcome the distraction of rolling meatballs in their hands.
It needs to cook for hours, so beer and nachos are in order, whether your team is winning or losing.
Mexican Meatball Soup
Yield: serves 4 to 6
Ingredients:
¼ cup masa harina
¼ cup warm water
8 ounces ground pork
8 ounces ground turkey
2 tablespoons finely snipped dried cranberries
2 garlic cloves, mince
1 tablespoon dried oregano, crushed
½ teaspoon salt
1 32-ounce portion of reduced-sodium chicken broth1 16-ounce jar of peach, pineapple or mango salsa
½ cup frozen whole kernel corn
¼ cup crushed tortilla chips
¼ cup tiny pasta[pastina, stelline, or tripolini]
¼ cup sliced green onions, optional
Red or green salsa, optional
Sour cream, optional
Preparation:
Preheat the broiler. In a large bowl, combine the masa harina and the water. Add the ground pork, ground turkey, dried cranberries, garlic, oregano, sand salt. Shape into 1-inch meatballs. Place on a foil-lined 15X10X1 inch baking pan. Broil 4 to 5 minutes inches from the heat for 5 to 8 minutes or until lightly browned, turning once.
In a 3- to 4-quart slow cooker, combine the meatballs, chicken broth, salsa, corn, and tortilla chips. Cover and cook on low-heat for 6 to 7 hour or on high heat for 3 to 3 ½ hours.
If using low heat setting, turn to high heat. Stir in the pasta, cover and cook for 30 minutes more or until tender. If on high heat, add the past and again cook for 30 minutes.
Stir in the ¼ cup of green onion before serving.
Optionally, top with additional green onions, or salsa, or sour cream, or any combination.
Source: Mexican by Better Homes and Gardens [a newsstand magazine]
Photo Information: Canon T2i, 18-53MM Macro Lens, F/2.8, 1/100th second, ISO 1000